McLaren's 650th
The Malaysian Grand Prix will be McLaren's 650th race since the team's debut in the 1966 British Grand Prix where Bruce McLaren took his Serenissima-powered M2B to sixth place. The only other team to make 650 starts is Ferrari, which passed that landmark at the 2001 Belgian Grand Prix.
Incident-free
Nick Heidfeld (BMW Sauber F1.06) 2006 French Grand Prix, Magny-Cours © LAT
Nick Heidfeld is set to equal his own record in Malaysia. The German set the record of 45 races without a retirement through an accident or a spin, between the 2002 Monaco Grand Prix and the 2004 Brazilian Grand Prix. His current streak is 44 races, since the 2006 French GP. Heidfeld has retired due to an accident just twice in his last 112 starts and only four times in the last seven seasons.
Ferrari engines in the points
Ferrari is also poised to equal a landmark of its own at Sepang. The streak of points finishes for a Ferrari engine was kept alive last weekend in Australia thanks to the Scuderia Toro Rossos of Sebastiens Buemi and Bourdais. If a Ferrari-powered car finishes in the top eight in Malaysia, the streak will reach 55 and equal the Italian manufacturer's previous best, between the 1999 and 2003 Malaysian GPs. The only engine manufacturer with more consecutive points finishes is Ford, with 228 between Canada 1967 and Netherlands 1983.
Can Brawn repeat?
Last weekend, Brawn GP became the fourth team in history to win its debut race (and the third to take a 1-2). Of the other previous teams to start with a win, only Alfa Romeo won its next race (the 1950 Monaco Grand Prix), but no team has ever posted back-to-back 1-2 finishes in its first two grands prix.
The Malaysian fastest lap curse
In the 10-year history of the Malaysian Grand Prix, no driver has ever set the fastest lap and won the race.
Year    Winner                    Fastest lap
1999    Eddie Irvine              Michael Schumacher
2000    Michael Schumacher        Mika Hakkinen
2001    Michael Schumacher        Mika Hakkinen
2002    Ralf Schumacher           Juan Pablo Montoya
2003    Kimi Raikkonen            Michael Schumacher
2004    Michael Schumacher        Juan Pablo Montoya
2005    Fernando Alonso           Kimi Raikkonen
2006    Giancarlo Fisichella      Fernando Alonso
2007    Fernando Alonso           Lewis Hamilton
2008    Kimi Raikkonen            Nick Heidfeld


Personal scoreboard - Malaysia
• Felipe Massa has qualified on pole position for the last two Malaysian Grands Prix but did not score well in either race. In 2007 he made a poor start and a another mistake later in the race dropped him to fifth place, while in 2008 he led in the early stages but dropped to second after his first pitstop and spun out of the race.
• Kimi Raikkonen scored his maiden victory at Sepang in 2003, from seventh on the grid. He also won last year's event, which was the first time he had started from the front row in Malaysia.
• Nick Heidfeld has finished on the podium in Malaysia just once, in 2005, but has been in the points every time he has finished the race. He also set his first career fastest lap at Sepang in 2008.
• Fernando Alonso scored his first pole position and first podium in the 2003 Malaysian Grand Prix and has won the race twice (2005 and 2007). He took pole again in 2005.
• Mark Webber retired from each of his first five Malaysian GPs and scored points in the race for the first time in 2008 with seventh place.
• Nico Rosberg has never scored a point in Malaysian with mechanical failures in 2006 and 2007, and a 14th place finish in 2008.
• Adrian Sutil has covered just five laps in the two races he has started in Malaysia so far.
• Rubens Barrichello has not qualified in the top 10 at Sepang since 2004. He has finished second twice, 2001 and 2003, but hasn't scored a point in Malaysia since 2004 when he was fourth.
Other notes about the Malaysian Grand Prix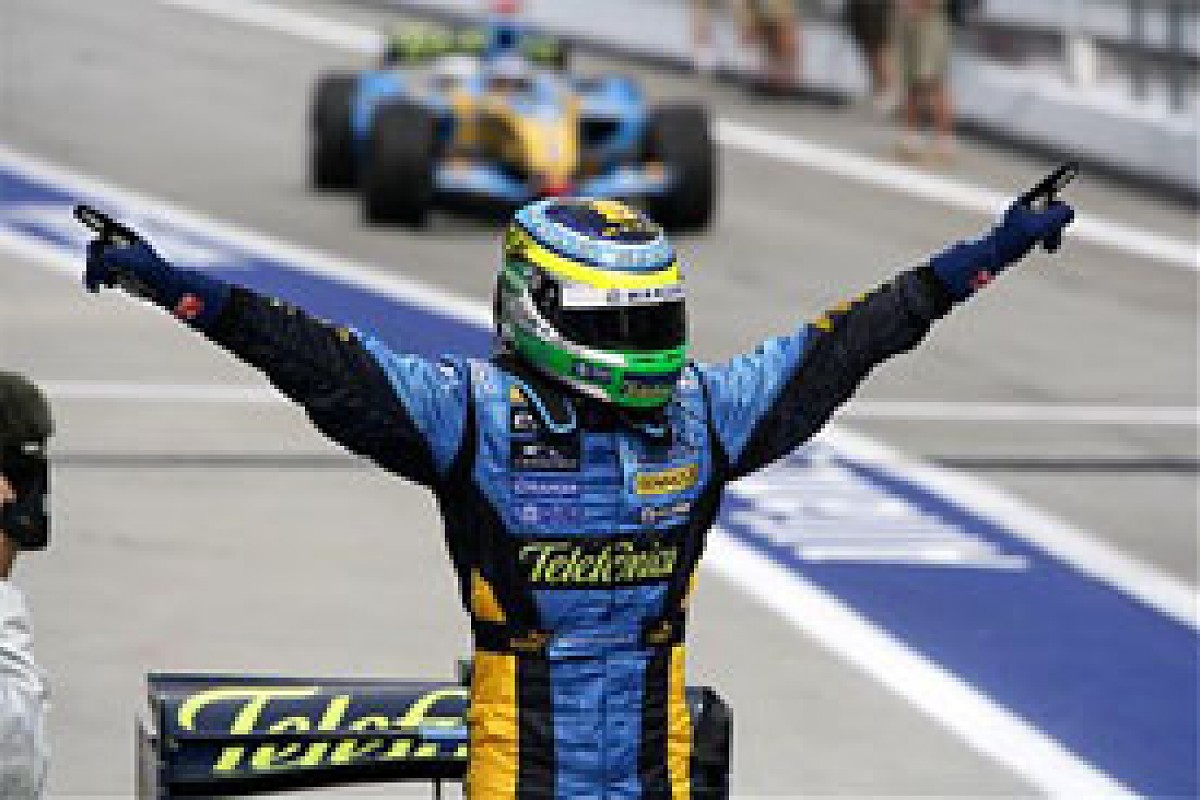 2006 Malaysian Grand Prix Winner Giancarlo Fisichella © LAT
• Ferrari and Renault are the only two teams to have qualified on pole position in Malaysia, although Renault hasn't started higher than seventh since its championship-winning 2006 season.
• Ferrari has won five of the 10 Malaysian GPs held so far, though three different teams have won in the last three years (Renault in 2006, McLaren in 2007 and Ferrari in 2008).
• Williams has not scored a point at Sepang since 2005 when Heidfeld was third. The team has only started from the front row of the grid in Malaysia once, Juan Pablo Montoya in 2002.
• The polesitter has won the Malaysian Grand Prix five out of 10 times, with second on the grid winning three times, fourth once and Raikkonen's win from seventh in 2003.