As soon as Honda's withdrawal from Formula One became public, attention immediately turned to who would be next? And inevitably the spotlight fell upon Toyota, especially as other Japanese manufacturers began to trim their worldwide motor sport programmes. But the country's biggest manufacturer has stood firm, and it remains one of the strongest voices within the Formula One Team's Association (FOTA), via team principal Tadashi Yamashina and president John Howett.
Gossip continues to suggest that Toyota's commitment to F1 may not hold over the long-term, but for the moment the company is putting its weight behind FOTA's efforts to reduce costs and secure the future of the sport, of which we shall learn more in Geneva on Thursday.
Nevertheless Howett is the first to admit that his team still has to perform on the track in order to fully justify the company's involvement in the sport. Thus far the new TF109 appears to be running encouragingly well in testing, although as ever the true picture won't be apparent until Australia.
Meanwhile Japan's economy continues to suffer, and problems at both Toyota and title sponsor Panasonic have captured the headlines. It's certainly been a dramatic winter for the sport, and there are still a few chapters to be written even before the start of this season.
"It's a dramatic situation for the whole world, to be blunt," says Howett. "I still believe if you look at the general debt ratio carried in F1 we are in a healthy condition, and also F1 has a global footprint which helps, because there are certain regions which are, shall we say, less depressed or able to come out of any recession faster.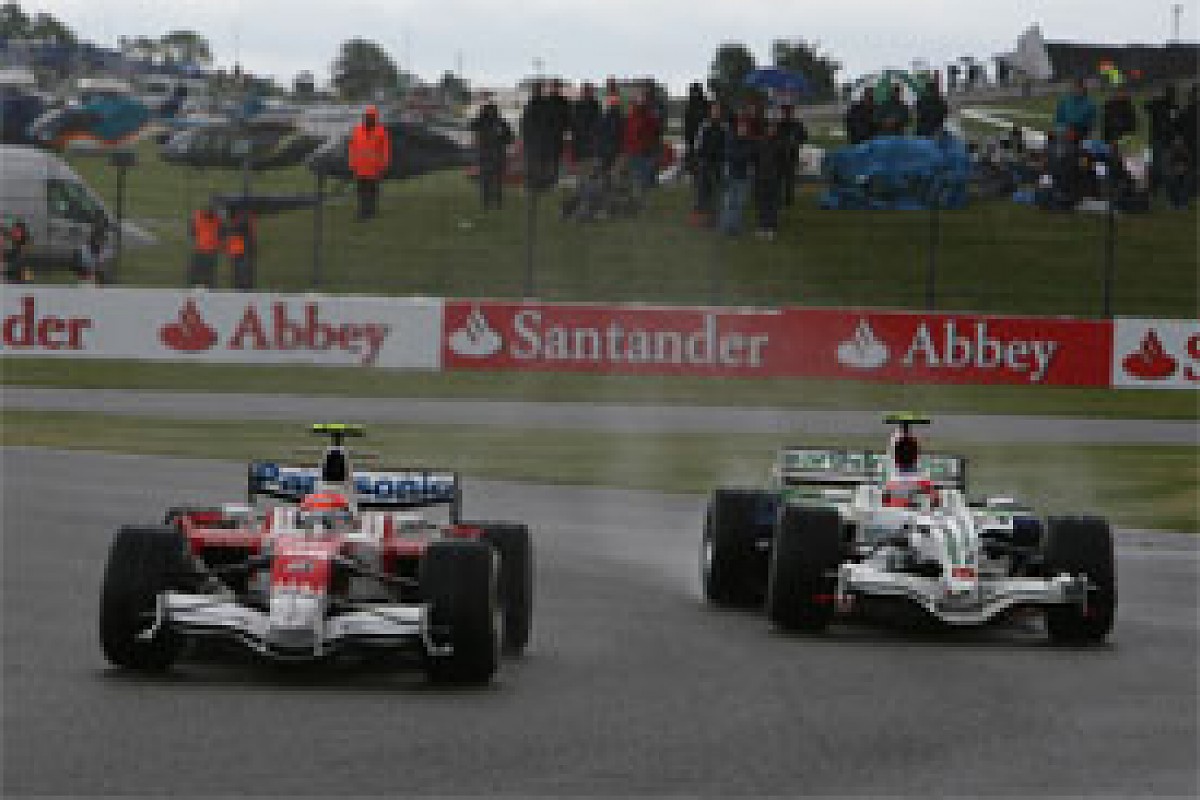 The Toyota of Timo Glock and the Honda of Rubens Barrichello battle for position during the 2008 British Grand Prix at Silverstone © XPB
"My feeling is that you could even say people will spend more time at home, less time travelling, and therefore sport on television has more opportunity. I believe thanks to FOTA we have already pre-empted quite significant cost savings, so we are ahead of the curve. I'm generally very optimistic."
Along with the other team bosses Howett learned the truth about Honda's situation when Ross Brawn and Nick Fry attended a FOTA meeting in early December, soon after their return from Tokyo.
"They were very transparent," he says. "I think at that time it was just being decided, so they couldn't really be 100% specific, but it was fairly clear that they were having a difficult time. Obviously we were very disappointed, and I suppose we were very surprised."
Honda's decision was followed by announcements from other Japanese companies, including the decisions by Subaru and Suzuki to withdraw from the World Rally Championship.
"I'm personally one who believes a lot of these things are taken in a more holistic viewpoint, it's not merely the cost base," says Howett. "One has to say maybe the WRC is struggling at the moment, the future is not clear, and that's probably the decisive factor. I think in the case of Honda it's maybe more than purely the cost element. It means that everything's under more severe scrutiny, but I don't think it's the sole deciding factor.
"We were, I think, ahead of the curve. It was fairly obvious that the economy was declining, I think whilst tentatively one could say our budget had been approved, we understood we were living in a fluid situation, and we managed and continue to manage to demonstrate that we are capable of operating at a lower cost base.
"I would admit that it's necessary to demonstrate value by having an extremely strong year, and I genuinely hope that the new regulations do achieve good racing. The concern is that the field could be incredibly dispersed, whereas we've had two seasons of very close racing. And I genuinely hope that there isn't too much politics about the interpretation of the new regulations, and that we have a clean, competitive season. And our job is to have a good season within that."
But surely the wave of withdrawals put huge pressure on Toyota's board to do the same?
"I guess with a lot of Japanese companies taking that action one can say there is pressure," says Howett. "One can say there is even pressure to think harder before not doing it, to show the strength of Japanese company and to show the strength of Toyota to do something different from the remainder. So I would say there's a counterbalance.

"In the end Toyota is strong enough to take its own decision, but I would admit that everybody in F1, all the sponsors and manufacturers, will be scrutinizing much more severely the general return from the investment, and what the sport offers in terms of value."
There's an old cliché in business that in difficult times it's essential to maintain your spend on marketing, so that you maintain a high profile and thus prosper when the overall situation improves. Howett agrees with that view.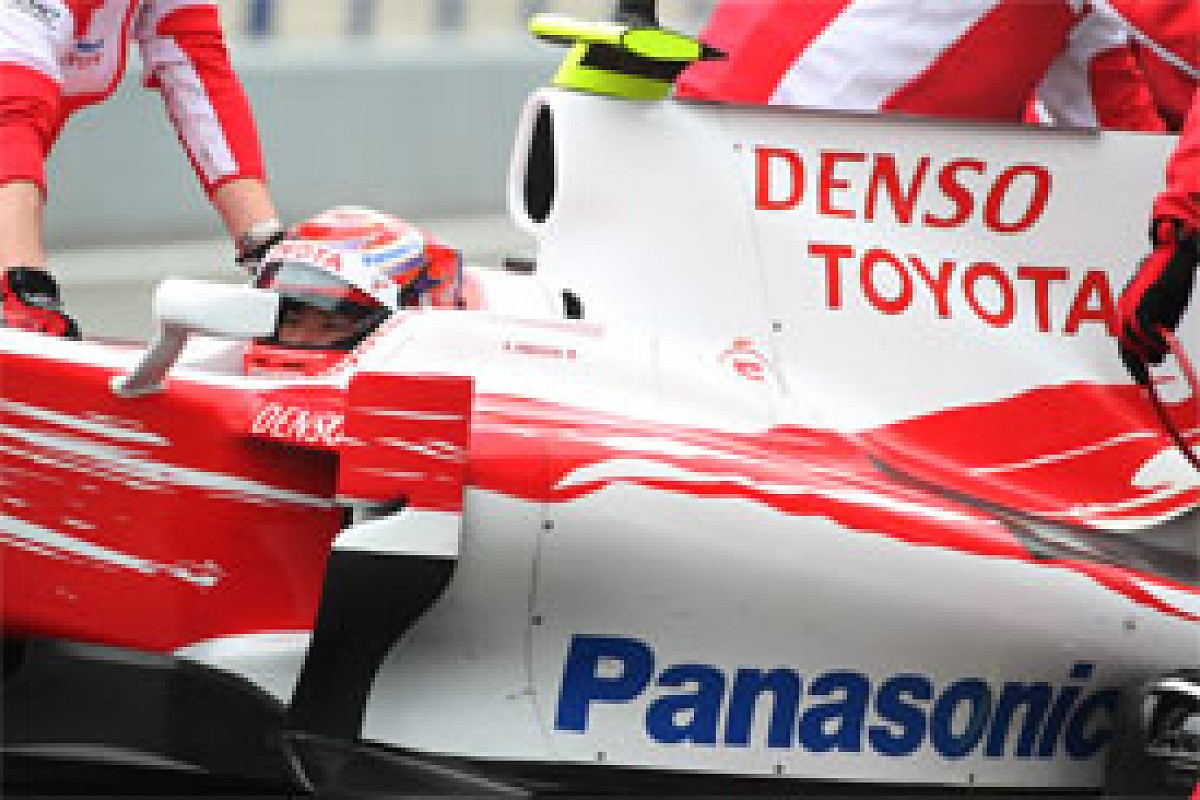 Kamui Kobayashi tests the TF109 in Jerez © XPB
"Ultimately I believe Toyota will come out of the recession stronger and more competitive," he says. "My current assignment is to make sure what we're doing here is offering the right return to Toyota. I think from a cost point of view we can manage it extremely well, and I don't hide the fact that we need to have an extremely strong and competitive year."
Honda's decision certainly seemed to focus FOTA's attention on the problem, and some big decisions were made at that December meeting. But Howett insists that the process was already well under way.
"I'm not sure that Honda's departure changed a lot," he explains. "Maybe it made some people more co-operative. But to be blunt it was very clear from the inception of FOTA that one of the points was to achieve rapid cost saving, and we needed synergy among the teams. And it's been very successful so far, it's been extremely positive. Of course, one has to make compromises, and I think everybody is compromising. There are things that we would ideally like to be different, but there are things that we are very supportive of. Overall I think one has to say we have moved forward."
So what is Toyota not happy with? "Each team has evolved over time, with a specific structure and specific direction. Other teams have taken a different direction. And therefore somehow you have to find the common ground in the middle. Generally speaking I have to say my experience even over the last three or four years it has been possible from the teams' perspective. Now with FOTA I think we have a much stronger lobbying organisation and lobbying point to say that we will stand firm and united on this position."
Howett is certainly fully behind any cost saving measures: "I think overall this year we can probably save roughly one-third of the budget. It's everywhere, in testing, engines, aerodynamics - the actual wind tunnel operating activities, the amount of parts that we put into the tunnel, and how many parts we actually manufacture. From our point of view it's a fairly significant saving. I think there are a lot of opportunities, and probably even more things than we predict will come through. There will be a wave that continues into 2010."
Toyota has clearly lost out by being one of the teams that has invested in a second wind tunnel, and now finds the opportunities to test severely limited.
"Some teams have massive super computers, absolutely massive, and we have two wind tunnels. And that's one of the areas where we found a compromise. At the moment we have a good balance, at least as we stand now. In our case it will be a fairly significant reduction."
Most of the talk has been on cutting costs, but increasingly in recent months we have heard about the income side of the equation, and that of course means the teams having a greater share of the revenues collected by Bernie Ecclestone. FOTA chief Luca di Montezemolo has made his position clear, as has - against expectations - Red Bull boss Dietrich Mateschitz.
"The point from FOTA is that if you look at any other professional sports, the amount of the income distributed to the competitors is much higher," says Howett. "And one has to ask what happens to the remaining revenue. What is it actually doing? Paying for a debt, but why and what's actually happening?
"I think that's a question that beyond FOTA, all of F1 should be asking. Is enough of the revenue being reinvested in the structure of the sport? At the moment it's very important that we ensure that the future continuation of the sport in a healthy way. I think there is reasonable opportunity to sit down and discuss."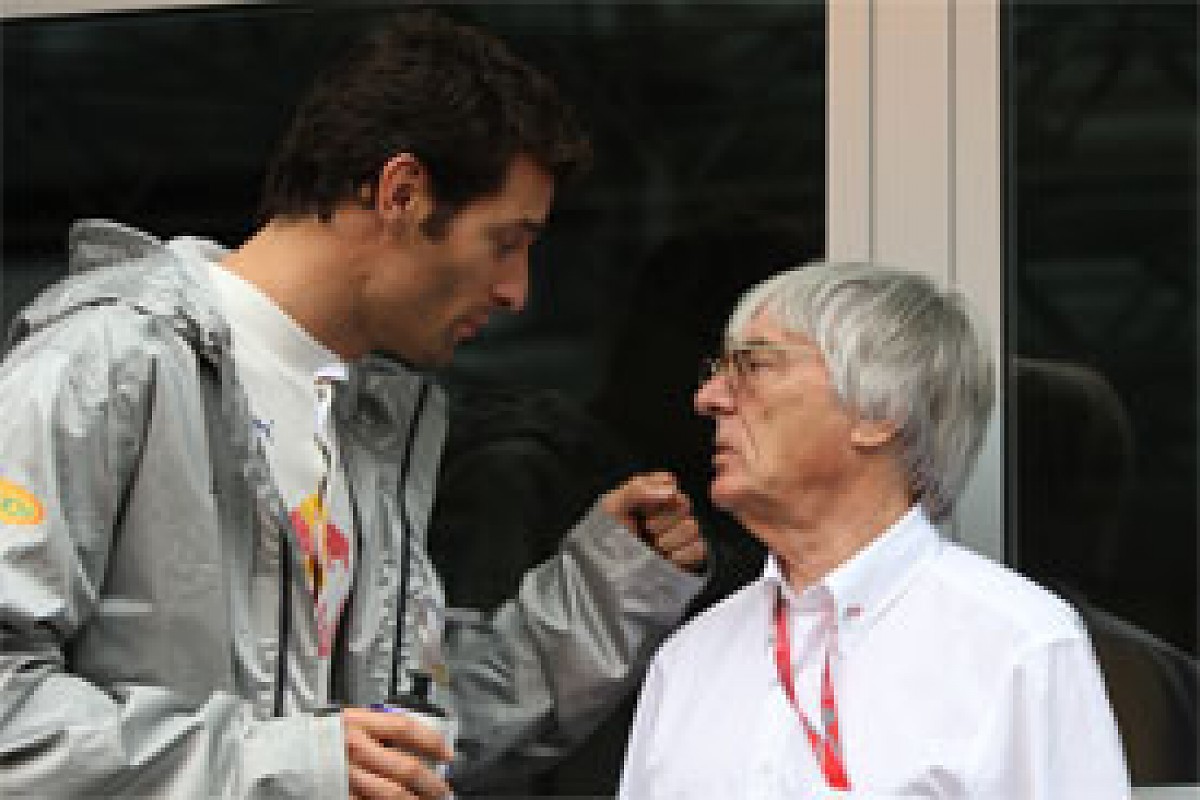 Mark Webber and Bernie Ecclestone © XPB
Historically of course Bernie has not been very flexible when it comes to dividing up the cake.
"I don't know," says Howett. "I think it's something that we need to sit down and talk about. Technically I assume that there are, shall we say, financiers who actually have exposure in terms of supporting the debt, where technically I'm not sure they have binding contracts or not.
"There is a common ground. I don't believe FOTA wants to be excessively greedy. We do have agreements in place which, provided the Concorde Agreement or revised Concorde Agreement covers those areas, people are prepared to sign. But beyond 2012 I think there is an opportunity to discuss that there should be a revised deal."
Another issue the teams have expressed concern about is the calendar. The loss of France and Canada came as a disappointment, although the teams were well aware of the economic situation of the latter. Circuits have to make a race viable, or at least those not massively supported by governments do, and it's all about getting people through the gate.
"The immediate short term has been to look at what we could do from a cost saving measure," says Howett. "And secondly I think we need to understand and finalise a Concorde Agreement, because we need the stability. But I think genuinely the long term perspective is to look at the position of all the stakeholders, and try to find a good position and a good conclusion for everybody, and that includes the circuits and the circuit promoters.

"I think everybody believes we need a good balance between the great heritage of F1 versus the fact that we have to realise there are important, emerging markets where we also need to have a strong presence. I think that's something that will come through in the next six months."
The manufacturers were certainly not happy to lose their last foothold in North America. "Although probably less so Toyota," says John. "Because we're very strong in NASCAR, we have a strong presence in the United States. On the coastal regions there are a large proportion of people who are strong F1 fans, but I think it is important to go back to North America, but I don't think we should rush to do it without showcasing F1 properly.
"We need to demonstrate how great F1 is to the North American public, and I think just to go somewhere which costs us money and probably doesn't showcase our sport to its absolute maximum is wrong. I think we all believe that we need to do the job properly, and that's partly the responsibility of the commercial rights holder, to find the right venue at the right cost structure, with a secure future."
Much depends on the success or otherwise of the measures introduced this year to improve the chances of overtaking, which are intended to make the show more appealing. Will all the effort pay off?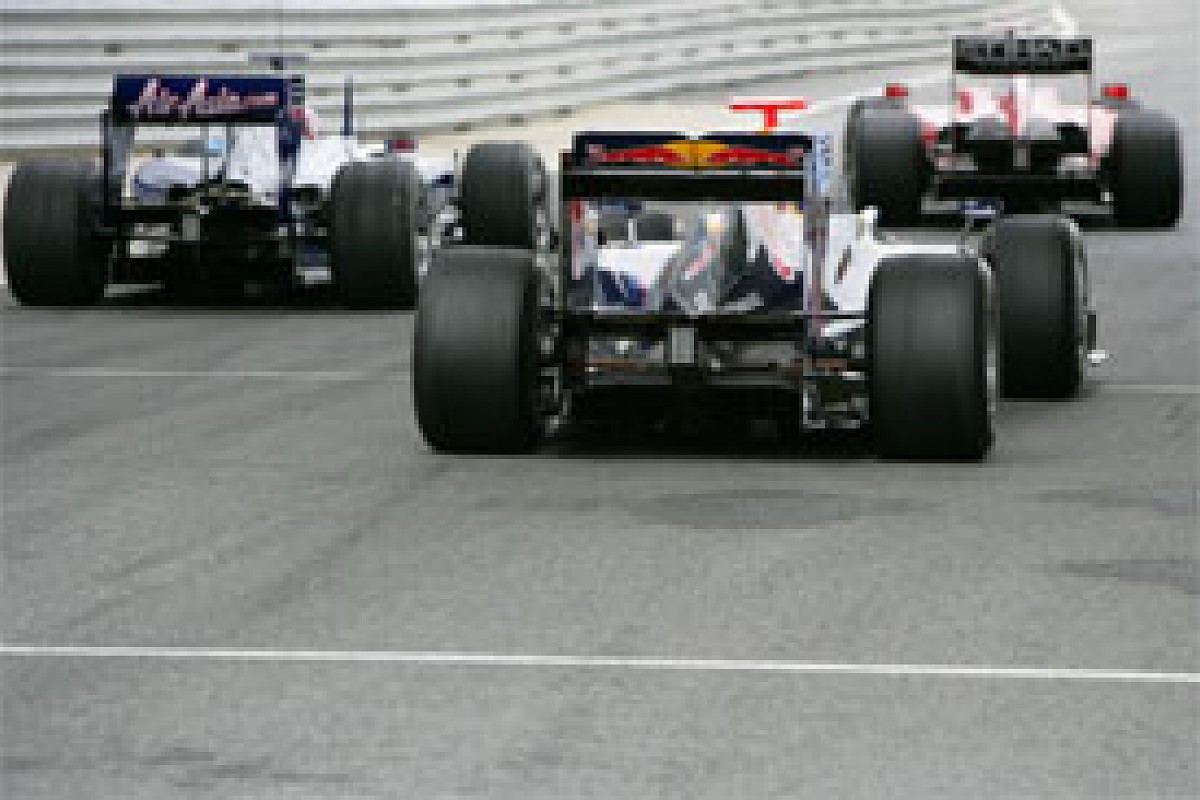 2009 Red Bull, Williams, and Ferrari cars © LAT
"Only time will tell," Howett points out. "The theory is less aerodynamic downforce, more mechanical grip and the fact that the drivers can adjust the flap will help them attack more. I think until we are three or four races into the season, we won't know.

"The problem always with new regulations is that they do historically tend to spread the field out more. Even if we can have overtaking, generally over time the regulations become squeezed, the opportunities are less, and therefore everybody closes up on each other. I am worried that maybe one or two teams will have a very good interpretation and there will be a much more strung out field."
The other part of the 2009 package is KERS. While BMW and to some degree Honda have been huge supporters of the new technology from the start, Toyota has been ambivalent, despite its impressive record in the road car field: "We are the world's leader in hybrids, and one has to say that normally a road car device is purely there for fuel consumption. That's really what it does, it reduces the amount of fuel that you burn, and recovers waste energy. In certain other categories of racing, it would have much more relevance.
"In F1 we're looking at absolute lap time. There is an argument that energy density is one of the challenges of the future, but honestly speaking compared to the billions of dollars that are being invested by battery companies and even governments in this area, what were spending in F1 pales into insignificance. The technology changes almost by the month.
"So really we're not integrating it as a totally integrated powertrain, whereas on a road car you change the engine, the KERS and the transmission, so one has much more freedom to optimise the package. Here we have a bolt-on system to an existing powerplant."
Nevertheless Howett is happy with the direction Toyota has taken with its KERS project: "I think we've used our heads, we've done a very good job. We've had some successful test days with it, and we now really have to look at what value KERS can offer in the total performance package. When we see that there is an opportunity to run it, then we will do that. I have to say that I still question the real value that KERS can offer, given five or six tests before the season, and no in-season testing.
"Fundamentally we've been doing it from Cologne, we have one or two experts that have given us feedback and information on Toyota's experience, things like the AC coupling, which was one of the problems that one or two people suffered. So in that area we have had the benefit of some expertise. But otherwise I think we've had a very sensible investment programme.
"We're part of the Marelli club, and I think that's given us a very sensible cost to value ratio. The system they've developed has performed extremely well. We're dividing the cost by the number of members in the club, which is I think value for money.

"And at a second level you have the opportunity to customise that core technology into what you specifically want. We've got one particular device which is unique to Toyota, not used by others, but the core technical cost is shared by everybody, and I think it's a very sensible approach. The main area that we've been working on has been with a specialist company in Germany on the actual storage device. And I have to say the job they've done is outstanding."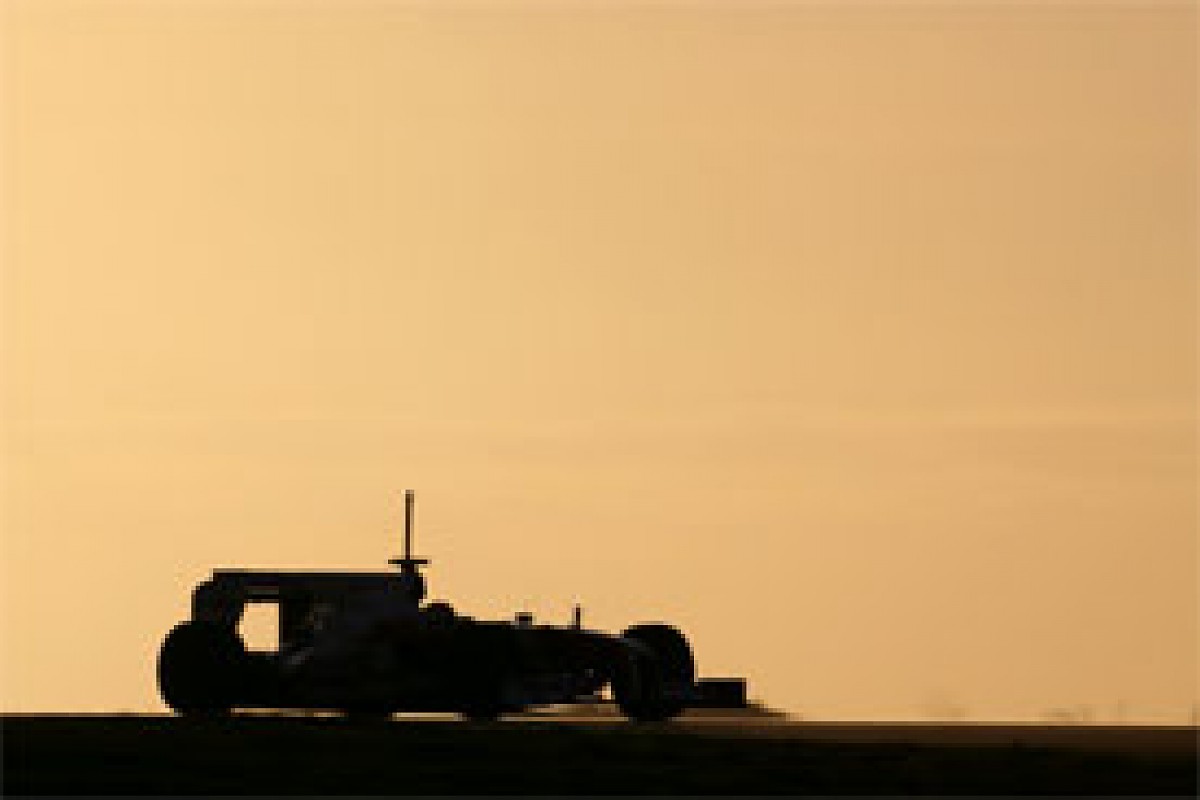 Jarno Trulli testing the TF109 in Bahrain © XPB
One big change FOTA has already agreed to is the cut in testing. To the outsider it appears that Toyota might have more to lose than most, since it's still a young team without decades of experience behind it, and which we assume does not have as effective simulation tools as some of its rivals. Nevertheless, Howett remains very bullish.
"Given the current circumstances we need to reduce costs, and I think it's the right thing to do for the whole sport," says Howett. "I feel that we did a very good job last year. We raced well, we had good strategies, and I honestly don't think we should be disadvantaged."
Even though the massive rules changes came at a time when stability might have favoured Toyota more? "I see risk and opportunity. You could say that going back to a zero line gives an opportunity, and if we've done a good job, it could give us an advantage. Obviously I'm paranoid that we've missed something, and that we're going to be chasing the whole season to recover performance. But I have to say that last year everything we put on the car worked as expected, we've got better and better. So I believe we should have a strong season."