For all the rain and the extraordinary cold conditions that afflicted the first two and a half days of Formula One testing at the Autodromo Internacional do Algarve, the track has made a very positive impression.
Although McLaren and Ferrari both ran here before Christmas, when their track time was blighted by the coldest December conditions experienced in Portugal since 1931, few will have had the chance to take a look in person at the state-of-the-art track.
Not that those who arrived early on Monday morning had much chance to take in the new facility as they hurried to the launch photo calls for the Williams FW31 and Renault R29. The excitement of seeing two new cars break cover in quick succession was a little lost in the 8am gloom, but that subdued feeling quickly faded when the cars, including the new Toyota TF109 and McLaren MP4-24, hit the track when the pit-lane opened at 9am. Finally, F1 2009 had started. All we had to do was wait, and wait, and wait for the track to dry out to get a real impression the new-look machinery in action.
Wet weather testing at Portimao © LAT
In the meantime, there was the chance to take a good look at the new circuit. The pit and paddock area is nothing special in its generic functionality and, despite the baffling presence of a swimming pool outside the media centre, there's not a great deal to catch the eye here. But out on track it's a different story.
This was little more than an empty slab of land when construction started in February 2008, but as an example of the much-maligned oeuvre of Hermann Tilke-designed modern circuits, it's a very good one. The cars always seem either to be going uphill or downhill because the natural topography has been used to great effect. There are also plenty of good places to watch, with many prime spots offering clear sight of several pieces of track. That means there is always something to look at, except if a massive hailstorm peppers the track and sends Pedro de la Rosa and Sebastien Buemi scurrying back to the pits, and anyone unfortunate enough to be watching trackside into hiding.
The track has attracted the most attention for its F1 test activities, but it has also put together a programme of race events which includes A1GP, the Le Mans Series, GP2, FIA GT and World Superbikes, so it has plenty going on for its first full year of use.
There are inevitably question marks over what effect the outright ban of in-season testing will have on the circuit's business plan - although its 'if you build it, they will come' philosophy has worked, teams won't be allowed to run here at all once the season starts. Not that there is cause for concern with over 300 days of track activity long since booked for 2009, it is the definition of a thriving race track.
The Algarve Circuit, Portimao © LAT
Of course, there is one way to get F1 cars during the season - hold a grand prix. That's not something that the track is publicly chasing, but if you've got a great track, to F1 standard, who wouldn't be tempted to try and raise the money to do it? New European grands prix are pretty rare, not to mention pricey, and you have to look back over a decade to 1996 to see Jacques Villeneuve winning the most recent Portuguese F1 race. But an Algarve Grand Prix could be a cracking event.
There are plenty of overtaking opportunities, loads of places where drivers can make mistakes or misjudge their braking points and the track is pretty accessible for the crowd with a two-mile approach road off the A22 motorway pretty much to itself. You can imagine that with a little sunshine falling on the hills that line the circuit it would be one of the more picturesque venues on the calendar.
Not that you'd know it from the way it all started, with Williams and then Renault holding pit-lane photo calls while the sun was still low in the sky. The Williams made the better impression. Decked out in dark blue testing colours, it's the most clean-cut of the new blocky generation of F1 cars. It looked good, and there are high hopes for Williams this year. But in the equally low-key launch press conference on Monday, technical director Sam Michael was very much on the cautious side of optimistic.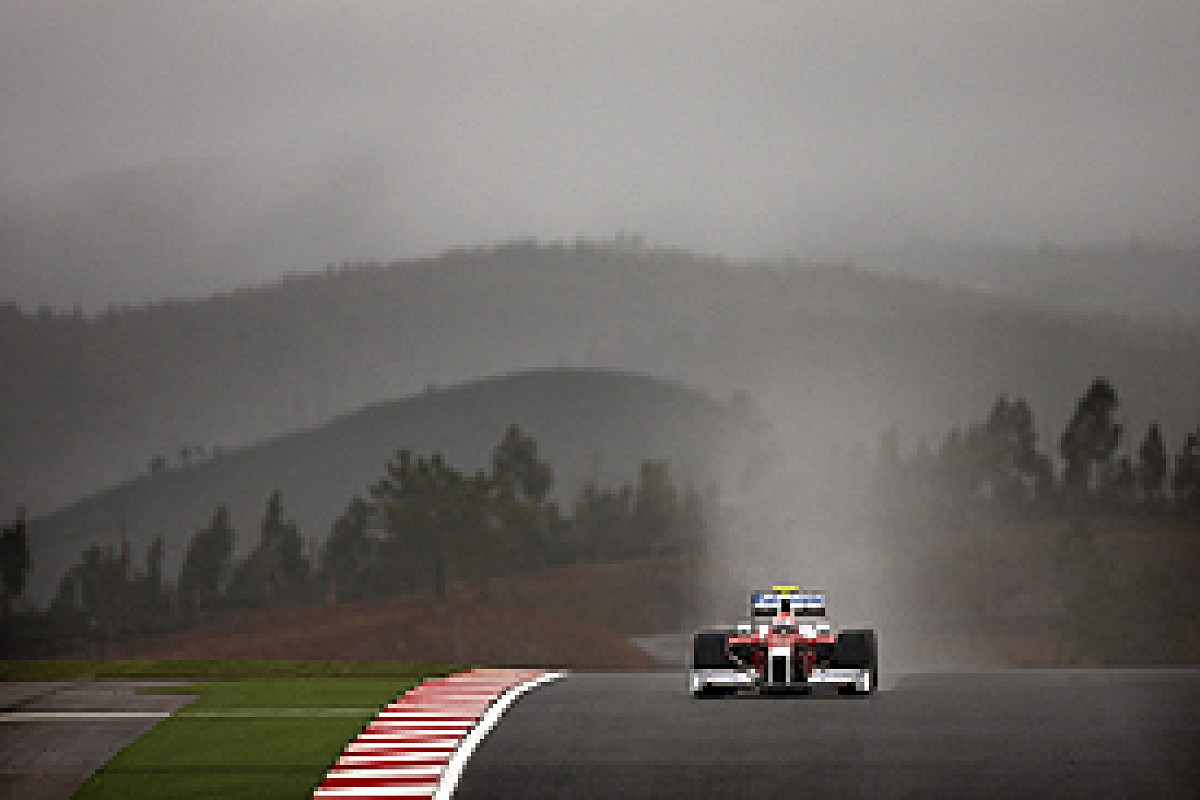 The Renault R29 launch © LAT
It was a similar story with Renault, as Alonso's proclamations of fighting for the title almost had the air of threat about them than genuine fighting talk, based on a certainty that their car was definitely a leading contender. Toyota bucked that trend, with some strong comments on Tuesday hinting that a 'weak' season could spell bad news for the Japanese manufacturer.
But the fact is, no-one wants to make predictions because they can't. With new tyres, KERS, skinny aerodynamic regulations and adjustable front wing flaps to worry about, this is genuinely a season in which no-one, least of all the teams, can really be certain about where they stand until they get to Melbourne at the end of March.