Oliver Solberg, the son of 2003 World Rally champion Petter, has won the European Rally Championship's Rally Liepaja on his debut in the category's top class.
The 17-year-old beat reigning ERC champion Alexey Lukyanuk by 22.7 seconds after winning 10 of the 13 stages in Latvia.
The result made Solberg the youngest rally winner in ERC history.
Solberg was driving a Volkswagen Polo R5 in a gravel rally for the first time, having taken the car to a pair of Latvian championship victories on snow at the start of this year.
He led Rally Liepaja from the opening stage, when he was 5.9s faster than anyone else.
A half-spin for Solberg on stage three allowed Citroen driver Lukyanuk to close to within 3.8s of him, but he was then able to pull away over the rest of the rally.
"This is incredible, the biggest day and the biggest moment of my life," Solberg told Autosport.
"Honestly, I didn't know what to expect from this rally, but to make a result like this is fantastic.
"Everything was perfect for me on this event. From winning the qualifying stage all the way to winning the final stage, I had confidence from the car and I felt I could push when I wanted. It's amazing."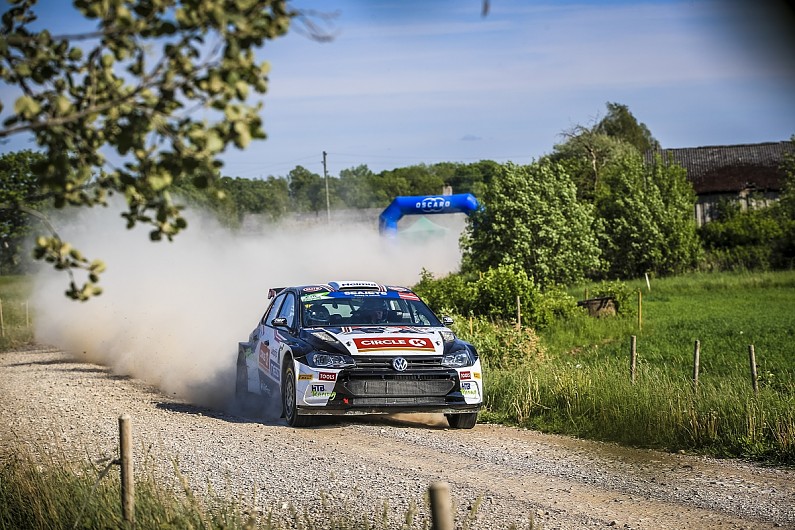 Solberg has competed mostly in Latvia since he began rallying in 2017, taking advantage of a rule allowing drivers to enter rallies there from as young as 14 years old.
After stepping up to four-wheel drive machinery this year, Solberg has also joined Subaru Motorsports USA for a programme of rallies in the United States, winning last month's Olympus Rally.
His father Petter hailed Liepaja as a "fantastic" performance by Oliver.
"I'm so proud of what he's doing and the way he's doing it," the 2003 WRC champion and double World Rallycross champion told Autosport.

"There was big pressure for Oliver, but he just got on with the job.
"Honestly, he was the coolest guy of all of us, no stress just drive the car. Fantastic."
Lukyanuk's second place is the first time he's finished a rally so far in the defence of his ERC title.
He crashed out in the Azores following a brake failure, and broke his left-front suspension while leading in the Canary Islands.
Anther teenager, 19-year-old Martins Sesks, finished third. Sesks, who hails from Liepaja, was making his first ever start in an R5 car as a prize for winning last year's ERC3 Junior title for two-wheel drive cars.
British driver Chris Ingram overcame late radiator damage to finish fourth, moving to within one point of the championship leader Lukasz Habaj, who came fifth.
Rally result
| Pos | Driver | Team | Car | Gap |
| --- | --- | --- | --- | --- |
| 1 | Oliver Solberg, A.Johnston | Sports Racing Technologies | Volkswagen | 1h40m31.9s |
| 2 | Alexey Lukyanuk, A.Arnautov | Sainteloc Junior Team | Citroen | 22.7s |
| 3 | Martins Sesks, K.Caune | LMT Autosporta Akademija | Skoda | 57.4s |
| 4 | Chris Ingram, R.Whittock | Toksport WRT | Skoda | 1m16.8s |
| 5 | Lukasz Habaj, D.Dymurski | Sports Racing Technologies | Skoda | 2m17.7s |
| 6 | Filip Mares, J.Hlousek | ACCR Czech Rally Team I | Skoda | 3m02.4s |
| 7 | Marijan Griebel, S.Kopczyk | | Skoda | 3m32.0s |
| 8 | Hiroki Arai, I.Minor | Stard | Citroen | 3m36.5s |
| 9 | Eyvind Brynildsen, C.Menkerud | Toksport WRT | Skoda | 3m46.2s |
| 10 | Mattias Adielsson, A.Johansson | Sweden National Team | Citroen | 4m12.6s |