Newly-crowned triple DTM champion Rene Rast says he thought his title challenge was over with three rounds to run when he slipped 47 points behind Audi stablemate Nico Muller.
Amid the dominance of the Abt team during the first part of the season, Muller and Robin Frijns emerged as the favourites for the title, with Team Rosberg's Rast reduced to the role of an outside contender.
However, the 34-year-old staged a remarkable turnaround at Zolder by winning four races on the trot, completing a 66-point swing to snatch the championship lead from Muller with two races at Hockenheim remaining.
Muller fought back with a victory and a second place, but couldn't deny the in-form Rast his third DTM crown as he took the final win of the DTM's Class 1 era.
"If somebody would have told me five, six weeks ago [that I would win the title], I would have said that he has no idea about motorsport," said Rast, who previously won the 2017 and 2019 titles and finished a close second in 2018 to Gary Paffett after winning the last six races of that season.
"But obviously since Zolder we are on a high and we kept it on the line, and the last laps the whole race was very emotional.
"I knew we had the pace but today my car was just flying. Half of the race I was alone."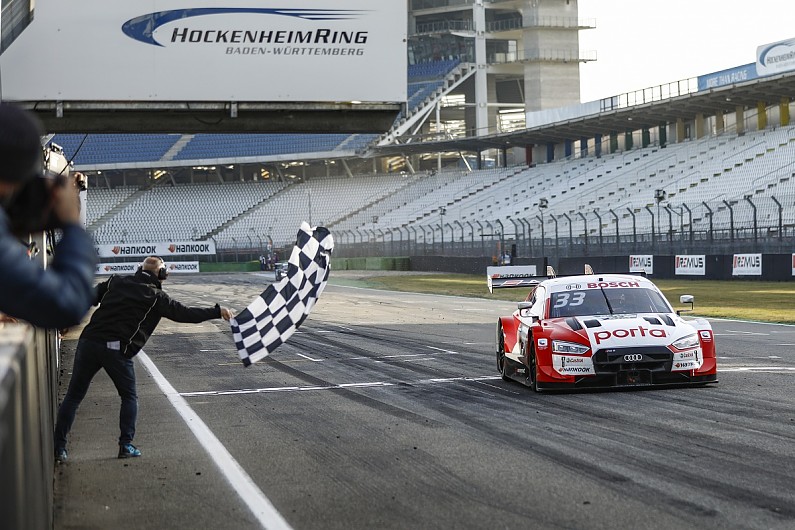 Rast admitted he found it difficult to focus in the closing laps and "had to really tell myself to focus on the corners, not just think about the season too much".
"Almost winning four championships in four years is something incredible and outstanding. Nobody really believed we would come back like that.
"I went to Zolder and said, 'The championship is anyway over, we just give it the beans and see what happens'.
"But for it to turn out like that, to act like that and to be champion now, who would have thought that before Zolder."
Rast's triumph also makes him Audi's most successful driver in the series in terms of both race wins (24) and championships, overhauling double champion Mattias Ekstrom's tally of 23 wins.
PLUS: Ranking the 10 best Audi DTM drivers
Asked to compare his three successes in the DTM, Rast said his first was "the most surprising one" but felt 2020 was on a par given the emotion of overhauling Muller in the final rounds.
"This year after such a struggle to fight for the title in the last race is always very special," he said.
"To win the title with a victory is cherry on top of the cake, so it was a very emotional one.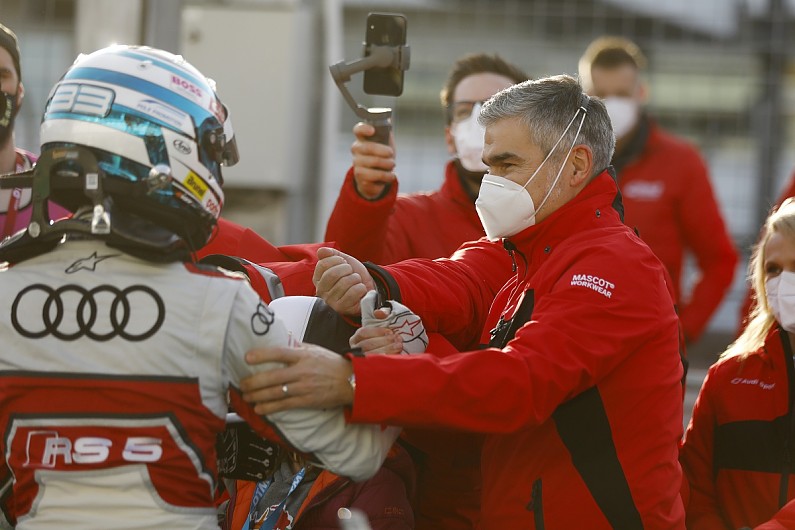 "Now I'm Audi's most successful driver ever and last laps with those race cars. 2017 and 2020 are on a very similar level."
The upturn in the performance of Team Rosberg was also made evident by Rast's teammate Jamie Green scoring back-to-back podiums at Hockenheim - his first rostrum appearances since the opening round at Spa in August.
Team boss Kimmo Liimatainen believes the cooler conditions in October and November played into the hands of his squad.
"Let's not forget that now it's November and the temperatures are cooler, that has helped us a bit,' he said.
"Basically on a one lap pace for me Rene was there, it was just tyre management in the race."
Autosport has produced a standalone special magazine to celebrate our 70th birthday. All current print subscribers will receive a copy for free. To order your copy of the 196-page Autosport 70th Anniversary issue, please go to: autosport.com/autosport70th