BMW admits it was "slightly worried" about Marco Wittmann's charge from 18th to second in the final DTM race at Assen because it was concerned his tyres would not last.
A turbocharger problem the day after Wittmann's victory in the first Assen race relegated the two-time DTM champion to an 18th place start before he rose to 10th in the opening laps.
Witmann had moved up to sixth before the BMW RMG team then opted to pit him earlier than most to benefit from fresh tyres.
Wittmann finished second after Rast's tyres dropped off and forced him to make a second pitstop, while Mike Rockenfeller's long-running first stint allowed him to take the victory, the 2013 champion's first win since 2017 at Zandvoort.
Rudolf Dittrich, the general manager of BMW Motorsport's vehicle development, told Autosport: "I wasn't so sure if it would be so difficult to overtake [at Assen] but it was a very special performance from Marco today, he made up some places already on the first lap and kept going.
"I was slightly worried because if you need to overtake, it inherently means you need to be close to the cars [and run in dirty air], go off-line.
"I was slightly worried about what would happen to his tyres but, as we found out in the end, he was very superior in managing the tyres and that brought the result."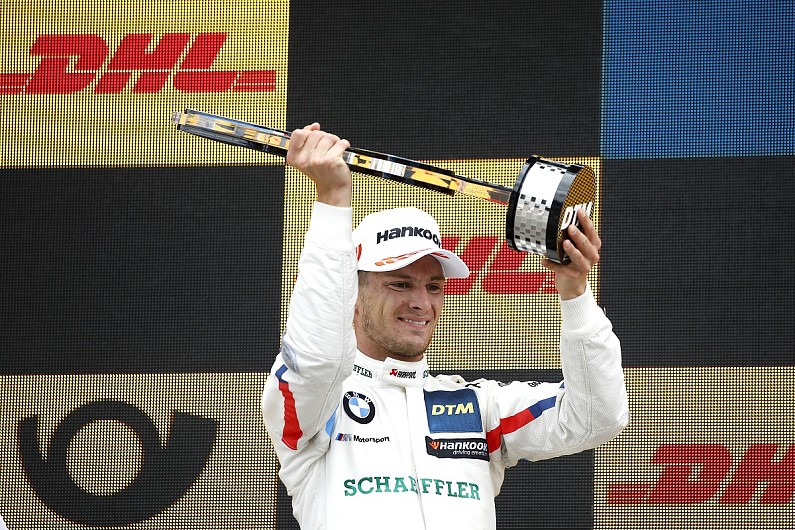 Wittmann played down the impact of tyre management in his climb through the field.
"Tyre management was key [in the race] but to be honest for me there was not a lot of time to manage the tyres because especially if you come from the last position," Wittmann told Autosport.
"You have to fight your way to the front and you have to overtake, brake late, sometimes move off-line - so there wasn't really time for tyre managing.
"Also after the pitstop, I was trying to follow Rene and he was pushing, and I think that wasn't the perfect scenario for him and myself.
"He had to stop a second time, and in my case, I survived but I think Mike's approach to start a bit slower was at the end, better."
Rast had looked set for victory when he held a lead of over six seconds over the chasing Wittmann and Rockenfeller following the mandatory pitstop window.
But Rast slowed with just under 10 laps remaining due to a sudden tyre drop-off and was forced into the pits.
After dropping into the midfield, Rast managed to pass both Audi stable-mate Robin Frijns and R-Motorsport Aston Martin's Daniel Juncadella for fifth.
"The tyre stopped basically, everything was under control, I was not putting a lot of force on the tyres in my opinion," Rast told Autosport.
"But somehow the tyres didn't last, I need to monitor and find the reason why that was, I think we know roundabout what went wrong but we lost a lot of points today."
Following the weekend's events, Witmann moves up to third in the championship and 40 points behind fellow double champion Rast, who leads.