BMW's Marco Wittmann topped the second DTM practice session at Misano, after Audi swept the earlier running by locking out the top six positions.
The second practice session was shortened to 30 minutes after a 50-minute delay for a track inspection that revealed the screws built into the kerbs at Turn 6 and 16 had loosened.
The inspection came after four drivers - Andrea Dovizioso, Jonathan Aberdein, Rene Rast and Loic Duval - suffered left-hand side tyre punctures.
Autosport understands the loose kerb screws were not the cause of the punctures and instead it was "foreign objects".
Regardless of the shortened session, the opening practice benchmark of 1m27.635s set by Audi's Duval was quickly cleared inside the first five minutes.
Wittmann eventually bettered the leading time to 1m26.687s as he made the most of cooler conditions on Friday evening.
Audi's Robin Frijns was second in the evening's practice session and narrowly edged out championship leader Philipp Eng, who was warned for track limits on several occasions.
The hard-braking tight Turn 13 proved tricky, with several drivers pinged for track limits or suffering lock-ups through the first two practice sessions.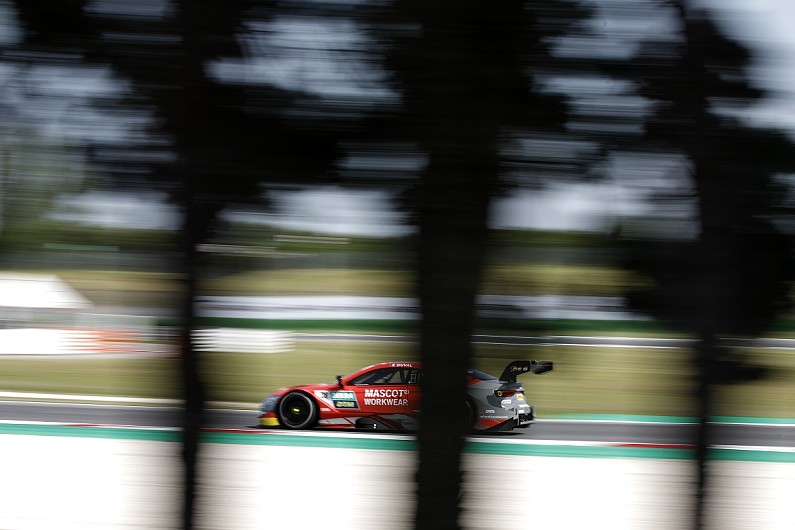 Rene Rast was fourth for Audi and led stablemates Nico Muller and Mike Rockenfeller on the timesheets.
BMW rookie Sheldon van der Linde was seventh ahead of fellow newcomer Aberdein, who placed his WRT-run Audi in fourth in the first session.
Duval and Bruno Spengler rounded out the second session's top 10.
Pietro Fittipaldi, who is replacing Jamie Green for this weekend, was 13th in the evening after finishing 11 in the opening session.
Ducati MotoGP rider Dovizioso finished 16th in both sessions after highlighting what he believed to be his weaknesses ahead of running.
In the first session, he finished only ahead of R-Motorsport Aston Martin driver Jake Dennis, but Dovizioso improved to outpace the two Astons of Ferdinand Habsburg and Daniel Juncadella.
Habsburg completed just one lap in the opening and was not classified, with R-Motorsport yet to reveal the cause, but the DTM newcomer managed 19 more laps in the later running.
Practice one times
| Pos | Driver | Team | Car | Time | Gap | Laps |
| --- | --- | --- | --- | --- | --- | --- |
| 1 | Loic Duval | Phoenix | Audi | 1m27.635s | - | 19 |
| 2 | Rene Rast | Rosberg | Audi | 1m27.692s | 0.057s | 9 |
| 3 | Nico Muller | Abt | Audi | 1m28.100s | 0.465s | 26 |
| 4 | Jonathan Aberdein | WRT | Audi | 1m28.248s | 0.613s | 19 |
| 5 | Mike Rockenfeller | Phoenix | Audi | 1m28.717s | 1.082s | 8 |
| 6 | Robin Frijns | Abt | Audi | 1m28.731s | 1.096s | 23 |
| 7 | Marco Wittmann | RMG | BMW | 1m28.889s | 1.254s | 25 |
| 8 | Bruno Spengler | RMG | BMW | 1m28.955s | 1.320s | 25 |
| 9 | Joel Eriksson | RBM | BMW | 1m29.074s | 1.439s | 27 |
| 10 | Philipp Eng | RMR | BMW | 1m29.124s | 1.489s | 25 |
| 11 | Pietro Fittipaldi | Rosberg | Audi | 1m29.188s | 1.553s | 17 |
| 12 | Sheldon van der Linde | RBM | BMW | 1m29.344s | 1.709s | 24 |
| 13 | Daniel Juncadella | R-Motorsport | Aston Martin | 1m29.347s | 1.712s | 12 |
| 14 | Timo Glock | RMR | BMW | 1m29.537s | 1.902s | 22 |
| 15 | Paul Di Resta | R-Motorsport | Aston Martin | 1m29.804s | 2.169s | 27 |
| 16 | Andrea Dovizioso | WRT | Audi | 1m29.809s | 2.174s | 19 |
| 17 | Jake Dennis | R-Motorsport | Aston Martin | 1m29.895s | 2.260s | 28 |
| - | Ferdinand Habsburg | R-Motorsport | Aston Martin | - | - | 1 |
Practice two times
| Pos | Driver | Team | Car | Time | Gap | Laps |
| --- | --- | --- | --- | --- | --- | --- |
| 1 | Marco Wittmann | RMG | BMW | 1m26.687s | - | 16 |
| 2 | Robin Frijns | Abt | Audi | 1m26.957s | 0.270s | 16 |
| 3 | Philipp Eng | RMR | BMW | 1m26.979s | 0.292s | 13 |
| 4 | Rene Rast | Rosberg | Audi | 1m27.007s | 0.320s | 17 |
| 5 | Nico Muller | Abt | Audi | 1m27.174s | 0.487s | 8 |
| 6 | Mike Rockenfeller | Phoenix | Audi | 1m27.239s | 0.552s | 22 |
| 7 | Sheldon van der Linde | RBM | BMW | 1m27.354s | 0.667s | 17 |
| 8 | Jonathan Aberdein | WRT | Audi | 1m27.361s | 0.674s | 11 |
| 9 | Loic Duval | Phoenix | Audi | 1m27.378s | 0.691s | 18 |
| 10 | Bruno Spengler | RMG | BMW | 1m27.405s | 0.718s | 10 |
| 11 | Joel Eriksson | RBM | BMW | 1m27.618s | 0.931s | 16 |
| 12 | Timo Glock | RMR | BMW | 1m27.716s | 1.029s | 16 |
| 13 | Pietro Fittipaldi | Rosberg | Audi | 1m28.112s | 1.425s | 20 |
| 14 | Jake Dennis | R-Motorsport | Aston Martin | 1m28.241s | 1.554s | 9 |
| 15 | Paul Di Resta | R-Motorsport | Aston Martin | 1m28.455s | 1.768s | 17 |
| 16 | Andrea Dovizioso | WRT | Audi | 1m28.488s | 1.801s | 21 |
| 17 | Ferdinand Habsburg | R-Motorsport | Aston Martin | 1m28.861s | 2.174s | 20 |
| 18 | Daniel Juncadella | R-Motorsport | Aston Martin | 1m30.288s | 3.601s | 9 |