Newly-crowned DTM champion Gary Paffett has put his title win down to the "best lap I've ever driven" in qualifying for the final race at Hockenheim.
Paffett put his Mercedes third on the grid on the final lap of Sunday's session, having had his previous effort disallowed for a track-limits offence.
This put him into a position where he was able to conserve third place throughout the race, in which he needed a top-four result to keep the title beyond the reach of Audi's race-winning late-season form man Rene Rast.
"Qualifying was the key," said Paffett.
"I've had five pole positions this year, but third place was the best lap I've ever driven.
"I had the lap before cancelled because I was outside track limits, so I had to do another.
"I was already sideways into Turn 1, and I had to deliver a perfect rest of the lap."
Paffett, in common with his Mercedes team-mates, struggled with race pace as the C63s appeared to be harder on their tyres than the Audi and BMW opposition.
"In the race we didn't have the fastest car," he said.
"We built a gap [to fourth place] in the first stint, and the second stint was about looking after the car.
"It was pretty much under control, but the qualifying made that all possible.
"I was struggling with degradation and dropoff on the rear tyres so it wasn't easy for me - they felt strange.
"I was calling for a pitstop quite early, and then it was similar on the second set, and I couldn't hold on to the guys in front of me [Rast and Marco Wittmann's BMW]."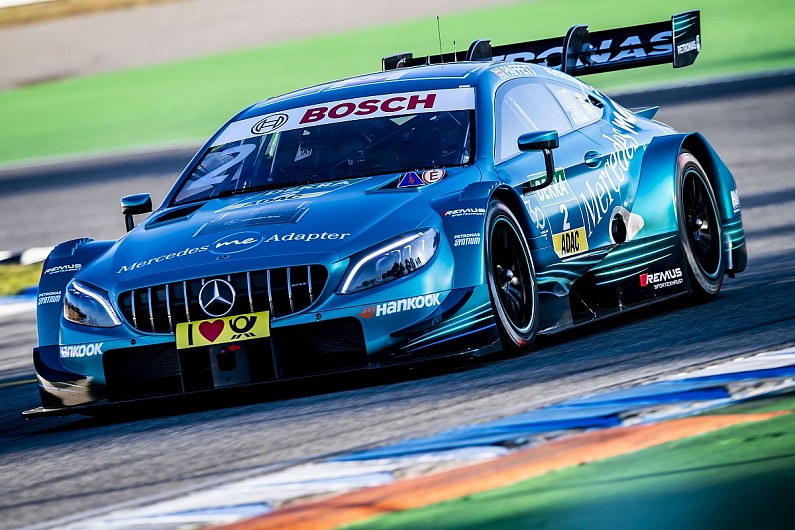 Paffett had the Audis of Nico Muller and Robin Frijns looming towards the end as they mounted a bid to knock him down to the fifth place that would hand Rast the title.
"I decided to look after the tyres so I'd have a bit left if I needed it - but it wasn't the most comfortable race," he told Autosport.
"At certain points of the track I could see them coming, and then I saw them start to appear in my mirrors with four or five laps to go, but I knew they weren't close enough to overtake."
Paffett also paid tribute to team-mate Paul di Resta, who led the points before Hockenheim but ended up third in the standings.
"He's had an incredible year," said Paffett. "He's been really consistent and quick.
"We haven't had many battles on track, but the championship lead has always been changing between us.
"He didn't have a great weekend [at Hockenheim], but he deserves a lot of respect, and he should be proud of what he did."