Munich was the scene of much fanfare in the DTM last weekend. For the first time in its history, the German-based series held a Race of Champions-style head-to-head that it christened its 'Show Event' inside Munich's Olympic Stadium.
It was spectacular to see the fire-breathing Mercedes C-class and Audi A4 machines being hounded around the tight and twisty confines of the stadium that hosted the infamous 1972 Olympic Games - and was also the scene for Germany's famous comeback win against the Netherlands in the World Cup final two years later - but not as spectacular as on 'proper' circuits.

And that was the problem. A total of 48,000 spectators turned up to watch the non-championship event in Munich, but that was less than went to the Lausitz round in June; Hockenheim's season-opener had 58,000, which I'm reliably informed was its lowest turnout since the 1980s. So any conception that the event was about 'bringing the sport to the fans' is just misguided. By the amount of damage that was done to the cars on display, it was also expensive.
A mile or two down the road at BMW World, there had been fanfare of a different kind less than 24 hours previously. This time it was with good reason, as the Bavarian car giant unveiled the car that will take it back to the DTM for the first time since 1992.
The M3 DTM shown off was a concept version of the car that had its first roll-out less than three weeks ago and has already completed initial shakedowns at Oschersleben. If the finished version looks anything as good as what the world's press was shown, then we're in for a treat next year. Don't hold your breath though; matte black will almost certainly be replaced by BMW white when the manufacturer rocks up at Hockenheim next year.
Last Friday's announcement also included confirmation of Andy Priaulx and Augusto Farfus as two of the manufacturer's six drivers for 2012. While neither was a surprise - AUTOSPORT magazine revealed as long ago as January that Guernsey's fastest man on four wheels would be part of the line-up - I must admit to feeling a sense of great satisfaction now that the deal is out in the open and he can get down to the business of driving.
Priaulx is one of Britain's top racing drivers and has proven himself at every level, so it is only right that he should get this opportunity to lead a development push for such a prestigious manufacturer.
"I'm really excited about it," he says. "The resources and the structure here at BMW that's going into this programme is immense and it shows you just how seriously this is being taken - it is the racing programme for BMW next year. I've been with BMW since 2004, but whatever I've done, be it European or World Touring Cars, has always been the second programme after Formula 1. Even the GTs this year... there wasn't much development to be done. It was mostly done in the shadow of F1 the year before.
"You walk around the factory now though and the push is really there. We've even got a load of ex-F1 guys working on this programme, which is important because it's not easy to just get engineers with DTM experience to leave Audi or Mercedes and come here."
Being happy to be there is one thing, but doing something other than just making up the numbers is another. One current DTM driver recently said during a conversation that "Priaulx doesn't know what he's getting himself into. This isn't like those Super 2000 cars... We don't crash into each other at every corner, and we're twice as fast. I hope he has a thick skin."
At the time I thought this comment to be extremely unfair on Priaulx, although I could see where he was coming from. Downforce levels and therefore cornering speeds generated by DTM cars (even under the 2012 rules of reduced aero) exceed anything Priaulx has raced in the past decade - the man himself said his first impressions of the M3 was that it was more F3-like than anything he'd driven with a roof - but I can't see this being that much of a problem for him. Time and time again the goalposts have been changed for the Guernseyman, and on each occasion he's adapted.
When thrown into the cut-and-thrust of touring car racing for the first time - at the Oulton Park BTCC round in 2001 - he responded by taking an incredible pole position, ahead of such tin-top stars as Yvan Muller, James Thompson, Jason Plato and Steve Soper. After moving to BMW it took him just half a season to record his maiden European Touring Car win and less than two years to become the continent's champion.
And as for a thick skin? Don't forget, this is the man who lived in a caravan on the BRDC lawn at Silverstone for over a year while scraping together a budget that nobody thought existed to propel himself into Formula 3, and who had to deal with being rudely referred to as 'Pikey Priaulx' whenever he showed up at races. His ability to deal with adversity is not in question.
It continued... In 2007, despite having won the past two WTCC titles, Priaulx had to cope with a bizarre decision by BMW to put all its eggs in the basket marked 'Farfus' following the Brazilian's switch from N.Technology to the Schnitzer squad. Unperturbed, the Brit and his RBM squad simply kept doing what they were good at, winning and scoring points while Farfus made mistakes. By the end of the year there was only going to be one champion.
And now? For my money he's matured even further. The 2010 season was his best in touring cars as he belied the fact that the 320si was almost constantly (and for no good reason) the heaviest car in the WTCC field to take six wins. Okay, most of them were from reversed grids, but on weekends when your car is not the quickest, it takes a driver of supreme maturity to race for an eighth place early on a Sunday to guarantee the best possible chance of being a winner later on.
Much has been made of BMW's need to recruit a top-line driver with bags of DTM experience in order to really drive the programme forward, although not by BMW itself until motorsport director Jens Marquardt confirmed last week that "drivers from other teams" were being evaluated.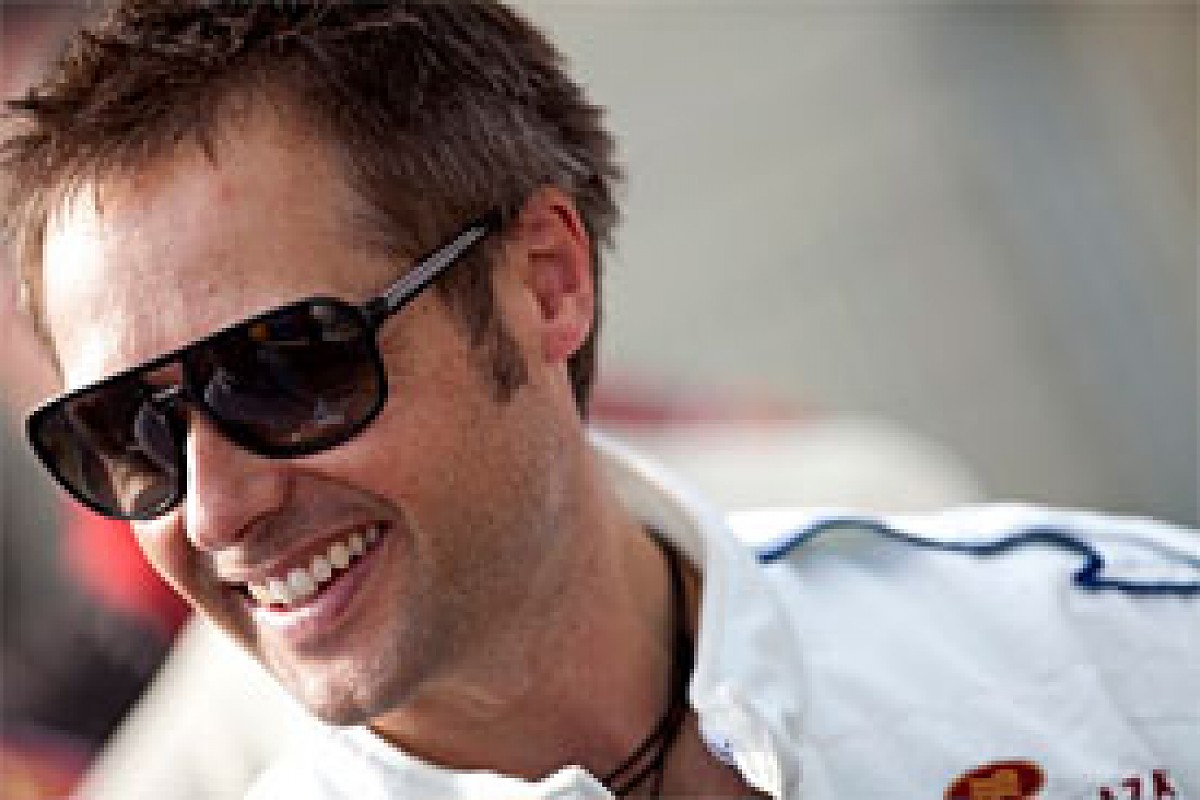 Priaulx during the Le Mans 24 Hours © LAT
Jamie Green was mentioned towards the end of last year (his promotion to a latest-spec Mercedes makes it highly unlikely that he would want to leave the marque) and championship leader Bruno Spengler now seemingly having to bat off weekly rumours about his future (for the record, he told AUTOSPORT in June that he had held no discussions with BMW, nor had any intention of leaving his current employer).
It's a scenario that Priaulx actually agrees with, but what would you expect of a man with such level-headedness?
"We need that driver, whoever it may be," he says. "It's not that I think we need him to test and develop the car; Augusto and I can do a pretty good job of that and BMW have a lot of faith in us to do that. It's more that they can be a real benchmark. You know that if they get in and drive quickly, it's because the car's quick. And if you're not as quick, then it's you that's lacking, not the car."
BMW has a long road ahead of it before next season begins, but with a totally new set of technical regulations, it is at least starting on a level footing with Audi and Mercedes, even if it is starting 10 years behind in terms of championship knowledge.
With Priaulx leading the development push and a bottomless pit when it comes to budget, expect it to achieve its aim of "competitiveness and respectability" with ease. Expect it to do more than that. Much more.