This weekend the DTM will host its season finale away from the familiar surroundings of Hockenheim for the first time in its 'new' era that dates back to 2000.
It's also the first time a title showdown will be fought out exclusively between three team-mates, and it's highly likely that the series will be crowning a new champion on Sunday.
The fact that Bruno Spengler, Paul di Resta and Gary Paffett are all still in the hunt is a testament to Mercedes' dominance this year. It hasn't won this championship since 2006, but it has brought Audi's run to an end in emphatic style, winning eight of the 10 races so far this year.
The streets of Shanghai are the setting for this three-way showdown, on a brand new track layout not far from the location of the DTM's last visit to China for a non-championship race in 2004. Incidentally, victory on that occasion went to Paffett, who needs a repeat of that result to have any chance of the title.
All three drivers have promised there will be no secrets kept from each other in debriefs over the weekend, and their bosses have said they are free to race each other hard for the title. But Audi has regained its competitiveness in recent races, so don't rule out the possibility of an A4 driver playing a part in deciding which of the three Mercedes drivers takes the crown.
Bruno Spengler
2010
66 points
2 wins
0 poles
8 podiums
Career wins: 7
Career poles: 7
Previous championship best: 2nd, 2006 and 2007
The Canadian has rediscovered the form that made him the great new hope at Mercedes in 2006 and 2007. Back then, it seemed impossible that he would go two years without a victory, but that was the case up until this year's race at Lausitz. Remarkably, that race also signified the first time in his career that he has led the standings.
His 2010 campaign was built on a very strong start, something that was missing in the two years he finished runner-up. He was on the podium in all of the first five races, and at that stage of the season he was 16 points clear. But the summer was tough, as di Resta in particular found some phenomenal speed.
For the most part Spengler looked comfortable just settling for second places behind di Resta, but his two bad results have come as a result of difficult qualifying sessions. He spent the entire race at Zandvoort mired in traffic and salvaged seventh, while he was over-optimistic on the first lap at Hockenheim last month and triggered a multi-car pile-up.
He says: "It's impossible to predict what will happen on a new street track, you just have to be ready for anything. We all want to win the race for Mercedes, and then the track will be the judge for the championship. Three team-mates fighting doesn't usually happen, so this will be a special event."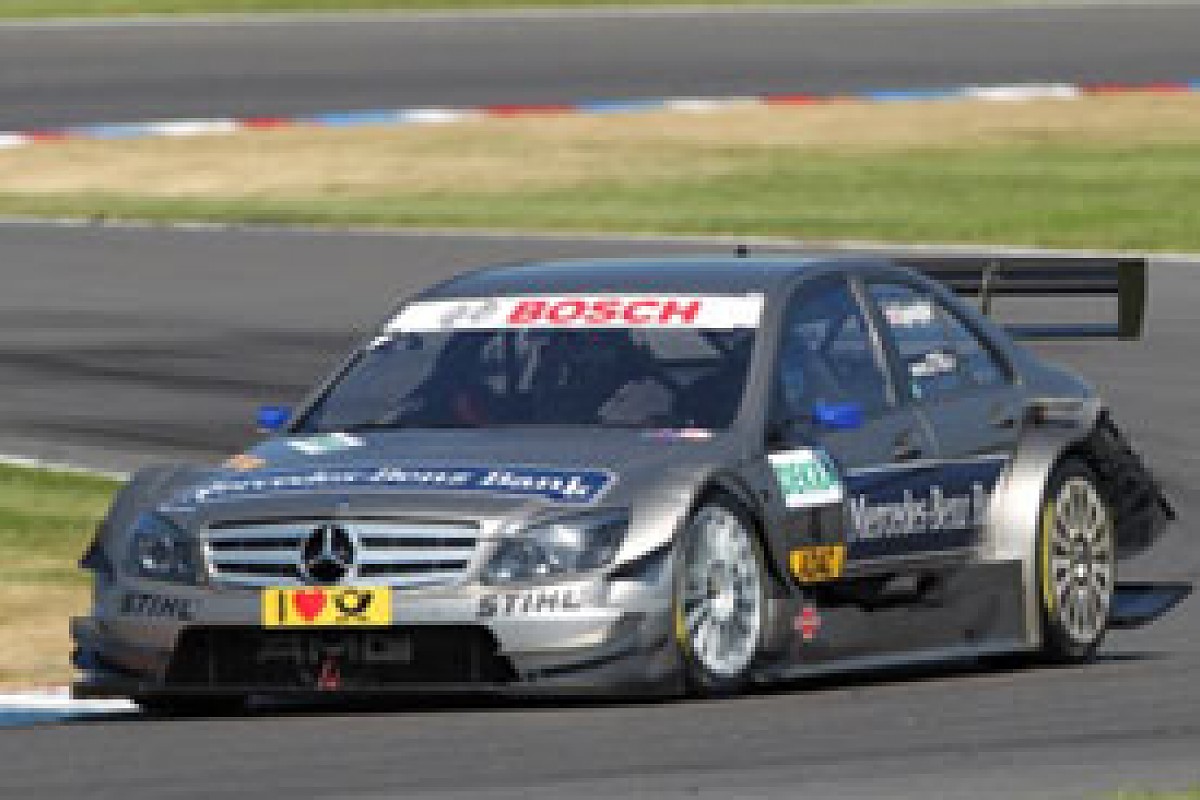 Paul di Resta © LAT
Paul di Resta
2010
63 points
3 wins
3 poles
6 podiums
Career wins: 6
Career poles: 5
Previous championship best: 2nd, 2008
Di Resta can pinpoint some pretty clear misfortune as the reasons for him not leading the standings at this stage, and perhaps that's why earlier this week Audi's Mattias Ekstrom said if he had to place a bet on the 2010 champion he would back the Force India test driver.
The Scot had victory in the bag at Lausitz earlier this year, but he was told to back off once he had established a lead over Spengler. When his HWA team then fluffed his pitstop, the Canadian was handed his first victory for two years - and di Resta did little to hide his disappointment.
At the Norisring, he was spun around by Alexandre Premat's Audi on the first lap - a heavy price to pay for the only time he qualified outside the top six all year. Then, after finally reeling in Spengler and taking the points lead with three wins on the bounce, he was collected by Mike Rockenfeller in the wet opening stages at Adria and could only recover to ninth.
Of the three title contenders, di Resta has shown the most impressive speed this year. But his three-point deficit means that even if he does win the race, Spengler can afford to follow him home in second and still win the title.
He says: "There is a big battle on this weekend and that will be interesting on a street track where mistakes are usually punished heavily. It's game on, and myself and Gary probably have to take more risks than Bruno does. We have to get out front, but you need to be running at the end."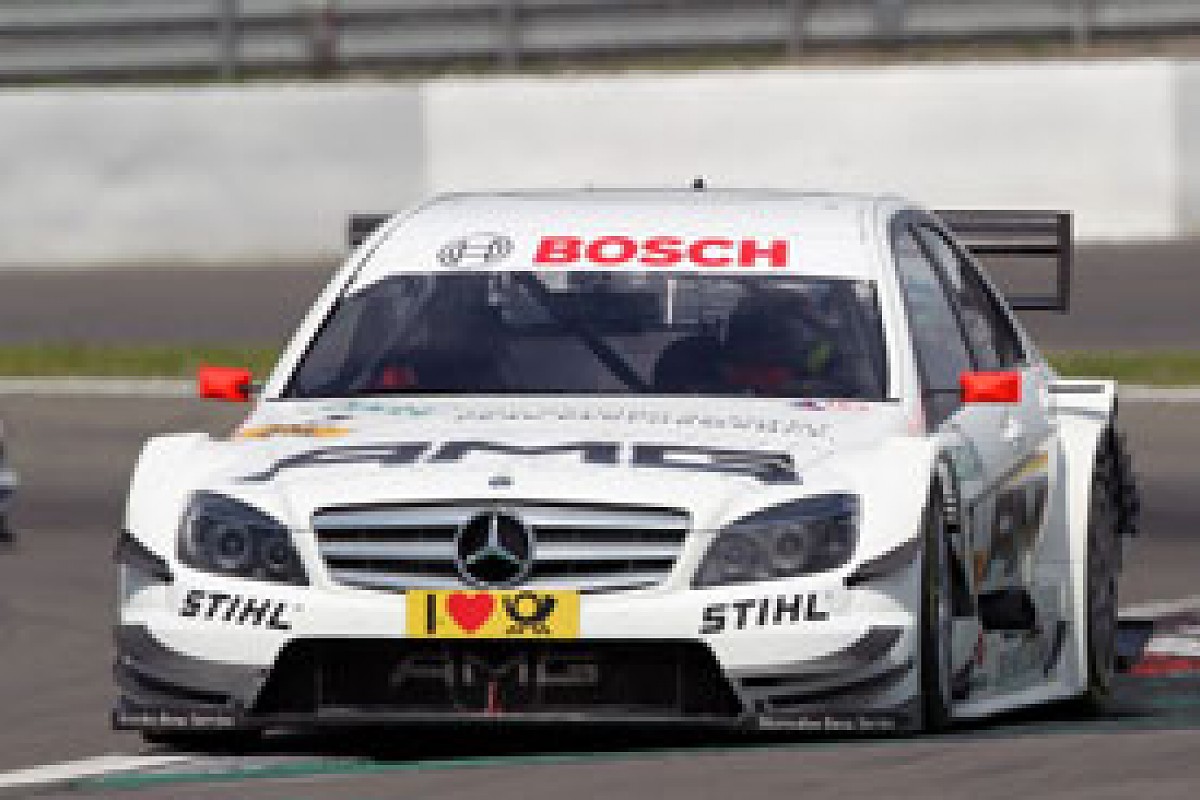 Gary Paffett © LAT
Gary Paffett
2010
57 points
2 wins
2 poles
4 podiums
Career wins: 15
Career poles: 7
Previous championship best: 1st, 2005
This is the fourth time Paffett has fought for a DTM title, but so far 2005 remains his only successful attempt. He carried a strong finish to 2009 into this year by winning the season opener, but then had too many races in the middle of the campaign where he couldn't quite reach the peaks achieved by his team-mates.
His canny approach has kept him in touch - he is the only one of the three to have scored points in all 10 races so far, but a nine-point deficit with only 10 on the table is a big ask for the McLaren test driver. He could come to regret his mid-race spin last time out at Adria that handed a position to Spengler.
Paffett's experience of the 2004 Shanghai race is unlikely to offer much of an advantage as the track layout is different this time. But of the three contenders he is the only driver with experience of a DTM car on a street circuit other than the Norisring, which is by no means a traditional city circuit.
He says: "Going to a new street circuit makes things more unpredictable, and that's exciting for me because it gives me a better chance of winning the title. I have to win the race, my attitude for the weekend is to go all out to win and then the championship will be decided by what Bruno and Paul do."