For the best part of two and a half years, it looked like Ralf Schumacher would never crack the DTM. There were glimmers of hope along the way, the odd points finish here and there, but in reality his progress was slow.
After a strong(ish) finish to his 2009 season, the veteran of 180 grands prix came into 2010 with confidence. He's still a big publicity draw for the series - witness the high profile Laureus foundation returning to the series with him this year. And for the first time since he joined the DTM in 2008 he even set himself a target - a podium finish.

Ralf Schumacher © LAT
But at the start of this season he was back to square one. Nothing was working, and he qualified 16th, 13th and 17th for the first three races. Meanwhile, David Coulthard had joined the Mercedes ranks and was picking things up relatively quickly. The heat was on Schumacher, who couldn't afford to be outdone by a fellow ex-F1 driver who he had a two-year head-start on.
Then, out of nowhere, it clicked.
Schumacher shocked the DTM paddock when he took a well-deserved pole position at the Norisring. He initially played it down - "maybe I'm only fast here because there's only four corners" - but the general feeling in the team, and even from his brother Michael, was that he had finally got his head around a DTM car.
His race pace at the Norisring was also strong, proved by a fastest lap. But unfortunately all that speed went to waste thanks to a jump start in the most high-profile DTM race of the year. At the time, it was widely considered that Schumacher had blown his only ever chance of DTM glory.
But the promise showed at the Norisring has stuck around. Schumacher has made the top eight Q3 segment of qualifying in the following three races, and he made the top four pole position shootout at Brands Hatch. He's only turned one of those results into points (a sixth place at the Nurburgring), but he has at least proved that he can drive his Mercedes C-class quickly on tracks with more than four corners.
"If somebody told me it would take nearly three years to just be half decent, maybe I would have thought differently about coming to race here," Schumacher admits. "But it's really tough in the DTM. Some of these guys have been doing this for 10 years now - it's like riding a bike for them.
"I was thinking about it in the car at Brands Hatch - the competition is so tough here now. I don't know what it used to be like, but I think it has gone to a much higher level in the last two years. Plus, the cars are two or three seconds faster than they were in the early years, so they are much trickier to drive on the edge."
Pole at Norisring has been the highlight of the season © LAT
While the DTM field is probably at its strongest right now, in reality, it's the difficulty of getting to grips with a DTM car that poses the bigger problem. They are described as a single seater car with a shell, but the likes of Schumacher and sportscar legend Tom Kristensen have always disputed that point. Yes, they produce impressive levels of downforce, but the weight of the cars (1050kg) gives them a totally different feel to any conventional single seater.
Comparisons are always made between Schumacher and his ex-F1 predecessors at Mercedes, Jean Alesi and Mika Hakkinen. Both won races in their first season. But Schumacher believes that Alesi in particular had an easier time of it, because he has driven the two-seater Mercedes taxi-car - a chassis from the Frenchman's first season in 2002.
"When I drive the taxi, it is completely different and much easier to drive," he says. "Adapting to drive one of the current cars is very hard. It's completely different to Formula 1, and I have to be really careful all the time not to overdrive the car.
"In the DTM when you push harder you go slower, which is difficult to understand when you are used to the performance of Formula 1 cars. This year, I've really worked on getting my braking and style in the corner to suit a DTM car."
Schumacher's performances of late are clearly a relief to the six-time grand prix winner, but it's also spurring him on. His future is always a subject of doubt when he's touring round at the back, for two reasons; surely he'll get fed up in the end, and if he doesn't, what about Mercedes?
"It's much more satisfying when things are going in the right direction," he says. "And it makes you hungry for more. It's always more enjoyable when you are putting the car near the front where it belongs.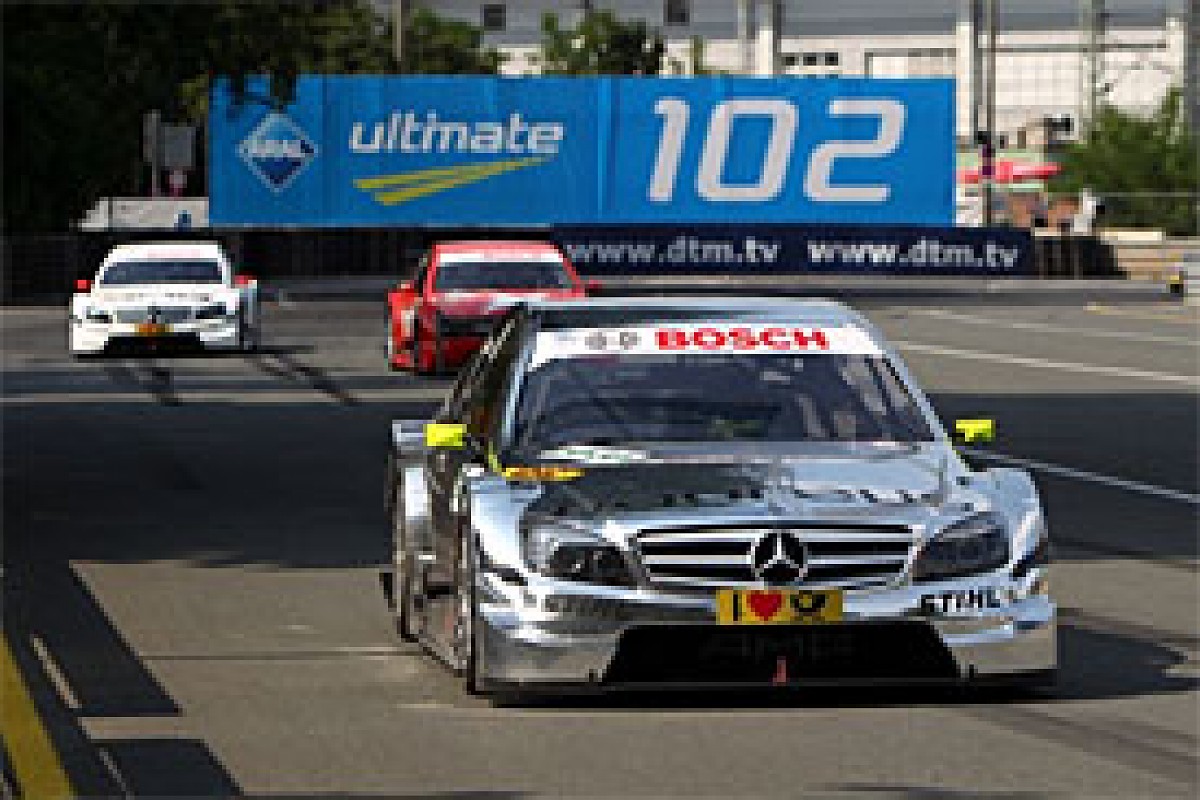 Schumacher is getting to grips with the DTM © LAT
"I have to say, I'm really surprised by how supportive my team has always been. It must be hard for my guys seeing their car always being the slowest 2009 Mercedes, but they kept working hard and kept smiling.
"Even when I qualified fourth at Brands Hatch, I was shocked how happy everybody was. In F1 if you are fourth and someone in the same car is on pole then nobody talks to you."
Now, all that is missing is a top performance on a Sunday afternoon. Schumacher is optimistic that he is now looking at the DTM with a long-term view, but even he won't gloss over the fact that he can't look too far down the line until he's notched up a good chunk of points.
"Things didn't start the way I wanted them to, and I did put pressure on myself to turn it around," he says. "It's good now, but we haven't made it just yet. I have to get a good result as well.
"I'm starting to get on top of the way a DTM car has to work, but it takes a while. At the moment I'm still fighting not to be the slowest of the 2009 Mercedes, so I still have a couple of tenths to find. It won't come overnight, but I'm hopeful that I can get to the front."
It's taken much longer than it should have, but - whisper it - Ralf Schumacher might have finally got his head around the DTM.