Timo Scheider's 2008 DTM title was supposed to be a fluke. It was all meant to be down to Audi designing a car which suited his style more than anyone else's, and he wouldn't be able to keep that advantage in a car that gave his team-mates more of a chance.
There was also the fact that Mercedes had finished the season so well, with Paul di Resta hunting the German down over the second half of the season. With more development over the winter, surely the C-class would be a strong enough weapon for di Resta, and HWA returnee Gary Paffett to prevent Audi from becoming the first manufacturer in DTM history to win three titles in a row.
In the end, all of the statements above proved inaccurate. Scheider worked hard over the season to get the 2009 car to his liking, and while he didn't start the year with the sort of performances that took him to his maiden crown, his pursuit of consistency proved that he has developed into a seasoned champion.
Mercedes stumbled out of the blocks at Hockenheim, before Paffett picked up where he'd left off in 2005 and got back to winning ways. Unfortunately, there were too many off days for Mercedes as a team, which enabled Scheider to build up a healthy lead as the season drew to a close.
Much like 2008, Mercedes rallied well and proved that it can take the fight to Audi, but it was too little, too late for Paffett and di Resta.
Two years ago Scheider was a man with seven seasons of DTM racing under his belt and not even a single podium to show for it. Now he's a double champion, and a thoroughly deserving one.
Round 1 Hockenheim, May 17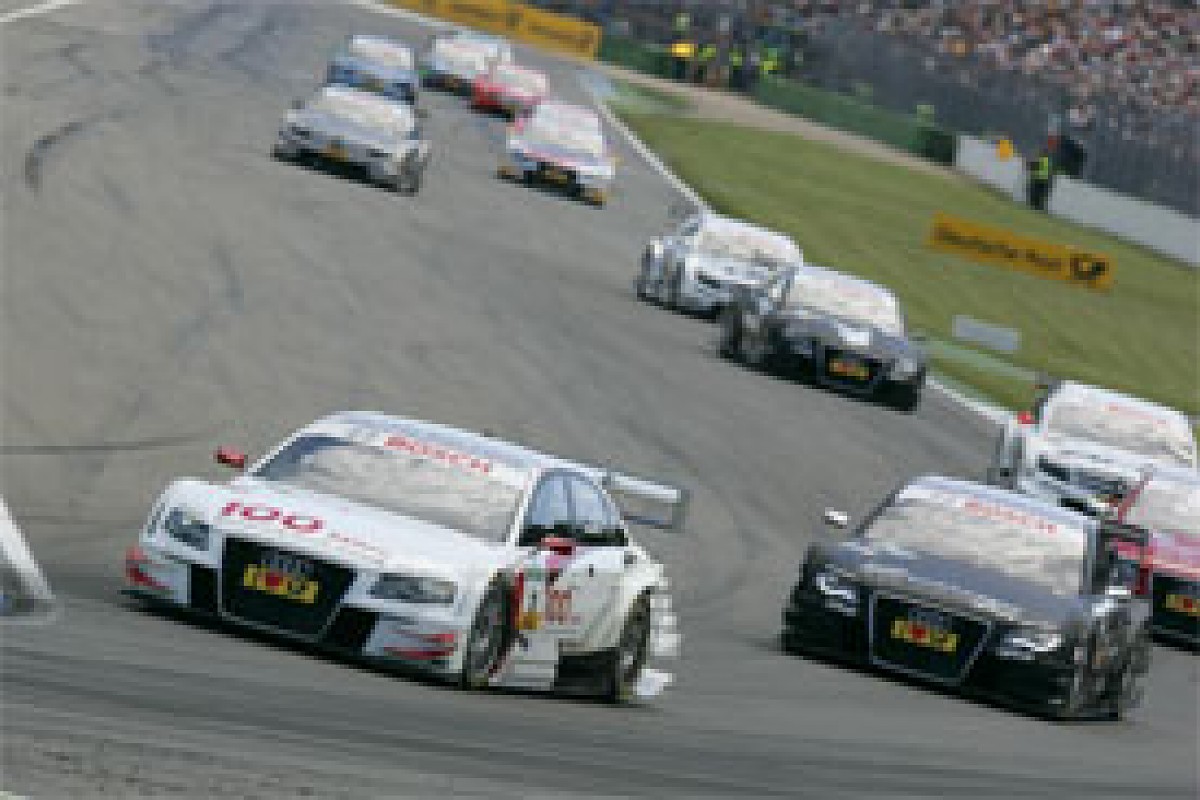 Tom Kristensen leads the field at Hockenheim in the Abt Audi © LAT
All the talk of Mercedes carrying its 2008 momentum into this year had evaporated by Saturday afternoon. The best Mercedes was di Resta in a distant sixth, while Paffett's return to a competitive car was hindered by a steering problem and left him down in 11th.
While the Audi's waltzed away at the front, Mercedes was in big trouble after just a handful of corners. Paffett collided with Alexandre Premat at the hairpin on lap one, which led to the front bodywork flying off of his car. It took with it the electrics for the engine, before smashing into the roof of Ralf Schumacher's C-class. It was a calamitous incident, which summed up the weekend for Mercedes.
Up front, Mattias Ekstrom dominated until two laps from home, when some debris shredded one of his tyres and forced him to limp back to the pits. That handed victory to Tom Kristensen just two days after he announced that 2009 would he his last season in the DTM, while Scheider made a quiet start to his title defence and inherited second.
"I prefer to get my bad luck out of the way early," Ekstrom declared at the time. After dominating the season opener so commandingly, he had no concerns about being six points behind Scheider, and didn't consider for one moment that he was about to embark on a winless season.
Round 2 Lausitz, May 31
Lausitz is Mercedes territory, and despite the best efforts of the weather to give Ekstrom pole position, Audi had no response to Mercedes in the race.
Paffett, starting seventh due to a penalty for his first-lap tangle with Premat at Hockenheim, used a long stint to jump all of those ahead of him and take his first win for two years.
Behind him, Bruno Spengler used a similar tactic in the second stint to make it a 1-2, and he gave Paffett a hard time as he chased him to the flag. Ekstrom was the top Audi in a distant third, after the Abt Sportsline team decided to target keeping Paul di Resta at bay as Ekstrom didn't have the track position to stop Paffett or Spengler.
Scheider was fifth after another quiet performance, but his consistency was already paying dividends. Despite two average races, he was back at the top of the standings just two races into his title defence.
Round 3 Norisring, June 28
Jamie Green won at the Norisring in a 2008 Persson Mercedes-Benz © LAT
Audi's last Norisring win came in 2002, when Laurent Aiello defeated Bernd Schneider in a thrilling duel. So for 2009 Audi had worked extensively on its package for the simple street circuit, and a front row lockout suggested it was getting things right.
The race went to plan for the most part as well. Scheider had led most of the race, using an extreme-low downforce set-up that prevented the chasing Mercedes of Spengler from getting close in the braking zones.
But as Scheider worked his tyres hard to stay in front, the pack closed up. Spengler made his move with five laps to go, triggering a thrilling finish. The Canadian almost instantly threw the lead away, enabling Jamie Green to pounce on Scheider to steal a victory in his 2008-spec Mercedes.
In the madness, somehow Scheider was shuffled back to fourth, but with different drivers doing the winning he still retained his lead in the standings.
Round 4 Zandvoort, July 19
Much like Lausitz and Norisring are Mercedes tracks, Audi had enjoyed a stranglehold on Zandvoort in recent years. But Mercedes only had to go back to 2005 for its last win in the Netherlands, and the man responsible for that success - Gary Paffett - was back in a new car.
Oliver Jarvis caused an upset by becoming the first person to take pole in a one-year-old car, which was a welcome distraction for Audi. After a disastrous qualifying session the 2009-spec A4s filled places 8-11.
But there were no distractions to save Audi on race day. Paffett pounced on a Jarvis error to take a second win of the season and the championship lead, while Audi caused a team orders scandal when several cars slowed to elevate Ekstrom to second place.
Eventually the Swede was put back behind Jarvis in the results, which wasn't much of a punishment considering that team orders are banned.
Zandvoort gave Paffett a crucial lead in the championship over Ekstrom and Spengler, while Scheider was now seven points adrift after a weekend to forget. He needed to turn things around, and fortunately Audi had a mid-season test at Misano coming up.
Round 5 Oschersleben, August 2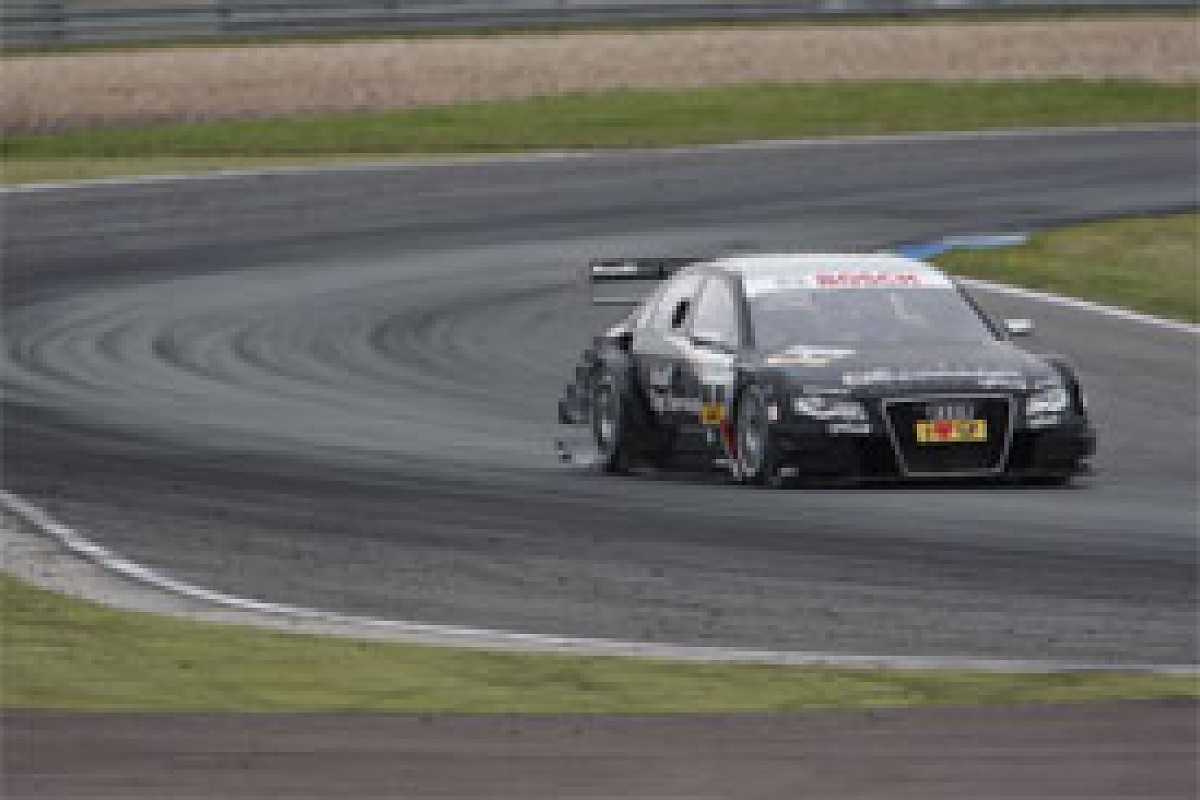 Timo Scheider in the Abt Audi at Oschersleben © LAT
Oschersleben was the scene of an emotional first victory for Scheider in 2008 and it proved to be the springboard for his 2009 crown as well, as he notched up the first win of 2009 in commanding fashion.
With Mercedes running 20kg heavier all weekend, Audi was always on for a dominant weekend, and so it proved. Scheider beat poleman Tom Kristensen to Turn 1 and never looked back, crediting the work done in testing at Misano for giving him a winning car again.
Mercedes was satisfied as di Resta and Paffett raced their way into the top five from 9th and 12th respectively, and with Paffett still leading the championship it was considered a bullet dodged. This was supposed to be the worst track of the year for Mercedes and it was all going to go well from now on.
Round 6 Nurburgring, August 16
Mercedes was confident heading to the 'Ring, but it ended up getting blown away in a crucial weekend in the title race.
With the team orders controversy still fresh in the mind, there was little Audi could do as Martin Tomczyk led Scheider for the whole race. Bruno Spengler had somehow got his car onto the front row but was barged out of the way by Ekstrom on the first lap, and after that Mercedes didn't get a look in.
Scheider re-took the championship lead with second place, while Spengler was the best 2009-spec Mercedes in sixth, a whopping 27 seconds behind the winner. The killer blow was for Paffett though. A misfire in qualifying left him 16th on the grid, which led to a punt from Katherine Legge's Audi at the start.
Paffett rejoined last and battled back to eighth, but in the space of two races his seven-point lead over Scheider had turned into a six-point deficit.
Round 7 Brands Hatch, September 6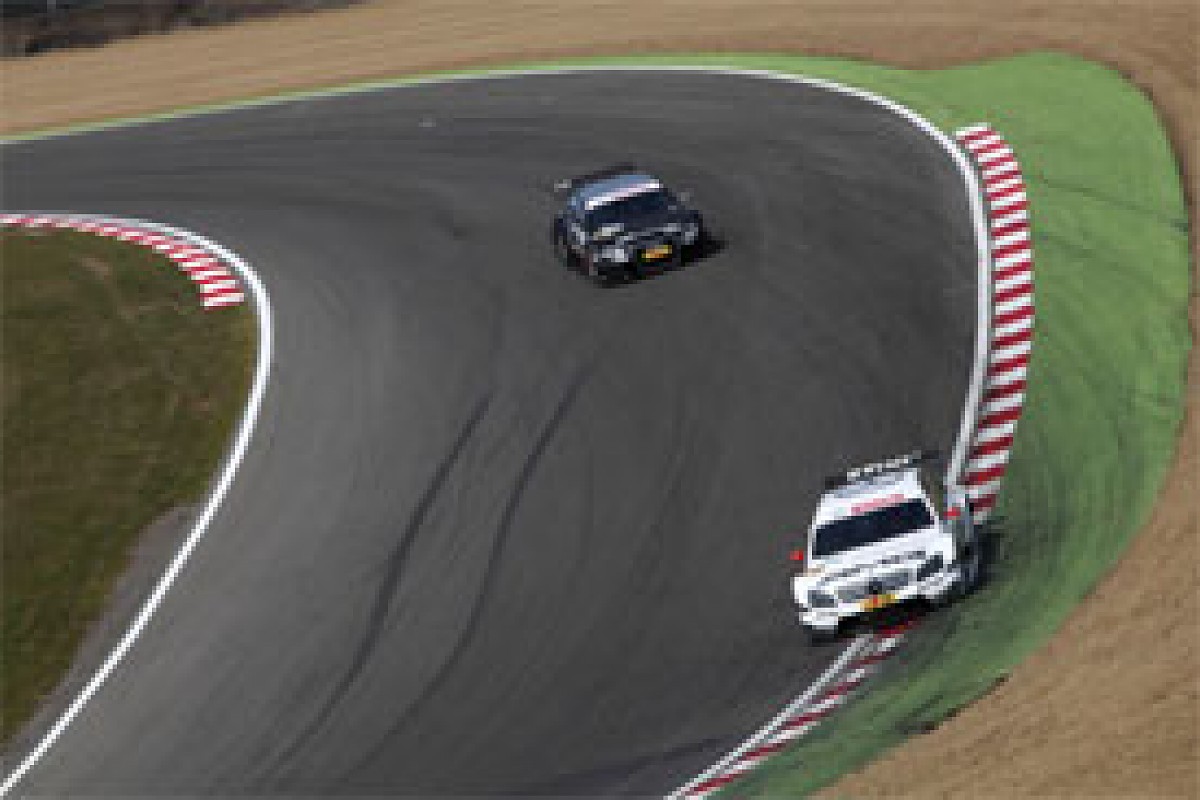 Paul di Resta, HWA Mercedes-Benz; leads Timo Scheider, Abt Audi; at Brands Hatch © LAT
Paffett desperately needed a home win to get himself back into contention, but instead it was di Resta who dominated proceedings. The 2008 runner-up was in a class of his own from free practice, and reminded everyone of his capabilities after a frustrating season up to that point.
Championship-wise, Scheider had another good day by taking second again, while Paffett could only manage fourth. But Audi landed itself in more hot water for its team tactics, as Martin Tomczyk slowed to let Scheider into second, but claimed he'd made the decision himself.
With Scheider now nine points clear of Paffett, it all seemed a bit unnecessary and the title battle was shaping up to be an all-Audi affair anyway with Ekstrom up to second.
Round 8 Barcelona, September 20
Essentially, this was the weekend that killed Mercedes off. Having been pleased to give Audi a hard time in qualifying, where the A4 usually had an advantage, there was lots of head-scratching just a day later.
Not only were Paffett & co confused by their lack of race pace, but Scheider made them pay by making the start of the season. He went from fifth to the lead at the first corner and never looked back, as Audi locked out the podium for the fourth time in the season and Paffett could only manage fourth.
Scheider was now 12 points clear of Ekstrom, and 14 ahead of Paffett, with just two races to go. Even Mercedes-Benz motorsport boss Norbert Haug admitted that the title race was over.
Round 9 Dijon, October 11
Mercedes needed a miracle in France and got pretty close to one in the race. Audi suffered dramatic tyre problems which led to five of its cars suffering punctures - Scheider included. To make matters worse for the German, he was trying to come through from 16th after a qualifying session that took place in changeable conditions.
Paffett had battled Ekstrom during the middle of the race until the Swede suffered a blowout of his own, which brought an end to his title chances. From then on it was a case of the Briton nursing his own tyres to the flag, with four Mercedes (including an on-form Ralf Schumacher) protecting him from Scheider who recovered to sixth.
It was a remarkable finish to the race, with nine seconds covering the top 14 as Paffett coasted to the line to take the flag, keeping his slim title hopes alive heading into the finale.
Scheider left France still smiling though, as he knew that even if Paffett scored a fourth win of the season at Hockenheim, fifth place would be enough for the Audi man to secure a second straight title.
Round 10 Hockenheim, October 25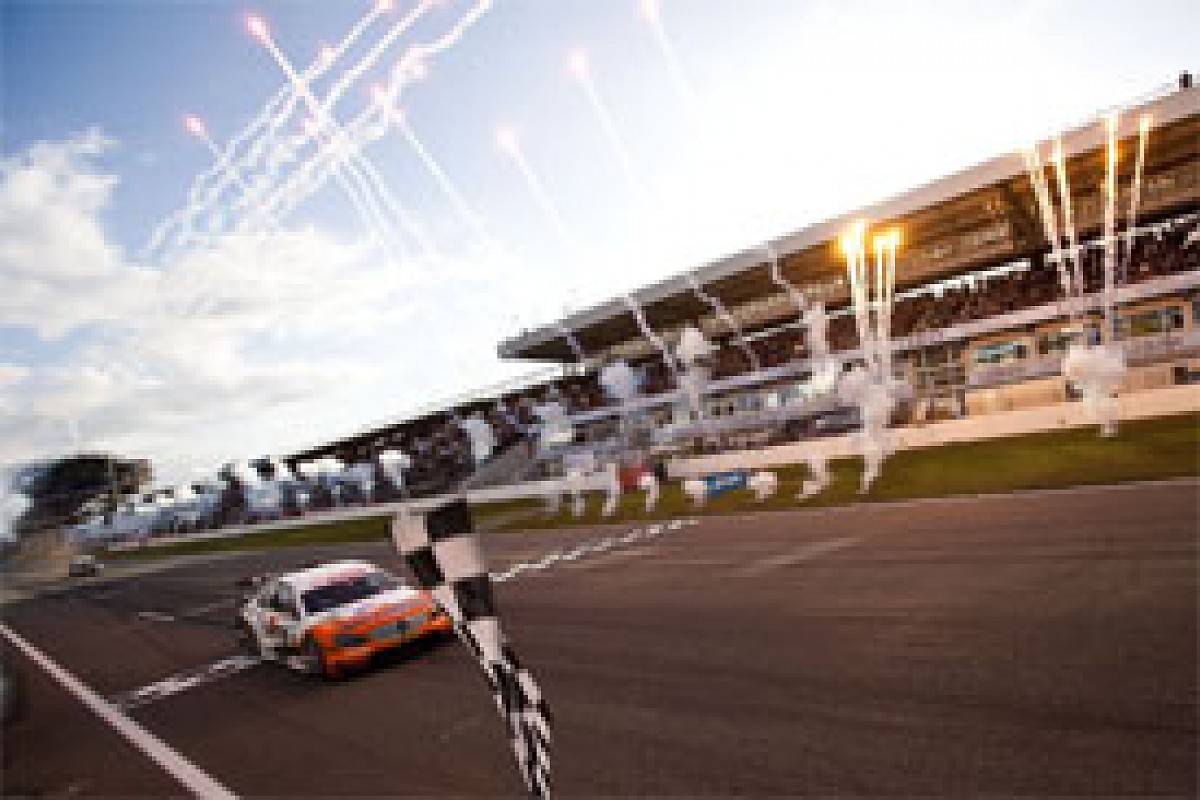 Gary Paffett won the final race of the year in his HWA Mercedes-Benz © LAT
Mercedes returned to Hockenheim with plenty of caution, as despite making plenty of improvements with its car over the season, there were no guarantees that Audi wouldn't dominate again.
As it turned out Mercedes was very much on the pace, despite being 10kg heavier following Paffett's Dijon victory. The 2005 champion did all he could in the finale, winning the race comfortably. The early laps had been a highlight of the season with old foes Paffett and Ekstrom banging doors on several occasions, until the Audi driver damaged his radiator by hitting the Mercedes up the back.
Once Ekstrom had withdrawn, Paffett commanded the race. But Scheider was doing more than enough, running in second and driving at "95 per cent" to bring home another title in comfortable fashion.