For the past few weeks, rumours have gathered pace suggesting Audi star Tom Kristensen was finished with the DTM. Sure, it seemed feasible that, at 41, the Dane might have had enough of fighting a field made up mainly of drivers in their 20s. But, as he kept quiet on his future, something didn't seem right about him giving up on the German-based V8 tin-top series ahead of the 2009 season.
Nearly two years have now passed since his horrifying crash at the Hockenheim season opener in 2007 and, since then, Kristensen has been through his fair share of struggles. He hasn't had an easy time of things, but that made it even more unlikely that the eight-time winner of the Le Mans 24 Hours was going to give up on adding another accolade to his impressive CV. Nobody would go through everything he has since that crash to just accept that his goal of winning the DTM title had become a bridge too far.
In fact, Kristensen's struggles in the DTM date back to long before his crash. In the early part of 2006 he was leading the championship, but a suspension failure that robbed him of a win at Brands Hatch was the start of a downward spiral. It took the wind out of his championship sails and his season never quite recovered. That sent him into 2007 full of optimism though, and ready to lead Audi's attack yet again.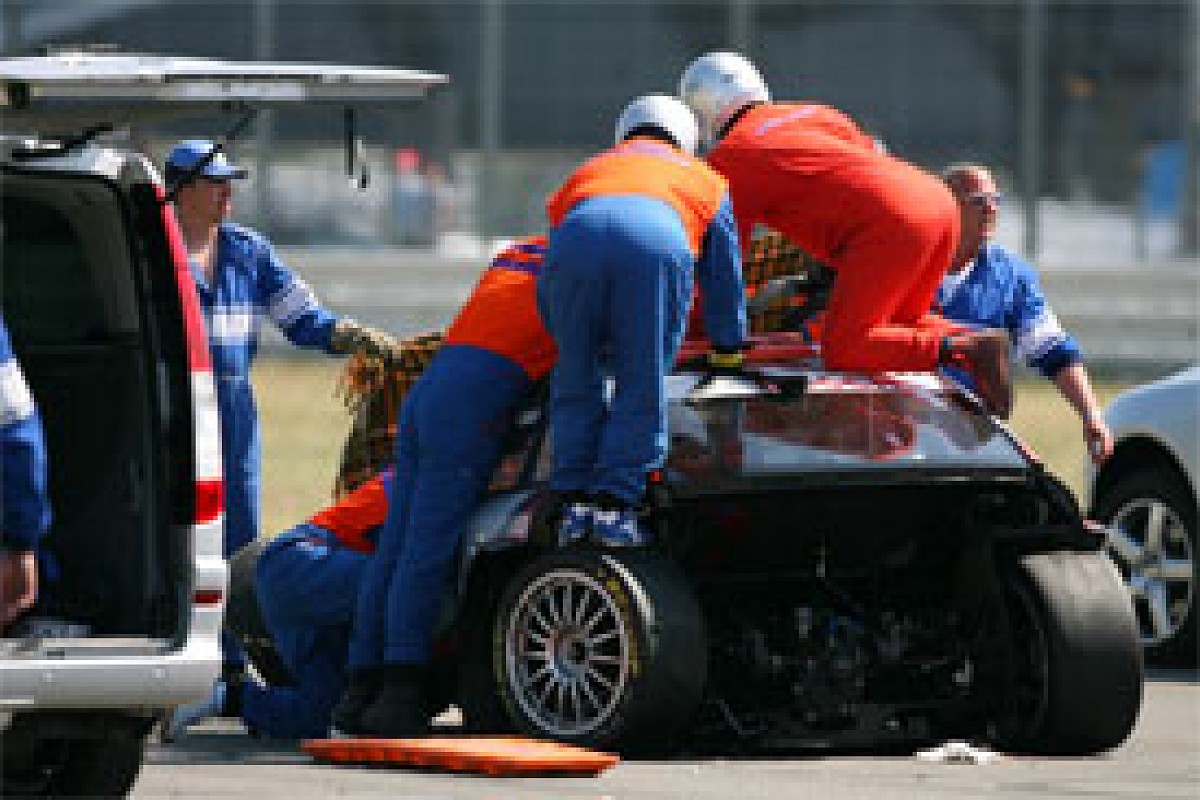 The aftermath of the crash at Hockenheim in 2007 © XPB
As it happened, his title chances lasted three corners that year, before the accident that nearly ended his career. He has since battled headaches, dizzy spells, tiredness, and that's not even taking into account the on-track stress that poor strategy calls, jump starts and general bad luck that have plagued him since returning to the A4's cockpit.
However, with all of that behind him, the 2009-spec Tom Kristensen is a refreshed one.
"It's not a case of light at the end of the tunnel - I'm out of the tunnel now," he says. "I don't want to mention the accident again, so I hope this is the last time I have to speak about it. You could say that it has taken me longer to recover than anyone would have expected, but at least I can go into this year not having to think about it anymore. It's nice to be able to do that and now I just have to deliver. I'm looking forward to it."
When his crash ended any hopes of the DTM title in 2007, Kristensen switched his focus to his other passion - the Le Mans 24 Hours. As he sat out the early rounds of the DTM season, he was set on making sure he would be back for Le Mans. But he had less than two months to get himself in shape and the recovery didn't go entirely to plan.
"Every time I wanted to train there were setbacks," he admits. "But I spoke with (Le Mans teammates) Dindo (Capello) and Allan (McNish), and they said they were waiting for me. That was cool, and I increased my training after that."
Of course, Kristensen made the great race, but only just. He missed the pre-test, so his only chance to drive a racing car before going to France was a sneaky handful of laps in a two-seater DTM car at Brands Hatch. Before that, he'd already put himself to the test in a gruelling karting session, which included long runs interrupted by breaks during which he would get out of the car, roll over and do a set of press-ups. At Brands, all fears about his ability to get back in a car were banished when he was on the radio complaining about car set-up after a lap!
Kristensen was faultless at Le Mans. He got on with his job in the car and kept quiet on his condition out of it, even if in private he was admitting to suffering from the headaches that would blight his days until the middle of last year. But getting into the Audi R10 was the easy bit.
"It was pretty tough in the heat of the DTM car," he says. "The R10 is cooler and it has the quiet diesel engine. The DTM car took more time. I could judge everything fine in the car, but I had a lot of headaches afterwards and it took a lot of energy out of me."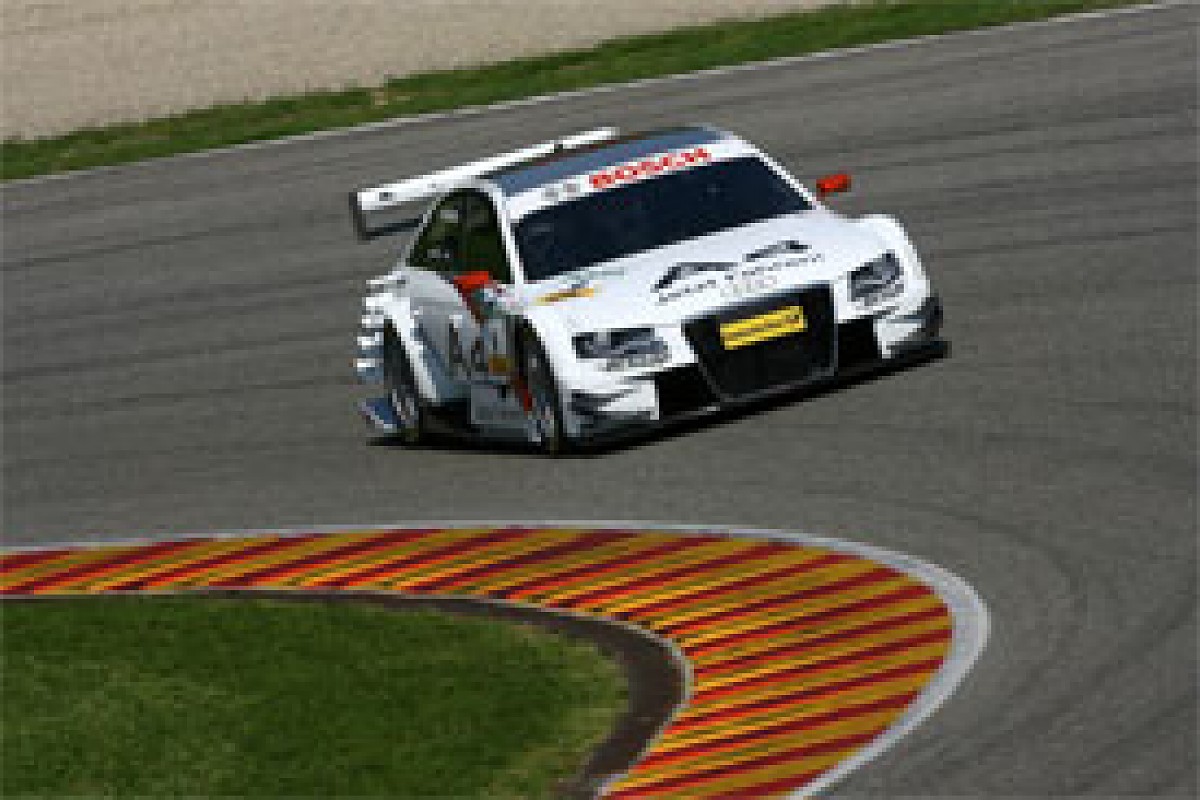 Tom Kristensen at speed in the Abt A4 in Mugello © XPB
There were no expectations for the rest of 2007 and Kristensen finished on a high with pole position on his return to Hockenheim - the scene of his crash - for the season finale. But even then, he still admitted to feeling more tired than usual and it was only during 2008 that he really felt that his recovery was complete.
"It's difficult to say exactly when I felt back to my best," he says. "I had good races, but sometimes the headaches would come back. Of course, sometimes it was due to other things, like if I made a mistake or we put the wrong tyres on when I was on pole."
It's easy to forget that there were flashes of speed last year. Kristensen started from the front row three times, but he jumped the start at Oschersleben, while Audi made poor weather calls when he was on pole at the Nurburgring and Le Mans.
"When we had other problems it hit me really hard," he says. "I knew I could trust myself and it was the right decision to come back. Sure, there are always people doubting you, but you just have to get on with it. I try to use it, because I want to show the doubters. Even at my age I still have that fire, that motivation."
Kristensen's list of misfortunes in the DTM since that pivotal Brands Hatch race in 2006 is a mighty one, something that he is all too aware of.
"I hope I had all my bad luck and made all my mistakes last season," he says. "I've been very lucky and I'm very grateful to Audi. I think there are a lot of drivers that might never have had the chance to come back from something like I did, but you can in a team that has some human feelings as well."
As he has admitted, Kristensen does take notice of his doubters, even if he doesn't let them affect his mindset. But one part of his make-up that has come under scrutiny since the accident has also caught his attention and, as he hopes to recapture his early 2006 form, he has targeted one area in particular.
"I wouldn't say people have doubted my speed," he adds. "There have been poles and races where the pace was there. But maybe people have doubted the consistency that you need in DTM and this looks to be something I have to improve. But I feel free now and my headaches are all in the past. I'm back."