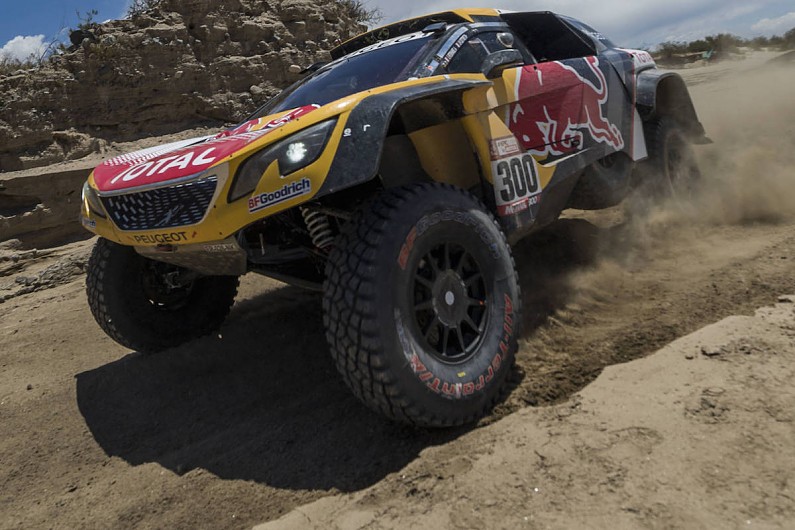 Peugeot's Stephane Peterhansel topped the 10th stage of the 2018 Dakar Rally, overhauling Toyota driver Nasser Al-Attiyah for second place behind Carlos Sainz in the general classification.
Peterhansel recorded his third - and Peugeot's seventh - stage win of the event, and now has four days left to make up a 51-minute deficit to Sainz in his bid for a 14th Dakar triumph.
The Salta - Belen stage kicked off the final, Argentina-based leg of the 2018 event and featured a 231-mile timed special split down the middle by a neutralised zone.
Peterhansel and Al-Attiyah came through with identical times at the opening waypoint, but the Frenchman controlled the first part of the stage from then on.
He arrived at the neutralised zone with a 2m36s lead over Al-Attiyah and had already taken almost 13 minutes out of Sainz's general classification lead.
Sainz, who had team-mate Cyril Despres shadowing him in a support role through the stage, had been embroiled in recent Dakar controversy stemming from an alleged run-in with quad rider Kees Koolen.
Prior to the day's running, Sainz had incurred a penalty that took his lead below the one-hour mark.
After forfeiting significant ground in the opening half of the test, he was almost level with Peterhansel in the second part, preventing further time losses.
His fortunes were the opposite of those endured by Al-Attiyah, who ended the day half an hour off the stage-winning pace despite a strong start.
This has left the Qatari one hour and 13 minutes behind Sainz in the general classification, but he remains the Japanese manufacturer's top runner.
He leads team-mates Bernhard ten Brinke and Giniel de Villiers by 10 minutes, the latter having finished runner-up to Peterhansel in the stage.