British Touring Car Championship supremo Alan Gow says that motorsport can bounce back from the post-coronavirus economic crisis, but that it will likely be in a "much leaner" form.
The BTCC is preparing to return on 1-2 August at Donington Park for a nine-round calendar, and speaking at the FIA eConference 2020 about the long-term impact the COVID-19 pandemic will have on the series Gow believes economically it will be a challenge.
"My only concern is the economic situation, for the next two or three years it will make it much more difficult for competitors to achieve the funding they require," he said.
"But motorsport is so resilient - we seem to bounce back quicker than many other sectors, and at the same time the sport and the companies and teams involved have found a new way of doing things in a much leaner and more efficient fashion than they've previously done.
"There's no doubt that over the next few years, while there might be a reduced amount of money coming into the sport, the cost of doing it will be reduced accordingly."
Gow said that the BTCC squads all remain positive about their prospects however ahead of the season getting underway.
"I haven't had any great nervousness directed to me," he said.
"The teams are 100% enthusiastic about getting going and racing, and we've produced such a comprehensive document and protocols that takes the nervousness away from their participation, I would hope.
"Their only concern is with the lack of direct engagement with their fans, but of course they're now finding different ways of communicating with their fans, and that's been good for them."
It is not yet clear whether the BTCC will return behind closed doors or with limited spectator attendance, as it depends upon the government guidelines in force at the time.
While BTCC promoter TOCA has drawn up the document Gow describes, to limit personnel in case races have to take place with a limited number of people on site, MotorSport Vision boss Jonathan Palmer - whose Donington, Brands Hatch and Oulton Park circuits will host the first three rounds - told Autosport last month that a restricted crowd could be possible.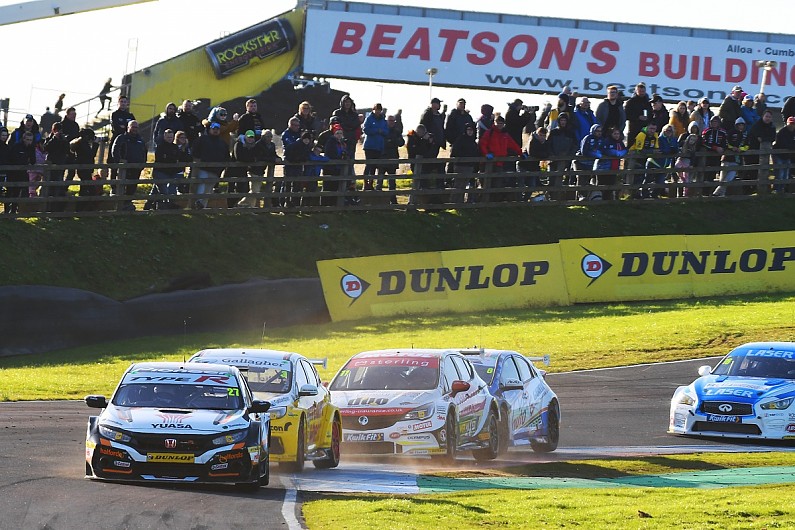 "[The fans] are starved of their favourite sport, as are most sports fans," said Gow.
"The start of this season has probably been more anticipated and talked about than ever before.
"So I believe they will certainly get back to the BTCC in their droves - not necessarily trackside but certainly on TV.
"My only concern is that is after making the fans wait for so long, that if this particular sport doesn't deliver the great racing and action that they want, we're probably opening ourselves to a bit more criticism than before, because the anticipation levels is so great."
Gow also believes that the impending recession will likely cut away some of the weaker elements of the sport.
"There's going to be lots of changes - to use the popular phrases, there is going to be a new normal," he said.
"Even if nothing else, the economy is going to take a huge hit over the next two or three years.
"It will probably polarise the sport more too - I think a lot of the weaker ends of the sport will drop off, and that's not a bad thing.
"I'd like to see that there are some positive long-term benefits but, undoubtedly over the next couple of years, we're going to be looking at totally different numbers to our bottom lines than what we were before."