The British Touring Car Championship has abandoned its tyre-choice regulations for 2020 as a legacy of the coronavirus pandemic.
A recent teams' meeting resulted in the decision to drop the option-tyre format for this season only.
Instead, the medium tyre from BTCC supplier Goodyear will be compulsory for all races at eight of the nine events, with the hard compound in use at Thruxton.
A statement from BTCC organiser TOCA said: "Given the regularity of back-to-back events, added workloads and the potential of reduced staffing in the now condensed campaign, it was agreed that such a decision would further aid teams during these challenging and busy times."
It also comes after concerns that the hard compound could cause chaos in the colder conditions of late October and November, into which the BTCC season has been extended.
West Surrey Racing BMW team boss Dick Bennetts told Autosport: "You'll be inviting accidents if you have to run on a hard tyre in extremely cold weather, but I think TOCA's got it all under control."
Goodyear has taken over as BTCC tyre supplier from sister company Dunlop for 2020, and the format of running more than one compound at each event dates back to 2013.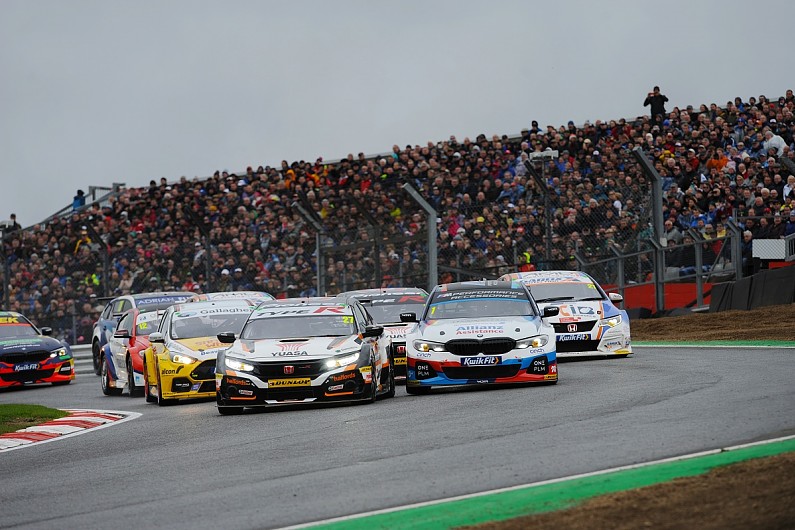 For this season, the usual format of choosing between soft and medium rubber was going to be in place for most rounds, with the hard compulsory for the entire Thruxton event and the medium at Donington Park, and a further curveball thrown in for Croft and Snetterton, where all three compounds would have to be fitted on race day.
Brands Hatch layout switch
The BTCC has also swapped its two Brands Hatch dates, with the 14-15 November finale now taking place on the Indy Circuit, and the 8-9 August fixture, which is the second round, on the Grand Prix layout.
The move has been made in order to give more flexibility to the schedule at the final round, due to the shortage of daylight hours.
An event on the Indy Circuit means shorter track-preparation time between races, and avoids the run into the tree-lined and darker GP section.
It represents the first time since 2011 - when the series concluded at Silverstone - that the BTCC finale has not taken place on the Brands GP Circuit.
And it means the first summer BTCC date on the Brands GP layout since 1996, when Alain Menu took a pair of wins in his Williams-run Renault Laguna at the height of the Super Touring era.