Andrew Jordan reckons his WSR team will find "only very small" improvements with its BMW 330i M Sport, despite the car being brand new to the British Touring Car Championship.
The 2013 BTCC champion scored the first win for the new 3 Series in the second race of the season-opening Brands Hatch weekend.
The 3 Series then won two of the three races at each of the Donington Park and Thruxton weekends to take its tally to five victories from nine races so far this season.
Jordan said he expects the new BMW's rate of development to slow quickly even though the car is still in its infancy.
He told Autosport: "We're not going to keep finding time all the time as it rolled out so well; we just need to tweak little bits.
"There are little areas we want to improve but the car's very good obviously out the box.
"With how good the car is, the improvements are only very small that we'll able to find - if any.
"Nine times out of 10, you'll try things and come back to what you know and what's already proven."
Since his first test run in the new car, Jordan has maintained that he will be able to challenge for a second BTCC crown.
"I thought we might struggle a little bit early on but from the first test, it was good when we rolled out," he added.
"I knew then that we had something we could win with."
His comments on the progress of the 3 Series follow those made by AmD Tuning team boss Shaun Hollamby.
By contrast, Hollamby said the old-shape FK2 Honda Civic Type R - which has been a BTCC mainstay since 2015 - can still be competitive for another three seasons.
AmD has scored its first series pole and win this year, and Rory Butcher currently shares the lead of the drivers' standings with Jordan's team-mate Colin Turkington.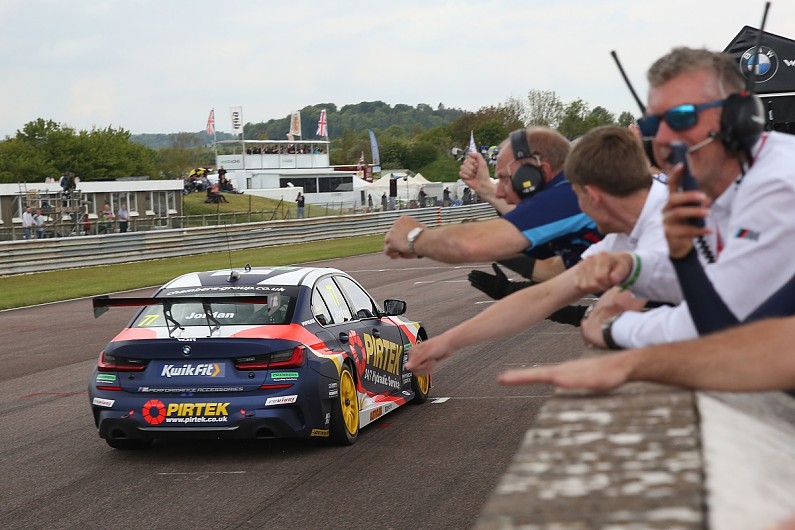 Jordan added that the Thruxton round - at which he won twice - put him back on course after his first-lap shunt in the Donington Park opener, which forced him to sit out the final two races of that weekend.
"We're back to where we should have been," he said.
"If you look at my pace at Brands and in pre-season testing, we've been strong all the time. It's what we deserve.
"I think we've had very good pace, but obviously not had the luck or consistency yet.
"There's nothing I can do about that now, and obviously Colin [Turkington] is leading.
"We've had more wins but it's the consistency [that's needed]."