The older-spec Honda Civic Type R in the British Touring Car Championship can still be competitive for another three seasons, according to AmD Tuning team boss Shaun Hollamby.
Honda-backed outfit Team Dynamics introduced the all-new FK8 Type R for the 2018 season, with the BTC Racing squad also switching to the current model, for this year.
That leaves only three of the older-specification FK2s on the current grid, fielded by independents AmD Tuning and a single-car entry for Matt Simpson.
But AmD Tuning driver Sam Tordoff surprised in pre-season testing - breaking the qualifying lap record at the Brands Hatch Indy circuit.
In addition, team-mate Rory Butcher scored his first ever BTCC win in the final race at the circuit during the season-opening meeting in April, when Tom Chilton was handed a five-second penalty for contact with Matt Neal.
"I can't see any reason why [the FK2 can't keep winning]," Hollamby told Autosport.
"The drivers are very happy with the car."
"It's still a current model for [the Next Generation Touring Car] regulations but obviously we want to keep moving onwards and upwards so if we saw a benefit with a different make or model then it'd be worthwhile us doing something about it.
"With the FK2, what I would say is that it is definitely a car that I can see two or three more years of competitive racing."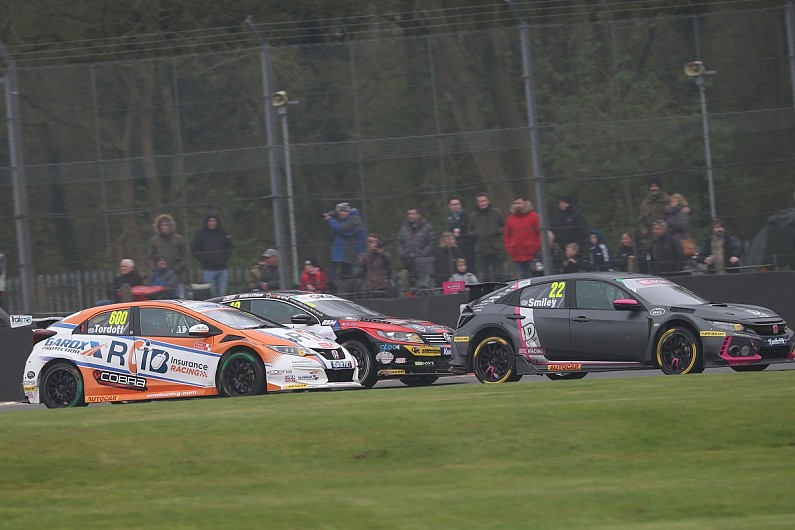 The ninth-generation Honda Civic was first introduced into the series back in 2012, with the estate body serving a single season in 2014 before the Type R was brought in for 2015.
The early success for AmD Tuning in 2019 has also led to the team changing its pre-season targets, now citing Team Dynamics as realistic opposition.
"Before we started the season we tested at Knockhill and we were very fast there with Rory and with Sam, and we were discussing our relative merits to Team Dynamics.
"That's the first time we've ever done that when we've gone testing.
"This is my 10th season of running a touring car team and I've never been in a situation where I've been comparing times with Team Dynamics.
"If we can compete with them, which we have done at the first meeting, for the rest of the season then I'll be very happy."
The BTCC heads to Donington Park this weekend for the second event of 2019.