Dan Cammish topped the British Touring Car Championship free practice times at Thruxton to head up a Honda Civic Type R 1-2.

To replace Rockingham on the BTCC calendar, this weekend's round will be the first of two meetings at Thruxton this season.
Cammish topped last month's test at the venue and then led the way in the second practice session, having set a 1min15.589sec time in the FK8 Civic.
Rory Butcher, who took his maiden win earlier this year at Brands Hatch, lapped 0.069s shy in the older FK2 car - the AmD Tuning driver finished the earlier test second.
The returning Andrew Jordan, who had to miss races two and three at Donington Park in the wake of a hefty accident, was third, ahead of WSR team-mate Colin Turkington.
With the other BMW 330i M Sport of Tom Oliphant in eighth, the remainder of the top 10 was dominated by front-wheel-drive cars, which the circuit has traditionally favoured.
Morgan was fifth ahead of FK2 Civic driver Matt Simpson and Jake Hill was seventh in his Audi S3, only 0.003s shy.
Two-time Thruxton winner Jason Plato was ninth in the Vauxhall Astra, and Chris Smiley rounded out the top 10 for BTC Racing in the newer FK8 Civic.
Plato's team-mate Rob Collard was 13th, and faces no further action after the Donington Park incident with Jordan was confirmed as a racing incident.
Josh Cook, in the same generation car as Cammish, was a subdued 14th ahead of Butcher's stablemate Sam Tordoff.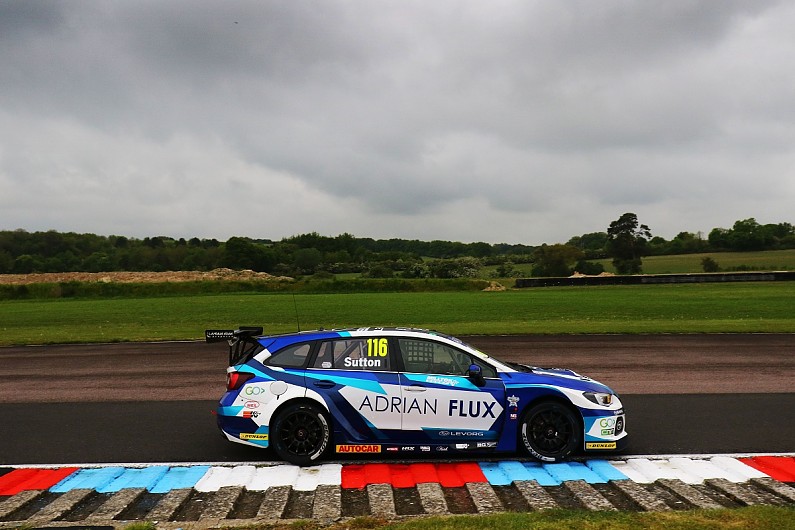 Tom Ingram, who scored the first win for the new-for-2019 Toyota Corolla in the final race at Donginton Park, could only manage 17th, behind 2017 BTCC champion Ashley Sutton's Subaru Levorg.
But Sutton had topped the opening practice session, when the track surface was greasy. He ended the run 0.071s clear of Jordan.
Across the two practice runs, ex-Formula 1 driver Mark Blundell was the only person to cause a red flag.
While sitting third in the times, he pitted his Audi S3 for a new set of slicks but lost the car on the exit of Goodwood corner on the new rubber and he span backwards in to the tyre wall.
A lengthy recovery meant seven minutes of the session were lost, but Blundell was back out an ended up 24th.

FP1 result

| Pos | Driver | Team | Car | Gap | Laps |
| --- | --- | --- | --- | --- | --- |
| 1 | Ash Sutton | BMR Racing | Subaru | 1m16.531s | 16 |
| 2 | Andrew Jordan | WSR | BMW | 0.071s | 14 |
| 3 | Colin Turkington | WSR | BMW | 0.286s | 12 |
| 4 | Jake Hill | Trade Price Cars Racing | Audi | 0.367s | 18 |
| 5 | Adam Morgan | Ciceley Motorsport | Mercedes | 0.372s | 13 |
| 6 | Stephen Jelley | Team Parker Racing | BMW | 0.439s | 11 |
| 7 | Rory Butcher | AmD Tuning | Honda | 0.474s | 19 |
| 8 | Sam Tordoff | AmD Tuning | Honda | 0.682s | 18 |
| 9 | Senna Proctor | BMR Racing | Subaru | 0.692s | 16 |
| 10 | Rob Collard | Power Maxed Racing | Vauxhall | 0.841s | 12 |
| 11 | Aiden Moffat | Laser Tools Racing | Mercedes | 0.884s | 10 |
| 12 | Jack Goff | Team Hard | Volkswagen | 0.996s | 14 |
| 13 | Daniel Rowbottom | Ciceley Motorsport | Mercedes | 1.063s | 17 |
| 14 | Matt Simpson | Simpson Racing | Honda | 1.805s | 14 |
| 15 | Bobby Thompson | Team Hard | Volkswagen | 1.824s | 14 |
| 16 | Tom Oliphant | WSR | BMW | 1.852s | 14 |
| 17 | Ollie Jackson | Motorbase Performance | Ford | 1.986s | 12 |
| 18 | Rob Smith | Excelr8 Motorsport | MG | 2.238s | 16 |
| 19 | Carl Boardley | Team Hard | Volkswagen | 2.963s | 14 |
| 20 | Michael Crees | Team Hard | Volkswagen | 3.264s | 16 |
| 21 | Jason Plato | Power Maxed Racing | Vauxhall | 3.492s | 9 |
| 22 | Nicolas Hamilton | Motorbase Performance | Ford | 5.190s | 13 |
| 23 | Tom Chilton | Motorbase Performance | Ford | 5.441s | 11 |
| 24 | Mark Blundell | Trade Price Cars Racing | Audi | 10.503s | 10 |
| 25 | Sam Osborne | Excelr8 Motorsport | MG | 11.723s | 9 |
| 26 | Matt Neal | Team Dynamics | Honda | - | 6 |
| 27 | Tom Ingram | Speedworks Motorsport | Toyota | - | 9 |
| 28 | Dan Cammish | Team Dynamics | Honda | - | 5 |
| 29 | Josh Cook | BTC Racing | Honda | - | 5 |
| 30 | Chris Smiley | BTC Racing | Honda | - | 2 |
FP2 result

| Pos | Driver | Team | Car | Gap | Laps |
| --- | --- | --- | --- | --- | --- |
| 1 | Dan Cammish | Team Dynamics | Honda | 1m15.589s | 16 |
| 2 | Rory Butcher | AmD Tuning | Honda | 0.069s | 15 |
| 3 | Andrew Jordan | WSR | BMW | 0.277s | 21 |
| 4 | Colin Turkington | WSR | BMW | 0.425s | 19 |
| 5 | Adam Morgan | Ciceley Motorsport | Mercedes | 0.437s | 7 |
| 6 | Matt Simpson | Simpson Racing | Honda | 0.469s | 23 |
| 7 | Jake Hill | Trade Price Cars Racing | Audi | 0.472s | 18 |
| 8 | Tom Oliphant | WSR | BMW | 0.489s | 20 |
| 9 | Jason Plato | Power Maxed Racing | Vauxhall | 0.497s | 19 |
| 10 | Matt Neal | Team Dynamics | Honda | 0.640s | 18 |
| 11 | Chris Smiley | BTC Racing | Honda | 0.658s | 19 |
| 12 | Aiden Moffat | Laser Tools Racing | Mercedes | 0.661s | 17 |
| 13 | Rob Collard | Power Maxed Racing | Vauxhall | 0.729s | 21 |
| 14 | Josh Cook | BTC Racing | Honda | 0.742s | 16 |
| 15 | Sam Tordoff | AmD Tuning | Honda | 0.750s | 18 |
| 16 | Ash Sutton | BMR Racing | Subaru | 0.765s | 21 |
| 17 | Tom Ingram | Speedworks Motorsport | Toyota | 0.809s | 12 |
| 18 | Stephen Jelley | Team Parker Racing | BMW | 0.914s | 16 |
| 19 | Senna Proctor | BMR Racing | Subaru | 1.068s | 21 |
| 20 | Jack Goff | Team Hard | Volkswagen | 1.269s | 17 |
| 21 | Daniel Rowbottom | Ciceley Motorsport | Mercedes | 1.424s | 22 |
| 22 | Bobby Thompson | Team Hard | Volkswagen | 1.691s | 17 |
| 23 | Tom Chilton | Motorbase Performance | Ford | 1.793s | 14 |
| 24 | Ollie Jackson | Motorbase Performance | Ford | 1.919s | 17 |
| 25 | Nicolas Hamilton | Motorbase Performance | Ford | 2.265s | 18 |
| 26 | Rob Smith | Excelr8 Motorsport | MG | 2.282s | 17 |
| 27 | Mark Blundell | Trade Price Cars Racing | Audi | 2.690s | 18 |
| 28 | Carl Boardley | Team Hard | Volkswagen | 3.117s | 14 |
| 29 | Michael Crees | Team Hard | Volkswagen | 3.501s | 19 |
| 30 | Sam Osborne | Excelr8 Motorsport | MG | 4.219s | 20 |