Defending British Touring Car Championship champion Colin Turkington says it is "nice to actually feel fast" after winning twice at Donington Park last weekend.
The WSR driver only scored one win all season in 2018, and at the second round of that campaign at Donington picked up just six points and two non-scores.
But last weekend he qualified on pole by 0.644 seconds and took two controlled victories in the new BMW 330i M Sport, which replaces the 1 Series that he used to lift the 2014 and '18 crowns.
"It's nice to actually feel fast and to be able to lead races, attack and go forwards," he told Autosport.
"We weren't able to do much of that last year."
Turkington added that despite the 3 Series being brand new, and therefore potentially susceptible to teething problems, it was expected for the new car to be fast.
"It's been, on the whole, a good start to the season with [team-mate] Andy [Jordan] taking his win at Brands," said Turkington.
"With a new car you never quite know how it's going to come out of the box with gremlins. There could be some, but the guys have worked incredibly hard.
"It's not by chance that we're fast. This car is an evolution of the 1 Series so it was supposed to be better! Thankfully, it is."
Turkington's Donington brace, combined with Andrew Jordan's victory in the season opener at Brands Hatch, means the new BMW has won half of all BTCC races this season.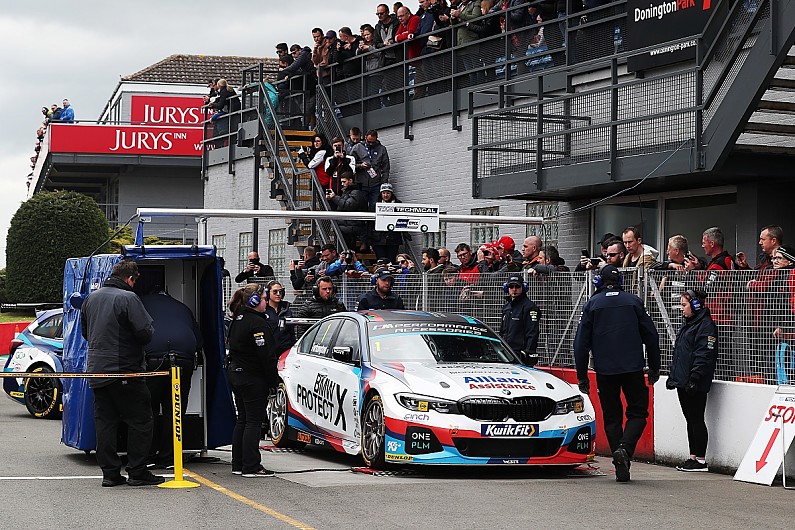 But Turkington said there was no cause for the 3 Series to have a reduction in engine boost in order to reign in its performance.
"I don't see why [alterations to the car's performance] should happen," he added.
"We don't leave [Donington] with the fastest lap over the three races and certainly we're not at the head of the top speed traps.
"We've got exactly the same [Neil Brown] engine as last year, just a different body shape.
"Obviously we had a good weekend but qualifying on pole sets you up for a good weekend.
"That's what gave me the leg up."