Jaguar Mk1 - Big cat was first to head the pack
As I roll gently down the Brands Hatch pitlane, ready to head out for my first run of the day, I feel like a villain in an early James Bond film. There are no machine guns lurking in the headlights of this particular Mk1 Jag, but even lacking rocket launchers this car was the weapon of choice in the early days of the British Touring Car Championship in the late 1950s, and remains one of the top choices if you are a serious '50s historic tin-top racer today.
Everything about this car screams elegance and sophistication on the surface, but underneath the skin lurks the stuff of a seriously potent racing car. I've been on the receiving end of one of these big-engined beasts mercilessly thundering past on the Lavant Straight at Goodwood - they are seriously quick and I'm looking forward to seeing what this one can do.
In fact, this particular Mk1's former owner was driving one of three that blew me away at the 2014 Goodwood Revival. Stuart Graham and Richard Butterfield finished fourth in the St Mary's Trophy in one of the Big Cats, while I was limping Guy Harman's Fiat Abarth 1100 to the finish without the use of third gear.
This Mk1 was built as a historic racing car and was Butterfield's machine in Masters Top Hat events. It is to period specification, but with a Mk2 axle and a synchro box, as allowed under the Historic Racing Drivers' Club's pre-1966 regulations. About four years ago Butterfield built another and eventually sold this one.
Harman has been its proud owner for the past couple of years and HRDC founder Julius Thurgood has driven it.
"An original car wouldn't be far different to this," he says. "It's the most user-friendly car you can drive, very predictable."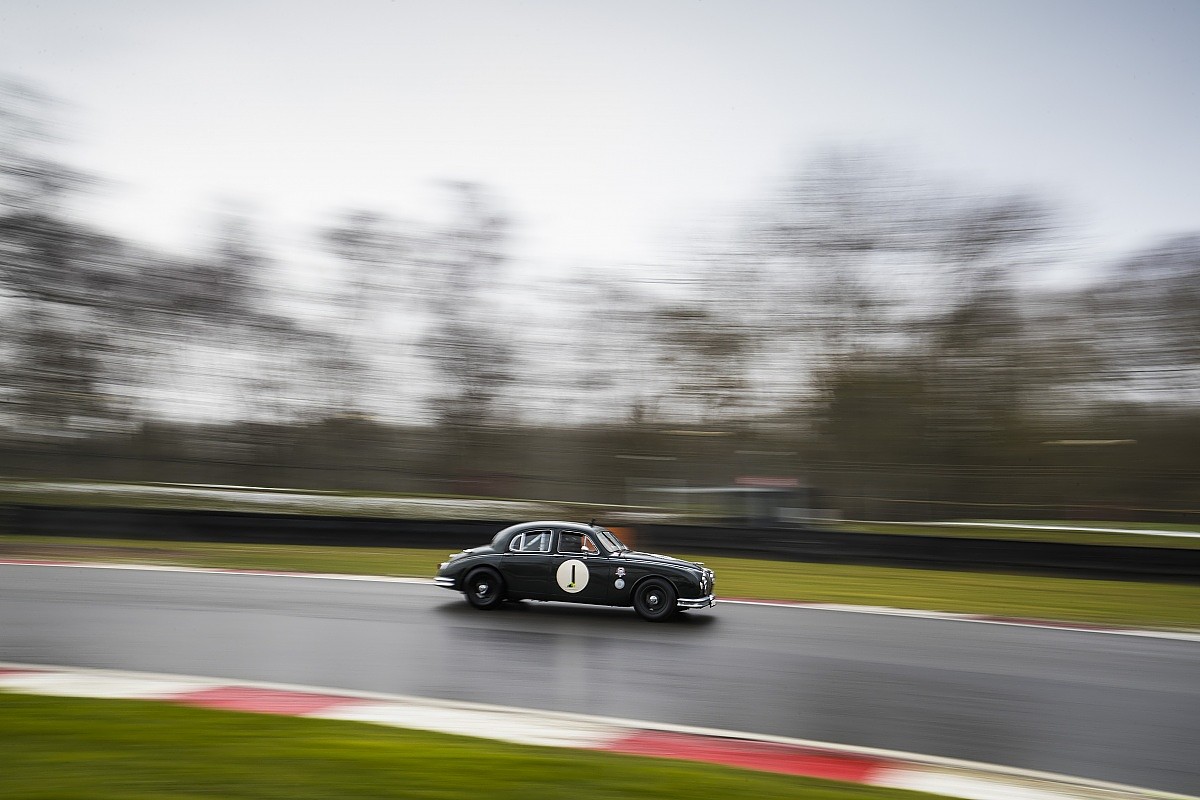 Although this car was built as a 'proper' racing car, it retains period features such as wooden steering wheel. I wasn't sure what to expect in all honesty, but I'm pleasantly surprised by just how much fun the Mk1 is to drive - even on a cold, damp and treacherous Brands Indy circuit.
It's an absolute hoot, actually. The rear axle is so lively you feel the need to constantly steer left through the right-handers at Paddock Hill Bend, Druids and Clearways. Graham Hill Bend is a slightly different matter, owing to the downhill approach and the tendency of the car (and most cars, for that matter) to push into understeer in the wet through the left-hander.
It's an absolute hoot - the rear axle is so lively you feel the need to constantly steer left through the right-handers at Paddock Hill Bend, Druids and Clearways
Jaguar pioneered disc brakes in the 1950s, but there isn't much stopping power today - partly a function of the conditions, no doubt. The steering also feels a bit vague, but it's so easy to light up the rear tyres that traction, particularly on this day, becomes the ultimate limiting factor. I find myself teasing the car around the circuit, driving it in straight lines like a boat - set a course, aim for it, arrive, then set another.
With the rear stepping out constantly (all the cars here are rear-wheel drive), the Jaguar really holds your attention and requires lots of small steering corrections, but everything is controlled, not vicious, so you can have quite a lot of fun playing with this particular Big Cat, once your confidence builds and you realise it isn't going to try to kill you at every turn.
The XK engine was an absolute classic. The Mk1 dominated saloon car racing with the 3.4-litre version, which grew to 3.8 litres in the Mk2, as in the early E-types. The engine is really torquey, which means you can circulate comfortably in these conditions using only third and fourth gears. Second may be useful at Druids, or if you get held up in a race, but not in these conditions - you just get too much wheelspin. It has quite a racey gearchange for an old car, presumably a function of the fact that this one was built later for the pure purpose of historic racing, with greater attention paid to the linkage.
This car has raced regularly for the best part of two decades, so it feels well-sorted, despite the fact that it traces its roots to technology that is 60 years old! No wonder Tommy Sopwith, Jack Sears, Roy Salvadori and Graham Hill were among those who cleaned up in the early days of the British Saloon Car Championship in Mk1s. I bet they had a great time doing it too.
Ford Lotus Cortina Mk1 - Chapman's famous saloon revolution
Few tin-top images are more iconic than Jim Clark three-wheeling or drifting a Lotus-developed Cortina. A class dominator in the mid-1960s, the 1600cc machine was also capable of taking on the V8 hordes, though it's probably worth pointing out that the great Clark scored all seven of the Cortina's outright BTCC victories, so it wasn't necessarily possible for mere mortals.
Even so, the Cortina's relatively light weight, enthusiastic engine and abusable chassis placed it nicely between the rumbling V8s and diminutive Minis of the era. A European Touring Car title winner in the hands of John Whitmore, the Cortina has also become a pacesetting and popular mainstay in pre-1966 historic tin-top competition.
Historic ace Simon Hadfield, who has scored many wins in Cortinas, is a big fan.
"It was the first proper Q-car," reckons Hadfield. "It didn't look remarkably different to a standard two-door 1200 Cortina, but it was a rocketship. In 1963, in among Farina A40s and Austin Cambridges, this thing was unearthly. And some of the best drivers ever - everybody who was anybody - drove one, and they raced all over the world."
Our example is an original Alan Mann Cortina, resplendent in iconic red-and-gold livery. This car raced in the BTCC and ETCC in 1965-66, driven by the likes of Whitmore, Frank Gardner, Lucien Bianchi, Jacky Ickx and Jackie Stewart. The names of Stewart and Whitmore adorn its panels. It also competed in Sweden before being brought back to the UK in 2000. It was then "put back to what it should be", according to Alan's son Henry. That means it is genuine period spec, even having no rollcage.
It has never competed in historics and is saved only for demonstrations. It is thus one of the most original racing Cortinas in the world.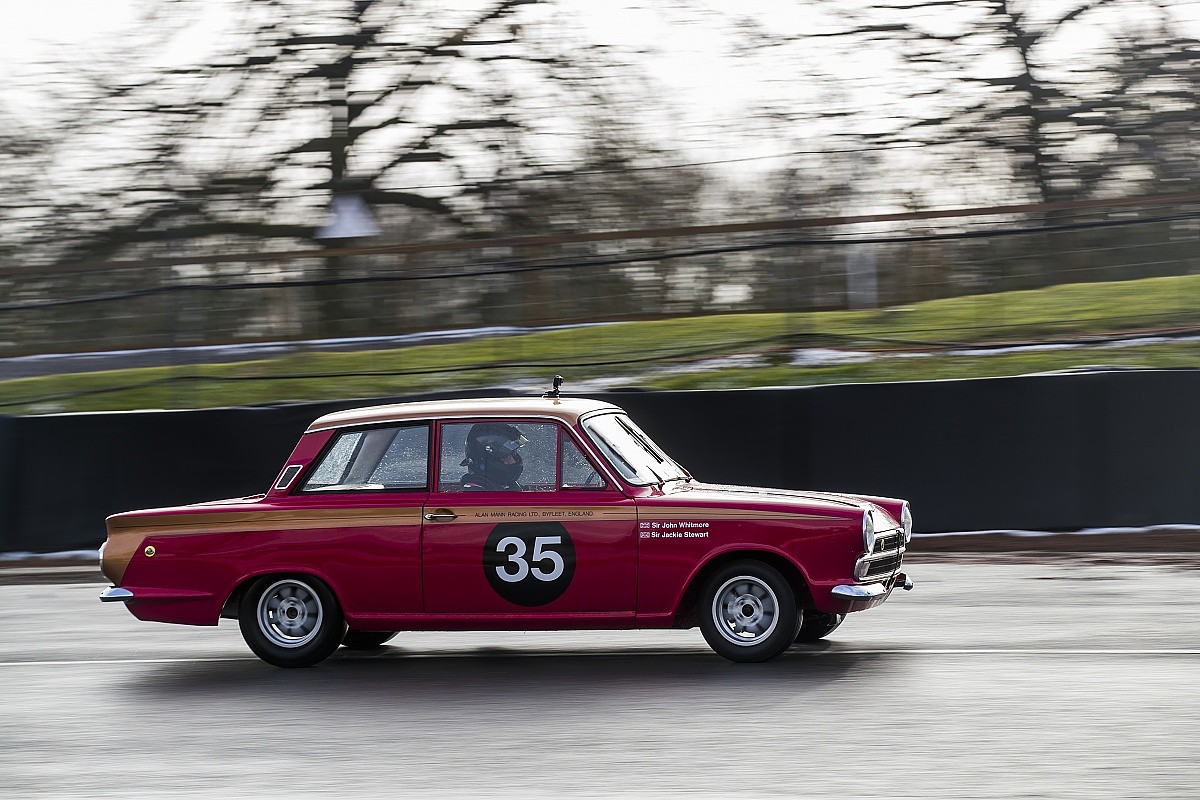 "You would have to butcher it to race it now," says Mann Jr, who has been gracious enough to wheel it out for one such run to celebrate the BTCC's 60th birthday with Autosport.
Because this car has survived unmolested by the relentless progress that infects most of historic motorsport, it feels an absolute world away from anything I have ever driven before on a circuit. It's just a road car, basically - and a bloody old one at that! No rollcage, no harness, no frills. I'm told the engine produces only 130bhp - well down on the 'modern' racing examples that are pushing closer to 200.
It has no brakes to speak of, really, and certainly no power. I reach fourth gear early on the Brabham Straight and am left wondering where the next one is
It has no brakes to speak of, really, and certainly no power. I reach fourth gear early on the Brabham Straight and am left wondering where the next one is! The engine is struggling to run cleanly in the cold conditions too, and the car is very slow. It makes you realise just how far things have moved on when you consider this was a cutting-edge racing tin-top just over 50 years ago.
On track this car feels like what it is - an antique museum piece. It's so delicate I feel like it could shatter into a million pieces if I even so much as think about leaning on it. It's like driving a Faberge egg with four wheels. I also don't feel worthy. This is a genuine piece of motorsport history - not to be messed with. It's an honour to even sit in it, let alone take it out for a spin.
Hadfield believes Cortinas are cars that improve the driver.
"It's like a Formula Ford with a bodyshell - you've got to keep momentum up," he explains. "You can slide the car into the corner, but you can't really slide one out because you're losing time. With the Cortina you have to do it right - if you make a mistake it kills [your momentum]. You have to get better. Every lap, every corner matters. You couldn't drive one without getting out with a grin on your face."
I honestly didn't exit this particular Cortina with a huge grin on my face - more a look of puzzled bemusement. But that's my own fault. I belong to a different time, one a world away from the period in which this car made its name. You cannot hold the past against something that is defined by it, and quite rightly has made no attempt whatsoever to 'get with the times'.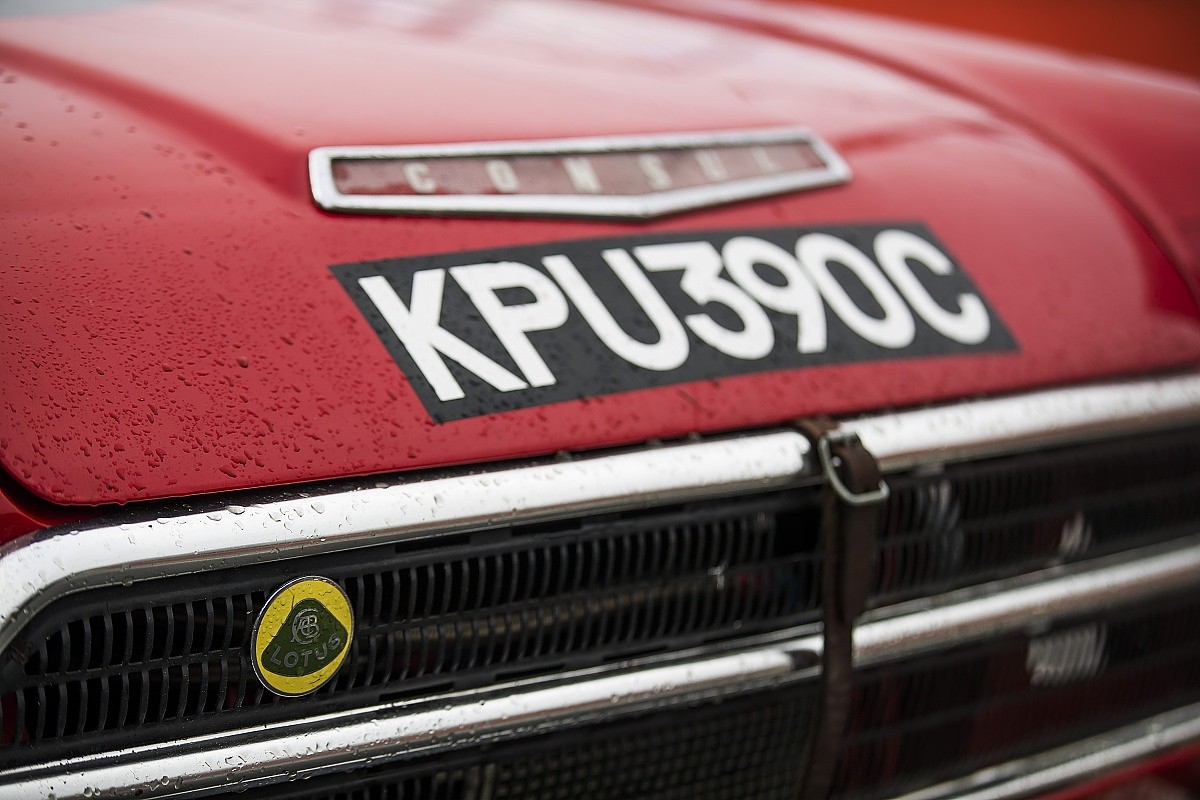 Chevrolet Camaro - An underrated 1970s powerhouse
Ford's Galaxie and then the iconic Mustang started the V8 era, but the Camaro had an impact over a longer period. The first-generation Camaro scored its first win at Croft in 1969 and the final success came courtesy of Stuart Graham at the end of '75, the Camaro's 53rd outright victory in the series. After that, the big bangers were banned.
Despite the championship's class system working against it, the Camaro also took an outright title in 1973 with Frank Gardner, the Aussie winning six of the nine rounds. The thunderous big-bore machines brought major spectacle to the front of the grid and their considerable grunt made them tough to beat.
"I loved the Camaros and they did well for us," recalls Graham, still a touring car regular at Goodwood meetings. "We ran it in-house and my brother did all the engines. Once you got it sorted it was great - we quickly worked out we needed stiff springs and Bilstein did good work on the dampers.
"It was a good-handling car. People thought it was just about having more power than everything else, but it's no good if you can't get it around the corners. We could corner just as quickly as the small cars.
"It was always a bit short in the braking department. The Achilles' heel was the brakes because under the rules you couldn't do many changes. When manufacturers developed a high-performance version of cars, they updated things as they broke. They forgot to upgrade things like brakes! The important thing was the 0-60mph time. I developed a smooth style that looked after the brakes. If you overdrive them for too long, big cars don't like it.
"The Camaro was underestimated in period. By 1975 there was nothing that could touch it, really."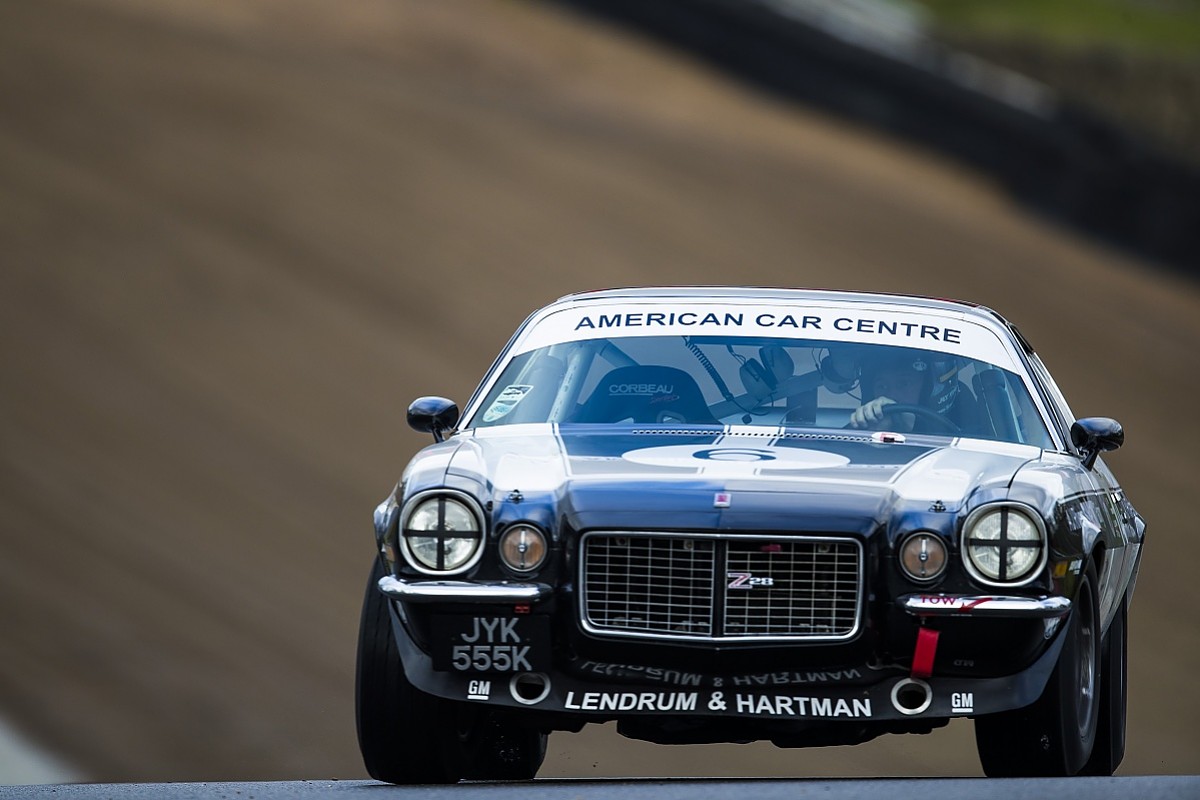 Frontrunning historic racer John Young has brought a 450bhp example, featuring a 5.7-litre V8 engine, with four-speed gearbox. Built by Richard Lloyd as a recreation of the car in which James Hunt and then Autosport editor Robert Fearnall won the 1973 Tour of Britain, the Camaro has been successful in Tour Britannia and has also appeared at the Goodwood Festival of Speed.
Successful tin-top and sportscar racer Young had only just bought the car prior to our test and plans to convert it to Group 1 specification to compete for the Tony Dron Trophy within the Motor Racing Legends Historic Touring Car Challenge.
There is undeniable chic to heading out on the Brands Hatch circuit in the sort of car once driven by James Hunt
As Young has only recently got his hands on this beast it has yet to be refined properly in preparation for the racing programme he has in mind. The tyres have been swapped for crossplies but that's about it. The car's rideheight is too high - for touring not circuit racing yet - and that wonderful growling V8 engine features a heavy flywheel clutch and is running in a detuned state, so it's not yet as powerful as it should be. But all that at least makes it very driveable in these wet conditions.
There is undeniable chic to heading out on the Brands Hatch circuit in the sort of car once driven by James Hunt. It hasn't yet had the full benefit of Young's attention, so the throttle pedal feels unnecessarily stiff and the pedal set-up makes it impossible for me to heel-and-toe on the downshifts. Fortunately, the wide power band of the V8 means we only need third and fourth gears.
The servo brakes are not great, in truth, offering little feel and not much stopping power either (just as Graham describes), but there is little point trying to attack in these difficult conditions anyway. The power-steering also feels a bit strange until you get used to it being there.
But these minor gripes aside, the Camaro - even in its raw state - is still great fun to drive. It feels compliant, which gives it plenty of grip through the corners, and that inspires confidence. It does desperately want to oversteer coming over the crest at Clearways, but fortunately it's docile enough to remain comfortably under control. It feels a lot like the Jag, only sturdier and quicker - the sort of tank in which you would feel entirely confident heading into battle against whatever the Mustang could throw at you.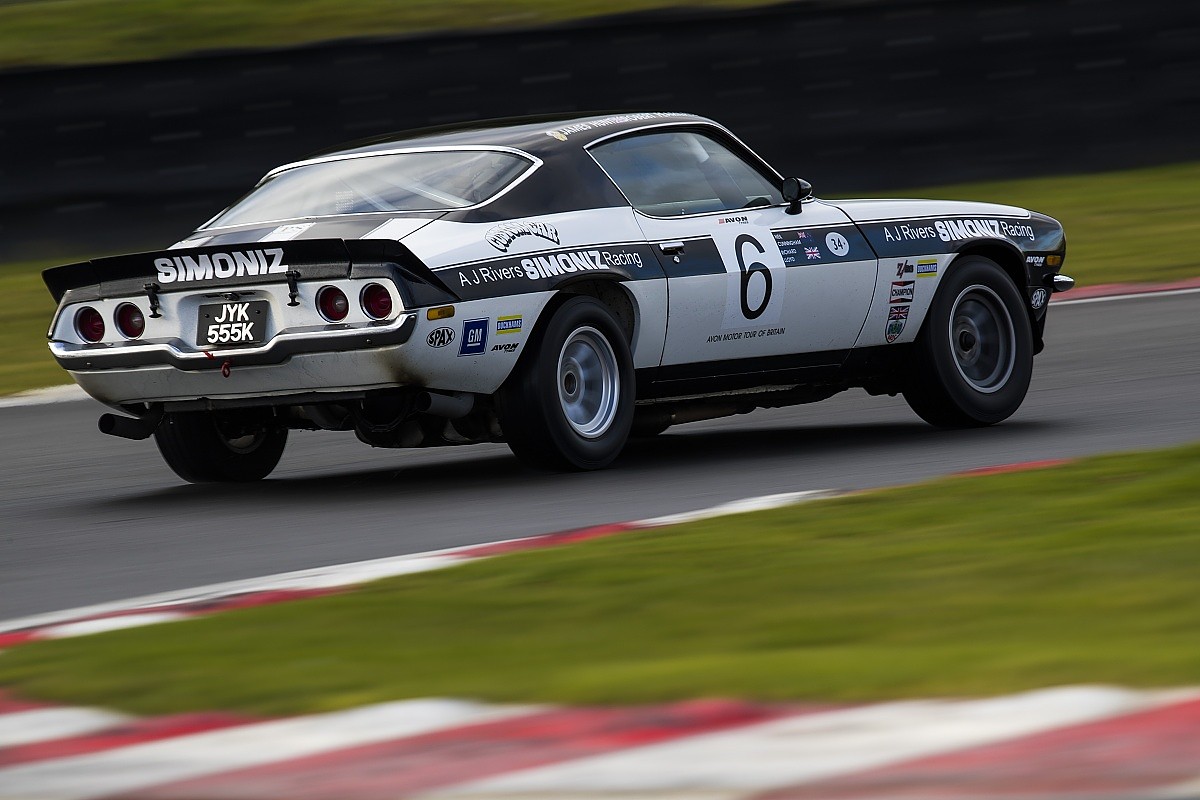 Rover Vitesse - Gentle giant with a sting in its tail
The big Rover V8 crossed the Group 1 and Group A eras, winning in both. After overcoming the Ford Capri, the Rover remained a threat until Ford moved the game forward with turbocharging.
The Vitesse won every round in 1983 and rising star Steve Soper would have won the drivers' crown had he not been disqualified for running adjustable rockers. Andy Rouse - who inherited that crown in his Class B Alfa Romeo GTV6 - made up for that the following year by using a Vitesse to take his third title, as Rovers won nine of the 11 rounds.
The Vitesse's final victory - and class title, with BTCC rookie Tim Harvey - came in 1987. And the car still rates as one of Harvey's favourites: "I couldn't have had a better first car in touring cars because it was a big, friendly, lovely beast. It was the perfect combination of grip, power, and on-the-limit handling.
"It was a well-balanced car, very progressive on the limit, not stiff and snappy, but it still reacted very well to driver input. It was a very easy car to get in. And anything with a Rover V8 in it is good."
We are fortunate to be driving the first Group A Rover built in our test - even though this is, in fact, chassis 02. It was Soper's car throughout his 1983 BTCC campaign and it also competed in the Tourist Trophy at Silverstone, a round of the European Touring Car Championship. The result was victory for Soper and Rene Metge. Owner and Rover expert (and former TWR mechanic) Ken Clarke, who has nine Rovers on his books, runs the 3.5-litre machine in TT specification today.
At the end of 1983, chassis 02 was retired and later became a Bastos show car. It was eventually found in a breakers yard and saved by Andre Aerts. It had no engine or gearbox and lived in Aerts's showroom before a business partner sold it to a dealer.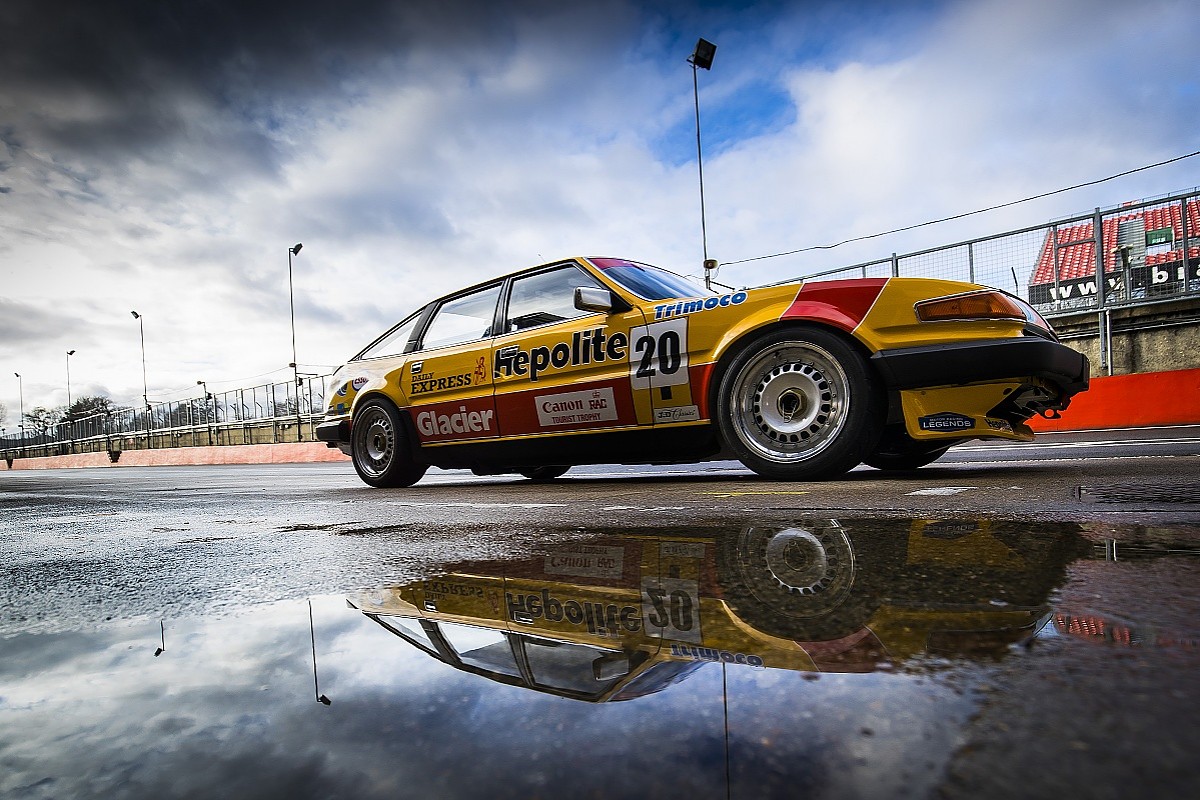 Clarke eventually got his hands on it and restored it - one of his customers bought the sister chassis, so Ken made all the parts required for both. The Rover finally returned to competition in 2017, with second in class at Oulton Park a highlight.
The first thing you notice climbing into the SD1 is the basic interior - all very 1980s. Only the rev counter has been updated. Clarke wanted to keep everything simple and to spec, and few know that spec as well as he does. It's rough and ready on the inside, but gorgeous from the outside.
The V8 engine needs just a tickle of throttle to coax it into life at first, because it can easily flood with fuel when cold. It's reluctant initially, but eventually roars into life and we are away. On a freezing-cold, damp day at Brands this is an absolute beast of a car to drive. Tim Harvey reckons they were good cars in the wet, but I feel like this one is trying to kill me at every turn! It's super-stiff and totally unforgiving.
It's a real monster, and I spend pretty much my entire run just clinging on for dear life, living on my wits
"They only got stiffer," is Clarke's reply when I query this. He says there is no adjustable damping either, so there is very little to be done, only a rollbar to disconnect. The V8 engine has a wide power band between 4000 and 7000rpm but when you reach it the thing just wants to light up the rear tyres - even so much as a glance at the throttle and the car just snarls angrily back at you.
It's a real monster, and I spend pretty much my entire run just clinging on for dear life, living on my wits, constantly correcting the steering and trying desperately not to throw it at the scenery.
Clarke asks me at the end of my run to report temperature readings, but I'm simply too busy trying to stay alive to provide any useful information. On slicks at Silverstone in bone-dry conditions I bet it's absolutely mighty. But this is not such a day.
This car is pretty much the opposite of the Camaro - specced properly to race but just too stiff. The Camaro is benign and thus perfect for the conditions, but would quickly get found out in a proper dry race against the Rover. But even though the experience was emotionally draining, I loved my time in the SD1. I imagine what it would be like to throw it around at the Silverstone Classic and then I can start to see exactly what Harvey was talking about.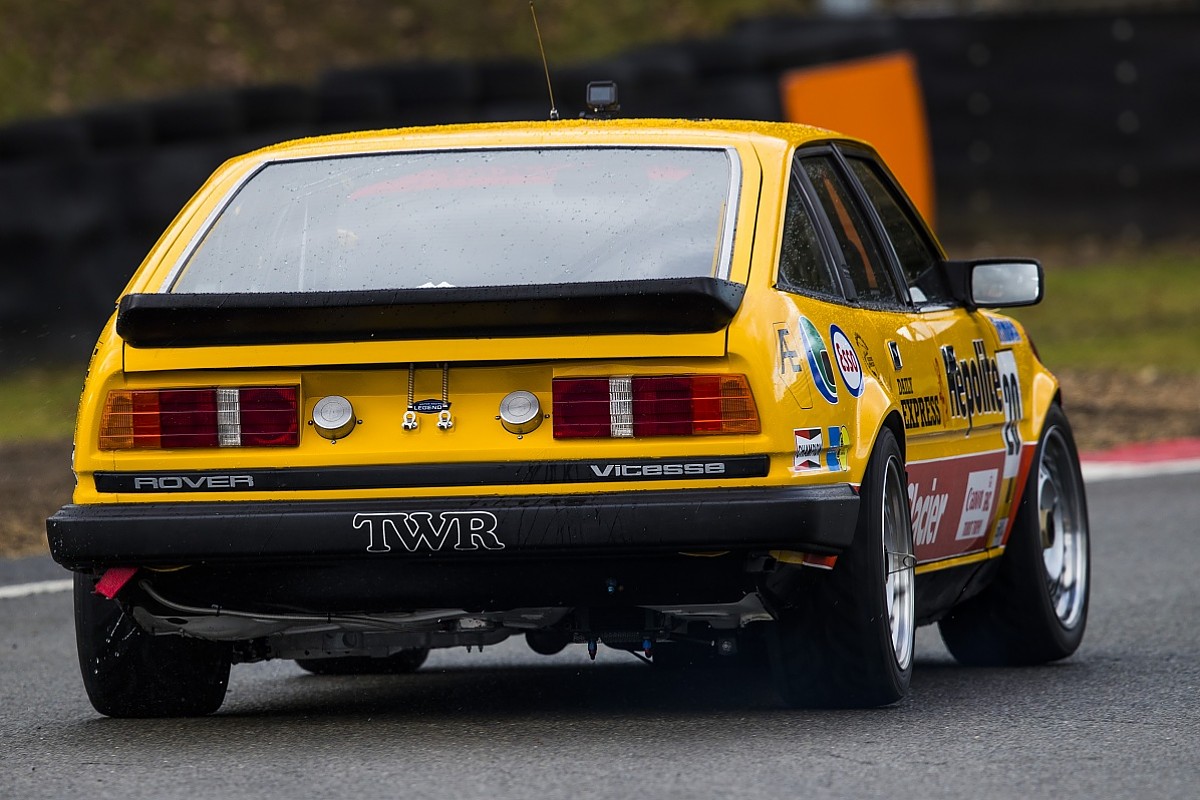 Ford RS500 - When turbos ruled tin-tops
More than any other car, Ford's turbo saloon comes to mind when talking about the BTCC's most spectacular machines. With over 500bhp and limited tyre sizes, the RS500 always had more power than grip, something that tended to get more pronounced as the car voraciously ate its rubber during races. That, along with regular flame-spitting, made the car memorable to watch even if it wasn't battling wheel to wheel.
Having already scored success with the XR4ti and RS Cosworth, Andy Rouse brought the RS500 - complete with a bigger intercooler and twin injectors - to the BTCC at the end of 1987. He took the car's first series victory at Donington Park in September and the RS500 immediately made all other Class A cars obsolete. No other car would win a BTCC round until the move to the single-class two-litre era in 1991.
Tim Harvey, who won two races in the RS500's heyday, remains a fan.
"As a racing car, probably the Rover SD1 was better, but in terms of fun the RS500 was unparalleled - 560bhp and 175mph was pretty exciting," says the 1992 champion. "The balance of the car was totally dominated by the power and the turbo lag. You're not talking about a finely honed handling machine - it was a hammer to crack a nut, but immense fun.
"Everybody was fixated with power in the late 1980s. I remember, on the old Grand Prix circuit at Silverstone, going through the fast version of Club in fifth gear and having wheelspin. Tyres made more difference than anything else because no tyre was going to handle that sort of power easily. You had to have a lot of talent to pedal one of those quickly."
This one was raced by Chris Hodgetts in 1989. Current owner Craig Davies was a Production Saloons racer when the RS500s were in the BTCC and always admired them: "I was looking at the RS500 guys and would have loved to get in there with them."
Davies stopped racing, but then the Hodgetts car came up for sale, having lived in a Brooklyn showroom. It still had (and has) some of its original BTCC decals, and Davies went for it. He has successfully campaigned it since and the 550+bhp machine is one of the fastest examples still competing.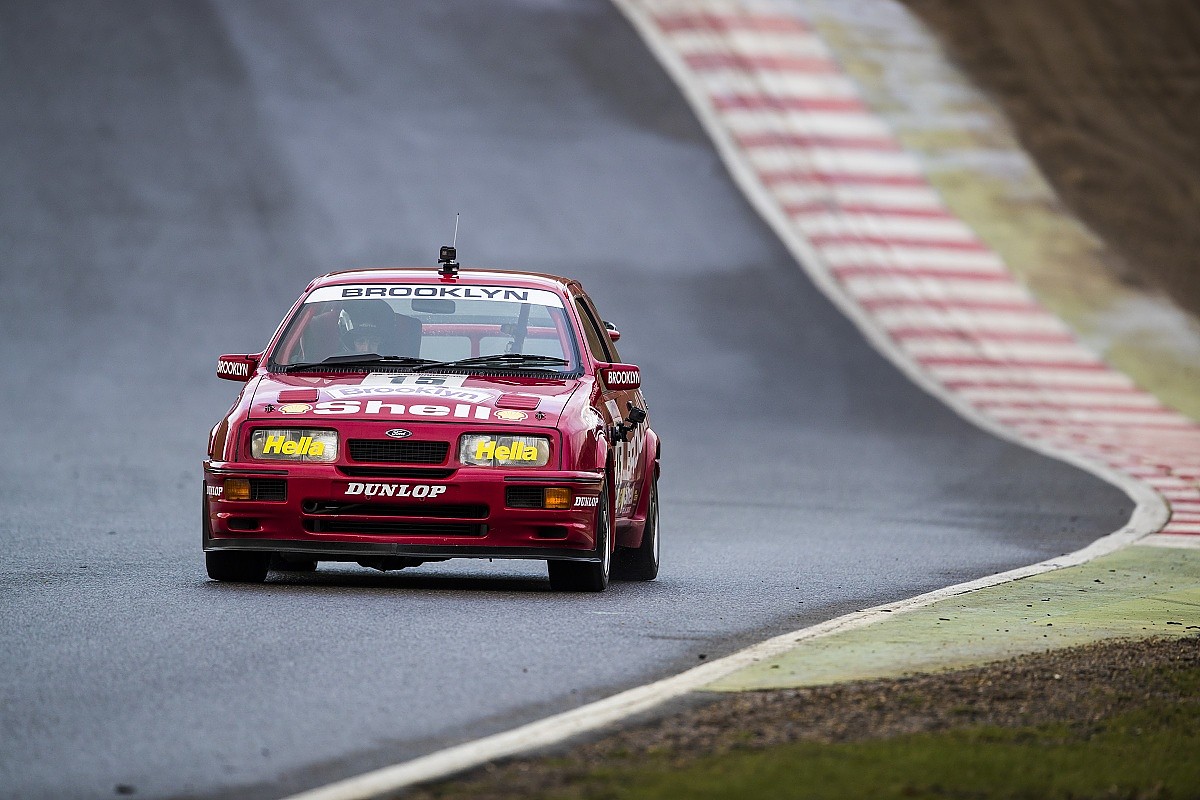 As a young lad, I grew up being ferried around by my parents in a (later) Ford Sierra Sapphire Cosworth. They ultimately persisted with the 4WD version, after the 2WD's turbo lag helped my mum into a ditch with kids in the back on an icy winter's day. Because of that personal history, this is the car I'm most looking forward to.
It's clear that Davies and his crew have put a lot of TLC into this machine. Everything looks right, and the fact that he has raced it successfully suggests it will be well-sorted.
It's a seriously quick bit of kit, able to reach fifth gear at 7000rpm just before Paddock Hill Bend. I absolutely love driving this car
"It handles well in the wet," he tells me as I gear up for my run, and he's right - it is phenomenally sure-footed and smothered in grip in a way the SD1 wasn't in these conditions. That's helped by a 'wet' engine map that detunes it to around 450bhp, which makes it very driveable.
But it's still a seriously quick bit of kit, able to reach fifth gear at 7000rpm just before Paddock Hill Bend. I absolutely love driving this car - the handling and power just inspire you to keep trying to go quicker and quicker. Eventually it starts to bite back. I have a big moment at Paddock, then a spin under braking for Druids, so I decide to call it a day and head back to the pits. I'm getting carried away and having too much fun...
It almost feels like the SD1 and RS500 have switched places compared to what Harvey remembers of them - but that's probably a function of modern understanding and tyres.
Many formulas eventually reach a point where everything starts to get out of control and must be reined in. That's not always for the better, but in the case of the BTCC the end of the fire-breathing RS500 sparked the category's greatest era - effectively turning it into a Super Touring world championship on British soil. The legacy of that, and everything that came before, is why the BTCC remains so significant.
Our thanks to Brands Hatch, Julius Thurgood, Guy Harman, Henry Mann, John Young, Ken Clarke and Craig Davies