For the first time in British Touring Car Championship history, four drivers head to the final round with a chance of title success.
Old rivals Jason Plato and Matt Neal were expected to last the distance, while the inclusion of Gordon Shedden and Tom Onslow-Cole at this late stage is surprising, although thoroughly deserved.
Between them the title contenders have won 19 of the 27 races staged so far this year and now all that stands between one of them and the championship is a trio of races at the infamous 1.2 miles of tarmac that make up the Brands Hatch Indy circuit in Kent.
AUTOSPORT spoke to all four title contenders this week to get their feelings on what seems certain to be a thrilling final round. Here, in their own words, is what they think.
Jason Plato (Chevrolet)
Championship position: 1st; Points: 224; Success ballast: 45kg
I'm feeling good heading into Brands. I know how strong the Cruze is and I think it will probably be the car to beat this weekend; after all, we were quickest in the test at media day in March and the guys at RML [the team that runs Chevrolet's works operation] have done a fantastic job in improving the car since then, particularly on how it uses the tyres.
Jason Plato © LAT
The difficulty is carrying the weight. 45kg is a lot to lug around, although Brands Indy isn't as bad as somewhere like Rockingham, despite all the gradient changes.
Qualifying will be crucial because to get near to the front not only keeps you ahead of any midfield mayhem it also means that you can control your own destiny a bit more. It's a track where overtaking is difficult, so if I need to defend a position - and I know I'm going to have a lot of defending to do - I can.
Points-wise, we've got a nice advantage [17 points], but we're not looking at that as a negative and not going to let the pressure get to us. We'll just keep doing what we always do and take it as a normal weekend.
We've got a few little things that we always do during practice just to validate choices we've made on set-up and make sure we're not going up a blind alley. It costs a few minutes during a session, but it's well worth it.
Personally, I think we've already got the right set- up for whether it's wet or dry, and even it's dry all weekend, the grip levels at Brands are always changing.
Matt Neal is the closest to me in terms of points, but I don't think that necessarily makes him the biggest threat. [Gordon] Shedden is a couple of points further back from him, but has 9kg less ballast to carry. He's always looked quick around that track though so he's well capable of getting himself a win. Matt's got to look out for Gordon and vice versa, and that won't help either of them.
I think the real threat could be the Fords, if they put in the kind of performance we know they can put in. Tom Onslow-Cole is a cracking little driver and has a big future ahead of him. He's done well this year. My fear is that they'll be horrifically slow through the corners like they were at Donington, and that will bunch everyone up, but that they'll disappear down the straights like always.
It doesn't really bother me whether I'm chasing or being chased into the last round. I've won from behind [2001] and I've lost from being ahead [2007]. I have no feelings on it either way. If it [the title] happens, it happens. If it doesn't, it doesn't. As long as I can go to bed on Sunday night knowing that I've done the best possible job I could have, I'll sleep just fine.
Matt Neal (Honda)
Championship position: 2nd; Points: 207 (-17); Success ballast: 36kg
I think Jason will be as nervous as hell. He's lost this championship more times than he's won it and it's his to lose again. He'll be so desperate for that not to happen.
As for me, I'm pretty relaxed. At 17 points, the gap means I've only got a slim chance of winning the title anyway, so there's no pressure. If I don't win it, then the gap was too big in the first place; if I do win it, then I've done a good job. It's not a difficult situation.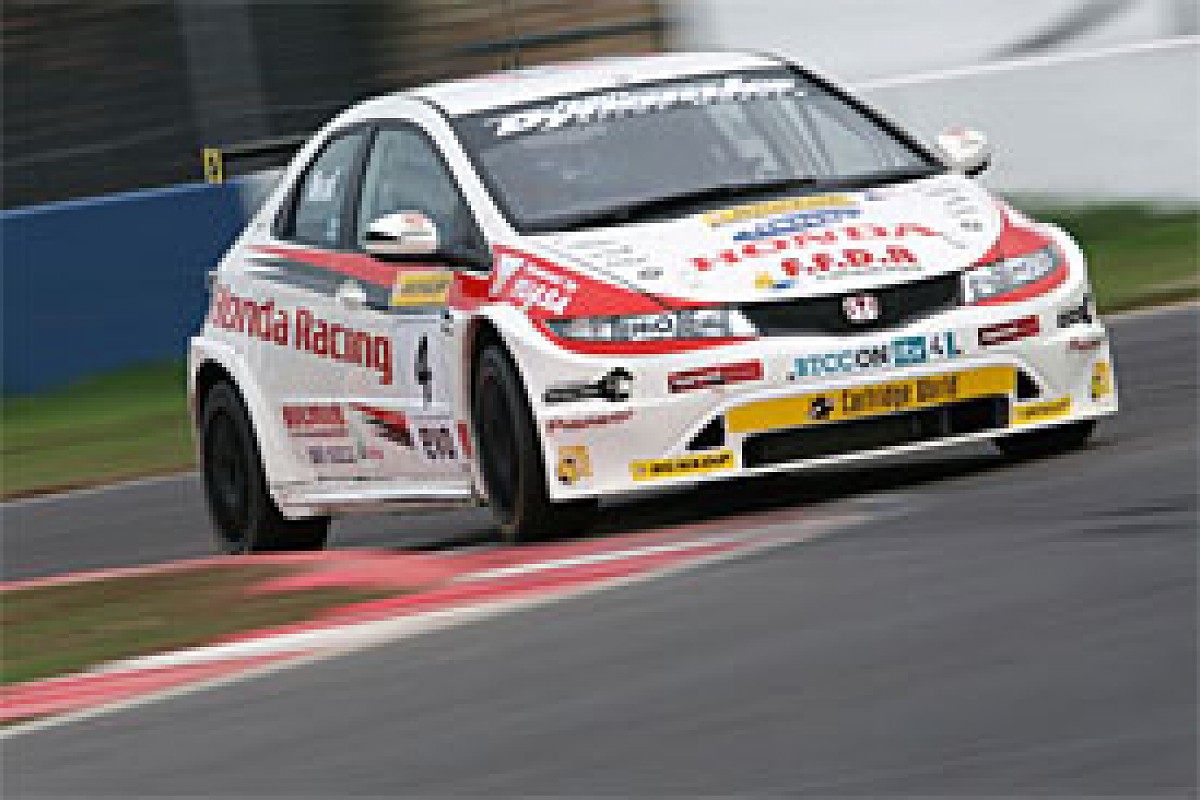 Matt Neal © LAT
It's a cliche, but anything can happen at Brands Indy. Sure it's bit more difficult for me and [Honda team-mate] Flash [Gordon Shedden] because we're both going for the title. If one of us retires from race one, then that's that driver out of the title fight, and from the back of the grid, it's not like you can help your team-mate. The fact that both of us are up there though is good news for Honda, because we could win the manufacturers'/constructors' title.
I think the Fords will be fast, but you never know what they're going to do weekend to weekend. With the [LPG] engine they've got, they'll just have to keep it nice and tidy in the corners and nail the throttle on the exits and no one will be by them.
If they really want to fill the front row, they will do. My aim is to qualify on the second row, even with 36kg. It will be really tight though because it always is at Brands Indy. Onslow-Cole is the last of the title contenders, but if Arena gets a pair of one-twos in the first two races, it will be all to play for.
As for us, I think the circuit should suit the Civics. It's short, tight and very point-and-squirt. Knockhill was the same and Flash and I both won there, so that bodes well for us. Then there's the weather, and that could turn the whole thing into a lottery.
Gordon Shedden (Honda)
Championship position: 3rd; Points: 203 (-21); Success ballast: 27kg
It's more than just a mathematical possibility for me to be champion. It's not like I'm, 51 points behind with 52 to play for. I'm in a situation where, if Jason doesn't finish the first race, I could be almost level with him in points. That's how close it is.
A few people have said to me that the fact that Matt and I are team-mates and are both in the running is a disadvantage, because we'll take points off each other. But I don't see it that way. I think it's to our advantage because between us we won't give Jason or Onslow-Cole any respite at all, which can only increase the chances of them making a mistake.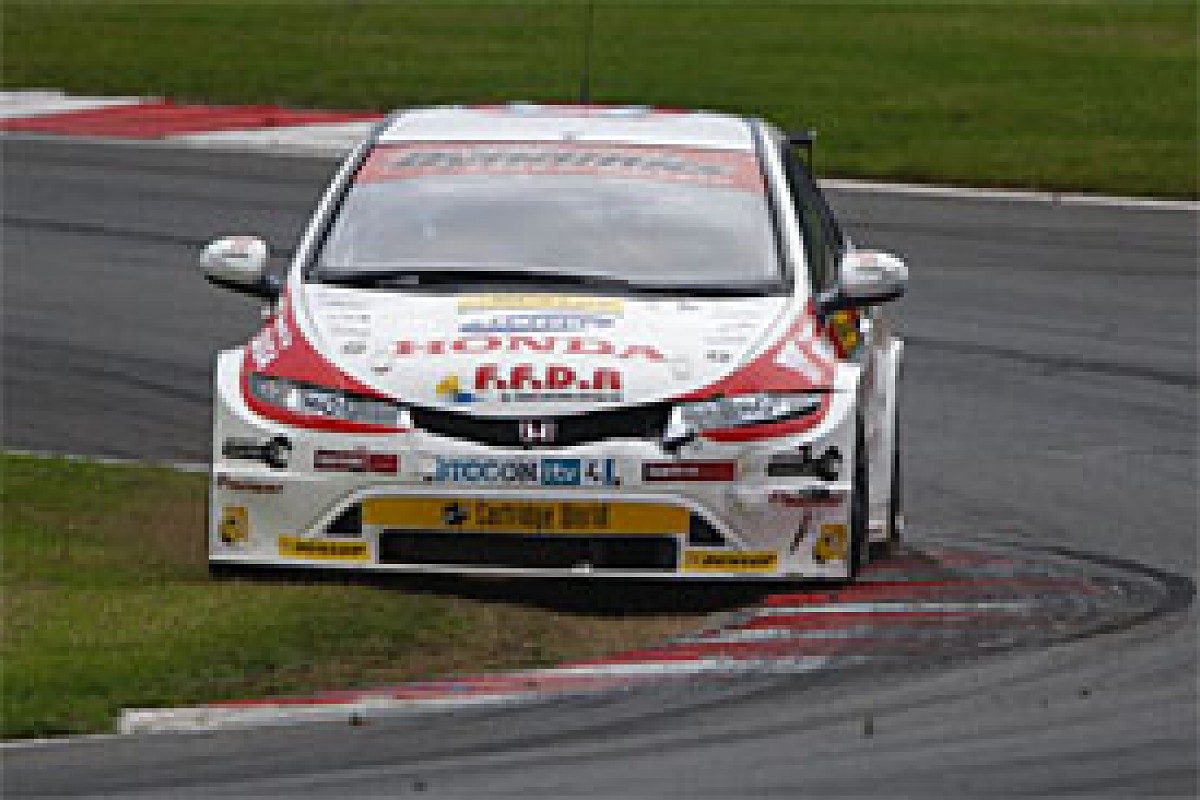 Gordon Shedden © LAT
I'm really chuffed with the season I've had so far, because after the bit-part that was 2009 [four rounds for three different teams]. Being back with Matt is a part of that, I'm sure, because we worked really well together in 2006 with the Integra and then again in the Civic in '07 when I finished third in the championship [ahead of Neal].
When you look at where the car was at the start of '09 compared to now, it's the same car, but it's like it's in another world. All the work that's been done on the engine and the aero has paid off so much. Steve Neal said its something like 15 per cent less drag this year, and it really shows. Plus its always been a great-handling car and that should be a good thing for Brands.
Obviously we're both driving for Honda, and therefore the manufacturers'/constructors' title is what they want, but the only way we're going to get that is for us both to finish all the races strongly. If we do that, it helps us both anyway. Team orders? There are none, which is the way it should be, and there haven't been any all season either. Both Matt and I just have to see what we can do, and if I don't end up as champion I hope he does.
Then there's the unknown, which is the BMW. None of the BMW drivers have had a particular stellar season, but guys like Rob Collard and Mat Jackson will be still out to prove a point and at least end the season with something to show for it. So they'll obviously be strong there, as the BMWs always are on Brands Indy. They definitely have the potential to some of the championship guys of points, especially as none of them will be carrying any success ballast.
Tom Onslow-Cole (Arena Ford)
Championship position: 4th Points: 200 (-24) Success ballast: 18kg
If you'd told me at the start of the year that we'd go to the last round in with a chance of winning all of the five titles on offer, I wouldn't have believed you.
You always hope, but we started from scratch with the LPG engine during the winter, and the chassis wasn't a world-beater either. The fact that we've got stronger and stronger all year is a real credit to the guys down at Arena and now it looks pretty positive. They [TOCA] have even been putting all kinds of things on the car to slow us down this year, which is kind of a back-handed compliment.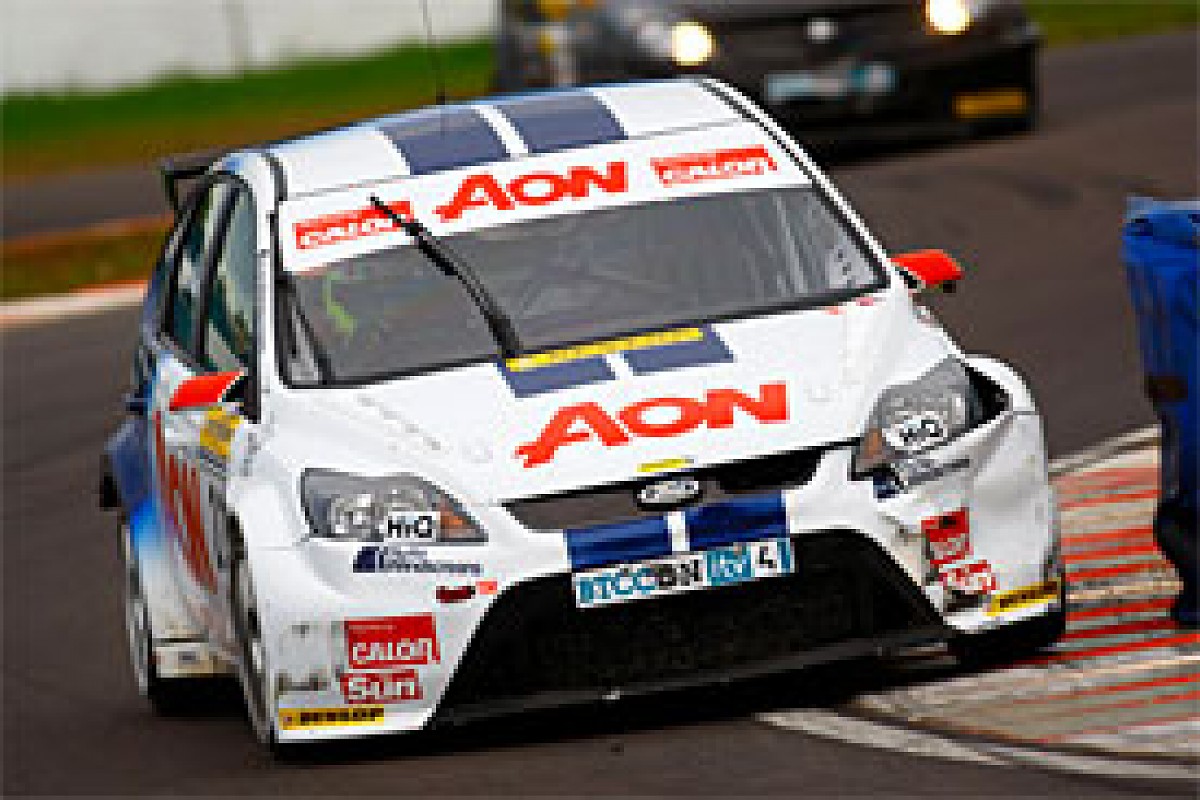 Tom Onslow-Cole © LAT
Of course I'm fourth out of four and Jason is a long way ahead, but being fourth when things are so tight is perhaps better than being second at the moment because we're all so close together and I don't have to carry as much ballast because of it.
Really, when you look at it, 24 points is not that far behind. Jason was further behind Colin Turkington at this point last year, and only missed the title by five points, so I don't think anybody's feeling particularly over-confident. I'd be surprised if the title didn't go down to the very last race.
I'm not really sure how we'll get on at Brands. I'd certainly be a lot more optimistic if this round was on the GP loop.
Having said that, the team has done so much work on the chassis this year and that's had a positive effect on the handling. I think the biggest difference between the start of the year and now is the stability under braking. It's going to be a massive help on this kind of circuit.
We've got five titles to go for; drivers', teams', manufacturers'/constructors', independent drivers' and independent teams.' I don't really know if the team is prioritising one over the rest. We're due a big meeting on Friday night at the track to discuss what our strategy will be. I haven't forgot that I'm leading the independent drivers' standings, so I don't want to throw that away.
The approach has to be the same anyway, because if, for example, I can win the overall title, there's a good chance we can win all the rest as well. I know the team will be fully focused on the job, and as far as I'm concerned it's still everything to play for.
If we can become champions, after all the performance penalties we've been handed this year, it will mean a hell of a lot to me.