The opening round of the British Touring Car Championship was all about Jason Plato. Left without of a drive following SEAT's shock pull-out at the end of 2008, and then taking until three days before the start of the season to find a drive left the former champion up against it as he arrived in Kent.
You'd never have guessed it though. Good fortune had him drawn on pole for the reverse grid third race, and superb car control - which saved his RML Chevrolet Lacetti from certain disaster after a major punt from Jonathan Adam - eventually handed him victory. It was all he deserved.
Before Plato confirmed his deal to remain with RML for the rest of the season, BTCC correspondent Jamie O'Leary sat down with him to chat about just how difficult it is - even for the most popular driver in the series - to find a drive.
Q. The deal to race at Brands Hatch was a long time coming.
Jason Plato: Yeah, it was. We genuinely didn't know until the Wednesday prior to that weekend that it was going to happen. If I'm honest, the idea only really came to fruition on the Monday/Tuesday of that week. We had a long chat with Ray Mallock and we kind of agreed what we thought we should do. We pushed the button on the Wednesday morning.
Q. What was it about the Lacetti that made you want to race it so much?
JP: If I'm honest, the car was secondary to working with RML. Let's be honest, I've been, through fortune or not, in my 10 years or so in the BTCC, operating at the very highest level because of the teams and environments I've been involved with. So I've been very fortunate to have seen that and it's become, in my mind, the way you go motor racing at this level.
Having had previous experience with Ray and his team, the draw for me was working with them rather than driving the car that they had. I guess the double benefit was that I believed in the car they did have, the Lacetti, with the right engineering, and all the skills and how tight they are as a team, could without doubt be a title-winning car.
Also I know, having driven in the BTCC, how important an engine is and the Chevy engine is bloody good. It was a sensible choice. It ticks all the other boxes too. There were a lot of positives as to why we should have tried so hard to make it happen.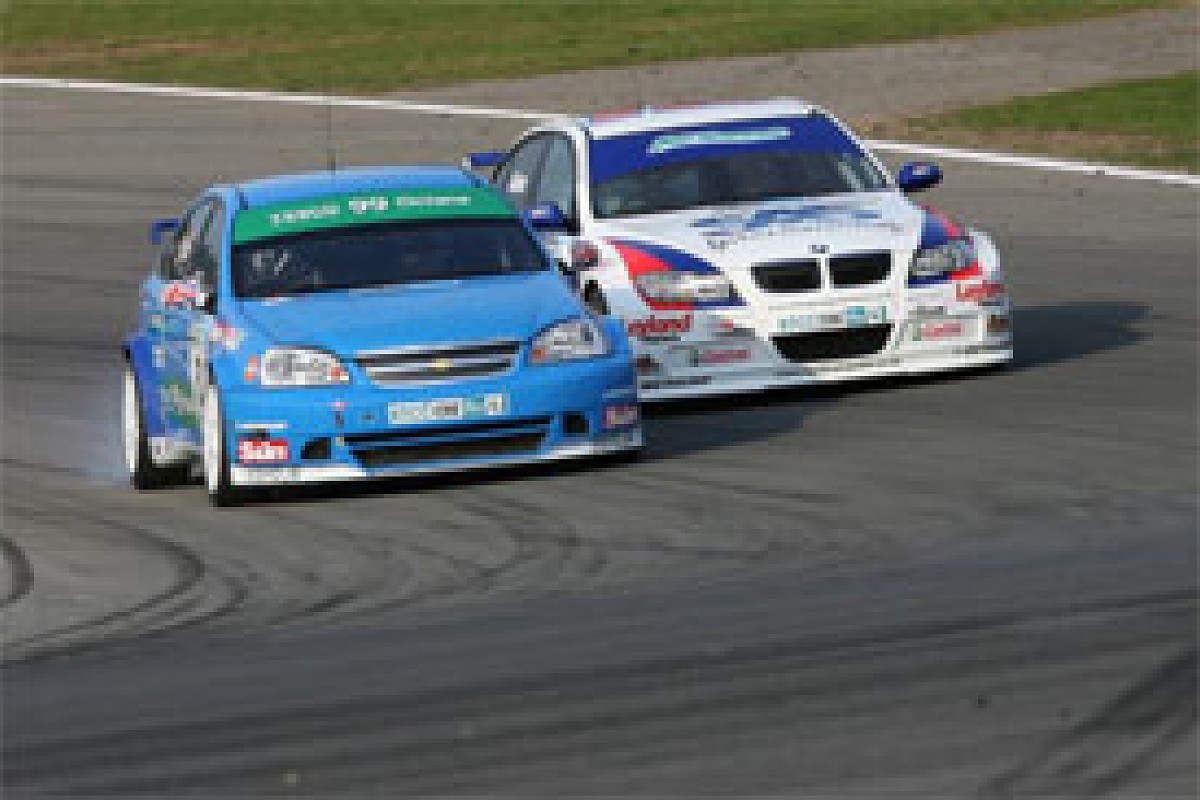 Jason Plato (RML Chevrolet Lacetti) battles with Jonathan Adam (Motorbase BMW 320si) for the lead at Brands Hatch © LAT
Q. Could you have imagined Brands Hatch would go so well?
JP: No, but by the end of it, one side of me was disappointed it didn't go even better. We should have gone better in qualifying, we should have been top five. We took pace out of the car between free practice one and the rest of the race meeting. That said, from a racing point of view, no, we didn't expect it would go as well as it did. We didn't dream it.
That said, I knew if I could get myself in a good position in any one of the races, knowing the way I drive and knowing the other competitors as I do, it was going to be very difficult for any of them to get past me if I got myself in the right place at the right time. Bearing that in mind, I knew if we could get ourselves in the mix, we could scrabble a result together.
Q. Does the win change anything in terms of your chances of putting together a deal for the rest of the season?
JP: It does make a difference. It makes a difference in as far as, from the outside - unless you're as caught up in this part of motorsport as we are - you come back from the front line and stand there, as any marketing guy or corporate decision maker, it looks a bit like it's the last drive in town, it's been cobbled together; Plato out in the cold managing to scrabble something together.
From the outside, that's what it looks like. We all know on the inside that's not what it's like. But from the outside that's how it looks and it knocks a fair bit of value off it. So with a lot of people we were speaking to prior to it happening, we were saying 'just watch. I think we'll be competitive. We might not be the benchmark, but we'll be in the mix. Also just watch the level of coverage I'll get.'
That sounds like me bigging up myself, but I know the power of my name and my brand in this business and I know the majority of the TV and radio interviews will be focused on me, because it's been that way for the past six years. So I was confident, even though it appeared to be the last chance saloon, that in reality it was going to produce a phenomenal return against the investment. So yes it has given us the opportunity to turn around and say 'see what I was talking about.' The coverage was phenomenal."
Q. How did you feel after the win?
JP: I didn't expect race three, what happened was a gift from above. Being drawn on pole, making a stellar start, beating the BMW off the line, which is unheard of... I just got a good start. I put all my energies into doing that.
I'd made about four practice starts in the shakedown at Silverstone Stowe circuit and most of them were crap, as were my getaways in races one and two. I kind of had a picture in my mind of what I needed to do, but I just couldn't do it. The mechanics of what I needed to do were not there, in terms of not knowing the car very well, the clutch, all of that. I just really thought about it and thought 'if I get off the line well then the only way anyone's going to come by is to take me out.' Obviously we got the good start.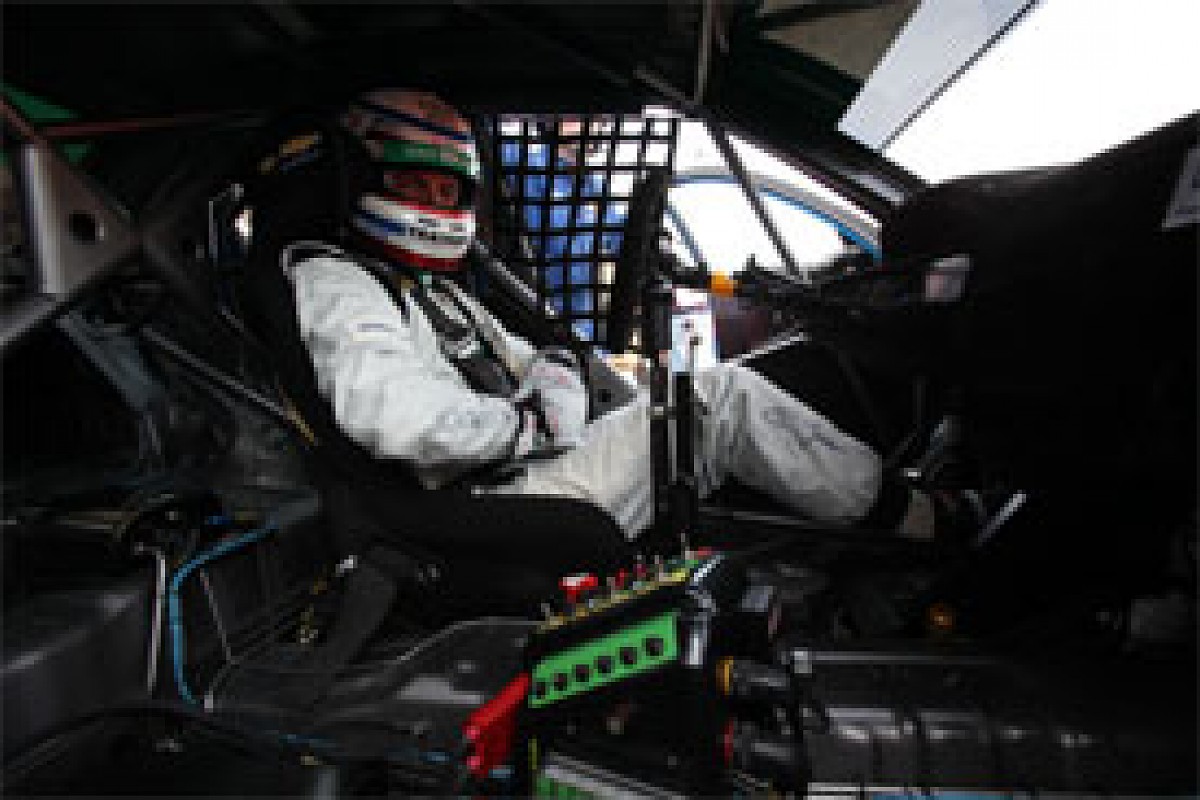 Jason Plato © LAT
What happened with Jonathan Adam, Matt Neal breathing down my neck... You'd have struggled to have written a script as good as that. Do I believe in weird things? I guess I do. I believe in fate. Someone somewhere was looking down upon us that day thinking 'wouldn't it be good if that happened?' It's certainly helped no end. You couldn't have written a better script. It was a huge effort and all that thanks has to go to Ray's guys.
On Wednesday morning it was a car in the workshop gathering a bit of dust. Then suddenly the car's prepped, the engineers are on it, hotel rooms are booked, backboards made, and suddenly we had a team. It was stellar, and without them... they made the result. The atmosphere in the garage among all the staff just kept getting stronger and stronger. It was absolutely mega. The feeling I had leaving the paddock on Sunday night was one I've not felt for a long, long time. It was a lovely drive home. I actually felt quite proud and gave myself a bit of a pat on the back. It's not very often I have those moments with myself.
When I was with SEAT I expected myself to perform every time I was in the car. And more often than not, I did as well. Poles, wins, beat my team-mate, all that. But when you find yourself in the situation that I did; no testing, don't even know what the switches do in the car, and also being in the mess that we were in with the car over the weekend. To dial in some ridiculously hair brain wild settings into the car in race three to try and make it do what we wanted - we knew what we did was going to make it difficult to drive, a bit of an animal - and still come out of it with a result. It was mega. It was as if we were the best mates in the world in that team. It was a very special day.
Q. How much did the support of your fans over the weekend mean to you?
JP: It was phenomenal. The level of support from the fans we got from the time we announced this deal, right up to the weekend. It was fantastic. I've always nurtured that because I've always thought it's very important. Motorsport is very unique as a sport in that there are not other sports where you can turn up to an event and mingle with the players.
Most other sports are business tools and in the BTCC especially, it's all about interaction. The fans can come into the paddock and meet the drivers. One of the main structures that underpins the whole championship is that access. I sussed this years ago and thought 'there's something important here and it needs to be nurtured.' I always tried my best.
Sometimes you can't do a lot, but I wanted to become a friend of my fans. And it's only at some times - not that you take them for granted, but you kind of do in the run of the mill of multiple seasons - its not that you forget them, but when you find yourself in the kind of situation that I have, all of a sudden that all comes back, and it comes back far bigger and stronger than it did before, or it's bust. It's a bit of a stand back and have a look. It's amazing.
Q. Your persona makes you a fans' favourite. Do you play up to your stereotype at all?
JP: I guess so. But I've always set myself out to be controversial and outspoken. It's fair to say that. It's not a lie or an act - I really am like that. But most drivers try and disguise that. They see it as a negative. But I saw a value in being the bad guy, the public bad guy, that I didn't see in doing the squeaky clean act that the public have seen a thousand times before. Also it allowed me to be a bit truer to who I am, which is a normal bloke who gets rained on just like the rest of them.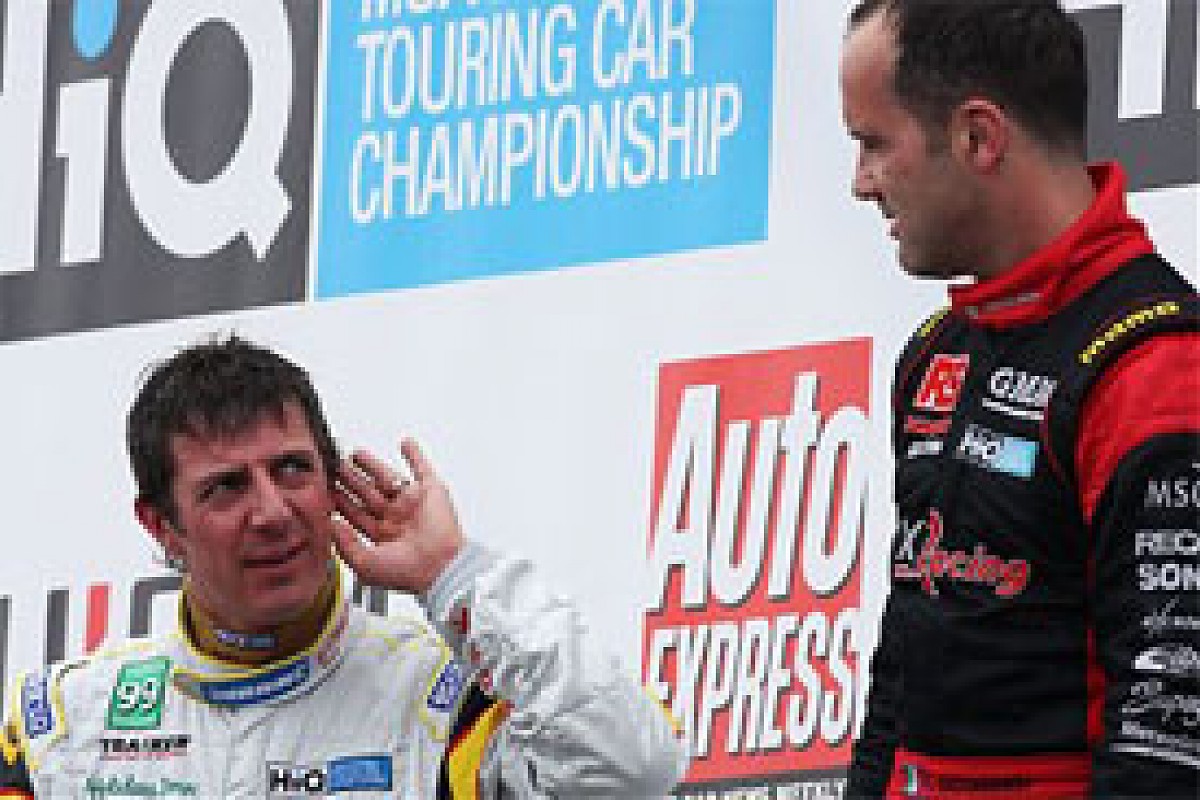 Fabrizio Giovanardi and Jason Plato on the podium in 2008 © LAT
Q. What do you think about other drivers trying the 'bad boy act?' Are you worried about anyone else muscling in on your territory?
JP: It sits fine with me and it's quite fun to look at from what distance I'm at. It doesn't bother me at all. It's quite amusing watching how they [other drivers] go about trying to put some kind of controversial attitude across. Look at Tom [Chilton]. Bless him, he didn't really think it through when he took me on in the press. He needs some decent results first before he starts taking me on like that. It is ultimately a game.
The other way I see it is that, me being like that is the way I am normally. So it's not really an act with me. I made a choice that I don't want to be squeaky clean. I'm not like that. I'm a bit lively, I'm very aggressive, and I won't make any bones about that and nor will I apologise for it. I am who I am. It's very important for me also to deliver, both inside and outside of the car.
When you deliver in the car, as I have done, then you have much more freedom to be a bit more expressive like I am. I think it's when you don't deliver inside the car and then start gobbing off, that's not a good thing."
Q. Are there enough characters in the BTCC now compared to 10 years ago?
JP: I think if you know the people, that blend of personalities is there. I think the trick is knowing how to convey your personality. I've had lots of experience with TV cameras. I do it as my second job. I've been doing TV since the late 90s. I also put a great deal of effort into media training and how to project myself.
For sure Matt Neal's very good at projecting himself and putting his persona across. So is [Fabrizio] Giovanardi, as is James Thompson. There's a gap there because some people know how to do it and some don't. I guess it's a skill, being able to capture the imagination of the media and being able to create a story and portray a persona from every angle so that there is a story. There is a skill to it. But yet here I am without a drive.
I learnt a lot from a lot of good people. I learnt the art of driving a saloon car from Alain Menu, whom I regard as being one of the finest touring car drivers ever. I've learnt how to play the media, how to project a personality. I learn a lot from the media in terms of what gets a headline, what things to say which have cut-through and what things to say which don't have cut-through.
For me, being a touring car driver, a successful one, there's much more to it than just planting your backside in a racing car and driving fast. I think it's kind of self-perpetuating. But the people at TOCA have enabled us to do this with the promotion, the TV. We still need to work on it, we still need to get more column inches because for whatever reason the BTCC hasn't really captured their imagination. I don't know why. Without the work that they've done, it wouldn't be able to happen."
Q. Where are you now in terms of getting a deal together for the rest of the season?
JP: I think it's fair to say that the story of Brands and the performance and potential we showed has given everyone we're speaking to a bit of an extra buzz. The reality of it is that we're fast approaching May and budgets for 2009 were decided in September/October 2008, so companies just don't have a spare £400k lying around in the top drawer.
Whereas we've spoken to most people who can see the benefits of motorsport and would love to get involved, they just simply can't. Budgets allocated, less money about because of the slowdown, and marketing spend is the first thing to get the chop. Anything that could be viewed as being not above the line in the traditional share of the spend, gets cut. Even the basics get trimmed. Look at TV. Ad revenues are down by a huge amount.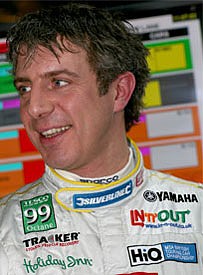 Jason Plato © LAT
Q. Companies still need to advertise though, don't they?
JP: They do, but they all want to take the traditional mediums. It takes a ballsy marketer to cut back on that traditional media spend and do something like motorsport. In terms of marketing, motorsport, if it's done correctly, is a very powerful tool. It can be very cost-effective too. The difficulty is measuring the success of such a strategy.
If you put an ad in the Sunday Times today, you can measure its success in terms of how many people buy it, the demographic, how many calls they get Monday and Tuesday, and it gives companies the chance to give not only the image of their company, but also to deliver a specific message: 'We're selling X today at X amount cheaper than our competitors.' You can measure that.
It's very hard to measure that success by marketing through motorsport, because you have to measure it over a far longer period. It's much more than just a branding tool. It's about creating incentive programmes for staff, competitions for staff, hospitality, general brand perception... it's about all those things, which are massively powerful, but they take time to build.
Q. But you're only looking, at the moment, at a one-year deal with RML. Surely that's not a long enough period?
JP: Absolutely, that's the problem. Go back in time a little bit to when SEAT announced their bolt from the blue withdrawal, as far as the rest of the industry was concerned, and myself, I had two more years to come. So I'm thinking 'I'm out of the radar for opportunities.'
Yes I have my contract, but I'm off the radar as far as Le Mans is concerned - I couldn't do it - I'm off the radar with other manufacturers, and because I'm off the radar, I'm out of their plans. I'm out of the loop in a market that's shrinking rather than growing, and that itself isn't a good situation.
We had to sit down and say 'okay, let's think about what we can actually do here.' We took a little step forward, started talking with another manufacturer and got a long way down the line to getting back into the BTCC this year, and for lots of reasons that just timed out. Of course, we're another few months down the line now and I've stood back through the hole a bit and looked at the options, and there were none available that I wanted to do and wanted to expose my personal brand and the industries that I support to, to put them in the firing line of, I suppose.
That's not to demean any of the teams out there at all. I'm just saying that there was no-one there that, as a package, that fitted my requirements across every level in terms of what I wanted to get out of it, what I wanted to put in, the level of media we're likely to get, the level of b-to-b opportunities we're likely to get. None of it worked until the RML deal came along. And that primarily worked as a separate thought because I know them very well, I have tremendous respect for Ray and also it was a great story: RML back, JP in a one-car team, three days before the first race of the year, it kind of had all the right ingredients.

Q. What makes you such a good ambassador for a brand?
JP: Certainly it is an area I've put a lot of work into. Certainly any deals I have got now and any that I have in the future, the way we go around and the way I go about recruiting these deals and, more importantly, servicing them, are the sorts of elements of every deal that we want to deliver on.
Think about it. I guess I've learnt an awful lot from the teams I've been involved with. The obvious one is Williams. That was incredibly sophisticated machine, not just in terms of the bit that everyone saw with their brilliant looking cars, but what goes on behind the scenes too. Their marketing department is world class. And it's something I took an interest in. I tried to learn as much as I could. It's certainly helped. It's an area that, unless you're at the very top level in Formula 1, is often overlooked, or at the top end of touring cars when all the manufacturers were involved.
Motorsport sponsorship is not about putting your name on the side of a car, it couldn't be further away from that. It's about more and it has to be because there's so much competition about, whether it be golf, football, everyone's after that spender's dollars and we're not on ITV1 four hours over a weekend wearing shirts with a sponsor's name emblazoned on us. We have to do it differently."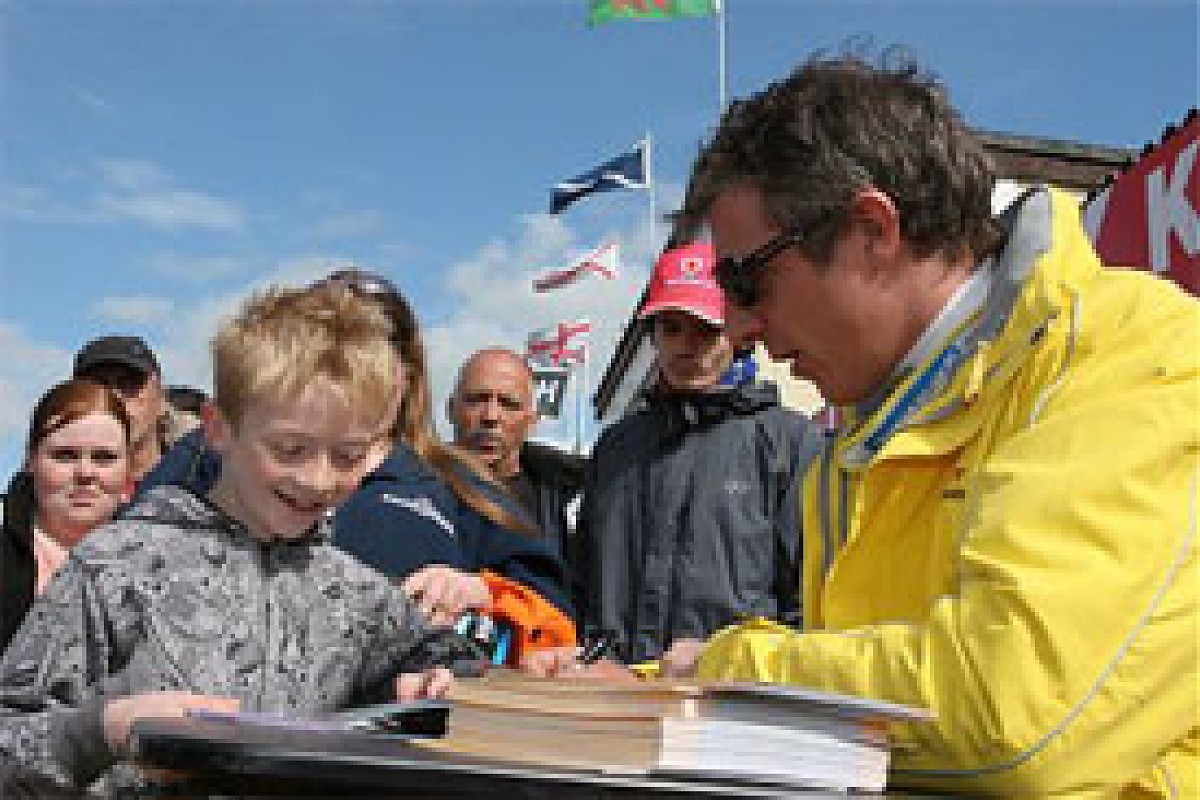 Jason Plato signs autographs in the paddock © LAT
Q. What does a company get out of being associated with brand Plato?
JP: It's a good question and one that I'm loathed to answer, but I will. The first obvious benefit is that the BTCC, as a tool, is a wonderful marketing instrument: phenomenal TV coverage, incredibly exciting, fantastic fanbase - you only need to look at the reaction of any of the crowds when something exciting happens to see that - the demographic of the viewers is bang-on. They're young, spenders... So those are the nuts and bolts.
In terms of what I offer is mainly the association with the other brands, namely Tesco and other big brands. Also I guess my notoriety in the paddock, whenever there's a TV camera it's generally pointed in my direction, I get a fair share of my column inches, and also the power of my other TV work goes a long way. It's a very useful tool and I'm arguably better known on the high street for my appearances on 'Fifth Gear' and 'Driven,' which didn't sit very well with me once, but it sits perfectly well with me now.
That opens up a whole host of opportunities and I guess the perception is that I'm an authoritative voice as far as motoring and motorsport is concerned and to have my images and my endorsement, which are things I choose carefully, cuts the mustard and that sets me aside from everyone else on the grid.

Q. You have a business that you run when you're not racing cars, don't you?
JP: "Yes, Brand Pilot. It's a relatively new company. It's me and Mark McKenna, who was the head of marketing at SEAT, the guy responsible for creating SEAT's whole sporty image and motorsport programme in the UK from the first Racing Rivals show with me and Nell McAndrew through to the Cupra Cup with those cars and the BTCC programme.
He created that and 18 months ago we set up Brand Pilot. If you look at the work we've done with SEAT in the last five years, their brand has come on massively in terms of the UK and that's sales and image. Their share of the market has gone sharply upwards. And the perception; it's not a cheap Spanish car like it used to be. Now it's a colourful, dynamic, edgy, and sporty brand. They had all the ingredients right, and the just needed a tool to bring it out. Motor racing and, I guess to some extent, my involvement, was key to that.
We worked really hard behind the scenes to create an image that really ticked all the right boxes for them. If you looked through the paddock at Brands Hatch four years ago, the effect was SEAT, the imagery, the colour, it was done a different way. Look at me being a bit outspoken, that was great for them. They wanted me to be a bit colourful, a bit edgy and it just goes to show that if you invest the right kind of energy and money, then motor racing can pay off big time. But it needs to be done across lots of different layers.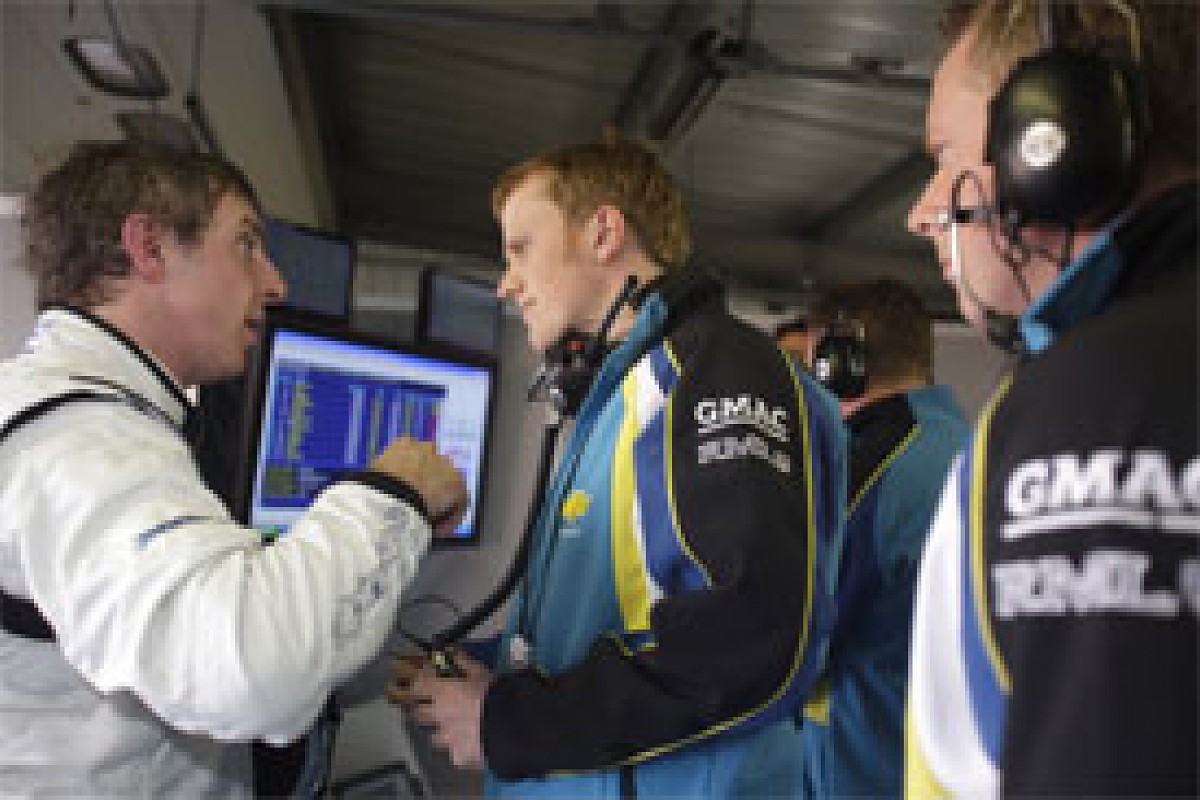 Jason Plato speaks to RML technicians © LAT
Q. What's stopping you, right now, from confirming your participation at Thruxton?
JP: We could do Thruxton now because we have funding in place to cover that and a wee bit more down the line. However, unless we can say to our commercial partners and sponsors 'we're doing the full season and to the level we want to do it too as well', which will include the right media service, the right leveraging going on between the various valences, the leveredging of the media deals, the right hospitality, the right activation programme behind everyone, we can't activate it.
If we then can't activate it, we can't get access to the funds we have earmarked for the next few races. It's a typically tricky situation. I will not expose any commercial partners I've got if I think there's a risk of it all coming undone after race four. I can't do that. I won't do that. In my opinion, we either do this really well or not at all.
If it means I have to sit at home and put all my efforts - and there's two tiers to my efforts, none of them DIY I might add [Jason has destroyed a bathroom or two in his house through his attempts].
One is working on a programme for next year and looking at a drive at Le Mans, but the other one is trying to get this year sorted. If it doesn't sort itself out then it's full steam ahead to work on a manufacturer programme for 2010 onwards.

Q. If you are out for the rest of the year, can you win the title?
JP: I honestly think so. With Ray Mallock, his team, his expertise and technical wizardry that's there, they can cure the problem with the Lacetti. We know exactly what shortfalls of the Lacetti are, and they come down to working on the Dunlop tyre.
I'm confident in the team's ability. I know the preparation will be second to none, mistakes won't be made which will cost us races. Mistakes and decisions won't be made which will cost us points, and I'm confident in my own ability to, over the course of the year, mount a championship campaign. With a little bit of luck thrown in, of course we can.