George Russell capped a title-winning first year in car racing by becoming the youngest-ever winner of the McLaren AUTOSPORT BRDC Award.
The 16-year-old BRDC Formula 4 champion beat title rival Sennan Fielding, Formula Renault Eurocup frontrunner Alexander Albon, FR Northern European Cup champion Ben Barnicoat and race winner Seb Morris and British Formula Ford runner-up Harrison Scott to win the 26th edition of the Award.
Single-seater rookie Russell, who clinched the BRDC F4 title in a thrilling final-round shootout, also made a race-winning wildcard appearance in the FR Eurocup finale.
He has won £100,000, a McLaren Formula 1 test, BRDC membership and an Arai GP-6 RC carbon helmet.
"It's been a long wait since the assessment days, and I can't thank everyone on my table enough - I don't know what to say," Russell said as he collected the award.
Russell graduated into cars after a glittering karting career that included multiple British and European titles.
He moved straight into European competition with a season in FRenault ALPS - in which he finished fourth despite skipping a round with chickenpox - alongside his title-winning BRDC F4 campaign in the UK.
Russell's 2014 plans are almost finalised, with a move into the Formula 3 European Championship looking most likely after he initially planned to follow previous Award winners Oliver Rowland, Jake Dennis and Matt Parry into a full Eurocup campaign.
AUTOSPORT says
Scott Mitchell, Assistant Editor (@ScottMitchell89)
George Russell's ability behind the wheel is without question, but speed is not enough to win the McLaren AUTOSPORT BRDC Award.
At 16, he is not yet old enough to drive on the road, but on track he is already beginning to blend his obvious speed with intelligence.
He drives with great precision and feel - twisty sectors and hairpins were his forte this season - and his technical feedback mirrors that.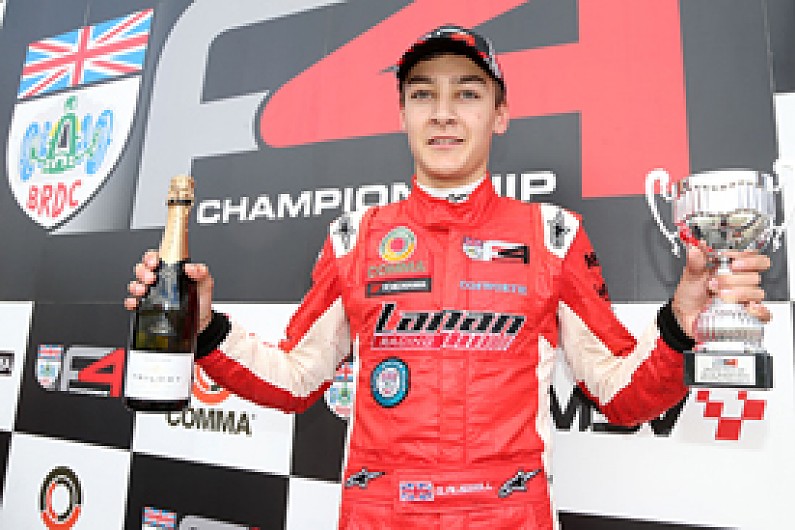 There were times where he was quite clearly the pick of the F4 pack, though two race-ending incidents with the same rival threatened to derail his title bid.
Having fallen to second, the way he rallied at the Snetterton season-closer - especially after a tricky first encounter - to finish second in race two and win the finale to snatch the crown by just three points suggests he also has a mental strength you might not expect of one so young.
His last-gasp championship success came just one week after a sensational wildcard appearance in the final FR Eurocup round at Jerez, where he stunned the regulars - including McLaren Formula 1-backed champion Nyck de Vries - by taking a lights-to-flag victory in the season denouement despite switching teams (to Tech 1) at the last minute.
That whirlwind fortnight was capped by travelling straight from Snetterton to Silverstone for the McLaren AUTOSPORT BRDC Award assessment days in Formula 2, Mercedes DTM and McLaren GT machinery, where his intelligence and adaptability came to the fore - as it did during a highly impressive one-day GP3 run as part of last month's end-of-season test in Abu Dhabi.
Good backing helps, but Russell has the tools at his disposal to make the most of his opportunities. How he continues his development next year will be fascinating.