James Thompson could well be the best touring car driver of the last decade without a world title to his name.
And yet while his former team-mates Yvan Muller, Gabriele Tarquini and Andy Priaulx have been taking the silverware for themselves in recent years, the bearded Briton can't seem to get himself a drive in the top echelon of tin-top racing for love nor money.
A second FIA European Touring Car Cup now sitting on his mantelpiece and a job as the development driver for the British Touring Car Championship's new for 2011 NGTC prototype has put Thompson back in the spotlight as a touring car ace. But he should never have been out of it, such is his speed and cunning behind the wheel, his work ethic and his mechanical mind that has helped turn, in particular, the Super 2000 Honda Accord from an also-ran into a quick bit of kit.
"I've made some bad decisions during my career," he says candidly. "Sometimes I just decide that a deal feels right in my heart, so I go for it, and then it turns out to be wrong - usually a good six months or so down the line.
"Most of the bad stuff has, unfortunately, come recently, so that's had an affect. But I'm not done yet though."
Thompson has raced for more top teams during his career than most drivers ever will; RML, Prodrive, WSR, Abt Sportsline, Triple 8 and N.Technology to name just a few of them. But despite coming close to winning the world championship in both 2006 and '07, the last two years have largely been spent in the anonymity - albeit very successfully - of the Danish Touring Car Championship with the Hartmann Racing Honda squad.
"The Hartmann connection came about when I was driving the N.Technology Honda in the WTCC [in 2008]. Hans Hartmann wanted his team to go forward and decided I was the man he wanted to build the push around. It felt right [there it is] and so I took my engineer Marco Calovolo with me and we've gone and done a good job there since '08."
Thompson's reputation was built on the explosive speed he showed as a 21-year-old with the Vauxhall BTCC squad in 1995 and led to him establishing himself as one of the top drivers in the championship during the heydey of the Super Touring era.
But since winning titles for Vauxhall [in the post-Super Touring era] in 2002 and 2004, he has not had a full-time programme in his homeland, race-winning outings in SEAT and Team Dynamics machinery not withstanding. He has his reasons though.
"The level has dropped compared to five years ago," he says. "I measure myself against the Mullers and the Tarquinis of this world, the guys I've been team-mates with and beaten.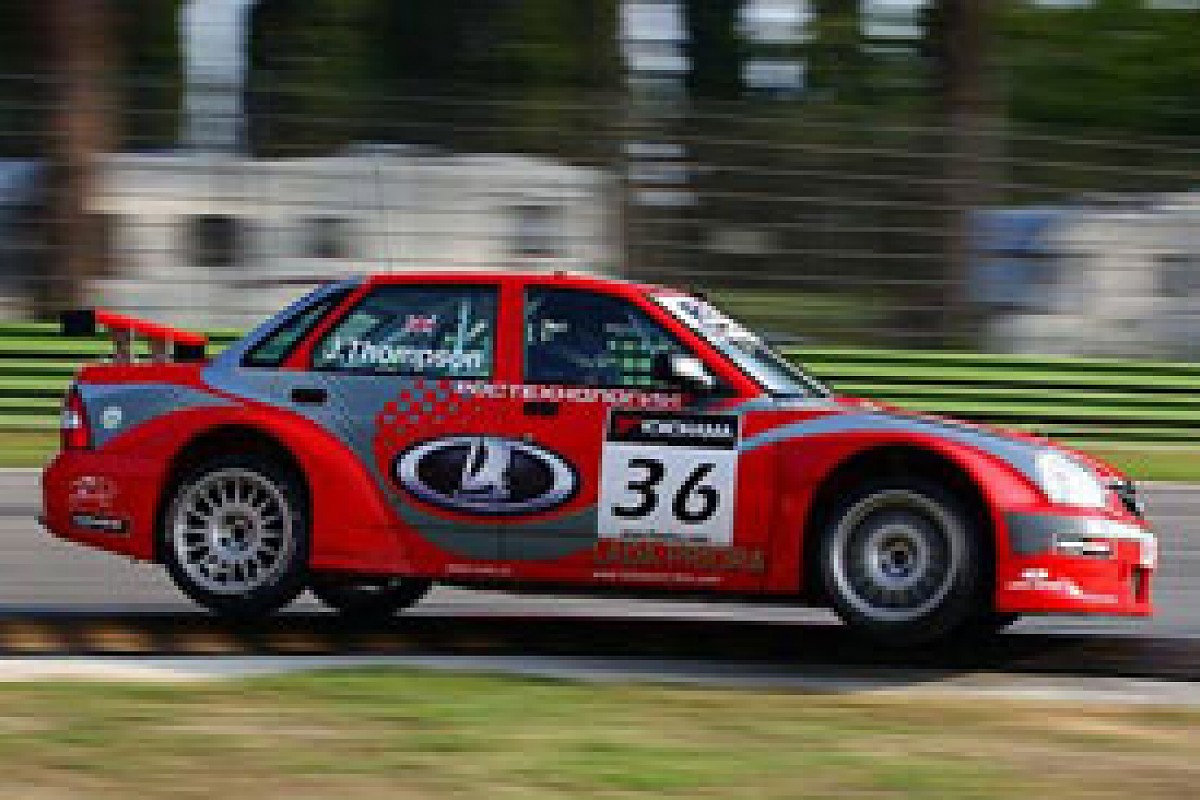 James Thompson © Sutton
"There aren't even teams that can afford to pay the drivers any more, not since Vauxhall pulled out.
"That's not me saying that I'm financially-motivated though. I'm a professional driver and I expect to be paid to race; Fabrizio Giovanardi's no different and nor is Jason Plato. Nothing's going to change either until a manufacturer returns, pays for two professional drivers and forces another manufacturer or two to do the same thing."
For a man who claims not to be financially motivated, he certainly got himself into a nice earning position with Lada when he signed on to lead the development of the Priora for 2009, following the collapse of N.Technology's WTCC programme.
He says though, that there was more to it than that, and that his burning desire to be world champion one day was a far bigger influence on his decision.
"Yes the money was good," he adds. "It was the difference between a holiday in Scarborough and a holiday in the Maldives, but that wasn't the be all and end all. There was a plan in place.
"I'd been with N.Technology for a couple of years and nearly won the WTCC with a million-year-old Alfa Romeo on virtually no budget [he began the final race of the season with a mathematical chance of becoming champion], and then we'd turned the Honda Accord from a heap of junk into a race-winner - in the world championship - in six months. I don't think too many teams could do that.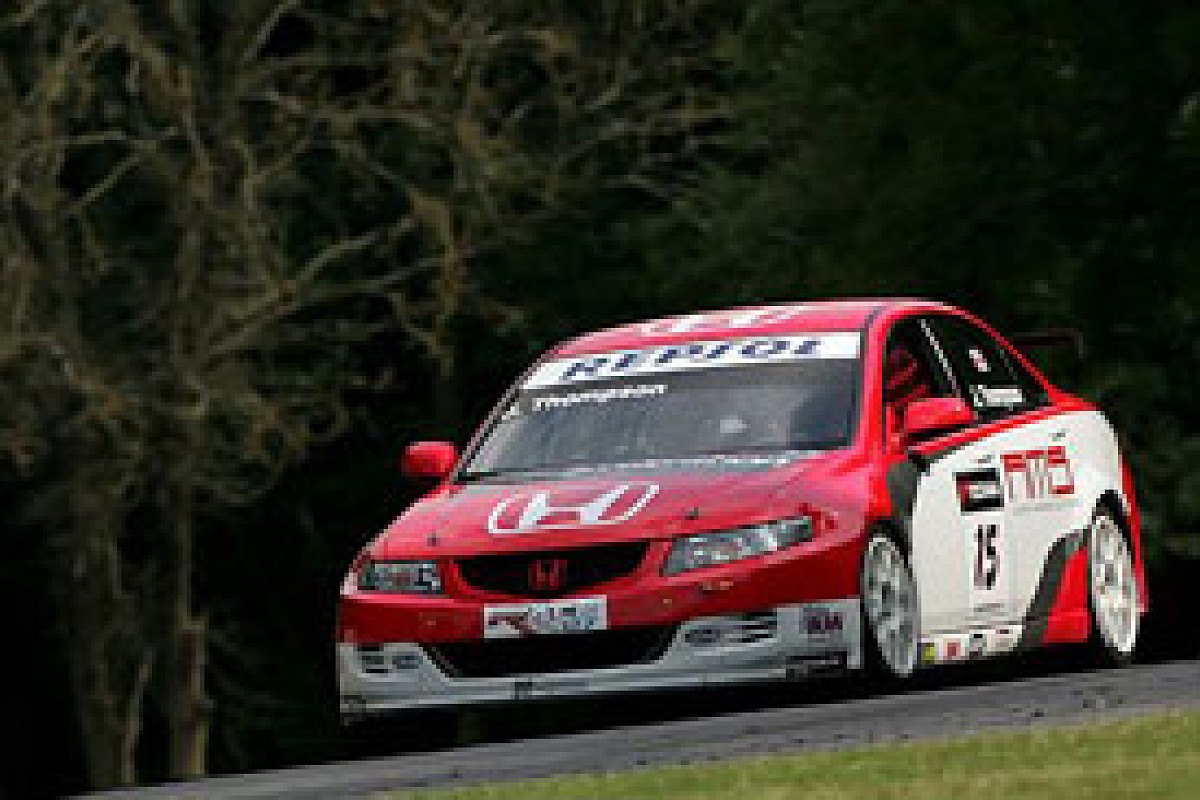 James Thompson © Sutton
"But again, the resources just weren't there and we were always up against it. Then [N.Techology chief] Mauro [Sipsz] said 'no more'. So when Lada came along with a three-year package, for which I could be the central development driver, it was interesting."
The season was perhaps more frustrating than interesting as Thompson had to wait until the halfway point of the year to give the Priora its debut and then struggled to get it on the pace, save for at Imola, where he took a superb pair of sixths.
"The car was making gains, we'd over-achieved in the first year in terms of what targets were set and both me and [team-mate] Jaap [van Lagen] were reasonably confident of more progress," he says. "The financiers didn't agree and so they pulled the plug, but all we really needed was a strong engine - the one we had was definitely the weak point - and I think we could have been regular top-10 qualifiers this year and even challenging to win the reversed grid races."
Alas, it was not to be and after a 2009 season that took in World, European, British and Danish programmes in Super 2000 machinery and the Australian V8 Supercar enduros at Phillip Island and Bathurst, Thompson had nothing.
That left him with only one option, to return to Denmark and to Hartmann Racing, the squad for which he had dominated the domestic touring car championship the previous year, only to miss out on glory due to his commitments elsewhere.
Indeed, he was gutted to receive a text in the middle of the night while on V8 Supercar duty at Phillip Island, informing him that the Danish championship, which he had led all year, had slipped through his fingers on the other side of the world at the very final race.
This year's Hartmann programme was due to take in the European Cup, the Scandinavian Cup and selected WTCC events - a natural expansion to a team that had been turned from tail-ender to title contender following Thompson's arrival.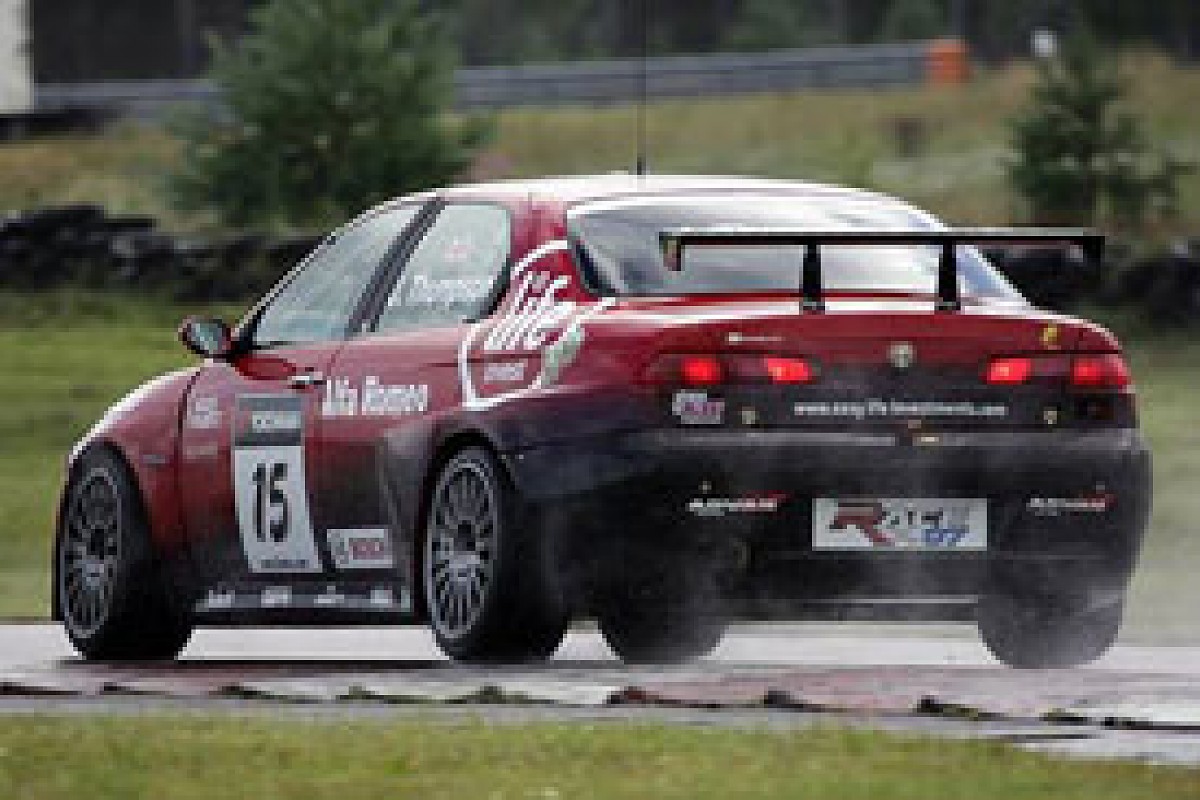 James Thompson © Sutton
The harmony was wrecked in May though, a decision by team boss Hans Hartmann to merge his squad with Engstrom Motorsport for a joint assault on the European and Scandinavian Cups not going down well with his driver, who promptly walked out.
"I thought that the team should have kept going in the direction it was heading, and he disagreed," Thompson reflects. "It would have meant Marco and the Italians [mechanics] at the team being got rid of, and I wasn't prepared to drive if that happened. We were only going to go backwards.
"I knew I was right, and after a race or two on his own, Hans realised I was right too, so the Engstrom thing ended and we all went back. Everything's fine now."
While his self-imposed exile robbed Thompson of a crack at the STCC, he was fortunate that the large gap between the opening two rounds of the ETCC meant he missed nothing and arrived at the Salzburgring as points leader following an opening round victory at Braga.
Clever driving both in Austria and at the finale at Franciacorta netted him the title to add to the one he'd won in a standalone event at Braga the previous year.
But question marks remain over just what the crowns mean. Critics of the ETC argue that the 'no works teams' rule and lack of depth of the field makes Thompson's title worth less than his BTCC crowns from 2002 and 2004, years in which he beat the likes of Muller, Priaulx and Matt Neal.

"I disagree," he says. "It's still an FIA title, or two, in fact, and you still have to beat who comes along out there.
"You can say that some of the guys weren't up to much, but those guys were finishing the races 30 or 40s behind us, so we proved what we needed to.

"Also there were always TDI Leons to deal with [which FIA rules supposedly prohibit independent teams from running], which you can't compete with on a level playing field, and which had some handy drivers [Michel Nykjaer and Norbert Michelisz], so there's still a lot of value in winning it. On paper, it's a big achievement."
So where does Thompson see his career heading over the next couple of years?
He's no longer the fresh-faced 21-year-old that stunned the likes of Alain Menu, Rickard Rydell and Paul Radisich by winning in the BTCC at Thruxton in 1995. In fact, he's 36 and heading into that tricky age group for a racing driver.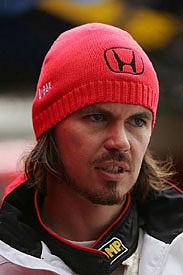 James Thompson © Sutton
"I want to be World Touring Car champion. I've won British, European and should have won the Danish [titles] as well. It's the next logical step.
"I came close with SEAT when I led most of the year before I started getting the engine problems [and dropped to eighth]; I was third in the privateer Alfa and I know I'm capable of it.
"I've made some bad decisions over the last few years - decisions made with my heart rather than my head - and my career has suffered. But I've not lost any of my ambition. I want to be world champion; why not next year?"