Former Hyundai World Rally Championship driver Kevin Abbring will race a Renault Clio Supercar in the European Rallycross Championship this season as part of the GC Kompetition World Rallycross team.
Abbring drove for Peugeot in the European Rally Championship before a two-year stint in the WRC with Hyundai where he took seventh on Rally Spain in 2016. Since then he has won the prestigious Ypres Rally in Belgium, and the Rally du Var.
As official test driver for the ES squad, Abbring conducted much of the development running for the Lithuanian team's Skoda Fabia (pictured below), and made his maiden World RX start in the Norwegian round at Hell.
There he finished fourth, before repeating the result at the next event in Sweden, but despite being entered for further rounds, he made no more appearances before the end of the campaign.
Abbring will now race in the five-round Euro RX series that joins World RX for its Belgian, Norwegian, Swedish, French and Latvian rounds this year with GCK.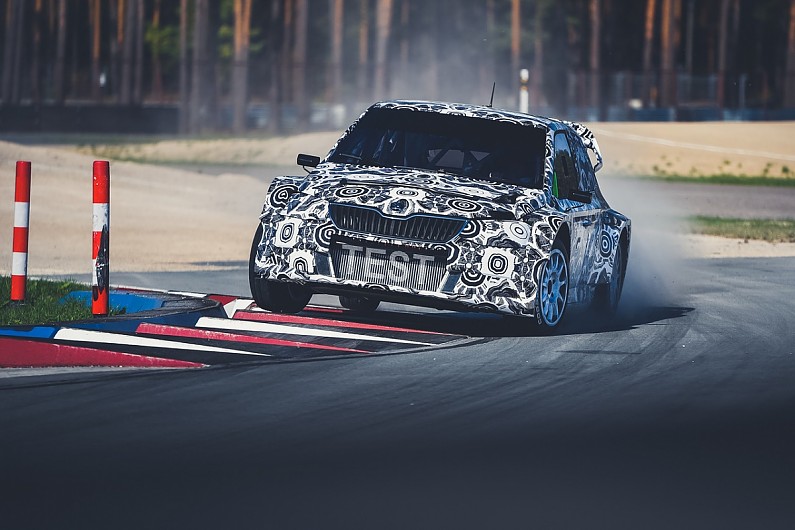 "I'm very pleased to work with GCK, and engineering company FORS from 2020 onwards," said Abbring, who won a pair of Dutch Ford RST junior rallycross titles in 2005 and 2006.
"GCK is not only the team with arguably the biggest potential, it's also a team with extremely experienced and motivated people, with whom I worked closely in the past.
"The team has invested a lot in the car and our main focus now is to bring those pieces together and find the optimum balance.
"Guerlain and GCK have been leaders in the drive to find sustainable and environmentally friendly solutions in rallycross, as well as other motorsports.
"For me it is a great opportunity to work on a sustainable future with a team that has a strong focus on future motorsport developments.
"It also offers me the opportunity to fight for a championship again."
Abbring undertook his first test in the team's Clio at former European Championship circuit Lousada in Portugal on Tuesday.
He will be joined in moving to the Guerlain Chicherit-owned squad from the ES Motorsport team by engineer Sebastien Lessoneur.
A former technical director for Hyundai's WRC programme, Lessoneur worked with the Audi-backed EKS team in World RX as race engineer to Andreas Bakkerud in 2018, before switching to ES Motorsport last year.
GCK ran five cars in World RX rounds last year.
Chicherit and Anton Marklund were joined in the Renault Megane side of the team by a third car for reigning Super1600 champion Rokas Baciuska in the second half of the campaign, while Cyril Raymond (above) and Guillaume De Ridder raced a brace of Renault Clios under the GCK Academy banner.
Shortly after the Abbring announcement, French website PureRallycross confirmed Raymond's departure from the team, giving indication that the squad may not run an Academy programme in World RX this season.
Marklund and Baciuska meanwhile have already tested the Megane which was originally developed by Prodrive, last month, also at Lousada, and are in line to remain with the team this year.
GCK has also announced that former KIA Andros Trophy team manager Paul Bourion has been signed as general manager for the team this year.