Timmy Hansen claimed victory in the French round of the World Rallycross Championship at Loheac with an emphatic drive.
Hansen topped qualifying with a dominant performance in Q4, fighting back from a difficult opening day, but was beaten away from the line in the first semi-final by title rival Andreas Bakkerud - who won the encounter to secure pole position for the final.
By qualifying third in the Intermediate Classification, Bakkerud had moved into the championship lead, two points ahead of Kevin Hansen, but in the run to Turn 1 in the final, Bakkerud went deep to defend his position from a fast-starting Niclas Gronholm and both ran wide.
That allowed Timmy Hansen, from the inside of row two, to move into the lead, from where he never looked back. He took his joker on the fifth tour and claimed his second Loheac win.
Lithuanian GC Kompetition Renault driver Rokas Baciuska had topped the order on day one, then set second best time to Hansen in Q4 on Sunday to take second overall in qualifying.
He started on the second row of the final, but was passed in the second corner by team-mate Anton Marklund - who went on to finish second to Hansen.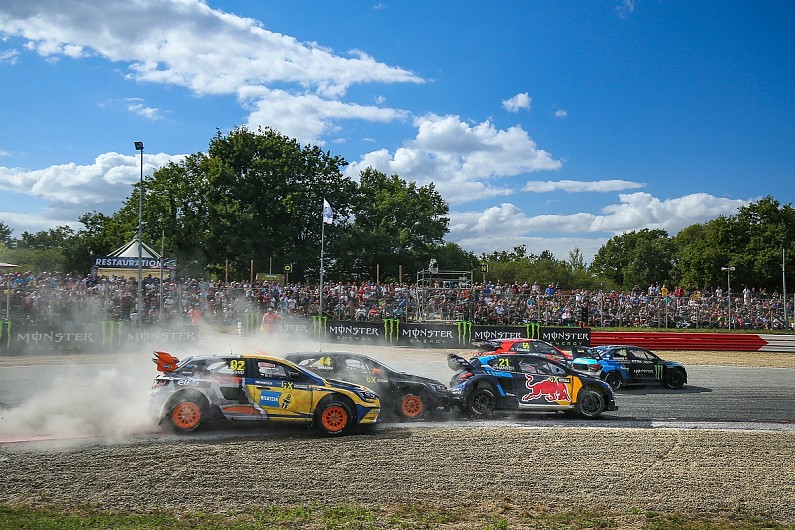 Reigning European Super1600 champion Baciuska was unable to hang on for an outright podium thanks to a charge by Kevin Hasen.
The other Hansen sibling, who had qualified 10th and battled his way through the semi-finals to beat double DTM champion Timo Scheider into a final spot, moved to fourth at the start as Bakkerud and Gronholm fell back.
Kevin left his joker until the final tour, threw the 208 sideways through the compulsory extra route's chicane and returned to the main circuit with the rear still sliding.
He just collected things up in front of Baciuska into the next left hander to claim the final podium spot.
Marklund's second place and Baciuska's fourth still added up to GCK's best ever performance, at the Guerlain Chicherit owned team's home event.
Bakkerud and Gronholm came home fifth and sixth, but Bakkerud still holds a two-point championship advantage over the Hansen brothers - who are tied for second - going into the final two rounds of the year in Latvia and South Africa.
Final result
| Pos | Driver | Team | Car | Laps | Gap |
| --- | --- | --- | --- | --- | --- |
| 1 | Timmy Hansen | Team Hansen MJP | Peugeot | 6 | 3m43.959s |
| 2 | Anton Marklund | GC Kompetition | Renault | 6 | 1.459s |
| 3 | Kevin Hansen | Team Hansen MJP | Peugeot | 6 | 2.289s |
| 4 | Rokas Baciuska | GC Kompetition | Renault | 6 | 2.889s |
| 5 | Andreas Bakkerud | Monster Energy RX Cartel | Audi | 6 | 3.539s |
| 6 | Niclas Gronholm | GRX Taneco Team | Hyundai | 6 | 3.723s |
Drivers' standings

| Pos | Driver | Points |
| --- | --- | --- |
| 1 | Andreas Bakkerud | 160 |
| 2 | Timmy Hansen | 158 |
| 3 | Kevin Hansen | 158 |
| 4 | Niclas Gronholm | 135 |
| 5 | Janis Baumanis | 120 |
| 6 | Timur Timerzyanov | 109 |
| 7 | Liam Doran | 100 |
| 8 | Anton Marklund | 97 |
| 9 | Timo Scheider | 86 |
| 10 | Krisztian Szabo | 70 |