Two-time World Rally champion Marcus Gronholm says the future of his GRX World Rallycross squad will be decided next month.
Gronholm's GRX team expanded to become a two-car operation in WRX last year with a pair of WRC-derived Hyundai i20 Supercars and has run a third entry at selected rounds.
The WRX's unclear future took another turn when the recent FIA World Motor Sport Council meeting included a reignited push for electrification in 2021, after a manufacturer exodus at the end of '18 previously put the electric switch under threat.
GRX is operated by multiple European Championship-winning team Set Promotion, and Gronholm will sit down with Set boss and GRX team manager Jussi Pinomaki next month to make a decision on the squad's future.
"We [will] decide with Jussi at the beginning of August," Gronholm told Autosport.
"We must know what we are going to, do and to not be in the situation again in November or December where we don't know."
Asked if those plans include forming a longer-term strategy in World RX, Gronholm continued: "That's the idea.
"Jussi wants to know what is going on. Timur is doing OK and I think he is happy to continue somehow.
"He is important for us as well and he is quick on the track and happy, so that's good."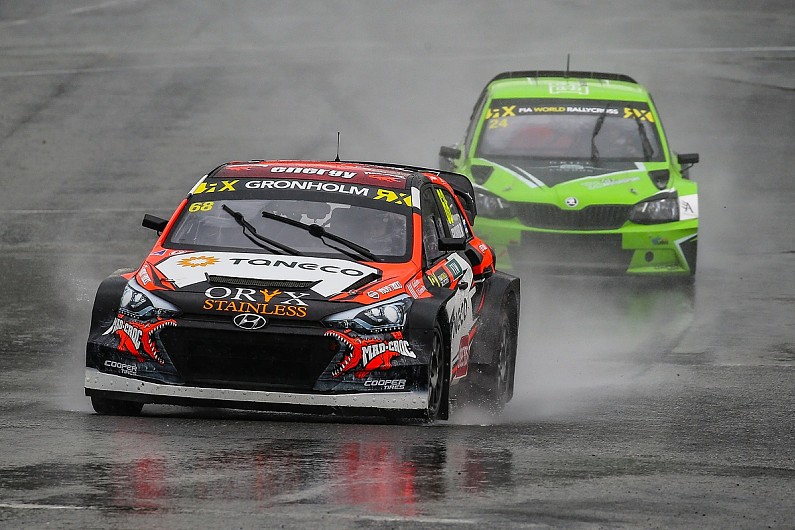 Gronholm has previously made it clear he wants to attract manufacturer support for his programme and he hopes the electric switch in 2021 will help his cause.
"Let's see," Gronholm said when asked about fielding electric cars in the series. "I hope we could get Hyundai in somehow when electric [power] is coming in [to WRX], that's my only hope otherwise it's difficult.
"I know they are interested in electric, but first they have to finish the [WRC] rally to win the manufacturer title, and I really hope that they do it, then maybe it will be easier to discuss."
The GRX i20 is among the most competitive cars in World RX this season, with Niclas Gronholm and Timur Timerzyanov claiming a win each in the opening half of the campaign.
"Niclas is doing great. We knew that when he came into the series he had not many miles, nothing in fact and it was always a learning curve," said Gronholm Snr.
"Now he has been more in the car, in the rally cars driving in the winter, and we can see it's coming."