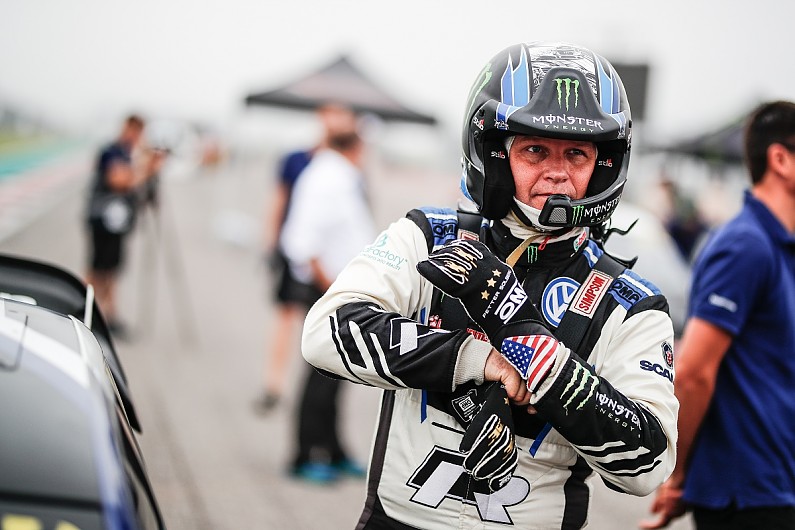 Double World Rallycross champion Petter Solberg says he will remain in the series in 2019 with his PSRX Volkswagen squad.
While Solberg's team-mate Johan Kristoffersson has claimed back-to-back World RX titles in the last two years, the Norwegian has only won one event in that time - at Lydden Hill in May last year.
He revealed last month that he has been suffering with lung disease Sarkoidose since being diagnosed last year and almost withdrew from the 2018 World RX season, but said he is feeling increasingly fitter.
Despite admitting he considered searching for a replacement driver when he was unwell earlier this year, Solberg has quashed speculation suggesting he could hang up his helmet at the end of 2018.
"Next year I will drive," he told Autosport.
"I have a plan [for the future], hopefully that goes together with Volkswagen's plan how we do it.
"We are having good discussions and we need stability for everybody to look at the long term."
Solberg, who also claimed the World Rally Championship title in 2003, produced his best performance of the World RX season at Austin two weeks ago, only missing out on victory after a mistake in the final.
He is currently involved in a fight for second in the points with Peugeot driver and nine-time World Rally champion Sebastien Loeb and Audi campaigners Mattias Ekstrom and Andreas Bakkerud.
Asked if he will head up PSRX as a team owner when he stops driving, 2014 and '15 champion Solberg said: "That's the plan, I think the next role is to have the team to develop drivers to get them to world champions.
"To use all my knowledge with the car and set-up and for them to be not going in the wrong direction at all, that's the main thing.
"For continuing the success over the years, I think that will be my job."
Solberg's 17-year old son Oliver claimed the RallyX Nordic title last weekend in Sweden, driving PSRX's former World RX title-winning Citroen DS3, but Solberg is keen for his son to forge his own career path.
"I try to stay more away from Oliver's racing when he's driving. I focus on the technical side on the car with the mechanics but if there's any disputes or any problems I never go in to anything," said Solberg.
"He's a kid, he has to learn, OK it's hard sometimes but I think it's best they fix that themselves.
"Oliver does his own sponsors, he does his own strategy. It shouldn't be too easy.
"Doing RallyX Nordic is good, doing rally is good but coming to a world championship you have to be complete.
"He's good enough to do it, that's for sure, but I'd rather he goes to another team."