World Rallycross Championship leader Johan Kristoffersson stormed to victory at his home round at Holjes to extend his championship lead.
Kristoffersson cruised to his fifth win of the campaign. He fended off Andreas Bakkerud into Turn 1, as the battle for second on the last lap of the final was drama-filled.
Peugeot's Timmy Hansen took a lap one joker, releasing himself from the traffic and set about closing on the trio ahead, hounded by Mattias Ekstrom.
His brother and team-mate Kevin Hansen retired on the second tour with technical issues, elevating Hansen, Ekstrom and Frenchman Jerome Grosset-Janin, the positions then remaining stable until Kristoffersson and Bakkerud took their jokers on the sixth and final lap.
Hansen cleared Bakkerud for second, driving Peugeot's new 208 WRX introduced for the Swedish round, Norwegian Bakkerud slotting in behind the Peugeot and just ahead of the EKS team owner Ekstrom.
Into the right-hander corner before the velodrome section, Ekstrom nudged the rear of his team-mate's S1, Bakkerud also nudging into the rear of Hansen in a three-long train, Hansen forced deep into the velodrome corner.
Bakkerud passed Hansen on the inside at the corner exit in a similar move to that he pulled on the same driver in the same corner to secure his first Supercar victory in 2013.
Ekstrom then made a bid to pass Hansen in the penultimate corner - before the biggest of the circuit's jumps - the front left wheel of his Audi made contact with the right rear of Hansen's Peugeot, sending Hansen into the gravel trap and out of the race.
Ekstrom collected himself after a sideways moment to cross the finish line third on the road.
However, following the final he was handed a penalty for "pushing and overtaking" Hansen and was demoted to sixth. He was also handed a reprimand for pushing his team-mate Bakkerud.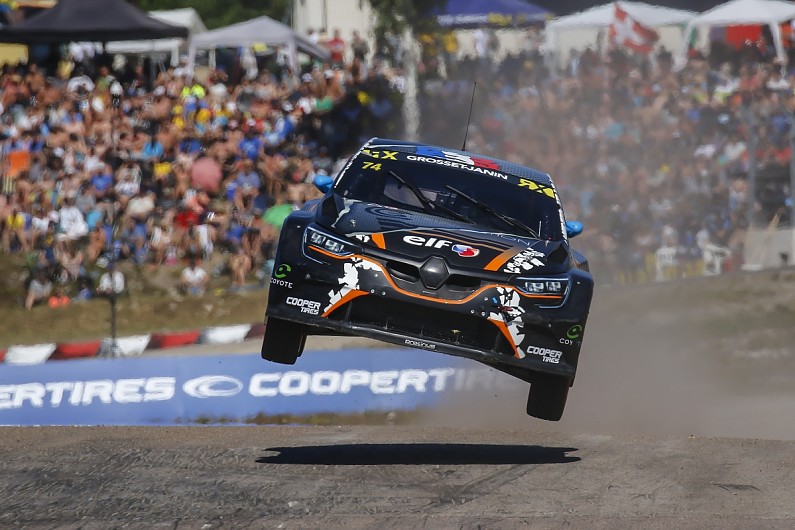 Ekstrom's penalty promoted Jerome Grosset-Janin to third, a first-ever podium for Guerlain Chicherit's GC Kompetition squad and its Renault, and the first privateer rostrum appearance of the campaign.
Petter Solberg was the only man other than Kristoffersson to top the time sheets at Holjes by winning Q3 and led semi-final one until the fourth lap when his Polo came to an abrupt halt on the loose surface section.
Second in the points entering the event, Sebastien Loeb also went out in the semi-finals, he finished fourth in semi-final two and dropped to fifth as Bakkerud moved up to second.
Final result

| Pos | Driver | Team | Car | Gap | Laps |
| --- | --- | --- | --- | --- | --- |
| 1 | Johan Kristoffersson | PSRX Volkswagen Sweden | Volkswagen | 4m14.969s | 6 |
| 2 | Andreas Bakkerud | EKS Audi Sport | Audi | 2.977s | 6 |
| 3 | Jerome Grosset-Janin | GC Kompetition | Renault | 5.956s | 6 |
| 4 | Timmy Hansen | Team Peugeot Total | Peugeot | -40.712 | 5 |
| 5 | Kevin Hansen | Team Peugeot Total | Peugeot | 40m45.s | 1 |
| 6 | Mattias Ekstrom | EKS Audi Sport | Audi | 4.269s | 6 |
Drivers' standings

| Pos | Driver | Points |
| --- | --- | --- |
| 1 | Johan Kristoffersson | 165 |
| 2 | Andreas Bakkerud | 125 |
| 3 | Petter Solberg | 119 |
| 4 | Sebastien Loeb | 117 |
| 5 | Timmy Hansen | 116 |
| 6 | Mattias Ekstrom | 114 |
| 7 | Kevin Hansen | 77 |
| 8 | Niclas Gronholm | 73 |
| 9 | Janis Baumanis | 51 |
| 10 | Timur Timerzyanov | 48 |
| 11 | Jerome Grosset-Janin | 43 |
| 12 | Guerlain Chicherit | 34 |
| 13 | Tommy Rustad | 13 |
| 14 | Kevin Eriksson | 10 |
| 15 | Robin Larsson | 7 |
| 16 | Anton Marklund | 7 |
| 17 | Gregoire Demoustier | 6 |
| 18 | Oliver Bennett | 5 |
| 19 | Francois Duval | 4 |
| 20 | Mark Higgins | 1 |
| 20 | Joni-Pekka Rajala | 1 |