For many fans, Group B was the golden era of the World Rally Championship, but it came at a high price. DAVID EVANS looked back at the rise and demise of the WRC's most spectacular machines in the 18 August 2016 issue of Autosport magazine
Rally cars go around corners far faster today than they ever did between 1983 and 1986. But the commitment from Walter Rohrl, Hannu Mikkola, Ari Vatanen and their contemporaries was arguably greater, without compliant suspension working miracles to keep the car straight with all four wheels pulling them towards the horizon.
Instead, the Group B drivers were armed with a sledgehammer. The power was huge, unremitting and unrelenting.
A modern-day road car with 300bhp is nice, but it's nothing particularly special. Things get interesting north of 400, but once you're into the mid-500s your mind is definitely on the job. Now imagine firing that much power between the trees with no power-steering, no trick differentials, smaller brakes and antiquated suspension technology.
"You could go down the straights like hell," remembers Stig Blomqvist. "But the corners..."
Group B cars weren't made with corners in mind. On high-speed, fast, flowing roads the cars worked and worked well. The aero gave tangible, useable downforce above 60mph and, providing there was no need to slow them down in a hurry or change direction quickly, Group B cars were devastatingly quick and effective.
Unfortunately, rallying requires plenty of slowing down and an inordinate amount of direction change. Putting that 550th horse to work was what cut the good from the great in Group B.
Rohrl agrees: "I don't want to think about names, but it was only three people who were able to go fast in a Group B car."
The German believes the problem for a driver in that era was the amount of data the brain was called upon to compute. Corners were coming so quickly, pacenotes were heard but not always acted upon. A lot of the time, the drivers were relying on sight - especially in places such as Italy and Portugal where spectators had poured onto the road, altering the line significantly from where it had been on the recce.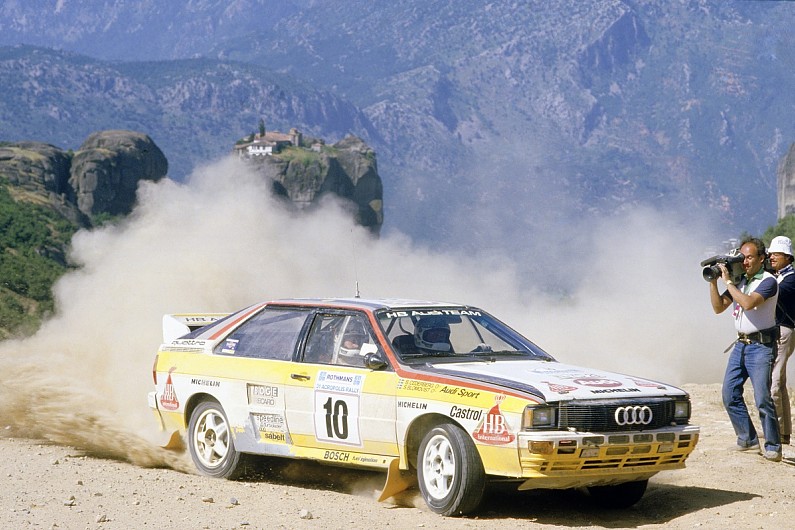 The best drivers had a constant capacity for adjustment while walking two tightropes. The first was keeping the turbo on the boil, the second was keeping them off the fans' toes. Rohrl had one big advantage over his rivals: "I had a photographic memory. This helped me a lot."
The intensity of Group B created heroes like never before in rallying. Before Audi's Quattro arrived, what had rallying been about? A Ford Escort, some Saabs and a continental Vauxhall Cavalier.
The Renault Alpine and Lancia Stratos excepted, were these really cars fit for a bedroom wall? Not so much.
"I came around the hairpin onto the Tarmac and hit someone. No-one was hurt too badly, he had a little bit sore in his face because he was hit by the spoiler a bit. But he was quite happy to be hit by me" Stig Blomqvist
Then these angular, aggressive and outrageously fast cars arrived in the 1980s. There were scarcely enough bedroom walls to go around for the Peugeot 205 T16, Ford RS200 and MG Metro 6R4.
And out of these cars came real men. In the same way that us mere mortals couldn't comprehend what their rocketship cars could do, we couldn't understand them.
Interviews usually took place after the cars had been roadside-serviced; service took place after loads of stages and loads of stages took place after absolutely no sleep.
Moments before diving under the duvet for a 120-minute powernap, a mic was shoved under their nose while a camera assistant fired up a searchlight and aimed it squarely in the eyes. Is it any wonder some of the responses from drivers were monotone?
But, as much as we pondered Markku Alen's, "For sure, 99% puncture..." we adored the tall Finn for his legendary line, "Hey, is maximum attack."
Cut to Timo Salonen. Er, cut away, quick, let him finish his fag.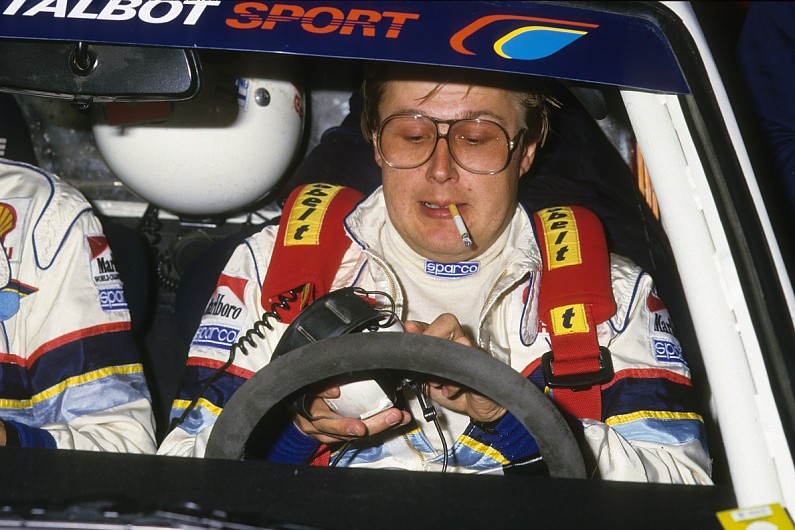 Come back in two hours and watch the boys being pumped with Pro Plus and sent back out into the night. Back out to do battle with new boots, gearbox changed, filled with rocket fuel and door square cleaned - possibly the rear lights and number plate, if it was the RAC.
Is it any wonder the world fell in love with Group B? It's when you're tired, and then tired some more, that you become more susceptible to emotions. For four years, fans slept in cars with a distant five-cylinder alarm clock bringing them back to their senses just in time to see the first car tear past their own unbelieving eyes. Blink and you missed it. In more ways than one.
The spectacle carried the sport higher than ever before - closer to rivalling Formula 1 for popularity than ever before. But it also killed it. People couldn't get enough of Group B. They certainly couldn't get close enough.
"I remember one time on the Monte Carlo," says Blomqvist, "I came around the hairpin onto the Tarmac and hit someone. No-one was hurt too badly, he had a little bit sore in his face because he was hit by the spoiler a bit. But he was quite happy to be hit by me.
"There was another guy in Sanremo: Walter went off and broke his leg. He was happy like hell that his leg was broken by Rohrl!
"People wanted to see the cars up close and that was a problem, especially in Italy and Portugal where the crowd is very keen about motorsport. I think they thought like the bullfighter, because they only want to touch the car. It's a bit stupid to try to touch a car that is going past at 150km/h [93mph]."
Some of the drivers were able to close their mind to the potential consequences. Rumour has it some even took a nip of something shortly before a stage, just to kill the fear before dancing between "soft trees".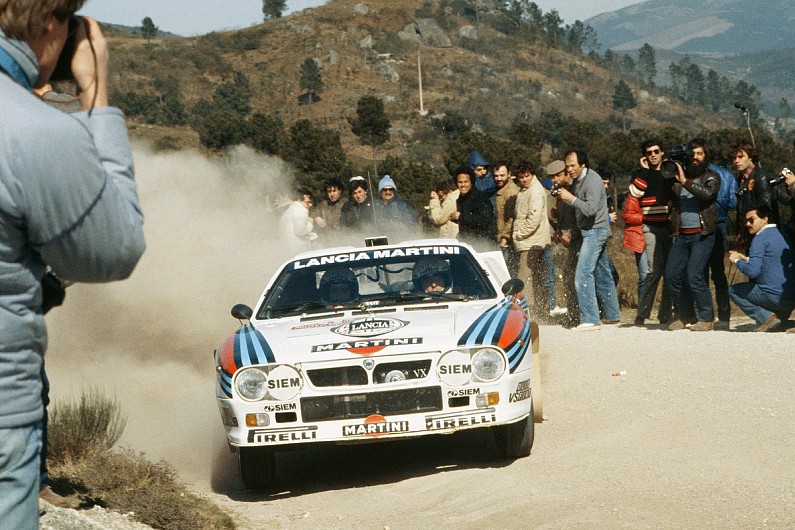 Vatanen could see the dangers.
"You wave your fist a lot at these stupid people who are too close," he says. "On the Monte I actually ran into the crowd and people went over the windscreen. You think you have killed people. But in fact only one spectator had a broken leg. But it's a terrible feeling to hit people and see them going over your car."
Spectator control was tricky in Italy, where the fans couldn't get enough of their beloved Lancias. But in Portugal, it was almost impossible.
Vatanen had seen the numbers building in the north of the country. He says: "I was angry with spectators in Portugal. How could they be so foolish? They were standing in Sintra, I mean they were standing literally on the road; the road was just as wide as this human corridor. And down this corridor with human guardrails you go flat-out. Sintra was an accident waiting to happen."
"Rallying is made for people to watch. If people go to a place where they're allowed to be and the authorities say that people can be there and somebody comes off the road, then it's that person's fault" Helio Tomar
And on Wednesday March 5, 1986 it happened. Waiting at the end of the first stage of Rally Portugal, Salonen was first through the 3.5-mile Lagoa Azul - the Blue Lagoon - in the Sintra area. The Finn's Peugeot was shorn of its rear bodywork. Had he been off?
No. He'd hit a cameraman.
Bruised and battered, the cameraman lived to tell the tale. A matter of minutes later, three would be dead and more than 30 injured not far from that spot.
Joaquim Santos and Miguel Oliveira went off the road and into the crowd. The private Ford RS200 came to rest in a scene of utter carnage.
In the aftermath of the crash, there was criticism that Santos was given the keys to a car with which he had too little experience. Oliveira, who owned the RS200, claimed his driver had tested and was up to speed.
"There is the fastest part of the stage, you come on to a straight and then you have a right-hand bend which is very, very fast," says Oliveira. "It's almost no bend. It's fifth gear, almost maximum, in the training [recce] Joaquim was doing 200km/h [124mph] at that point.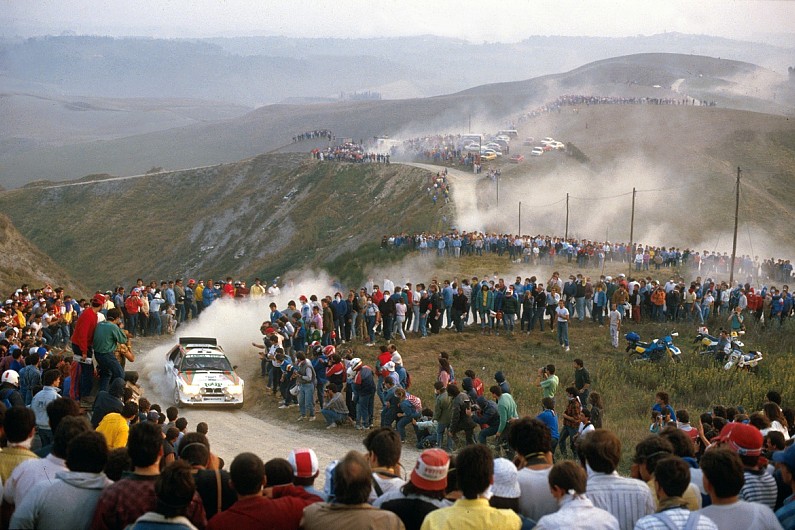 "After that you are slowing down for a left-hand bend. The road was completely packed. There were people and people and people. When Joaquim came out of the [right-hand] corner, one guy steps into the Tarmac, so he has to make a correction and when he made the correction and tried to come back to normal, the rear of the car went. He lost it.
"I have years of experience as a co-driver. I was looking down. You feel things on your back, on your arse. I felt the car was not controlled, but I felt it could still be controlled so I kept looking at the pacenotes and reading.
"Then bump, bump, bump. I didn't see anybody. I didn't see anything because everything was on the left side of the car. I felt the whack, whack, whack of the car hitting people. But then I came out from the right and they took me and put me in a car.
"He stayed in the car, because he was completely in shock. They tell me he came out of the car and stayed completely in the middle of the road. His eyes glazed."
Nuno Sardinha was one of those fans hit by the Ford.
"The crowds were applauding, cheering on the drivers, showing how happy they were to see the cars going at such speed," Sardinha says.
"The cars made a scary and spectacular noise and the people normally moved to the side of the road. I never saw people touching the cars. I never saw that. There were people who would applaud and wave their arms, but it was impossible to touch a car going at that speed.
"We were a few metres from the front and, when I heard the sound of the car, I knew for sure he had lost control. Around the corner, it started sliding and skidding. I remember I tried to move back and get away, go to the middle of the crowd and run away. I tried to run back away from the track, but the car hit me. I was knocked out momentarily.
"When I woke up, I was missing the sole of my boot. The sole of my boot was taken off by the tyre of the car. I walked away from the car, thank God."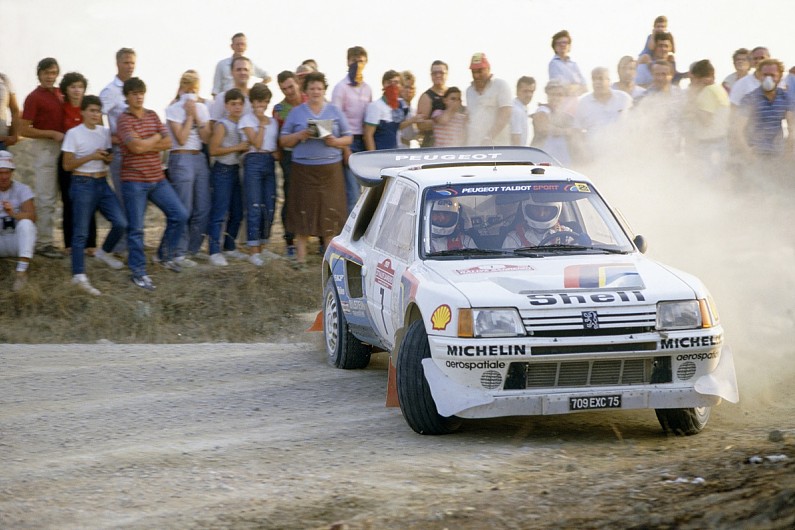 Sardinha's only too well aware of how fortunate he was to escape with his life, but he doesn't blame anybody.
Helio Tomar was also in that crowd, but he sees it quite differently. His friend died from his injuries that day.
"When I chose the place to stand, I made the choice knowing it was a place where the cars would not come off the track," he recalls.
"It was a good place to take photos and it wasn't a dangerous place to be. We saw the first set of cars going past, up until the accident, of which I have no recollection. There were a lot of people unconscious, many people screaming. There was mass confusion.
"I could have died. I never thought it was my fault. Rallying is made for people to watch. If people go to a place where they're allowed to be and the authorities say that people can be there and somebody comes off the road, then it's that person's fault.
Balestre wanted it on the record that he congratulated the amateur drivers who continued in the rally after the works drivers withdrew
"If you have a house next to a road and a car comes off the road and into your house, it's not the house's fault."
An immediate concern was the length of time it took for the organisers to mobilise emergency services. Marc Duez was the next driver through the stage. He passed the scene then got his MG Metro 6R4 to the finish as quickly as possible, knowing there would be radio contact. He told them of the accident and the spectator injuries.
Nothing was done. Another 11 cars started the stage before ambulances were sent in. When the ambulances finally arrived, they found a mother and her 11-year-old son among the dead, along with another child. Another person died in hospital later.
The drivers and co-drivers took matters into their own hands and convened in the Hotel Estoril later in the day. They'd had enough. Together, they produced a handwritten statement withdrawing from the rally due to spectator safety - and their behaviour.
What followed was breathtaking. The rally continued, with the stewards issuing their own withering statement in condemnation of the "notorious FISA seeded crews".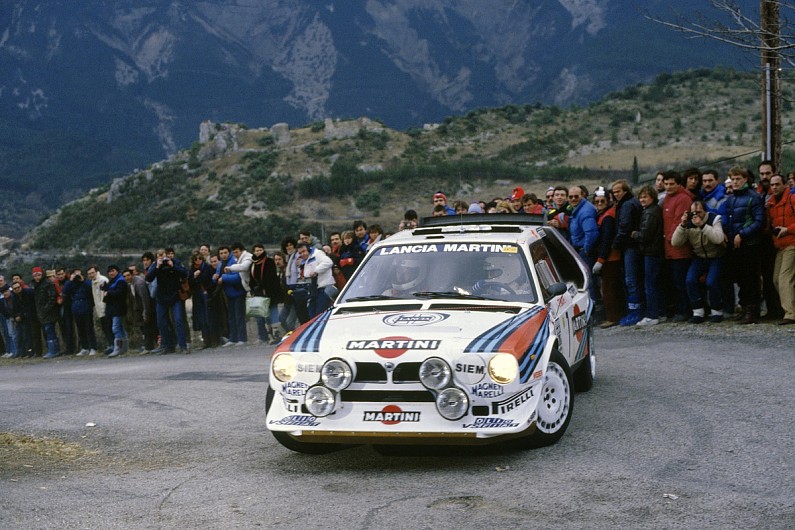 What followed that was even more breathtaking. Talking in L'Equipe in the aftermath of Portugal, FISA president Jean-Marie Balestre wouldn't be drawn on specifics. He did, however, admit to sending a telegram to event organiser and FISA vice president Cesar Torres, confirming Portugal would be on the rallying calendar in 1987.
And Balestre wanted it on the record that he congratulated the amateur drivers who continued in the rally after the works drivers withdrew.
Two months later, Balestre had plenty more to say. The day after the Tour de Corse crash, which claimed the lives of Henri Toivonen and Sergio Cresto, Balestre announced the end of Group B.
Pretty much there and then, Audi withdrew from rallying, a decision Rohrl backed all the way.
He says: "After that race, the rest of the official works teams continued in 1986. But if you come to a point and say it's too dangerous, and this decision was made in April, you cannot say we continue until October.
"If it's too dangerous we stop now, not in six months. It was a good decision."
Even before Corsica, Rohrl felt drivers had been taking too many risks.
"Sometimes with Markku [Alen] after the stage there had been some marks on the road and I said to him, 'Listen, you should not smile. You should cry'," he adds.
"He was very lucky. I don't have to wait for luck. I want everything under control. I am responsible for my life and if I have 500bhp instead of 100bhp on the same small road, then it's up to me. I cannot say you have to widen the road because I need more places for mistakes."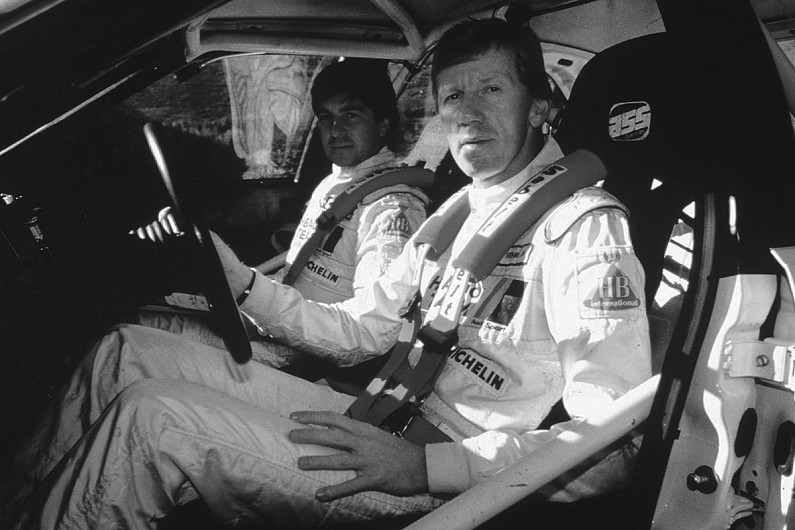 Disillusioned with the sport, Rohrl played no further part in Group B. And he wasn't much for what followed either. He contested three WRC rounds in a 200 Quattro in 1987 and that was enough.
"I was not sure I wanted to leave this fantastic sport, but Group A made my decision so much easier" Walter Rohrl
"In 1987 Monte Carlo we had 230bhp," he says. "Before I was with 530[bhp] in 1986.
"On that event, I was thinking three people were on the same level.But the year later, I was thinking it was 15 people because it was too easy. It was flat-out all the time and this is the reason I stopped rally driving. It was not the challenge for me any more.
"I was not sure I wanted to leave this fantastic sport, but Group A made my decision so much easier."
Maybe Rohrl should have stuck around. Four years later, those Group A cars were going faster than the Group B cars. Progress came via suspension and transmission technology. But efficiency didn't equate to emotion and Group A left rallying out in the cold for a long time.
Group B became a nightmare. But remains the stuff of dreams.