Hyundai World Rally Championship driver Sebastien Loeb took a rally car back to his home region of Alsace and won for the first time since 2012 last weekend.

The nine-time world champion was competing in the Vosges Rally - the event which used to form the basis for France's mainland round of the World Rally Championship - driving a Hyundai i20 Coupe WRC, instead of the Citroen he used for his previous successes.
Loeb crashed out of the final Rally of France in Alsace in 2013, but repeated his 2010/12 wins with a dominant display last weekend. The 2012 success won him his ninth and final WRC title.
The Frenchman won all 10 stages to bring the Hyundai home with a 3m44.1s advantage over Yohan Rossel's Citroen C3 R5 after 120 miles of competition.
Loeb wasn't the only driver winning at the weekend. Aside from Dani Sordo's Rally Italy success, Finn Jari Huttunen took his maiden success at the wheel of an i20 Coupe WRC. The 25-year-old won every stage on the 70-mile Pohjanmaa Ralli to deliver a 1m21.9s victory over Teemu Asunmaa's Skoda Fabia R5.
Dani Sordo - who has shared a car for Hyundai with Loeb this year - completed the hat-trick with victory on the WRC round, Rally Italy.
Talking about three wins in one weekend, Adamo told Autosport: "To organise three rallies in three different places, I'm asking a lot - this is why I hug my people.
"Of course, I am happy for the [WRC] win in Italy - nothing gels a team together like a win.
"I know I'm asking a lot of people [in the team], I know a lot of people have had to sacrifice their holidays this summer and I feel guilty, but very grateful for this."
Adamo added that Loeb's outing was an effort to give him greater comfort aboard an asphalt-trim i20.
"In Vosges, we just try to get him [Loeb] more and more linked to the car on Tarmac," he said.
"It was a bit of a surprise for me, but between the different surfaces, Tarmac was the most difficult for him. But we don't say: "Ah ok it's like that."
"Instead we say: "OK what can we do?"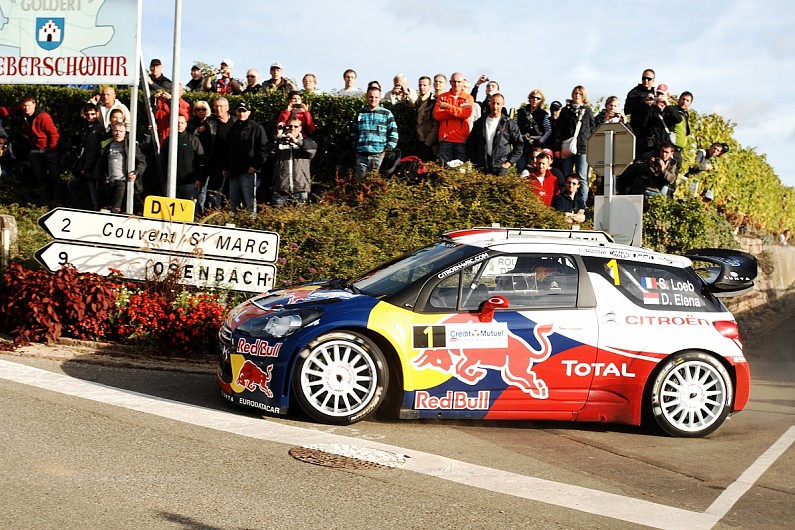 Loeb, whose only asphalt WRC outing in the i20 was spoiled when he damaged the car's suspension on a stage one kerb, will tackle the all-asphalt Rally di Alba in Italy next month as a further part of this process.
Despite Huttunen's win, Hyundai Motorsport director Andrea Adamo has confirmed he won't be driving the Korean squad's third car at Rally Finland in August.
"We use him because he is a guest driver and not a P1 driver," he said.
"Twice now - on separate rallies - he has tested the car and tested parts for us.
"This is what he's doing for us, he's checking the reliability on parts."
As for further news on Hyundai's third car in Finland, Adamo said: "I am like an ostrich at the moment.
"I have my head buried in the sand. Soon I have to take it out and make a decision."