Toyota World Rally Championship team boss Tommi Makinen has urged his squad to tackle the "small" problems that are hampering its 2019 title bid.
Ott Tanak's Rally Sweden triumph in February is Toyota's only win of a season so far. It had been tipped to dominate after Tanak's run of mid-2018 wins which led to him scorong the most wins in the season, but narrowly missed out on the title to Sebastien Ogier.
In Argentina last weekend, Tanak and team-mate Kris Meeke combined to give Toyota the same number of fastest stage times as Hyundai - but Hyundai came away with a one-two for Thierry Neuville and Andreas Mikkelsen while the best Toyotas were fourth and fifth with Meeke and Jari-Matti Latvala.
Tanak and Meeke were both ruled out of the lead fight with problems. The Northern Irishman lost third gear in his car, while Tanak struggled with three-wheel drive towards the end of Friday's final stage before his car was silenced by an electrical issue on Saturday.
"We need to get back there," said Makinen.
"We need to be winning again.
"There are small things we have to work on, but it's frustrating.
"For Ott, the problem was a loose connection to the alternator.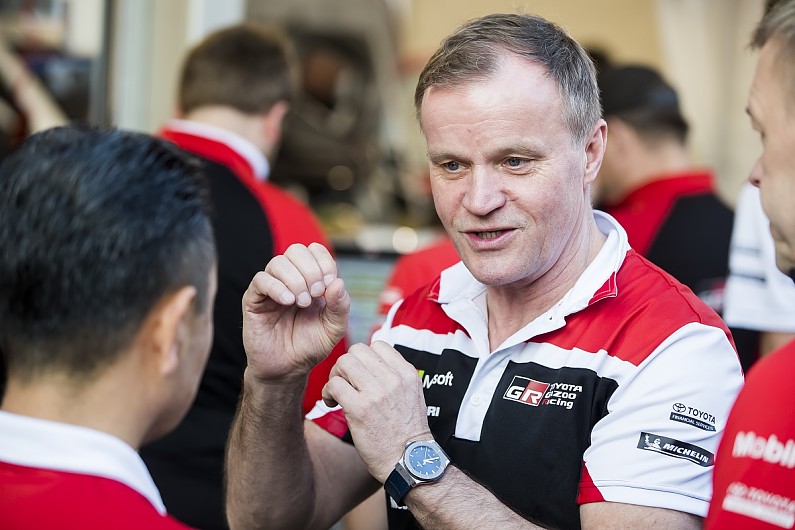 "We have to get these things right. We started to work on a fix for that straight away, we have looked closely at how we are working with the wires.
"It was looking good with all of the drivers. Kris was in there fighting for the lead on Friday morning and Jari-Matti was smiling. But then we faded a little bit.
"We have to start to win again."
Toyota's chief engineer Tom Fowler admitted Argentina had stretched the squad.
"It's one of the most challenging rallies of the year," he said.
"It's got a bit of everything: the roads are really quick, but at the same time there are some big, big rocks in there; the river crossings were deeper than ever. It was tough."
As well as suffering water-related misfires, the Toyotas all suffered brake problems ranging from pad knock-off to a mysterious seized piston on Meeke's car.
The lack of brakes caused Meeke to run wide and hit a rock, but hitting the rock freed the piston and brought the brakes back.
Hyundai's success has moved it 37 points clear of Toyota in the manufacturers' championship following Argentina, while Tanak is best-paced in the drivers' standings in third. However, he is already a victory in points terms behind Neuville, 28 in total.