Thierry Neuville appears set for a second World Rally Championship victory of the season with three stages in Argentina remaining, leading a Hyundai one-two by 45.7 seconds over Andreas Mikkelsen.
Current WRC points leader Neuville had been locked in a close fight with Ott Tanak until the Toyota was forced to pull off during the mid-loop Mataderos-Cuchilla Nevada stage, giving Neuville a comfortable lead over Mikkelsen.
Toyota's initial suspicion is that Tanak's problem was battery or alternator related.
Mikkelsen strengthened Hyundai's position at the front by winning the final stage of the day, despite his i20 WRC leaking fluid on SS14 - which had been spotted by third-placed Kris Meeke.
At one point on Friday, Toyota had all three of its Yaris WRCs in the top five but Meeke is now the only driver from the team in a frontrunning position.
His podium is under threat from a recovering Sebastien Ogier, who was afflicted by power steering failure after clipping a gate post on the morning pass of Cuchilla Nevada-Characato.
That incident was controversial as Ogier had unexpectedly reaching an open fork in the road where he expected the gate to be closed. He hesitated and then took the long route, which contributed to his impact with the gate post.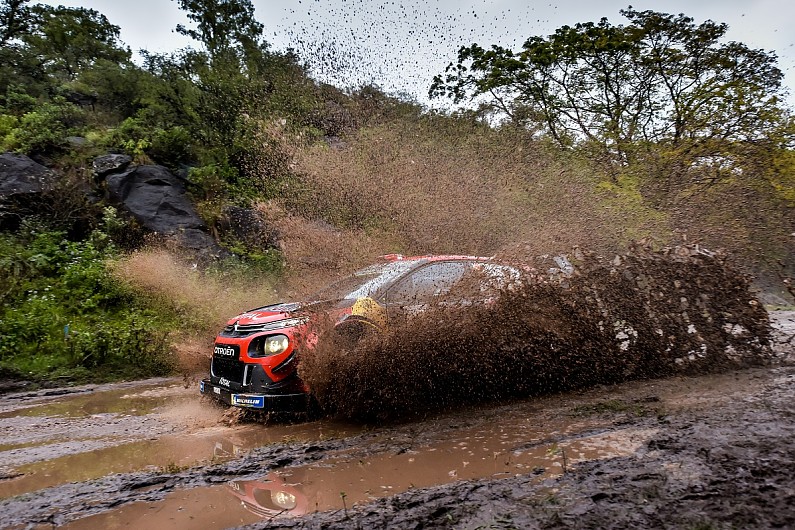 Organisers taped up the shorter, right hand fork in the road for the afternoon pass, with Ogier suggesting the "positions are going to change" given Citroen's efforts to get the organisers to investigate other drivers for taking the gate route.
Ogier is only 2.8s behind Meeke after SS15 thanks to winning two of the afternoon's three stages and 6.0s ahead of fifth-placed Dani Sordo, who very nearly went off after going too fast over a jump before a left-hander on Cuchilla Nevada-Characato.
Jari-Matti Latvala finished the penultimate leg of the rally in sixth, complaining of a minor engine misfire at the end of SS15 but still within striking distance of Sordo - 3.8s in arrears.
Seventh-placed Teemu Suninen struggled through SS14 with a broken intercom, with notes from co-driver Marko Salminen cutting out intermittently.
A similar problem also afflicted WRC2 Pro leader Mads Ostberg, though his eighth place overall remains unaffected.
Pedro Heller continues to lead WRC2 and hold ninth overall in a Ford Fiesta R5, with Paraguayan privateer Alejandro Galanti 10th in a Toyota Etios R5.
Should Ott Tanak return under Rally2 regulations on Sunday, he would incur only 14 minutes of penalties from missing two stages - which would slot him into ninth place ahead of Heller.
Leading positions after SS15
| Pos | Driver | Team | Car | Gap |
| --- | --- | --- | --- | --- |
| 1 | Thierry Neuville, N.Gilsoul | Hyundai Shell Mobis WRT | Hyundai | 2h37m23.6s |
| 2 | Andreas Mikkelsen, A.Jager | Hyundai Shell Mobis WRT | Hyundai | 45.7s |
| 3 | Sebastien Ogier, J.Ingrassia | Citroen Total WRT | Citroen | 1m06.0s |
| 4 | Dani Sordo, C.del Barrio | Hyundai Shell Mobis WRT | Hyundai | 1m12.0s |
| 5 | Kris Meeke, S.Marshall | Toyota Gazoo Racing WRT | Toyota | 1m13.2s |
| 6 | Jari-Matti Latvala, M.Anttila | Toyota Gazoo Racing WRT | Toyota | 1m28.3s |
| 7 | Teemu Suninen, M.Salminen | M-Sport Ford WRT | Ford | 3m48.4s |
| 8 | Mads Ostberg, T.Eriksen | Citroen Total | Citroen | 12m14.5s |
| 9 | Ott Tanak, M.Jarveoja | Toyota Gazoo Racing WRT | Toyota | 14m14.3s |
| 10 | Pedro Heller, M.Marti | Pedro Heller | Ford | 16m18.2s |