World Rally champions Sebastien Ogier and Sebastien Loeb predict that late snowfall will make Thursday night's opening two stages of the Monte Carlo Rally extremely challenging.
WRC crews face a pair of 12-mile tests in the mountains to the east of the event's host town of Gap, but the opening mileage of the 2019 season has been complicated by snow falling after Wednesday's recce.

Follow the Monte Carlo Rally with Autosport Live from 6.30pm UK time tonight
After a shakedown stage run in dry, sunny conditions, snow and ice are expected on the after-dark Le Breole-Selonnet opener.
"The snow has certainly made things interesting," said Ogier. "There is a lot of change in the conditions, with a lot of snow and ice in places - we can expect things happening tonight.
"Tonight's not a time to win the rally, but certainly you could lose it."
Loeb said the snowfall had changed his approach to his opening evening with the Hyundai team.
"It's difficult to know much about tonight, but the rally will be very different to shakedown," said Loeb.
"The conditions will be difficult and many things can happen tonight.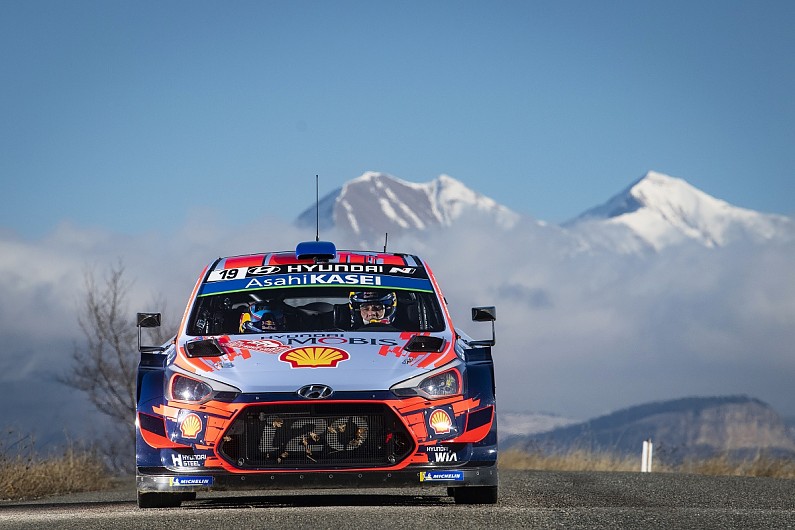 "I'll try to stay on the road and not make mistakes or go too hard.
"I hope the feeling comes and I can fight at the front in the dry tomorrow."
To complicate matters further, much of the opening evening's action is new.
"I come from this area, but many of these stages are new for me - I have never been in these at all," Ogier said.
"But I like this feeling. It's the same for everybody: we make our notes and then we go for it."
British WRC 2 Pro driver Gus Greensmith added that the change in conditions took everybody by surprise.
"We went through the stages on the recce and then a couple of hours later, after the snow had arrived," he said.
"We got some pictures - it looked like a totally different road. That's Monte Carlo for you."
Loeb admitted his dash from the Dakar Rally had taken its toll on his sleep pattern.
The nine-time WRC champion flew overnight from Peru to join Hyundai's pre-event test last weekend.
"It's not an easy January for me coming straight from Dakar," he said.
"I had some good sleep in the nights, but the jetlag is making it difficult to wake up in the morning.
"This is the first time I have the opportunity to change team, before this Citroen was always making everything to keep me.
"This year it was different and I had this opportunity to change. It's exciting to discover what it's like.
"It's not easy to adapt, all the cars I drove before have all been a bit the same in terms of steering, brakes, but this one feels different.
"The feeling is coming quickly and I enjoy this. I'm discovering a new way to work with other guys in a new team.
"I still have some things to adjust, but it's exciting."