April 22 is a date I won't forget for quite a long time. Just like I won't forget April 19, 20 and 21. The reason the 22nd really sticks in my mind is because it was the day I stepped off a coach for the final time. And I stepped off the coach in England. Having stepped on it four days earlier in Turkey.
The passing of time has eased the pain of a trans-European bus journey with a whingeing Brummie photographer and a snoring Pirelli PR man. But not by much. Courtesy of a previously unknown Icelandic called Eyjafjallajokull, our wings were literally clipped at the arse end of the continent - actually, we started our journey in Asia, coming from the wrong side of the Bosphorus.
The WRC coach party during their long journey back from Turkey © autosport.com
If the undoubted highlight and moment of the year was getting off the bus, the lowlight of the trip was the realisation that our chain-smoking Turkish bus drivers were expecting Calais to be signposted from the outskirts of Istanbul. This led to subsequent low points including getting lost in the undoubtedly brown bear-ridden Carpathian mountains and being forced to look forward to McDonalds for supper on two consecutive nights. It wasn't all bad, though. There was plenty of Dunkirk spirit on show. But mostly, it was bad.
But stepping off that bus on a cold Thursday morning, after three nights of trying to sleep on the floor of a bus was a moment of deep, deep joy. And I have to thank Malcolm Wilson for sourcing the bus and drivers to transport his whole team and me from what seemed like the end of the world.
It seems rather churlish to shape my moment of the season around something a little negative. I'm privileged enough to be blessed with the best job in the world, so I think I can probably do a little bit better than the end of a bus ride.
Indeed I can. I'm going to permit myself a joint moment of the year, in the shape of hurling a Porsche 911 rally car across a frozen lake in Norway for a morning. Then being told to stop eating reindeer for lunch and get back in the car to do it for the afternoon.
The Norway Ice Driving experience is an absolute must for anybody with any kind of an inclination for motorsport. Admittedly, it's not cheap, but you must sell your house and go and do it immediately. I'd pottered around in a 911 before, but beyond slipping the clutch on a wet roundabout to scare myself silly, I had no experience of really getting it on with the wares of the right side of Stuttgart. Then Richard Tuthill asked me if I fancied a day on a frozen lake miles north of Oslo in the middle of some unpronounceable mountains near a town called Gay. Or Gay-something.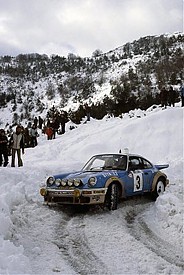 Jean-Pierre Nicolas heads for victory in the 1978 Monte Carlo Rally in a Porsche 911 © LAT
Having handbraked and giggled my hire car into the middle of the lake, I waited while Tutty fired up the hardware. He parked it inch-perfect after a massively impressive 50-metre drift across the frozen water on which I was standing. In the time it took World Rally Championship star and now Proton driver Chris Atkinson to chuck a few cones out, Tuthill had given us a briefing which was: "Try and get it between them without spinning. Bet you can't..."
He was right. But after some tuition from Australia's most successful WRC driver ever, I did. Then came the 'stage' cut through the snow on the lake. And long studs replaced the buttons we'd been playing on in the morning. The grip from the longer studs was staggering. And I can honestly say I have never enjoyed driving a car, any car, more than that afternoon. I was hurling this 1973 911 RS at corners, dabbing the left foot on the brake on turn-in to get some weight over the front wheel then, playing with the throttle to go more or less sideways.
A truly unforgettable day. And, on reflection, a much better moment than stepping off that bus!