Rebellion took pole position for this weekend's Spa round of the World Endurance Championship as the Swiss entrant continued its domination of the event.
Gustavo Menezes and Norman Nato were fastest on their respective runs aboard the solo Rebellion-Gibson R-13, ending up with an average eight tenths clear of the best of the Toyota TS050 HYBRIDs.
Menezes set the fastest time of the session with a 1m59.342s, which Nato followed up with a 1m59.813s on the same set of Michelin tyres.
That gave them a 1m59.577s average, which compared with 2m00.417s for Toyota drivers Kazuki Nakajima and Brendon Hartley.
Menezes said: "On paper it looks like we've had the perfect weekend, but we've never had a good balance with the car.
"We had to make quite a few changes before qualifying, but now the car is there."
Nakajima posted a 1m59.628s on the first run to outpace team-mate Mike Conway, who ended up more than a second down on a 2m00.762s.
The two Toyotas stayed on the same tyres for the second runs, Hartley's 2m01.206s giving him an advantage of one tenth over Kamui Kobayashi.
The Japanese driver's 2m01.378s gave him and Conway a 2m01.070s average.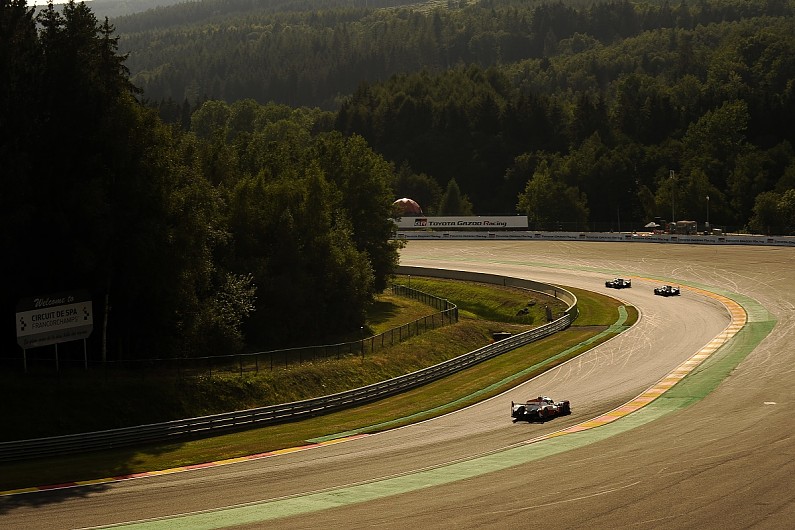 The ByKolles team's ENSO CLM-Gibson P1/01 ended up with a 2m01.589s average in the hands of Oliver Webb and Tom Dillmann.
The United Autosports squad led the way in LMP2 with its solo ORECA-Gibson 07.
Paul di Resta was quickest on a 2m01.888s during the opening runs, which Phil Hanson followed up with a 2m02.409s.
Their 2m02.148s average put them more than a second and a half up on the Jota Sport ORECA of Anthony Davidson and Roberto Gonzales, who ended up on 2m03.956s.
Nicolas Lapierre and Antonin Borga took third aboard the Cool Racing ORECA a further three tenths back.
The Racing Team Nederland ORECA ended up at the back of the P2 field after a succession of laps lost to track-limit violations by Giedo van der Garde and Job van Uitert.
Van Uitert did not manage to post a valid lap time as a result.
Porsche duo Michael Christensen and Kevin Estre had initially dominated qualifying and looked set to claim the GTE Pro pole, with the reigning class world champions fastest on their respective runs, setting times only three hundredths apart aboard their Porsche 911 RSR.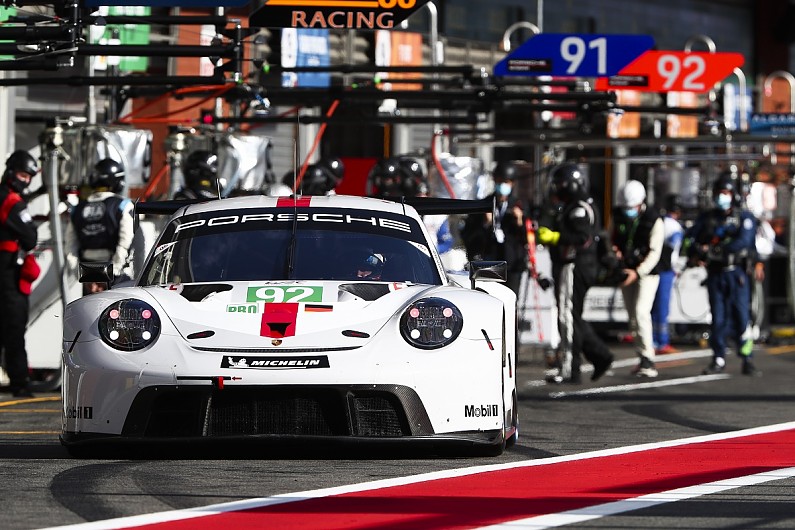 But Estre's lap was subsequently adjudged to have violated track limits, with the loss of the time dropping them to the back of the field.
After Christensen's 2m14.223s, that beat Aston Martin driver Maxime Martin's 2m14.406s by two tenths, Estre followed it up with the fastest lap of the session, a 2m14.191s, to take provisional pole with a 2m14.207s average until his time was scrubbed out.
Alex Lynn's 2m14.865s in the Aston he shares with Martin was just enough to allow the pair to stay ahead of their team-mates and duly inherit pole.
Martin and Lynn ended up on 2m14.635s average, while Marco Sorensen and Nicki Thiim were on 2m14.643s.
Gianmaria Bruni and Richard Lietz took third in class in the second Porsche with a 2m14.923s average.
That was more than four tenths up on the best of the two AF Corse Ferrari 488 GTEs.
Davide Rigon and Miguel Molina ended up just clear of team-mates Alessandro Pier Guidi and James Calado, though both Ferraris were more than a second down on Christensen and Estre's initial average.
Matt Campbell and Christian Ried claimed GTE Am pole aboard their Dempsey-Proton Porsche 911 RSR with a 2m16.519s average.
That was more than a tenth up on that of Project 1 Porsche pairing of Matteo Cairoli and Egidio Perfetti.
Spa WEC - LMP qualifying result
| Pos | Class | Driver | Team | Car | Gap |
| --- | --- | --- | --- | --- | --- |
| 1 | LMP1 | B.Senna, G.Menezes, N.Nato | Rebellion Racing | Rebellion/Gibson | 1m59.577s |
| 2 | LMP1 | S.Buemi, K.Nakajima, B.Hartley | Toyota Gazoo Racing | Toyota | 0.840s |
| 3 | LMP1 | M.Conway, K.Kobayashi, J.M.Lopez | Toyota Gazoo Racing | Toyota | 1.493s |
| 4 | LMP1 | T.Dillmann, B.Spengler, O.Webb | ByKOLLES Racing Team | ENSO CLM/Gibson | 2.330s |
| 5 | LMP2 | P.Hanson, F.Albuquerque, P.Di Resta | United Autosports | ORECA/Gibson | 2.571s |
| 6 | LMP2 | R.Gonzalez, A.F.da Costa, A.Davidson | JOTA | ORECA/Gibson | 4.120s |
| 7 | LMP2 | N.Lapierre, A.Borga, A.Coigny | COOL Racing | ORECA/Gibson | 4.379s |
| 8 | LMP2 | H-Pin Tung, R.Cullen, W.Stevens | Jackie Chan DC Racing | ORECA/Gibson | 4.621s |
| 9 | LMP2 | T.Laurent, A.Negrao, P.Ragues | Signatech Alpine Elf | Alpine/Gibson | 4.658s |
| 10 | LMP2 | M.Patterson, K.Yamashita, A.Fjordbach | High Class Racing | ORECA/Gibson | 5.133s |
| 11 | LMP2 | R.Lacorte, A.Belicchi, G.Sernagiotto | Cetilar Racing | Dallara/Gibson | 5.970s |
| 12 | LMP2 | N.Yamanaka, N.Foster, R.Merhi | Eurasia Motorsport | Ligier/Gibson | 19.420s |
| 13 | LMP2 | F.van Eerd, G.van der Garde, J.van Uitert | Racing Team Nederland | ORECA/Gibson | 3.167s |
Spa WEC - GT qualifying result
| Pos | Class | Driver | Team | Car | Gap |
| --- | --- | --- | --- | --- | --- |
| 1 | GTE Pro | M.Christensen, K.Estre | Porsche GT Team | Porsche | 2m14.207s |
| 2 | GTE Pro | A.Lynn, M.Martin | Aston Martin Racing | Aston Martin | 0.428s |
| 3 | GTE Pro | M.Sorensen, N.Thiim | Aston Martin Racing | Aston Martin | 0.436s |
| 4 | GTE Pro | G.Bruni, R.Lietz | Porsche GT Team | Porsche | 0.716s |
| 5 | GTE Pro | D.Rigon, M.Molina | AF Corse | Ferrari | 1.149s |
| 6 | GTE Pro | J.Calado, A.P.Guidi | AF Corse | Ferrari | 1.176s |
| 7 | GTE Am | C.Ried, R.Pera, M.Campbell | Dempsey-Proton Racing | Porsche | 2.312s |
| 8 | GTE Am | E.Perfetti, L.Horr, M.Cairoli | Team Project 1 | Porsche | 2.442s |
| 9 | GTE Am | B.Keating, F.Fraga, J.Bleekemolen | Team Project 1 | Porsche | 2.938s |
| 10 | GTE Am | P.D.Lana, A.Farfus, R.Gunn | Aston Martin Racing | Aston Martin | 3.356s |
| 11 | GTE Am | F.Perrodo, E.Collard, N.Nielsen | AF Corse | Ferrari | 3.386s |
| 12 | GTE Am | S.Yoluc, C.Eastwood, J.Adam | TF Sport | Aston Martin | 3.451s |
| 13 | GTE Am | T.Flohr, F.Castellacci, G.Fisichella | AF Corse | Ferrari | 4.107s |
| 14 | GTE Am | G.Giraudi, R.Sanchez, L.Legeret | Dempsey-Proton Racing | Porsche | 4.634s |
| 15 | GTE Am | B.Grimes, J.Mowlem, C.Hollings | Red River Sport | Ferrari | 4.738s |
| 16 | GTE Am | M.Wainwright, A.Watson, B.Barker | Gulf Racing | Porsche | 4.740s |