Porsche drivers Timo Bernhard, Brendon Hartley and Earl Bamber claimed a fourth straight World Endurance Championship victory at Austin.
Bamber took the lead with just eight minutes of the six-hour race to go when Nick Tandy slowed and moved over in another display of team orders from Porsche in favour of its championship-leading trio.
Tandy, Neel Jani and Andre Lotterer had the edge on their team-mates around the Circuit of the Americas on a day that Toyota kept the German cars honest, at least for the opening half of the race.
Tandy moved over to let Bamber past for a first time with just over one hour to go, only to retake the lead when the #1 car needed less fuel at its final splash-and-dash pitstop.
He extended a narrow lead to more than 10 seconds before backing off and then trailing the sister car across the line by just two tenths of a second.
Toyota led the race after the first round of pitstops after its pair of TS050 HYBRIDs double stinted their tyres.
The Toyotas remained within striking range through a mid-race safety car, though they ultimately didn't have the pace to challenge Porsche over the final third of the race.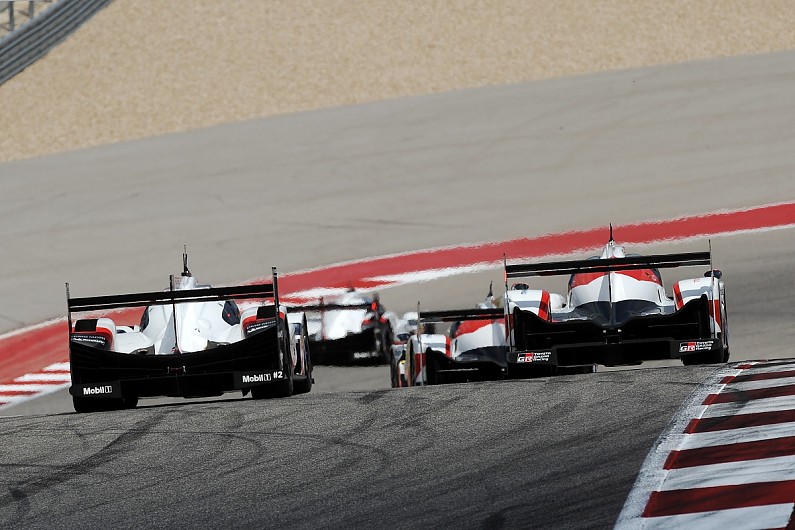 Sebastien Buemi, Kazuki Nakajima and Stephane Sarrazin ended up third, just over 20s behind the winner.
Kamui Kobayashi, Jose Maria Lopez and Mike Conway were a similar margin back in fourth.
Reigning LMP2 champion team Signatech Alpine finally chalked up its first class victory of the season despite a late-race scare.
Nicolas Lapierre, Gustavo Menezes and Andre Negrao dominated on the way to a 20s victory aboard their Alpine-badged ORECA-Gibson 07.
They had been nearly a minute up until stopping to change the rear bodywork to rectify faulty brake lights with minutes to go.
The LMP2 podium was completed by the two Rebellion ORECAs.
Nelson Piquet Jr, Mathias Beche and David Heinemeier Hansson took second, while Bruno Senna, Nicolas Prost and Julien Canal were third just 3s in areas after losing 20s in the pits.
James Calado and Alessandro Pier Guidi held on to take GTE Pro honours for the AF Corse team despite twice losing a lead of more than half a minute.
They lost their advantage with the safety car only to rebuild it before a late-race rear puncture brought Pier Guidi into the pits.
The Italian rejoined right in front of the second-place Porsche of Michael Christensen, but Pier Guidi pulled away to a five-second victory over the 911 RSR the Dane shared with Kevin Estre.
Paul Dalla Lana, Mathias Lauda and Pedro Lamy came back from an early delay to notch up their second GTE Am win of the season for Aston Martin Racing.
Dalla Lana needed a short trip into the garage to repair rear-end damage after he was hit by Francesco Castellacci the AF Corse-run Spirit of Race Ferrari.
Race result
| Pos | Class | Driver | Team | Car | Laps | Gap |
| --- | --- | --- | --- | --- | --- | --- |
| 1 | LMP1 | T.Bernhard, E.Bamber, B.Hartley | Porsche LMP Team | Porsche | 192 | 6h00m52.444s |
| 2 | LMP1 | N.Jani, A.Lotterer, N.Tandy | Porsche LMP Team | Porsche | 192 | 0.276s |
| 3 | LMP1 | S.Buemi, S.Sarrazin, K.Nakajima | Toyota Gazoo Racing | Toyota | 192 | 21.956s |
| 4 | LMP1 | M.Conway, K.Kobayashi, J.M.Lopez | Toyota Gazoo Racing | Toyota | 192 | 45.026s |
| 5 | LMP2 | N.Lapierre, G.Menezes, A.Negrao | Signatech Alpine Matmut | Alpine/Gibson | 177 | 15 Laps |
| 6 | LMP2 | M.Beche, D.H.Hansson, N.Piquet Jr. | Vaillante Rebellion | ORECA/Gibson | 176 | 16 Laps |
| 7 | LMP2 | J.Canal, N.Prost, B.Senna | Vaillante Rebellion | ORECA/Gibson | 176 | 16 Laps |
| 8 | LMP2 | H-Pin Tung, O.Jarvis, T.Laurent | Jackie Chan DC Racing | ORECA/Gibson | 176 | 16 Laps |
| 9 | LMP2 | D.Cheng, A.Brundle, T.Gommendy | Jackie Chan DC Racing | ORECA/Gibson | 175 | 17 Laps |
| 10 | LMP2 | M.Rao, B.Hanley, J-E.Vergne | CEFC Manor TRS Racing | ORECA/Gibson | 175 | 17 Laps |
| 11 | LMP2 | F.Perrodo, M.Vaxiviere, E.Collard | TDS Racing | ORECA/Gibson | 174 | 18 Laps |
| 12 | LMP2 | R.Rusinov, P.Thiriet, A.Lynn | G-Drive Racing | ORECA/Gibson | 168 | 24 Laps |
| 13 | GTE Pro | J.Calado, A.P.Guidi | AF Corse | Ferrari | 167 | 25 Laps |
| 14 | GTE Pro | M.Christensen, K.Estre | Porsche GT Team | Porsche | 167 | 25 Laps |
| 15 | GTE Pro | D.Rigon, S.Bird | AF Corse | Ferrari | 167 | 25 Laps |
| 16 | GTE Pro | N.Thiim, M.Sorensen | Aston Martin Racing | Aston Martin | 167 | 25 Laps |
| 17 | GTE Pro | D.Turner, J.Adam, D.Serra | Aston Martin Racing | Aston Martin | 167 | 25 Laps |
| 18 | GTE Pro | R.Lietz, F.Makowiecki | Porsche GT Team | Porsche | 166 | 26 Laps |
| 19 | GTE Pro | A.Priaulx, H.Tincknell | Ford Chip Ganassi Team UK | Ford | 166 | 26 Laps |
| 20 | GTE Pro | S.Mucke, O.Pla | Ford Chip Ganassi Team UK | Ford | 166 | 26 Laps |
| 21 | GTE Am | P.D.Lana, P.Lamy, M.Lauda | Aston Martin Racing | Aston Martin | 162 | 30 Laps |
| 22 | GTE Am | Mok W.S., K.Sawa, M.Griffin | Clearwater Racing | Ferrari | 162 | 30 Laps |
| 23 | GTE Am | T.Flohr, F.Castellacci, M.Molina | Spirit of Race | Ferrari | 159 | 33 Laps |
| 24 | GTE Am | C.Ried, M.Cairoli, M.Dienst | Dempsey-Proton Racing | Porsche | 148 | 44 Laps |
| - | GTE Am | M.Wainwright, B.Barker, N.Foster | Gulf Racing | Porsche | 92 | Retirement |
| - | LMP2 | R.Gonzalez, S.Trummer, V.Petrov | CEFC Manor TRS Racing | ORECA/Gibson | 51 | Retirement |
Leading drivers' standings

| Pos | Driver | Points |
| --- | --- | --- |
| 1 | Timo Bernhard | 159 |
| 1 | Brendon Hartley | 159 |
| 1 | Earl Bamber | 159 |
| 2 | Sebastien Buemi | 108 |
| 2 | Kazuki Nakajima | 108 |
| 3 | Anthony Davidson | 93 |
| 4 | Neel Jani | 83 |
| 4 | Andre Lotterer | 83 |
| 4 | Nick Tandy | 83 |
| 5 | Ho-Pin Tung | 64.5 |
| 5 | Oliver Jarvis | 64.5 |
| 5 | Thomas Laurent | 64.5 |
| 6 | Mike Conway | 60.5 |
| 6 | Kamui Kobayashi | 60.5 |