Two-time Indianapolis 500 winner Juan Pablo Montoya has raved about the Porsche 919 Hybrid after his first laps in the car in Bahrain.
The Penske IndyCar and ex-Formula 1 driver described the LMP1 machine as "a hell of a toy" after sampling the car for the first time on the morning of the World Endurance Championship rookie test at the Sakhir circuit.

BAHRAIN WEC REPORT: Webber, Hartley and Bernhard win title
"First impressions of the car is that it is amazing," he said.
"It is a lot of fun: it has a lot of power and is really stable.
"It is shocking because it is so good that it is actually, in a way, kind of easy."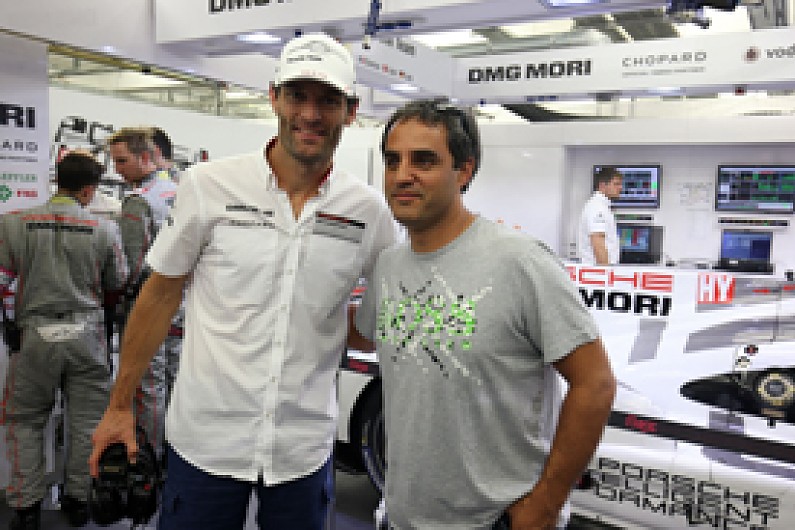 Montoya said that he had been overdriving the Porsche in his first runs.
"It is so predictable that it invites you to hustle the hell out of it," he explained.
"That is the biggest thing for me: I need to figure out the balance between driving it fast and overdriving."
Montoya set a best time of 1m43.174s over the course of 18 laps in the morning of Sunday's rookie test.
That was only two tenths slower than GP2 driver Mitch Evans, who also tested the car at Barcelona earlier this month.
Montoya is getting a proper test run akin to that given to Evans, Kevin Magnussen and Oliver Turvey in Barcelona earlier this month, Porsche LMP1 team principal Andreas Seidl explained.
But he is not a contender for a race seat in Porsche's third car for the Le Mans 24 Hours next year because his IndyCar schedule would not allow him to undertake the pre-requisite preparations, including taking part in the official Test Day.
Montoya explained that he had aspirations to take part in Le Mans one day, but stressed that he only wanted to race in LMP1.
"At some point it would be cool to do it - I've raced everything, so it would be a cool experience," he said.
"But if you are going to do Le Mans, it has got to be in a car like this - I'm not interested in doing Le Mans in a GT or a smaller car."
Porsche is still waiting to see if there are changes to the Formula 1 calendar that would allow Nico Hulkenberg to defend his 2015 Le Mans in the third 919 Hybrid.