Porsche GT drivers Nick Tandy and Earl Bamber (pictured) will graduate to the marque's LMP1 squad for the Le Mans 24 Hours.
The duo have been chosen by Porsche to partner Force India Formula 1 driver Nico Hulkenberg in the additional 919 Hybrid entered for the blue-riband event of the World Endurance Championship and the Spa round in May.
Tandy, who is starting his third season as a factory driver with Porsche, has landed a seat in the LMP1 after two tests aboard the 919 last year and one last month.
Bamber was only named as a full factory driver last December, having been a Porsche scholarship driver last year and also contested the season's final Tudor United SportsCar Championship event.
He has been brought into the LMP1 line-up after a single test at the Yas Marina circuit in Abu Dhabi last month, landing the drive ahead of Frederic Makowiecki.
Porsche LMP1 vice president Fritz Enzinger told AUTOSPORT: "Earl and Fred were the same speed, but Earl is of a different generation so it gives us more possibilities for the future.
"He was incredible on the second day [in Abu Dhabi]: he was at the same level as the regular LMP1 drivers after only an hour in the car."
Porsche LMP1 team principal Andreas Seidl said that he believed said he believed that the combination of Hulkenberg, Tandy and Bamber would be a competitive proposition.
"With what we have seen so far, we believe that we will have a competitive third car at Le Mans, which is very important for us," he explained.
FULL LE MANS ENTRY LIST REVEALED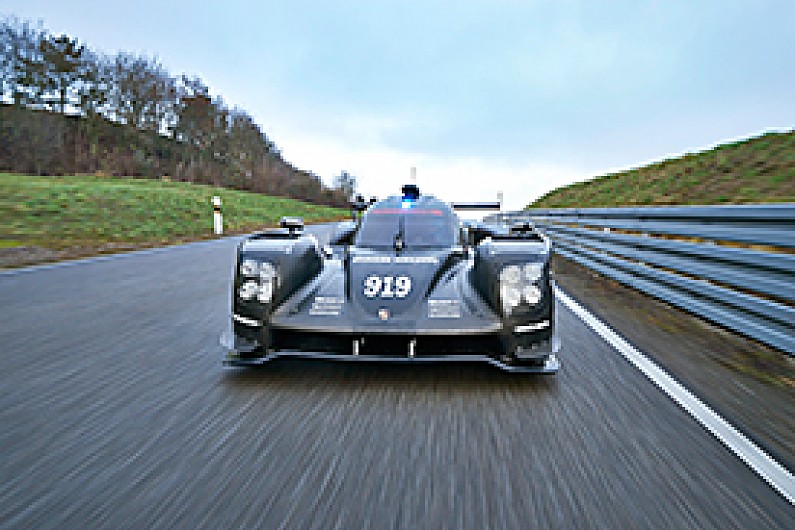 The addition of the third Porsche and the three Nissan GT-R LM NISMOs brings the LMP1 entry to 14 cars for 2015.
The 11 factory cars are joined by privateer entries from the Rebellion Racing squad and ByKolles, which raced its AER-engine CLM P1/01 under the Lotus banner.
There are 20 cars listed in LMP2, which is made up of 10 full-time entries from the WEC and 10 additional cars.
The seven WEC regulars in GTE Pro are joined by the Corvette Racing Chevrolets as usual.
The 13 car GTE Am field includes two Porsche 911 RSRs entered by Team AAI, which gained its entries by virtue of its successes in the Asian Le Mans Series.
Seven reserves have been named, which are all on one list rather than being separated into prototypes and GTE cars.
Top of the list is Riley Motorsports with an ex-works Dodge Viper SRT GT3-R.
LMP1
1 Toyota Racing - Toyota TS040 HYBRID (Anthony Davidson)
2 Toyota Racing - Toyota TS040 HYBRID (Alexander Wurz)
4 Team ByKolles - CLMP1/01-AER (Simon Trummer)
7 Audi Sport Team Joest - Audi R18 E-tron Quattro (Marcel Fassler)
8 Audi Sport Team Joest - Audi R18 E-tron Quattro (Lucas di Grassi)
9 Audi Sport Team Joest - Audi R18 E-tron Quattro (Filipe Albuquerque)
12 Rebellion Racing - Rebellion R-One-AER (Nicolas Prost)
13 Rebellion Racing - Rebellion R-One-AER (Mathias Beche)
17 Porsche Team - Porsche 919 Hybrid (Timo Bernhard)
18 Porsche Team - Porsche 919 Hybrid (Romain Dumas)
19 Porsche Team - Porsche 919 Hybrid (Nico Hulkenberg)
21 Nissan Motorsports - Nissan GT-R LM NISMO (Tsugio Matsuda)
22 Nissan Motorsports - Nissan GT-R LM NISMO (Harry Tincknell)
23 Nissan Motorsports - Nissan GT-R LM NISMO (Olivier Pla)
LMP2
26 G-Drive Racing - Ligier JSP2-Nissan (Roman Rusinov)
27 SMP Racing - BR01-Nissan (Mikhail Aleshin)
28 G-Drive Racing - Ligier JSP2-Nissan (Gustavo Yacaman)
29 Pegasus Racing - Morgan-Nissan (Leo Roussel)
30 Extreme Speed Motorsports - HPD ARX-04b-Honda (Scott Sharp)
31 Extreme Speed Motorsports - HPD ARX-04b-Honda (Ed Brown)
34 OAK Racing - Ligier JSP2-Nissan (Ho Pin Tung)
35 OAK Racing - Ligier JSP2-Nissan (Jacques Nicolet)
36 Signatech Alpine - Alpine A4508-Nissan (Nelson Panciatici)
37 SMP Racing - BR01-Nissan (Maurizio Mediani)
38 Jota Sport - Gibson 015S-Nissan (Simon Dolan)
39 Team SARD Morand - Morgan Evo-SARD (Christian Klien)
40 Krohn Racing - Ligier JSP2-Nissan (Tracy Krohn)
41 Greaves Motorsport - Gibson 015S-Nissan (Johnny Mowlem)
42 Strakka Racing - Strakka Dome S103-Nissan (Nick Leventis)
43 Team SARD Morand - Morgan Evo-SARD (Pierre Ragues)
45 Ibanez Racing - ORECA 03R-Nissan (Jordi Ibanez)
46 Thiriet by TDS Racing - ORECA 05-Nissan (Pierre Thiriet)
47 KCMG - ORECA 05-Nissan (Matt Howson)
48 Murphy Prototypes - ORECA 03R-Nissan (Greg Murphy)
LMGTE Pro
51 AF Corse - Ferrari 458 Italia (Gianmaria Bruni)
63 Corvette Racing GM - Corvette C7R (Jan Magnussen)
64 Corvette Racing GM - Corvette C7R (Oliver Gavin)
71 AF Corse - Ferrari 458 Italia (Davide Rigon)
91 Porsche Team Manthey - Porsche 911 RSR (Richard Lietz)
92 Porsche Team Manthey - Porsche 911 RSR (Patrick Pilet)
95 Aston Martin Racing - Aston Martin Vantage V8 (Marco Sorensen)
97 Aston Martin Racing - Aston Martin Vantage V8 (Darren Turner)
99 Aston Martin Racing - Aston Martin Vantage V8 (Fernando Rees)
LMGTE Am
50 Larbre Competition - Corvette C7R (Gianluca Roda)
55 AF Corse - Ferrari 458 Italia (Duncan Cameron)
61 AF Corse - Ferrari 458 Italia (Peter Mann)
62 Scuderia Corsa - Ferrari 458 Italia (Bill Sweedler)
66 JMW Motorsport - Ferrari 458 Italia (George Richardson)
67 Team AAI - Porsche 911 GT3 RSR (Jun-San Chen)
68 Team AAI - Porsche 911 GT3 RSR (Han-Chen Chen)
72 SMP Racing - Ferrari 458 Italia (Victor Shaitar)
77 Dempsey-Proton Racing - Porsche 911 RSR (Patrick Dempsey)
83 AF Corse - Ferrari 458 Italia (Francois Perrodo)
88 Abu Dhabi Proton Racing - Porsche 911 RSR (Christian Ried)
96 Aston Martin Racing - Aston Martin Vantage V8 (Roald Goethe)
98 Aston Martin Racing - Aston Martin Vantage V8 (Paul Dalla Lana)
Reserves
53 GTE Am Riley Motorsports - SRT Viper GTS-R (Jeroen Bleekemolen)
49 LMP2 KCMG - ORECA 03R-Nissan (Alexandre Imperatori)
60 GTE Am Formula Racing - Ferrari 458 Italia (Johnny Laursen)
86 GTE Am Gulf Racing UK - Porsche 911 RSR (Michael Wainwright)
25 LMP2 Algarve Pro Racing - Ligier JSP2-Nissan (Rudolf Munemann)
65 GTE Am Proton Competition - Porsche 911 RSR (Wolf Henzler)
87 LMP2 Ibanez Racing - ORECA 03R-Nissan (Pierre Perret)
* Designated drivers are listed for entry list purposes only and could change