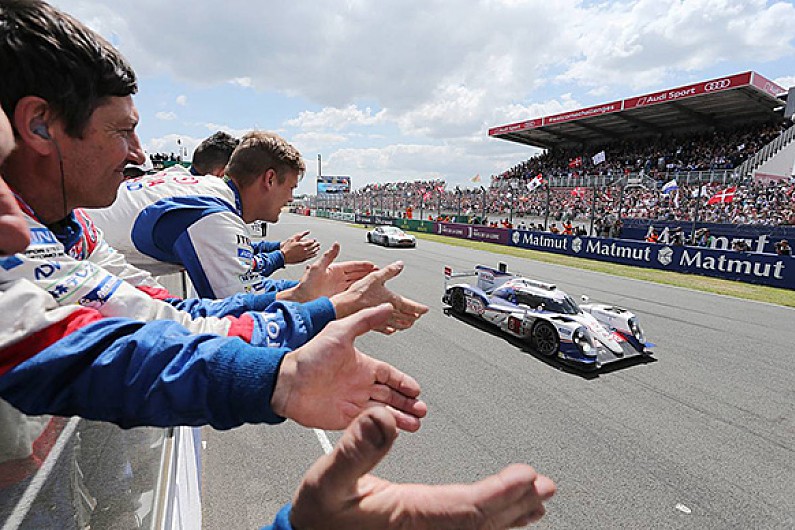 Toyota's recovery to a podium finish in the Le Mans 24 Hours did little to make up for the manufacturer's heartbreak at missing out on victory, according to its drivers.
After the Toyota Motorsport team's technical director Pascal Vasselon dismissed talk of the fact that one of its cars finished on the podium, the drivers of the #8 car that finished third said it was hard to take.

AUTOSPORT's in-depth race analysis
The Anthony Davidson/Sebastien Buemi/Nicolas Lapierre car - which won the opening two rounds of the World Endurance Championship at Silverstone and Spa - lost all hope of fighting for victory when Lapierre crashed during a rainstorm early on.
The other TS040 HYBRID then retired from the lead of the race on Sunday morning with an electrical problem.
After collecting the #8 car's third place trophies on the podium, Anthony Davidson said: "Personally, we're pretty disappointed.
"What we saw was an epic race with three manufacturers leading at certain points.
"But after getting used to winning now we don't like the taste of third."
Sebastien Buemi added: "We are very disappointed with third but we have to be content with it.
"We did a good job to fight back and we took advantage of the misfortune of the others."
Davidson added that success in the WEC - which the #8 Toyota still leads - would help to soften the blow of the Le Mans defeat.
"The thing we can take from this race is extending our lead in the championship," said the Briton.
"That's now got to be our focus. Lessons have to be learned [from Le Mans] and we'll move on.
"We did that in the race, and hopefully we'll have something to be even more proud of at the end of the year."
Lapierre, who hit the barriers on the Mulsanne straight when he came across a pack of slow-moving cars as the track was flooded, accepted that his crash destroyed the #8 car's hopes.
"It was the key to our race unfortunately," he said. "There were cars out of control in front of me.
"I never expected to get the car back to the pits given the state of it, but thanks to the safety car we didn't lose too many laps.
"We crossed our fingers that the car would hold together to the end, and after this we can be pleased with what we accomplished."