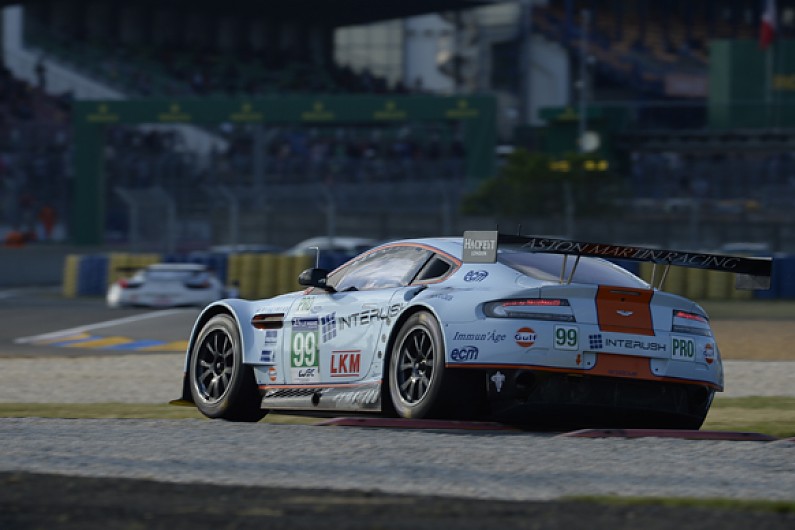 The #99 Aston Martin Racing Vantage GTE has withdrawn from the Le Mans 24 Hours due to damage sustained in a heavy crash at the end of the first qualifying session.
Fernando Rees went off at the second part of the Porsche Curves halfway through Wednesday night's two-hour session, the first of three for the French enduro.
The Brazilian, who shares the car with Alex MacDowall and Darryl O'Young, revealed that the chassis was damaged during the crash and part of the roof broken during its attempted recovery.
"The impact with the barrier was at high speed, so the most important thing is that Fernando is OK," said Richard Coleman, CEO of the Craft-Bamboo Racing effort that works in conjunction with AMR on the car.
"It is disappointing to have to withdraw from the race but the car cannot be fixed from here.
"Our mechanics worked relentlessly on the car throughout the night but it was impossible to restore it to the safety standards required for racing."
AMR boss John Gaw told AUTOSPORT the car was "definitely not going to be out for qualifying" but had retained hope of it making the start on Saturday before Coleman withdrew the entry.
Rees, who suffered bruising to his left foot but has not broken any bones, added: "The idea was to fix it for today, [but] it was badly damaged.
"The chassis got hit quite hard itself, but one of the concerns is that when the guys came to pick it up they [the recovery crew] put the system in the wrong place and they damaged the roof.
"For the extent of the crash it was really minimal what happened to me. It was a big one. I'm taking medication and I'm going back to the track doctor again later.
"I don't know what happened because I was knocked out for a couple of seconds. There was nothing strange [on the data], just a big snap of oversteer. We've still got to understand what happened."
Follow all the track action from the Le Mans 24 Hours with AUTOSPORT Live's coverage, starting again with qualifying two at 6pm UK time

Autosport has produced a standalone special magazine to celebrate our 70th birthday. All current print subscribers will receive a copy for free. To order your copy of the 196-page Autosport 70th Anniversary issue, please go to: autosport.com/autosport70th