Loic Duval and Allan McNish claimed pole position for Audi at the Austin round of the World Endurance Championship.
Duval and McNish set a four-lap average of 1m48.355s at the wheel of the #2 Audi R18 e-tron quattro to take pole from team-mates Marcel Fassler and Andre Lotterer by just under three tenths of a second.
The Frenchman revealed that he had made a mistake at the beginning of his first flying lap and missed the apex at Turn 1. He followed that lap in the 1m48s bracket with the only two 1m47s laps of the 25-minute session.
Duval said: "This is important for us. This is one point for the championship and one point for Audi in the manufacturers' championship, which we can seal this weekend."
Lotterer said: "I was happy with my laps, but Marcel struggled a little bit to put it together. I closed the gap a little bit to Allan, but Loic had already put in two pretty good laps."
Toyota's solo TS030 HYBRID ended up third fastest, a further second behind the #1 Audi, in the hands of Stephane Sarrazin and Sebastien Buemi.
Sarrazin reckoned the gap would have been smaller had he not been hit up the rear and spun around at Turn 1 by Jan Charouz in one of the Lotus-Praga T128s on his second flying lap.
"I was going to do four laps, so I lost two laps," he explained. "We would have been closer, but we would still have been third."
The G-Drive/Delta-ADR ORECA-Nissan 03 driven by John Martin and Mike Conway claimed its second consecutive LMP2 pole.
Their average put them almost exactly one second ahead of the second-place OAK Racing Morgan-Nissan LMP2 shared by Olivier Pla and Alex Brundle.
ASTON LEADS GTE QUALIFYING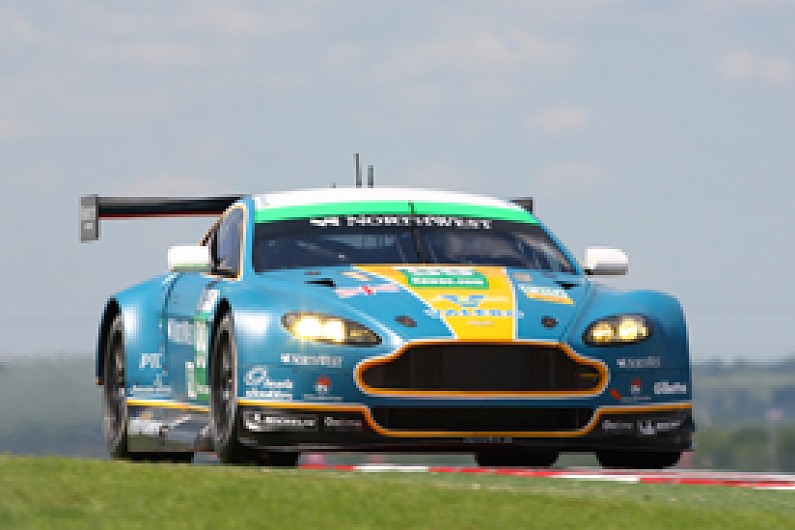 Frederic Makowiecki and Bruno Senna took pole in GTE Pro for Aston Martin Racing despite a slow puncture in the left front tyre of the Vantage GTE.
Senna came out on top in a battle with team-mate Richie Stanaway, who set the quickest GTE time of the session in the car he shared in qualifying with Pedro Lamy.
Patrick Pilet improved on his final lap in the best of the factory Porsche 911 RSRs to take second position together with Jorg Bergmeister.
GTE Am honours went to Matteo Malucelli and Rui Aguas in the 8Star Motorsports Ferrari 458 Italia. Aguas improved on his fourth lap to leapfrog the car ahead of the AMR Aston shared by Nicki Thiim and Christoffer Nygaard by just one hundredth of a second.
Pos  Cl     Drivers                         Team/Car                Time       Gap
 1.  P1     Kristensen/Duval/McNish         Audi                    1m48.355s
 2.  P1     Lotterer/Treluyer/Fassler       Audi                    1m48.617s  +0.262s
 3.  P1     Davidson/Buemi/Sarrazin         Toyota                  1m49.696s  +1.341s
 4.  P1     Prost/Heidfeld/Beche            Rebellion Lola-Toyota   1m52.081s  +3.726s
 5.  P2     Rusinov/Martin/Conway           Delta-ADR ORECA-Nissan  1m54.951s
 6.  P2     Pla/Heinemeier Hansson/Brundle  OAK Morgan-Nissan       1m55.961s  +1.010s
 7.  P2     Baguette/Gonzalez/Plowman       OAK Morgan-Nissan       1m56.033s  +1.082s
 8.  P2     Perez Companc/Minassian/Kaffer  Pecom ORECA-Nissan      1m56.248s  +1.297s
 9.  P2     Graves/Walker/Junco             Delta-ADR ORECA-Nissan  1m57.067s  +2.116s
10.  P2     Weeda/Liuzzi/Rossiter           Lotus                   1m57.817s  +2.866s
11.  P2     Zugel/Dyson/Kimber-Smith        Greaves Zytek-Nissan    1m57.940s  +2.989s
12.  P2     Holzer/Kraihamer/Charouz        Lotus                   1m59.453s  +4.502s
13.  GTE P  Senna/Makowiecki                Aston Martin            2m04.628s
14.  GTE P  Bergmeister/Pilet               Manthey Porsche         2m04.898s  +0.270s
15.  GTE P  Dalla Lana/Lamy/Stanaway        Aston Martin            2m04.919s  +0.291s
16.  GTE P  Kobayashi/Vilander              AF Ferrari              2m05.073s  +0.445s
17.  GTE P  Lieb/Lietz                      Manthey Porsche         2m05.088s  +0.460s
18.  GTE P  Mucke/Turner/Gavin              Aston Martin            2m05.214s  +0.586s
19.  GTE P  Bruni/Fisichella                AF Ferrari              2m05.348s  +0.720s
20.  GTE A  Potolicchio/Aguas/Malucelli     8Star Ferrari           2m06.515s
21.  GTE A  Nygaard/Poulsen/Thiim           Aston Martin            2m06.528s  +0.013s
22.  GTE A  Gerber/Griffin/Cioci            AF Ferrari              2m06.593s  +0.078s
23.  GTE A  Hall/Campbell-Walter            Aston Martin            2m07.117s  +0.602s
24.  GTE A  Narac/Vernay                    Imsa Porsche            2m07.120s  +0.605s
25.  GTE A  Ried/Roda/Ruberti               Proton Porsche          2m07.931s  +1.416s
26.  GTE A  Bornhauser/Canal/Rees           Larbre Corvette         2m08.132s  +1.617s
27.  GTE A  Krohn/Jonsson/Mediani           Krohn Ferrari           2m10.029s  +3.514s
28.  P2     Nicolet/Merlin/Maris            OAK Morgan-Nissan