The Kelly Racing Supercars squad has revealed a first look at its 2020 Mustang, following its move away from Nissan that ended the manufacturer's presence in the series.
Kelly Racing has scaled back from four cars to two for the coming season with Rick Kelly and Andre Heimgartner to drive for the squad, with backing from Ford Australia and Ford Performance.
The team will also run its own in-house Ford engine programme while still fielding a pair of Nissan Altimas in the second-tier Super2 series.
According to Supercars.com, Kelly Racing revealed the livery with a borrowed car, as the construction of its own Mustangs continues to take place.
"It's extremely exciting to announce a new major partnership between Kelly Racing and NED Whisky for Andre's Mustang next year and beyond," said team co-owner Todd Kelly.
"We've got a big season ahead with a lot of great opportunities made possible by the switch to Mustang so it's fantastic to bring a new major sponsor onboard that we can share that with and start a new journey together."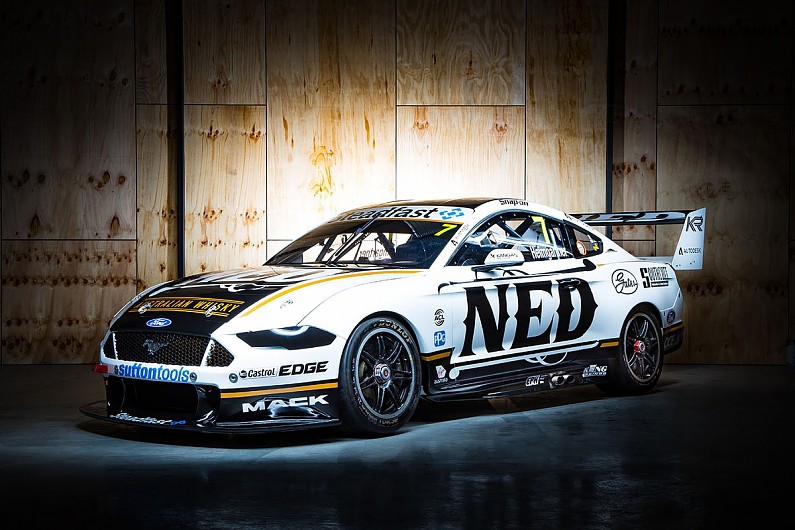 The Mustang dominated the 2019 Supercars season, winning 21 of 32 races as a saga over Supercars party broke out.
Kelly Racing finished eighth out of 14 in the teams' championship in 2019.
"It's exciting and a big step in my racing career to have NED Whisky come on-board with a multi-year partnership for my new Ford Performance Mustang Supercar," said Heimgartner.
"It is a fun brand and I cannot wait to represent them next year.
"Myself and the team here have the opportunity to be part of something pretty special with NED so we'll be doing everything we can to serve them well into the future."