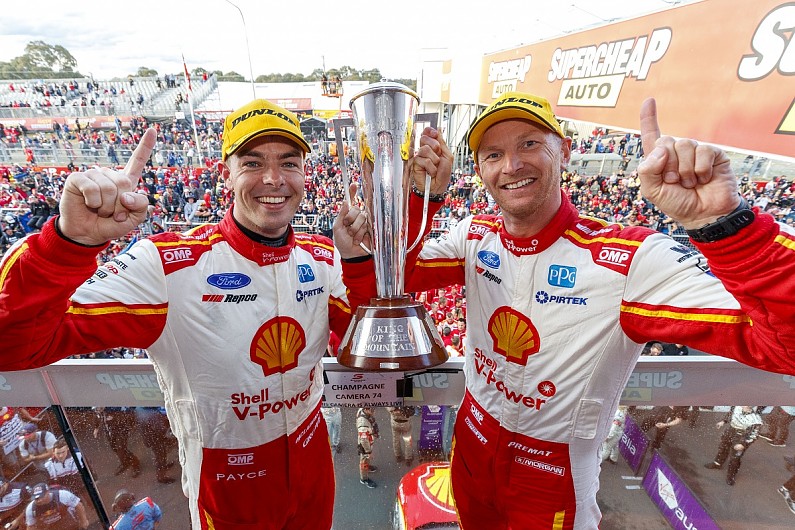 Scott McLaughlin and Alexandre Premat won Supercars' Bathurst 1000, as the championship leader held off Shane van Gisbergen in a nailbiting run to the flag.
The DJR Team Penske Ford Mustang of McLaughlin had to manage fuel across the final stint, while dealing with mirrors full of Triple Eight Holden's van Gisbergen - who climbed up the order thanks to an opportunistic pitstop and then a host of safety cars.
Adding to the drama was a safety car three laps from the end, the race going green for a single-lap dash to the flag.
But McLaughlin was good enough to hold on and now owns a huge championship lead of nearly 600 points after securing his and Premat's first Bathurst triumph, and a first for the DJR Team Penske squad since Dick Johnson and John Bowe won in its Dick Johnson Racing era in 1994.
From Autosport Performance

"I can't believe I won the bloody Bathurst 1000!" said McLaughlin.
"We had such a good car all week, I put so much pressure on myself, our whole team put so much pressure on themselves to make this a good one.
"I'm so proud of everyone. We made a bloody good car. I've dreamt about this, standing on that roof."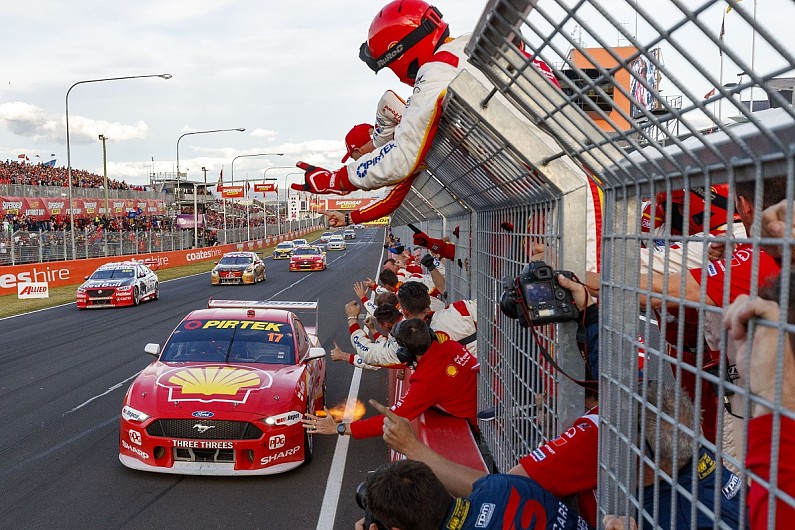 Jamie Whincup - driving the sister Triple Eight Holden to van Gisbergen and Garth Tander - had led at the halfway point sharing with last year's winner Craig Lowndes, but they fell to fourth after a pitstop dropped them back from second and they failed to recover.
Walkinshaw Andretti United Holden pair James Courtney and Jack Perkins finished up a somewhat surprising third, clever work in the pits under earlier safety cars getting them in the position to jump Whincup when he made that late stop.
David Reynolds and Luke Youlden completed the top five, with the second highest-placed Ford Mustang of Fabian Coulthard and Tony D'Alberto in sixth overall in the sister DJR Penske car.
That was partly down to the two Tickford Mustangs taking each other out of the race from third and fourth with just over 40 laps to go.
Chaz Mostert appeared to instigate the team-mate tangle by braking too late at The Chase, tagging Cameron Waters and firing them both into the gravel.
Mostert got going for the restart, but between the long wait in gravel and a drive-through penalty he was dumped outside the top 20 and finished 16th.
Wildcard entrants Alexander Rossi and James Hinchcliffe of IndyCar fame also hit trouble, Rossi spinning at the final turn with 31 laps left in the race from 16th. They ended up 19th.

The race start was delayed by 15 minutes after Brodie Kostecki was forced to abandon his Holden on the warm-up lap.
The rookie was stopped by a coolbox issue, which pumped dry ice into his helmet fan.
He was treated in the medical centre for poisoning and burns, but was then declared fit to rejoin the race.
Race result
| Pos | Driver | Team | Car | Laps | Gap |
| --- | --- | --- | --- | --- | --- |
| 1 | S.McLaughlin, A.Premat | DJR Penske | Ford | 161 | 6h27m51.5260s |
| 2 | S.Gisbergen, G.Tander | Triple Eight | Holden | 161 | 0.6800s |
| 3 | J.Courtney, J.Perkins | Walkinshaw | Holden | 161 | 1.8769s |
| 4 | J.Whincup, C.Lowndes | Triple Eight | Holden | 161 | 2.6699s |
| 5 | D.Reynolds, L.Youlden | Erebus | Holden | 161 | 3.6431s |
| 6 | M.Winterbottom, S.Richards | Schwerkolt | Holden | 161 | 5.6227s |
| 7 | S.Pye, W.Luff | Walkinshaw | Holden | 161 | 6.6088s |
| 8 | R.Kelly, D.Wood | Kelly | Nissan | 161 | 6.6733s |
| 9 | L.Holdsworth, T.Randle | Tickford | Ford | 161 | 6.9839s |
| 10 | W.Davison, A.Davison | 23Red Racing | Ford | 161 | 7.7034s |
| 11 | J.Golding, R.Muscat | GRM | Holden | 161 | 7.8562s |
| 12 | R.Stanaway, C.Pither | GRM | Holden | 161 | 11.2623s |
| 13 | S.de Silvestro, A.Rullo | Kelly | Nissan | 160 | 1 Lap |
| 14 | N.Percat, T.Blanchard | Brad Jones | Holden | 160 | 1 Lap |
| 15 | C.Mostert, J.Moffat | Tickford | Ford | 160 | 1 Lap |
| 16 | M.Jones, D.Canto | Blanchard/BJR | Holden | 160 | 1 Lap |
| 17 | J.Le Brocq, J.Webb | Tekno | Holden | 160 | 1 Lap |
| 18 | A.Rossi, J.Hinchcliffe | Walkinshaw | Holden | 159 | 2 Laps |
| 19 | G.Jacobson, D.Fiore | Kelly | Nissan | 159 | 2 Laps |
| 20 | C.Waters, M.Caruso | Tickford | Ford | 148 | 13 Laps |
| 21 | F.Coulthard, T.D'Alberto | DJR Penske | Ford | 161 | 4.0686s |
| - | A.Heimgartner, B.Fullwood | Kelly | Nissan | 157 | Retirement |
| - | A.De Pasquale, W.Brown | Erebus | Holden | 125 | Retirement |
| - | B.Kostecki, J.Kostecki | Kostecki | Holden | 111 | Retirement |
| - | T.Hazelwood, J.Smith | Matt Stone | Holden | 98 | Retirement |
| - | T.Slade, A.Walsh | Brad Jones | Holden | 0 | Retirement |
Drivers' standings

| Pos | Driver | Points |
| --- | --- | --- |
| 1 | Scott McLaughlin | 3308 |
| 2 | Shane van Gisbergen | 2686 |
| 3 | Chaz Mostert | 2447 |
| 4 | Fabian Coulthard | 2401 |
| 5 | Jamie Whincup | 2380 |
| 6 | David Reynolds | 2306 |
| 7 | Cameron Waters | 2065 |
| 8 | Nick Percat | 2020 |
| 9 | Will Davison | 1967 |
| 10 | Lee Holdsworth | 1872 |
| 11 | James Courtney | 1768 |
| 12 | Mark Winterbottom | 1720 |
| 13 | Anton De Pasquale | 1665 |
| 14 | Scott Pye | 1552 |
| 15 | Andre Heimgartner | 1526 |
| 16 | Rick Kelly | 1482 |
| 17 | Tim Slade | 1458 |
| 18 | James Golding | 1361 |
| 19 | Todd Hazelwood | 1291 |
| 20 | Simona de Silvestro | 1261 |
| 21 | Macauley Jones | 1005 |
| 22 | Jack Le Brocq | 1000 |
| 23 | Garry Jacobson | 950 |
| 24 | Richie Stanaway | 872 |
| 25 | Michael Caruso | 312 |
| 26 | Alexandre Premat | 300 |
| 27 | Chris Pither | 297 |
| 28 | Jack Smith | 285 |
| 29 | Garth Tander | 276 |
| 30 | Tom Randle | 276 |
| 31 | Jack Perkins | 258 |
| 32 | Craig Lowndes | 240 |
| 33 | Luke Youlden | 222 |
| 34 | Tim Blanchard | 219 |
| 35 | Steven Richards | 204 |
| 36 | Warren Luff | 192 |
| 37 | Dale Wood | 180 |
| 38 | Alex Davison | 156 |
| 39 | Richard Muscat | 144 |
| 40 | Alex Rullo | 132 |
| 41 | James Moffat | 120 |
| 42 | Dean Canto | 114 |
| 43 | Jonathon Webb | 108 |
| 44 | Alexander Rossi | 102 |
| 44 | James Hinchcliffe | 102 |
| 46 | Dean Fiore | 96 |
| 47 | Tony D'Alberto | 84 |