Scott McLaughlin held off a hard-charging Shane van Gisbergen to triumph in a tense Sunday Supercars showdown at Ipswich's Queensland Raceway.
The race boiled down to a thrilling battle between the two drivers, with long-time leader McLaughlin coming under serious pressure from van Gisbergen in the closing stages.
After a five-lap nose-to-tail battle, it was the points leader that held on for a 0.7s victory as Chaz Mostert took a distant third for Tickford Racing.
For the second day running, McLaughlin came under fire through the first two corners at the start, but he staved off a Mostert challenge and held onto the lead.
From there McLaughlin was able to control the opening stint, pulling three seconds on Mostert and the field before making his first stop on lap 15 of 65.
McLaughlin retained the effective lead but the pitstops shook up the order behind him.
Jamie Whincup moved up to second thanks to taking his pitstop a lap earlier than McLaughlin, while Mostert stayed out until lap 19 and took on more fuel than the rest of the leaders, which dropped him to fourth behind van Gisbergen.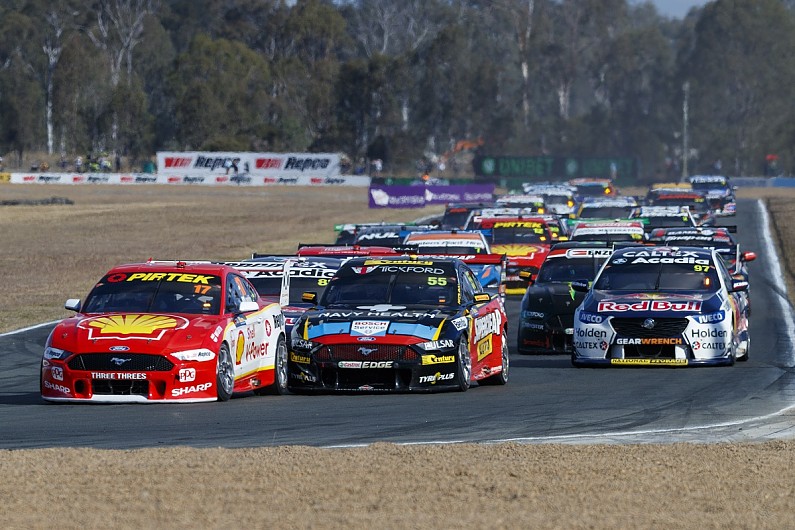 As McLaughlin continued to lead to the tune of five seconds, van Gisbergen's race came alive in the second stint.
Approaching half-distance, he had managed to erase the 4s gap over Whincup, breezing past his team-mate into second place.
Little changed for the front two during the second round of stops as he McLaughlin took an advantage of a little under five seconds into his mid-point pitstop.
The gap was sitting at around 4.5s once van Gisbergen had stopped a lap later.
There was a change behind them though, with Mostert using his fuel advantage to jump Whincup as the pair followed McLaughlin in.
Van Gisbergen made good ground over the final stint and moved to within 1.5s of the leader with 10 laps to go.
With five laps to go, McLaughlin and van Gisbergen were separated by just 0.5s but, despite van Gisbergen's best efforts, McLaughlin was able to hang on to take a hard-fought win.
Mostert was 10s down the road in third, while Whincup ended up a further seven seconds behind back in fourth.
Will Davison backed up his Saturday podium with a fifth ahead of Tickford team-mate Cam Waters and Nissan drivers Andre Heimgartner and Rick Kelly.
Holden stars Nick Percat and Mark Winterbottom rounded out the top 10.
The biggest loser in terms of the championship was Fabian Coulthard after an early clash with Anton De Pasquale sent him off the road and out of contention for a decent result.
He finished the race down in 18th and, while he was able to hang on to second in the standings, the gap to his team-mate is now a whopping 433 points.
Race result
| Pos | Driver | Team | Car | Laps | Gap |
| --- | --- | --- | --- | --- | --- |
| 1 | Scott McLaughlin | DJR Penske | Ford | 65 | 1h18m18.3804s |
| 2 | Shane van Gisbergen | Triple Eight | Holden | 65 | 0.7006s |
| 3 | Chaz Mostert | Tickford | Ford | 65 | 10.6470s |
| 4 | Jamie Whincup | Triple Eight | Holden | 65 | 17.2252s |
| 5 | Will Davison | 23Red Racing | Ford | 65 | 18.0331s |
| 6 | Cameron Waters | Tickford | Ford | 65 | 37.4851s |
| 7 | Andre Heimgartner | Kelly | Nissan | 65 | 45.3193s |
| 8 | Rick Kelly | Kelly | Nissan | 65 | 45.5361s |
| 9 | Nick Percat | Brad Jones | Holden | 65 | 47.0848s |
| 10 | Mark Winterbottom | Schwerkolt | Holden | 65 | 47.5200s |
| 11 | Anton De Pasquale | Erebus | Holden | 65 | 48.2074s |
| 12 | James Courtney | Walkinshaw | Holden | 65 | 50.9941s |
| 13 | Todd Hazelwood | Matt Stone | Holden | 65 | 55.3236s |
| 14 | Lee Holdsworth | Tickford | Ford | 65 | 55.5156s |
| 15 | James Golding | GRM | Holden | 65 | 56.7064s |
| 16 | Scott Pye | Walkinshaw | Holden | 65 | 1m10.6264s |
| 17 | Tim Slade | Brad Jones | Holden | 65 | 1m10.9933s |
| 18 | Fabian Coulthard | DJR Penske | Ford | 65 | 1m11.3503s |
| 19 | Simona de Silvestro | Kelly | Nissan | 65 | 1m11.8195s |
| 20 | Michael Caruso | GRM | Holden | 65 | 1m11.9913s |
| 21 | David Reynolds | Erebus | Holden | 64 | 1 Lap |
| 22 | Macauley Jones | Blanchard/BJR | Holden | 64 | 1 Lap |
| 23 | Jack Le Brocq | Tekno | Holden | 63 | 2 Laps |
| - | Garry Jacobson | Kelly | Nissan | 49 | Retirement |
Drivers' championship
| Pos | Driver | Points |
| --- | --- | --- |
| 1 | Scott McLaughlin | 2438 |
| 2 | Fabian Coulthard | 2005 |
| 3 | Shane van Gisbergen | 1918 |
| 4 | Chaz Mostert | 1898 |
| 5 | Jamie Whincup | 1798 |
| 6 | David Reynolds | 1760 |
| 7 | Cameron Waters | 1600 |
| 8 | Will Davison | 1523 |
| 9 | Nick Percat | 1495 |
| 10 | Lee Holdsworth | 1383 |
| 11 | Anton De Pasquale | 1335 |
| 12 | James Courtney | 1264 |
| 13 | Andre Heimgartner | 1232 |
| 14 | Mark Winterbottom | 1231 |
| 15 | Tim Slade | 1203 |
| 16 | Scott Pye | 1075 |
| 17 | Rick Kelly | 1074 |
| 18 | Todd Hazelwood | 1054 |
| 19 | James Golding | 1001 |
| 20 | Simona de Silvestro | 937 |
| 21 | Jack Le Brocq | 742 |
| 22 | Macauley Jones | 717 |
| 23 | Garry Jacobson | 668 |
| 24 | Richie Stanaway | 482 |
| 25 | Michael Caruso | 222 |
| 26 | Jack Smith | 219 |
| 27 | Chris Pither | 159 |
| 28 | Tim Blanchard | 93 |