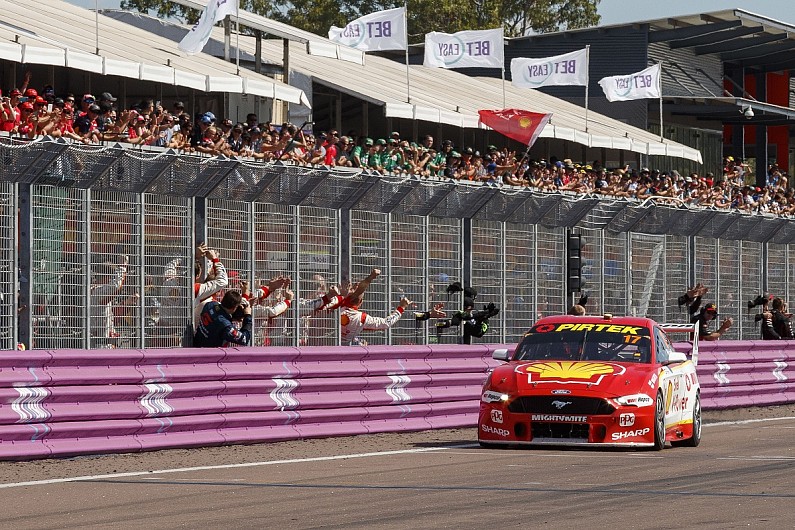 Scott McLaughlin became the first Supercars driver to win the elusive 'Darwin Triple Crown', thanks to a dominant performance in the 200-kilometre race at Hidden Valley.
The Triple Crown title refers to taking a clean sweep of the opening 120km race, the top 10 shootout for race two pole and the 200km finale in the Hidden Valley event, and it had never before been claimed in the 21-year history of the event.
Having already won race one and taken Sunday pole, McLaughlin just needed victory in the final race and he ticked that box in emphatic style, coming home 13.8 seconds clear of Erebus Holden driver David Reynolds with his DJR Penske Ford team-mate Fabian Coulthard third.
McLaughlin only came under genuine pressure once throughout the entire 70-lap affair, a fast-starting Reynolds having a look down the inside of the polesitter at Turn 5 on the opening tour.
Having resisted that brief challenge, McLaughlin was able to quickly build a gap to Reynolds and the rest of the field.
His lead was over a second by lap four, over 4s by lap 10, and out to 7.5s when he and Reynolds made their first stops on lap 19.
With Reynolds going for a long first fuel stop, which dropped him back to sixth, the middle stint was a breeze for McLaughlin.
He emerged a little over 5s clear of an early-stopping Cam Waters, that gap ballooning out to almost 10s by lap 30.
McLaughlin went longer than the rest of the frontrunners in the middle of the race, not making his second stop until lap 44, six laps later than the likes of Reynolds and Coulthard.
There was a nervous moment as he was almost released into the side of Jack Smith after making that second stop.
But with the unsafe release narrowly avoided, McLaughlin resumed with an 11s lead over Reynolds.
From there it was a straightforward run home for the reigning champion.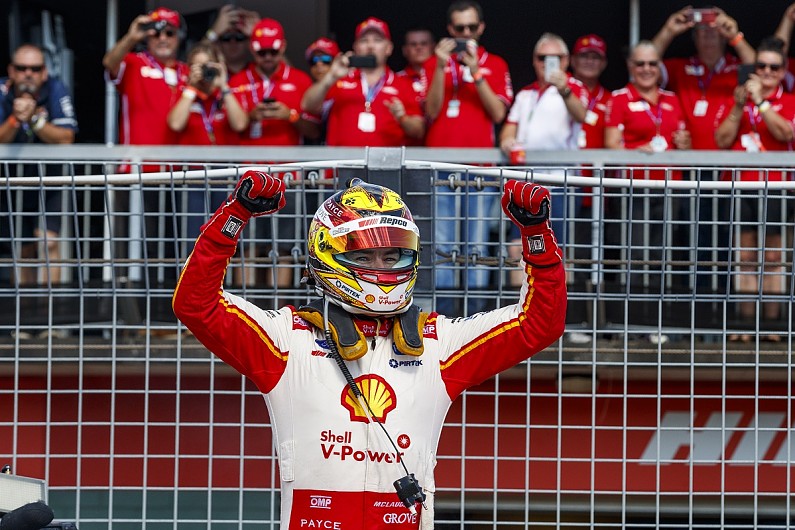 Reynolds triumphed in the battle for second thanks to a shorter second stop.
Having taken the pain at the end of the first stint, he was able to jump Coulthard and Waters second time around.
Coulthard used a similar trick to get ahead of Waters, who had to settle for fourth after running second in the middle stint.
He could have even fallen further back, with Jamie Whincup and Chaz Mostert right under his rear wing at the finish.
For Whincup it was a rollercoaster of a race; he found himself running 23rd on the opening lap after a clash with James Courtney sent him wide.
He used a big undercut with a first stop on lap 14 to get back in the game, setting him up for an impressive fifth.
Mostert went the other way with strategy, not making his second stop until the window was about to close with 13 laps to go.
He was then able to charge home to sixth, just behind Whincup and just ahead of Tickford team-mate Lee Holdsworth.
Anton De Pasquale and Will Davison finished eighth and ninth, with Shane van Gisbergen rounding out the top 10.
McLaughlin now has more than a round's worth of points up his sleeve, with a 319-point championship advantage over Coulthard.
Race two result
| Pos | Driver | Team | Car | Laps | Gap |
| --- | --- | --- | --- | --- | --- |
| 1 | Scott McLaughlin | DJR Penske | Ford | 70 | 1h21m00.4130s |
| 2 | David Reynolds | Erebus | Holden | 70 | 13.8319s |
| 3 | Fabian Coulthard | DJR Penske | Ford | 70 | 14.8754s |
| 4 | Cameron Waters | Tickford | Ford | 70 | 21.1617s |
| 5 | Jamie Whincup | Triple Eight | Holden | 70 | 21.9110s |
| 6 | Chaz Mostert | Tickford | Ford | 70 | 22.3242s |
| 7 | Lee Holdsworth | Tickford | Ford | 70 | 22.9110s |
| 8 | Anton De Pasquale | Erebus | Holden | 70 | 27.6387s |
| 9 | Will Davison | 23Red Racing | Ford | 70 | 29.3597s |
| 10 | Shane van Gisbergen | Triple Eight | Holden | 70 | 31.9868s |
| 11 | Andre Heimgartner | Kelly | Nissan | 70 | 35.7351s |
| 12 | Mark Winterbottom | Schwerkolt | Holden | 70 | 36.4050s |
| 13 | Todd Hazelwood | Matt Stone | Holden | 70 | 46.8917s |
| 14 | James Courtney | Walkinshaw | Holden | 70 | 46.9234s |
| 15 | Nick Percat | Brad Jones | Holden | 70 | 55.3366s |
| 16 | Rick Kelly | Kelly | Nissan | 70 | 57.2348s |
| 17 | James Golding | GRM | Holden | 69 | 1 Lap |
| 18 | Tim Slade | Brad Jones | Holden | 69 | 1 Lap |
| 19 | Scott Pye | Walkinshaw | Holden | 69 | 1 Lap |
| 20 | Simona de Silvestro | Kelly | Nissan | 69 | 1 Lap |
| 21 | Jack Le Brocq | Tekno | Holden | 69 | 1 Lap |
| 22 | Macauley Jones | Blanchard/BJR | Holden | 69 | 1 Lap |
| 23 | Chris Pither | GRM | Holden | 69 | 1 Lap |
| 24 | Garry Jacobson | Kelly | Nissan | 69 | 1 Lap |
| 25 | Jack Smith | Brad Jones | Holden | 69 | 1 Lap |
Drivers' standings

| Pos | Driver | Points |
| --- | --- | --- |
| 1 | Scott McLaughlin | 1946 |
| 2 | Fabian Coulthard | 1627 |
| 3 | David Reynolds | 1487 |
| 4 | Chaz Mostert | 1400 |
| 5 | Shane van Gisbergen | 1399 |
| 6 | Jamie Whincup | 1390 |
| 7 | Cameron Waters | 1225 |
| 8 | Nick Percat | 1183 |
| 9 | Will Davison | 1136 |
| 10 | Lee Holdsworth | 1056 |
| 11 | Tim Slade | 1023 |
| 12 | Mark Winterbottom | 1009 |
| 13 | Anton De Pasquale | 1008 |
| 14 | James Courtney | 991 |
| 15 | Andre Heimgartner | 947 |
| 16 | Scott Pye | 871 |
| 17 | Todd Hazelwood | 820 |
| 18 | Rick Kelly | 771 |
| 19 | James Golding | 719 |
| 20 | Simona de Silvestro | 712 |
| 21 | Garry Jacobson | 590 |
| 22 | Macauley Jones | 573 |
| 23 | Jack Le Brocq | 568 |
| 24 | Richie Stanaway | 482 |
| 25 | Jack Smith | 219 |
| 26 | Chris Pither | 159 |
| 27 | Tim Blanchard | 93 |