Scott McLaughlin made light work of Saturday's opening Supercars race at the Hidden Valley circuit in Darwin, cruising to a 6.8-second win.
The DJR Team Penske driver made a slightly tardy getaway from pole, but hugging the inside line helped hold off a fast-starting Will Davison behind him, and a late-braking David Reynolds next to him.
A high line through Turn 1, and a bit of contact with Erebus team-mate Anton De Pasquale who was even higher, was costly for Reynolds - who effectively went side-by-side with Davison all the way to Turn 6 before having to concede second place to the Tickford Ford Mustang.
Behind the leaders it was a chaotic opening lap, starting with Macauley Jones and James Golding clashing on the way through the Turns 2/3/4 complex.
Rick Kelly then fired Tim Slade off on the way out of Turn 5, Slade's Brad Jones Racing Holden going straight into the fence.
The first-lap drama concluded with Mark Winterbottom half-spinning Andre Heimgartner to cause a bottleneck at the back of the field.
The race was quickly pacified by the safety car, called to retrieve Slade's crashed Commodore at the end of lap two.
When the race restarted on lap eight McLaughlin's getaway was swift, to the point where he had almost four seconds up his sleeve when Davison and Reynolds made their stops 11 laps later.
That stop proved crucial to the complexion of the lead group, with the Tickford/23 Red Racing crew releasing Davison into Reynolds' door as they went to leave the pits.
That meant a 15s penalty for Davison, while Reynolds was jumped by an undercutting Chaz Mostert - who had stopped four laps earlier.
There were no undercut concerns for McLaughlin, though, who pitted on lap 20 and returned with a three second margin over Mostert and Reynolds.
From there it was a walk in the park for McLaughlin, who cruised to his 11th win of the season by 6.8s.
"It was an awesome run [to Turn 1]," he said.
"I think we were three-wide before I braked. I figured I was on the inside so I had probably the safest position."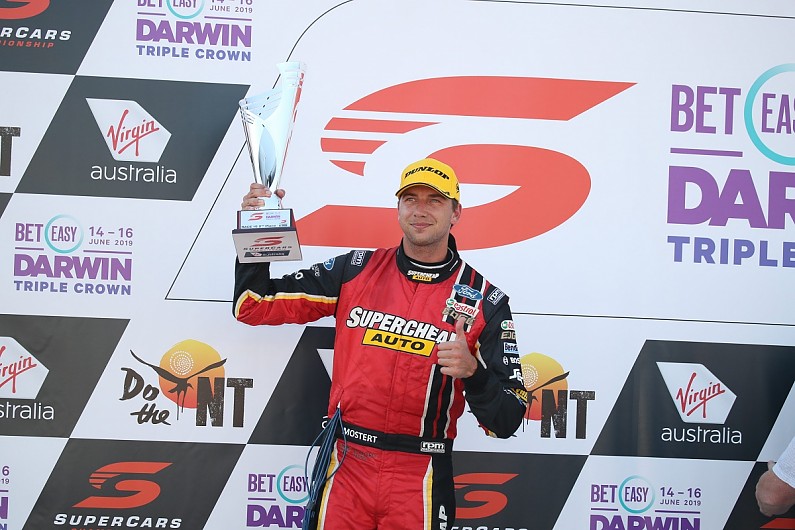 Mostert made the undercut work for him, holding off Reynolds to come home second.
It was a four-spot gain for the Tickford star, his margin over the Erebus driver a single second at the finish.
Cam Waters finished fourth, holding off a late charge from Jamie Whincup, who went the opposite way to Mostert and made his stop on lap 28 of the 42-lap race.
Lee Holdsworth was sixth, Fabian Coulthard seventh and Shane van Gisbergen eighth.
Davison finished ninth on the road after dropping back in the second stint, but was then dumped to 12th thanks to that 15s penalty.
That promoted Walkinshaw Andretti United drivers James Courtney and Scott Pye to ninth and 10th.
McLaughlin now holds a 298-point championship lead over team-mate Coulthard.
Race one result
| Pos | Driver | Team | Car | Laps | Gap |
| --- | --- | --- | --- | --- | --- |
| 1 | Scott McLaughlin | DJR Penske | Ford | 42 | 52m11.8540s |
| 2 | Chaz Mostert | Tickford | Ford | 42 | 6.8829s |
| 3 | David Reynolds | Erebus | Holden | 42 | 7.8776s |
| 4 | Cameron Waters | Tickford | Ford | 42 | 8.2419s |
| 5 | Jamie Whincup | Triple Eight | Holden | 42 | 8.9533s |
| 6 | Lee Holdsworth | Tickford | Ford | 42 | 12.4616s |
| 7 | Fabian Coulthard | DJR Penske | Ford | 42 | 14.0082s |
| 8 | Shane van Gisbergen | Triple Eight | Holden | 42 | 15.2886s |
| 9 | James Courtney | Walkinshaw | Holden | 42 | 20.1451s |
| 10 | Scott Pye | Walkinshaw | Holden | 42 | 26.5242s |
| 11 | Anton De Pasquale | Erebus | Holden | 42 | 28.1853s |
| 12 | Will Davison | 23Red Racing | Ford | 42 | 32.1326s |
| 13 | Nick Percat | Brad Jones | Holden | 42 | 32.6622s |
| 14 | Garry Jacobson | Kelly | Nissan | 42 | 34.7148s |
| 15 | Chris Pither | GRM | Holden | 42 | 35.3244s |
| 16 | Andre Heimgartner | Kelly | Nissan | 42 | 38.9263s |
| 17 | Mark Winterbottom | Schwerkolt | Holden | 42 | 39.7036s |
| 18 | Todd Hazelwood | Matt Stone | Holden | 42 | 44.6629s |
| 19 | Simona de Silvestro | Kelly | Nissan | 42 | 50.7102s |
| 20 | Jack Smith | Brad Jones | Holden | 42 | 1m05.3269s |
| 21 | Rick Kelly | Kelly | Nissan | 41 | 1 Lap |
| 22 | Macauley Jones | Blanchard/BJR | Holden | 34 | 8 Laps |
| - | Tim Slade | Brad Jones | Holden | 1 | Retirement |
| - | James Golding | GRM | Holden | 0 | Retirement |
| - | Jack Le Brocq | Tekno | Holden | 0 | Retirement |