Will Davison set the pace in Thursday's wet Australian Supercars practice sessions ahead of the 2018 Bathurst 1000.
All three of the day's sessions took place in damp conditions, with Davison setting the fastest time of all - 2m25.024s - aboard the 23Red Racing Ford Falcon he will share with brother Alex in first practice.
That effort, set at the end of the session, was enough to steal top spot by more than half a second from the similar Falcon of Chaz Mostert.
"It's really hard to learn much when it's greasy like that," said Davison.
"You make a few changes to the car and can't learn too much, other than tyre pressures.
"We read the conditions, made changes, there was not too much risk."
The Nissans of Aaren Russell and Michael Caruso ended up third and fourth in the session, which featured just one attempt at a run on dry tyres.
Tim Blanchard tip-toed his way around the lap on slicks in his Holden Commodore with 10 minutes to go before heading back to the pits for wets.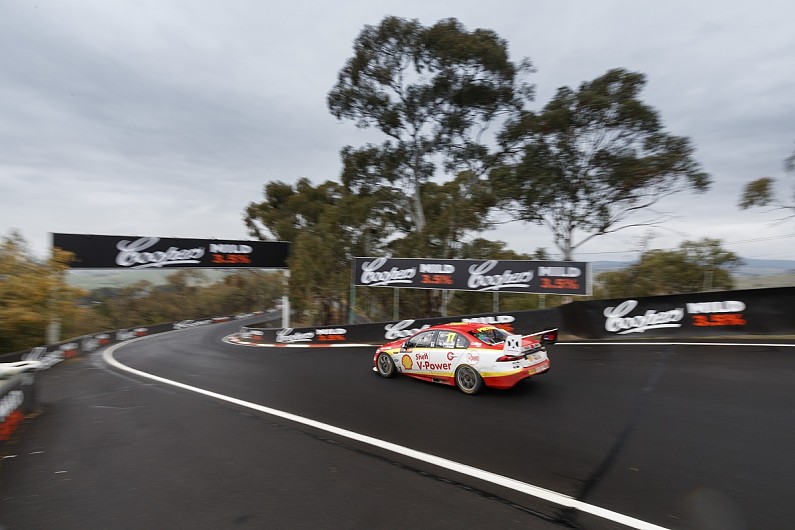 In the dedicated co-drivers' second session, Alexandre Premat led the way for the DJR Team Penske Ford squad.
Premat, who is racing alongside title hopeful Scott McLaughlin at Bathurst, completed a two-lap stint near the end of the session to go quickest on a 2m35.182s as rain came and went during the session.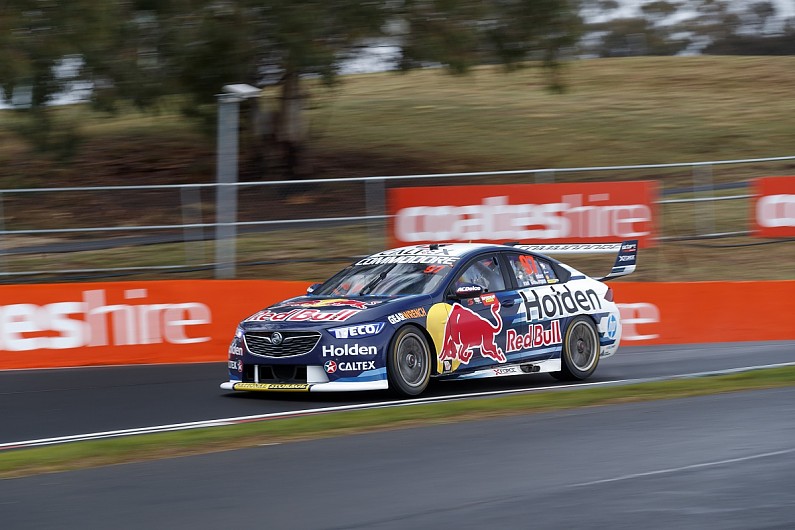 Another Nissan featured near the head of the order - Rick Kelly's co-driver Garry Jacobson had been fastest until Premat's improvement - while factory Porsche driver Earl Bamber, who is making his Bathurst 1000 debut this weekend alongside Triple Eight regular Shane van Gisbergen but has twice won his class at the circuit in the 12 Hour endurance race, was third.
Tickford Racing ended the afternoon's final practice on top, with Richie Stanaway - who was fastest for a spell in the first session - setting the fastest time in his Ford Falcon.
Despite a number of crews playing it safe in the first half of the hour-long session, Stanaway was one of those to take to the track early on - recording the fastest time of 2m29.017s despite conditions stablising towards the end of the session.
Fabian Coulthard (DJR Team Penske) got closest to his effort but ended up a tenth shy, with McLaughlin third in his Penske Ford.
Craig Lowndes survived a high-speed off at the Chase to end the session ninth, ahead of Simona de Silvestro, while seven-time champion Jamie Whincup and his Triple Eight crew opted not to run at all.
"We've got a programme this weekend," said Whincup, who was 10th in first practice.
"There were a couple of items we could tick off in P1, but there was no purpose in going out in P2 or P3.
"Tomorrow is going to be dry, so we'll go out and try and tick off the rest of our programme."
FP1 times
| Pos | Driver | Team | Car | Time | Gap | Laps |
| --- | --- | --- | --- | --- | --- | --- |
| 1 | Will Davison | 23Red Racing | Ford | 2m25.0243s | - | 17 |
| 2 | Chaz Mostert | Tickford | Ford | 2m25.5388s | 0.5145s | 15 |
| 3 | A.Heimgartner, A.Russell | Nissan Motorsport | Nissan | 2m25.7144s | 0.6901s | 16 |
| 4 | Michael Caruso | Nissan Motorsport | Nissan | 2m25.7173s | 0.6930s | 11 |
| 5 | M.Winterbottom, D.Canto | Tickford | Ford | 2m25.7358s | 0.7115s | 18 |
| 6 | Fabian Coulthard | DJR Penske | Ford | 2m25.9205s | 0.8962s | 19 |
| 7 | S.Gisbergen, E.Bamber | Triple Eight | Holden | 2m26.3577s | 1.3334s | 16 |
| 8 | Simona de Silvestro | Nissan Motorsport | Nissan | 2m26.5438s | 1.5195s | 10 |
| 9 | Scott Pye | Walkinshaw | Holden | 2m26.6683s | 1.6440s | 15 |
| 10 | Jamie Whincup | Triple Eight | Holden | 2m26.6690s | 1.6447s | 15 |
| 11 | R.Stanaway, S.Owen | Tickford | Ford | 2m27.3396s | 2.3153s | 16 |
| 12 | C.Waters, D.Russell | Tickford | Ford | 2m27.5771s | 2.5528s | 15 |
| 13 | L.Holdsworth, J.Bright | Team 18 | Holden | 2m27.7949s | 2.7706s | 17 |
| 14 | T.Hazelwood, B.Fullwood | Matt Stone | Holden/Ford | 2m28.2059s | 3.1816s | 18 |
| 15 | J.Le Brocq, J.Webb | Tekno | Holden | 2m29.0161s | 3.9918s | 16 |
| 16 | S.McLaughlin, A.Premat | DJR Penske | Ford | 2m29.0767s | 4.0524s | 18 |
| 17 | Tim Blanchard | Blanchard/BJR | Holden | 2m29.2954s | 4.2711s | 18 |
| 18 | J.Golding, R.Muscat | GRM | Holden | 2m29.4292s | 4.4049s | 18 |
| 19 | Tim Slade | Brad Jones | Holden | 2m29.4749s | 4.4506s | 18 |
| 20 | Craig Lowndes | Triple Eight | Holden | 2m30.5808s | 5.5565s | 9 |
| 21 | G.Tander, C.Pither | GRM | Holden | 2m31.5436s | 6.5193s | 17 |
| 22 | N.Percat, M.Jones | Brad Jones | Holden | 2m31.6888s | 6.6645s | 18 |
| 23 | Rick Kelly | Nissan Motorsport | Nissan | 2m31.8550s | 6.8307s | 4 |
| 24 | James Courtney | Walkinshaw | Holden | 2m32.6344s | 7.6101s | 5 |
FP2 times
| Pos | Driver | Team | Car | Time | Gap | Laps |
| --- | --- | --- | --- | --- | --- | --- |
| 1 | Alexandre Premat | DJR Penske | Ford | 2m35.1824s | - | 18 |
| 2 | Garry Jacobson | Nissan Motorsport | Nissan | 2m35.8261s | 0.6437s | 6 |
| 3 | Earl Bamber | Triple Eight | Holden | 2m35.9013s | 0.7189s | 4 |
| 4 | Dean Canto | Tickford | Ford | 2m36.6303s | 1.4479s | 9 |
| 5 | Tony D'Alberto | DJR Penske | Ford | 2m36.7785s | 1.5961s | 14 |
| 6 | Dale Wood | Blanchard/BJR | Holden | 2m36.7801s | 1.5977s | 8 |
| 7 | David Russell | Tickford | Ford | 2m37.2193s | 2.0369s | 11 |
| 8 | Luke Youlden | Erebus | Holden | 2m37.6523s | 2.4699s | 13 |
| 9 | Steven Richards | Triple Eight | Holden | 2m37.7972s | 2.6148s | 5 |
| 10 | James Moffat | Tickford | Ford | 2m37.8113s | 2.6289s | 6 |
| 11 | Jack Perkins | Walkinshaw | Holden | 2m38.2488s | 3.0664s | 13 |
| 12 | Alex Davison | 23Red Racing | Ford | 2m38.9722s | 3.7898s | 16 |
| 13 | Alex Rullo | Nissan Motorsport | Nissan | 2m39.2353s | 4.0529s | 6 |
| 14 | Warren Luff | Walkinshaw | Holden | 2m39.3210s | 4.1386s | 7 |
| 15 | Jason Bright | Team 18 | Holden | 2m39.3439s | 4.1615s | 5 |
| 16 | Macauley Jones | Brad Jones | Holden | 2m39.6486s | 4.4662s | 15 |
| 17 | Richard Muscat | GRM | Holden | 2m39.6732s | 4.4908s | 5 |
| 18 | Bryce Fullwood | Matt Stone | Holden/Ford | 2m40.2985s | 5.1161s | 6 |
| 19 | Aaren Russell | Nissan Motorsport | Nissan | 2m40.3159s | 5.1335s | 4 |
| 20 | Dean Fiore | Nissan Motorsport | Nissan | 2m40.6292s | 5.4468s | 2 |
| 21 | Chris Pither | GRM | Holden | 2m40.6679s | 5.4855s | 9 |
| 22 | Ashley Walsh | Brad Jones | Holden | 2m42.0632s | 6.8808s | 10 |
| 23 | Steve Owen | Tickford | Ford | 2m50.5328s | 15.3504s | 4 |
FP3 times
| Pos | Driver | Team | Car | Time | Gap | Laps |
| --- | --- | --- | --- | --- | --- | --- |
| 1 | Richie Stanaway | Tickford | Ford | 2m29.0174s | - | 13 |
| 2 | F.Coulthard, T.D'Alberto | DJR Penske | Ford | 2m29.1428s | 0.1254s | 19 |
| 3 | Scott McLaughlin | DJR Penske | Ford | 2m29.5703s | 0.5529s | 18 |
| 4 | Chaz Mostert | Tickford | Ford | 2m29.7241s | 0.7067s | 5 |
| 5 | Shane van Gisbergen | Triple Eight | Holden | 2m29.8938s | 0.8764s | 13 |
| 6 | Cameron Waters | Tickford | Ford | 2m30.1474s | 1.1300s | 16 |
| 7 | Tim Slade | Brad Jones | Holden | 2m30.5998s | 1.5824s | 16 |
| 8 | Michael Caruso | Nissan Motorsport | Nissan | 2m30.8648s | 1.8474s | 6 |
| 9 | Craig Lowndes | Triple Eight | Holden | 2m31.0073s | 1.9899s | 9 |
| 10 | Simona de Silvestro | Nissan Motorsport | Nissan | 2m31.0128s | 1.9954s | 6 |
| 11 | Nick Percat | Brad Jones | Holden | 2m31.0697s | 2.0523s | 18 |
| 12 | Mark Winterbottom | Tickford | Ford | 2m31.1405s | 2.1231s | 3 |
| 13 | A.De Pasquale, W.Brown | Erebus | Holden | 2m31.6512s | 2.6338s | 16 |
| 14 | Lee Holdsworth | Team 18 | Holden | 2m32.2568s | 3.2394s | 3 |
| 15 | Tim Blanchard | Blanchard/BJR | Holden | 2m32.8097s | 3.7923s | 19 |
| 16 | Andre Heimgartner | Nissan Motorsport | Nissan | 2m33.0376s | 4.0202s | 6 |
| 17 | David Reynolds | Erebus | Holden | 2m33.5141s | 4.4967s | 17 |
| 18 | Garth Tander | GRM | Holden | 2m33.7475s | 4.7301s | 16 |
| 19 | Warren Luff | Walkinshaw | Holden | 2m35.5209s | 6.5035s | 6 |
| 20 | Jack Perkins | Walkinshaw | Holden | 2m35.5953s | 6.5779s | 3 |
| 21 | Alex Davison | 23Red Racing | Ford | 2m36.0464s | 7.0290s | 11 |
| 22 | T.Hazelwood, B.Fullwood | Matt Stone | Holden/Ford | 2m36.0589s | 7.0415s | 9 |