Shane van Gisbergen and Jamie Whincup took a win apiece at the first Supercars round at The Bend Motorsport Park, with van Gisbergen taking the points lead from Scott McLaughlin.
The weekend started with an absolute cakewalk for van Gisbergen, who waltzed his way to a six-second win in Saturday's single-stop sprint race.
The pivotal moment in the race was a lap-five pass on polesitter and early leader Whincup, which meant when the safety car was called two laps later to retrieve Garth Tander's broken down Commodore, van Gisbergen had the pit priority.
With Whincup dropping back to eighth after being forced to stack behind Triple Eight team-mate van Gisbergen, and Rick Kelly - who inherited second - lacking the speed to mount a serious challenge, van Gisbergen was able to cruise to the first ever Supercars win at The Bend.
Making the win even sweeter was that points leader McLaughlin finished down in sixth. The Penske Ford driver was unable to trouble the lead group, and couldn't even hold a recovering Whincup off in the closing stages to limit the points damage.
Whincup got back to fourth behind Michael Caruso, clearing Will Davison, McLaughlin, and Mark Winterbottom after his unfortunate delay in the pitlane.
Saturday's result put van Gisbergen within striking distance - 41 points - of McLaughlin's series lead. On Sunday, he completed the job of overhauling his fellow Kiwi.
For the second day in a row the Red Bull Holdens were too strong, although this time it was Whincup, once again the polesitter, who cruised to victory.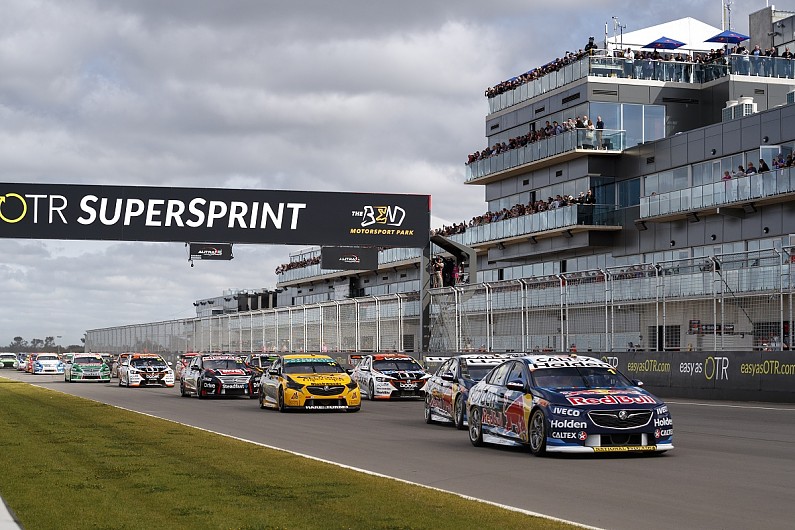 His cause was helped massively by van Gisbergen falling behind Tim Slade at the start, which gave Whincup a small window to build a 3s lead in the two laps before van Gisbergen got back into second.
While van Gisbergen was powerless to stop his team-mate from ultimately taking an 11s win, second place proved to be enough.
With McLaughlin managing just 10th from the 200km race, finishing where he started, van Gisbergen now has a 19-point lead in the standings.
David Reynolds was the big mover in the second race, coming from 12th on the grid to finish third after Slade made a mistake with a handful of laps to go and gifted his podium spot to the Erebus driver.
The series now heads into endurance mode, with the Sandown 500 in mid-September kicking off the long-distance races in three weeks.
Saturday race result

| Pos | Driver | Team | Car | Laps | Gap |
| --- | --- | --- | --- | --- | --- |
| 1 | Shane van Gisbergen | Red Bull Holden Racing Team | Holden | 24 | 48m23.2330s |
| 2 | Rick Kelly | Nissan Motorsport | Nissan | 24 | 6.2602s |
| 3 | Michael Caruso | Nissan Motorsport | Nissan | 24 | 8.9122s |
| 4 | Jamie Whincup | Red Bull Holden Racing Team | Holden | 24 | 12.8870s |
| 5 | Mark Winterbottom | The Bottle-O Racing Team | Ford | 24 | 15.8232s |
| 6 | Scott McLaughlin | Shell V-Power Racing Team | Ford | 24 | 16.3999s |
| 7 | Will Davison | Milwaukee Racing | Ford | 24 | 16.7757s |
| 8 | James Courtney | Mobil 1 Boost Mobile Racing | Holden | 24 | 17.2386s |
| 9 | Chaz Mostert | Supercheap Auto Racing | Ford | 24 | 18.4191s |
| 10 | Craig Lowndes | Autobarn Lowndes Racing | Holden | 24 | 19.3586s |
| 11 | Nick Percat | Blackwoods Racing | Holden | 24 | 20.5997s |
| 12 | Tim Slade | Freightliner Racing | Holden | 24 | 22.7779s |
| 13 | Cameron Waters | Monster Energy Racing | Ford | 24 | 24.9283s |
| 14 | Fabian Coulthard | Shell V-Power Racing Team | Ford | 24 | 27.3514s |
| 15 | Tim Blanchard | CoolDrive Racing | Holden | 24 | 28.0386s |
| 16 | Jack Le Brocq | Tekno Autosports | Holden | 24 | 33.5284s |
| 17 | David Reynolds | Erebus Penrite Racing | Holden | 24 | 33.7630s |
| 18 | Scott Pye | Mobil 1 Boost Mobile Racing | Holden | 24 | 34.0830s |
| 19 | Andre Heimgartner | Nissan Motorsport | Nissan | 24 | 34.6399s |
| 20 | Lee Holdsworth | Preston Hire Racing | Holden | 24 | 39.7719s |
| 21 | James Golding | Wilson Security Racing GRM | Holden | 24 | 41.8973s |
| 22 | Richie Stanaway | Tickford Racing | Ford | 24 | 43.2828s |
| 23 | Simona de Silvestro | Team Harvey Norman | Nissan | 24 | 43.7149s |
| 24 | Anton De Pasquale | Erebus Racing | Holden | 24 | 45.3631s |
| 25 | Macauley Jones | Drillpro Racing | Holden | 24 | 45.5783s |
| 26 | Todd Hazelwood | Bigmate Racing | Holden/Ford | 24 | 57.9581s |
| 27 | Kurt Kostecki | Arcoplate Racing | Holden | 24 | 1m07.6492s |
| 28 | Garth Tander | Wilson Security Racing GRM | Holden | 18 | 6 Laps |
Sunday race result

| Pos | Driver | Team | Car | Laps | Gap |
| --- | --- | --- | --- | --- | --- |
| 1 | Jamie Whincup | Red Bull Holden Racing Team | Holden | 41 | 1h17m54.3862s |
| 2 | Shane van Gisbergen | Red Bull Holden Racing Team | Holden | 41 | 11.2894s |
| 3 | David Reynolds | Erebus Penrite Racing | Holden | 41 | 13.4574s |
| 4 | Tim Slade | Freightliner Racing | Holden | 41 | 20.5439s |
| 5 | Nick Percat | Blackwoods Racing | Holden | 41 | 22.0638s |
| 6 | Scott Pye | Mobil 1 Boost Mobile Racing | Holden | 41 | 24.6875s |
| 7 | Will Davison | Milwaukee Racing | Ford | 41 | 26.3717s |
| 8 | Craig Lowndes | Autobarn Lowndes Racing | Holden | 41 | 30.5942s |
| 9 | Michael Caruso | Nissan Motorsport | Nissan | 41 | 32.4142s |
| 10 | Scott McLaughlin | Shell V-Power Racing Team | Ford | 41 | 34.9658s |
| 11 | Anton De Pasquale | Erebus Racing | Holden | 41 | 43.5850s |
| 12 | Chaz Mostert | Supercheap Auto Racing | Ford | 41 | 44.4193s |
| 13 | James Courtney | Mobil 1 Boost Mobile Racing | Holden | 41 | 47.0990s |
| 14 | Fabian Coulthard | Shell V-Power Racing Team | Ford | 41 | 47.3777s |
| 15 | Cameron Waters | Monster Energy Racing | Ford | 41 | 47.7843s |
| 16 | Mark Winterbottom | The Bottle-O Racing Team | Ford | 41 | 49.0797s |
| 17 | Rick Kelly | Nissan Motorsport | Nissan | 41 | 53.5338s |
| 18 | Jack Le Brocq | Tekno Autosports | Holden | 41 | 1m09.2666s |
| 19 | Macauley Jones | Drillpro Racing | Holden | 41 | 1m13.2970s |
| 20 | Garth Tander | Wilson Security Racing GRM | Holden | 41 | 1m13.8809s |
| 21 | Tim Blanchard | CoolDrive Racing | Holden | 41 | 1m22.0578s |
| 22 | Richie Stanaway | Tickford Racing | Ford | 41 | 1m36.0884s |
| 23 | Simona de Silvestro | Team Harvey Norman | Nissan | 41 | 1m45.0073s |
| 24 | James Golding | Wilson Security Racing GRM | Holden | 41 | 1m45.5867s |
| 25 | Todd Hazelwood | Bigmate Racing | Holden/Ford | 40 | 1 Lap |
| - | Lee Holdsworth | Preston Hire Racing | Holden | 20 | Retirement |
| - | Andre Heimgartner | Nissan Motorsport | Nissan | 4 | Retirement |
| - | Kurt Kostecki | Arcoplate Racing | Holden | 1 | Retirement |
Drivers' standings

| Pos | Driver | Points |
| --- | --- | --- |
| 1 | Shane van Gisbergen | 2778 |
| 2 | Scott McLaughlin | 2759 |
| 3 | Jamie Whincup | 2416 |
| 4 | Craig Lowndes | 2229 |
| 5 | David Reynolds | 2213 |
| 6 | Fabian Coulthard | 1922 |
| 7 | Rick Kelly | 1918 |
| 8 | Chaz Mostert | 1892 |
| 9 | Tim Slade | 1742 |
| 10 | Scott Pye | 1702 |
| 11 | Nick Percat | 1693 |
| 12 | Mark Winterbottom | 1532 |
| 13 | James Courtney | 1482 |
| 14 | Garth Tander | 1458 |
| 15 | Michael Caruso | 1429 |
| 16 | Will Davison | 1423 |
| 17 | Cameron Waters | 1288 |
| 18 | Jack Le Brocq | 1244 |
| 19 | Andre Heimgartner | 1154 |
| 20 | Anton De Pasquale | 1110 |
| 21 | Lee Holdsworth | 951 |
| 22 | Simona de Silvestro | 942 |
| 23 | James Golding | 923 |
| 24 | Tim Blanchard | 890 |
| 25 | Richie Stanaway | 875 |
| 26 | Todd Hazelwood | 811 |
| 27 | Macauley Jones | 135 |
| 28 | Kurt Kostecki | 90 |